There have been talks that the nation is set for a recession soon, with experts warning consumers to brace, especially in today's environment of heightened interest rates and rising inflation. But what does this mean for the everyday person, and how can you prepare?
---
While the risk for recession is "high" according to forecasters, there are indeed things you can do today to ensure peace of mind and that you're able to thrive whether there's a recession or not.
First recognize, it's not all gloom and doom.
Some forecasters are stating that, while experts are justifiably bracing for the possibility, a recession is "less likely" than people think and that rising interest rates don't necessarily solely mean a recession is coming. Recessions also aren't uncommon and are a consistent phenomenon, thus you can't really fret too much over something that not only has occurred before but something that will likely occur again in the coming years.
On another note, the job market is booming, especially with the recent mass exodus of professionals (a la the Great Resignation), so if you're looking for a new opportunity, that prime moment to ask for a promotion, or a change in career, now is an amazing time to go for it.
Also, other positive aspects of the economy include gas prices in select markets decreasing and a 48% growth in entrepreneurship among women.
So, it's good to think in a balanced, more realistic way, taking several factors into account.
Check your finances and adjust your budget.
If you haven't already, it's a good time to get more familiar with your finances, especially your budget. Take stock of the money you're earning, the money you're saving, the money you're investing, and how you're spending. Experts also recommend reviewing your bills and lifestyle to see where there might be money drains or waste. Make the needed choices or shifts to either increase your savings, cut back on expenses that aren't super-necessary, or shift funds to save more.
(If you don't have a budget or need inspiration for updating the one you have, there are a few great options here and here.)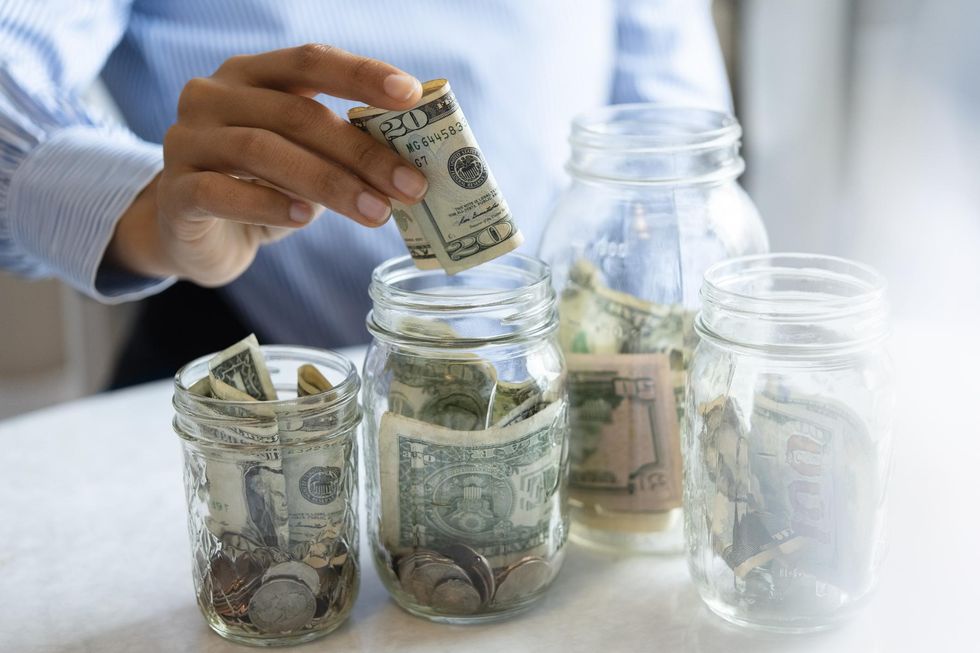 Getty Images
Tap into the assistance and resources afforded to you.
If you're already struggling financially, there are resources available to you such as rental assistance, scholarships, grants, and programs. Also, if you qualify for income-related assistance, don't hesitate to apply, especially in relation to housing or coverage of everyday education, food, or childcare expenses.
If you've reached certain financial milestones (or you're hoping to), get a financial adviser or coach and map out a plan to either meet those goals or get on a path to be able to meet those goals even if a recession hits. Find out how you can leverage the money you have to make more or invest in something that will garner wealth in the long run.
It's always good to be proactive in seeking help, especially if it's something that will help take a financial burden off your mind.
 Review your sources of income—or lack thereof.
If you're unemployed, you'll need to really get serious about maximizing your unemployment benefits and getting a job. Think outside the box, let go of a few boundaries, and try out new experiences or positions that might be outside of your comfort zone. Be very deliberate with how you spend your money and time, and focus on strategies that will lead to a new job or employment you enjoy.
If you're underemployed (i.e. at a job that either doesn't match your educational or practical skills or talents, or one that pays a salary that is below the current market rate), it might be a good time to either apply for a new job or take on another that not only will supplement your income but will allow you to be your best self.
If you're happily employed and bring home a nice salary (good for you, sis), but always wanted to start that side gig, now might be the best time to do that as well. Maximizing other ways to earn and accumulate money is a great way to ensure that you have a cushion for times like a recession.

No matter what stage you are in the employment game, be sure to pay close attention to the return on investment of your time and how your salary aligns with the lifestyle you have or aspire to have, recession or not.
Keep a positive attitude and focus on solutions and vision.
Remember, while you can't really control what happens in an economy nor can you control what might happen in the future, you can plan today for financial freedom. Taking the steps to be strategic, keeping a positive and balanced outlook, and prioritizing what's important in life is the key to getting through any rough patches.
Let's make things inbox official! Sign up for the xoNecole newsletter for daily love, wellness, career, and exclusive content delivered straight to your inbox.
Featured image by Alexandr Dubynin/Getty Images