When Kara Stevens started Frugal Feminista, she was on a mission to offer something she didn't see enough of as a young Black woman looking to become debt-free. She'd taken her personal finance matters into her own hands, turning to library books and other free resources to get out of $65,000 in debt. "During that process, I'd found books—some written by Black women, some by white men—and they were all helpful, but I noticed that there was a dearth of literature really speaking to what Black women in their 20s and 30s were facing. I couldn't relate," she recalls.
---
"I began researching and implementing some of the things I learned. I wanted to broaden the discussion around what it meant to be a Black woman who is out of college, educated, looking for love, wanting to travel, and wanting to have it all, and how money plays a role in that."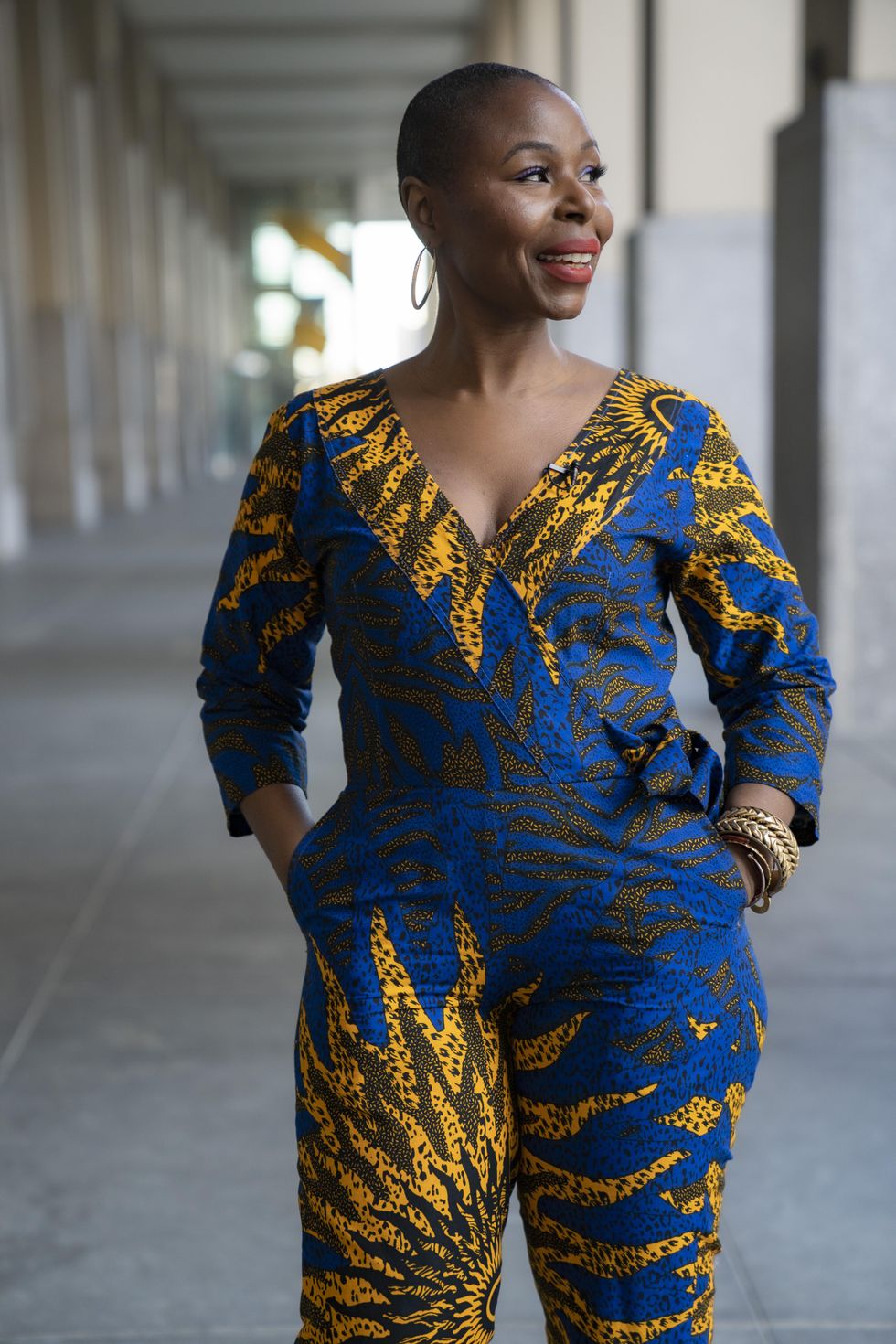 Courtesy of Kara Stevens
After getting out of debt, Kara, an educator by trade, eventually moved up the ladder into administration, putting her in the club of six-figure earners. However, she found that she had some further growing to do when it came to how she approached managing her money. "I was still having a lot of anxiety around money despite being, on paper, more well-off than, say, 90 percent of average Americans. What that led to was a deeper understanding of the lessons I learned around money and self-worth in terms of asking and receiving," she says.
"[It was about] understanding the energy of being confident and assertive in a way that allows you to expect the possibilities and expect things to happen in your favor. Money is one of the values, ways, and measures of getting what you want whether it be a salary increase, starting a business or anything related to achieving something in that arena."
Below are six keys Kara found, through her own journey, in resetting her mentality about money in order to thrive:
1. Decide what you really want out of life and how money fits into achieving your goals. 
It's important to explore self-reflection that will lead to decisions about your short-term and long-term goals related to what your best life looks like and how to create and sustain it. "What do you want to do with money?" Kara adds. "Do you want to travel with money? Do you want to start a business? Reflect on what your beliefs are about children, businesses, or travel, and see if they align with what you're trying to do with your money. If there's a disconnect, you're going to have a lot of difficulty in either finding the money or keeping the money in relation to achieving your goals."
2. Get to know your deep-set beliefs about money and their origins.
"Oftentimes, they're largely influenced by what your parents beliefs are," Kara explains. "In my experience, I had a lot of emotional hurdles to overcome when it came to dealing with money because growing up, I was taught that you shouldn't take risks with life, money, love—with anything."
"Even though I was able to technically get out of student loan debt, I still had this fear of being able to have a balanced approach to investing or a balanced approach to even giving myself the things I wanted."
Growing up, Kara saw a money management focus that was solely about basic needs. "Anything else was considered unnecessary. That made me a very measured and withholding person emotionally and financially, and that eventually led to having to learn more about myself in therapy."
Once she was able to pinpoint beliefs she'd carried from her childhood, she was able to form a renewed relationship with money and nurture a new mindset. "I was able to give and receive, take risks, and make my needs an important part of how I make decisions instead of looking at deprivation, hoarding, financial paranoia, and scarcity."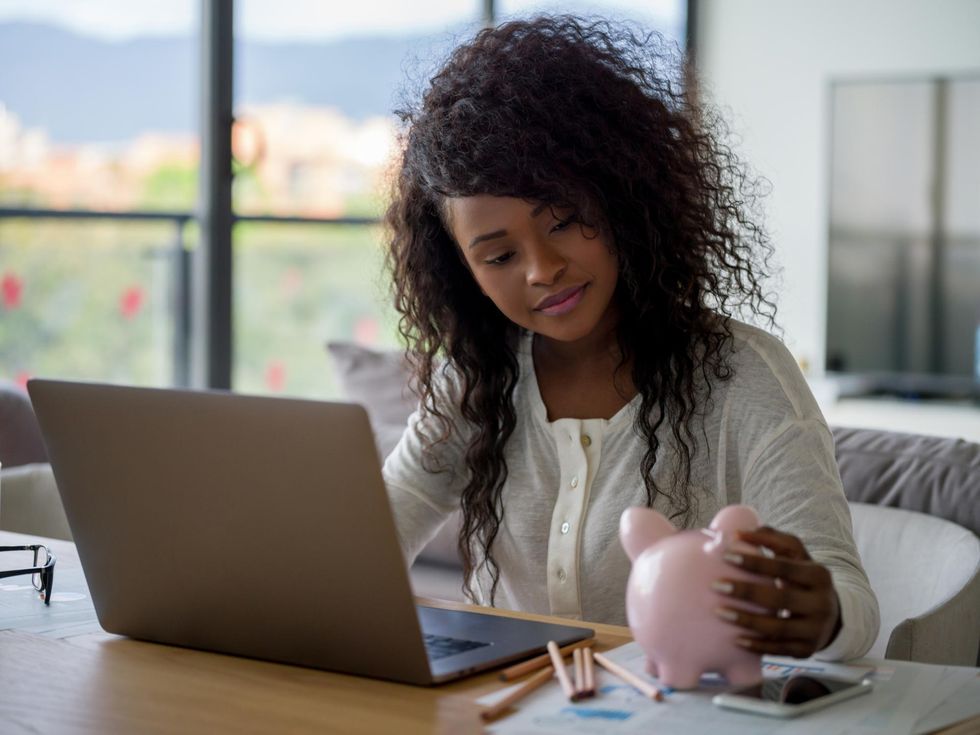 Getty Images
3. Pinpoint how those beliefs inform the way you currently view money and how that perception affects achieving your goals.
Kara urges women to create a "family financial tree" exploring childhood memories related to money that they still hold on to in adulthood. "I grew up thinking, for example, that due to my mom's heartbreak with my dad, men are never to be trusted with money. That was a given," Kara says.
"But you have to look at that belief and analyze the validity or the universality of it to determine how useful that message is in serving you in your life goals. I know that ultimately I want to be happily married, so I had to rethink that message to create one that's more affirming, rational, and abundant."
"Not all men can be trusted with money, but the man I choose, I will trust because I trust myself to make good decisions. So, think about how you can flip that negative narrative and rewrite it to make it affirming and thoughtful and align with your goals."
4. Create a budget that incorporates your values and puts a focus on progress versus perfection.
"Having a budget that doesn't allow for fun or pleasure is not a budget you can stick to," Kara says. "Putting the pleasure element and values element in a budget is a key part to enjoying your money management and to thriving with your money."

Kara remembers a time when she was first getting out of debt and how the process was much more sustainable when she gave herself grace throughout the journey. "Sometimes you trip and fall and miss a payment or overspend, but don't take it personally. If you continue to make progress in the general right direction, you'll be OK, and you'll eventually meet your goal."
She incorporated a debt payoff strategy that allowed her to tackle each one in a particular order, gaining momentum by getting rid of them one by one. "I felt good when I was able to reduce the number of debts I had. Eliminating them made me feel good that I was actually making progress."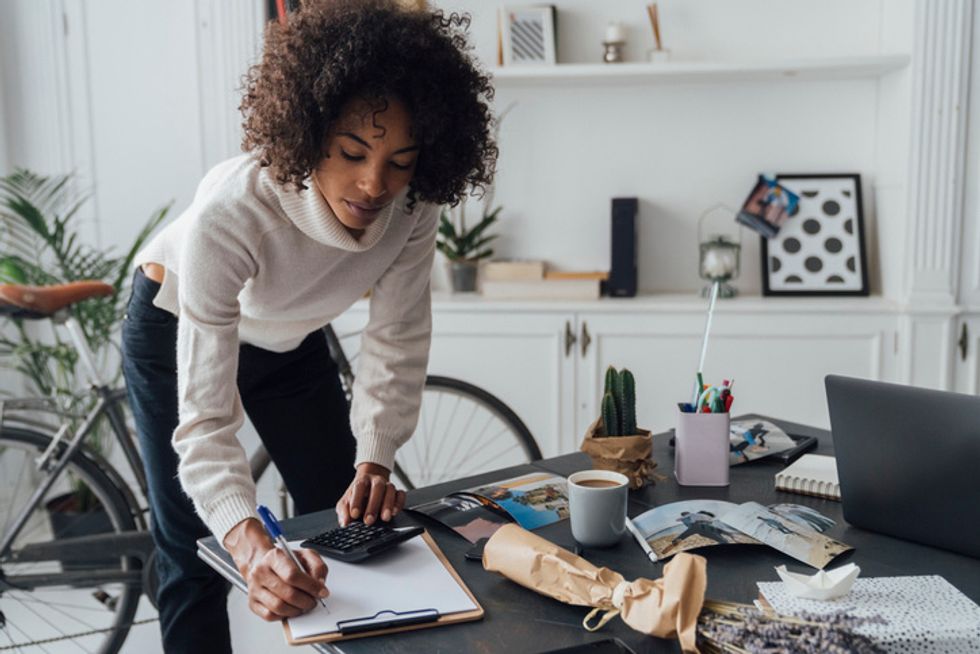 Getty Images
5. Shift your approach to budgeting in a way that puts faith first.
"There's a place for living within your means, but the rationale behind it [is important]," Kara says. "You have to have that faith-based approach to handling money. Check in with yourself on whether the reason you're doing something is based on some type of fear perspective or more of an abundance or faith-based perspective. You have to tell yourself, 'I believe that what I'm offering is worth it,' or 'I believe that what I'm buying for myself is going to add value to my life so I'm going to do it without apology, shame or guilt.'"
6. Figure out a monthly flow for managing your funds.
"In addition to having a budget, knowing the flow of your money every month is important," Kara says. "I use a financial calendar. Sometimes you can feel that, by the end of the month, there's more month than money, and it's not necessarily that we don't have the money. It's about how we space out our spending and our savings to meet our various financial goals."
With a financial or budget calendar, you can track payment amounts and dates and estimate how much money flows in and out of your accounts on a monthly basis based on your money goals and lifestyle. You can do this the old-school pen-and-paper way, via an online spreadsheet or through handy apps that are free or downloadable for a fee.
Taking deliberate steps toward shifting how you think about money and its management can be totally life-changing and make reaching your dream life that much more believable and obtainable.
Featured image by Getty Images