On April 7th 2016, a barefoot Dej Loaf entered the Ventanas rooftop in Atlanta in style.
---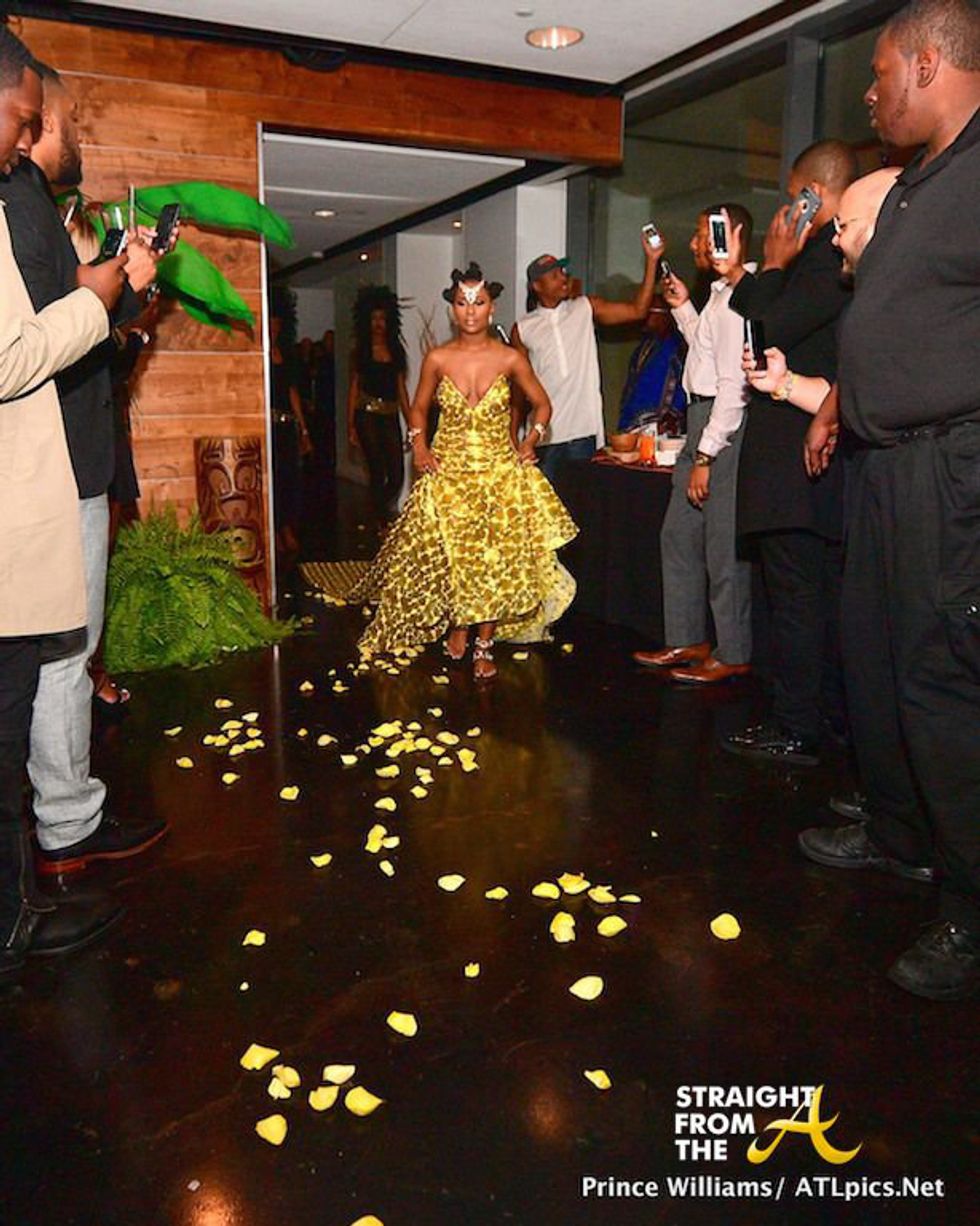 Her custom gold Nicci Hou dress gently hugged her curves, the train brushing across the yellow rose petals tossed casually on the floor from the bowls of her female escorts, while celebrities, guests and press snapped photos of the Detroit rapper in celebration of her grand entrance into the quarter-life. The Coming to America themed party hit the blogs that following Monday just as event planner Summer Bledsoe Totten, who created the dessert table for VIP guests, breathed a sigh of relief for the completion of yet another successful extravaganza.
"I get people who call now like 'oh you did Dej Loaf's party? Can you do my party?'" says Totten. "It opened a whole other door."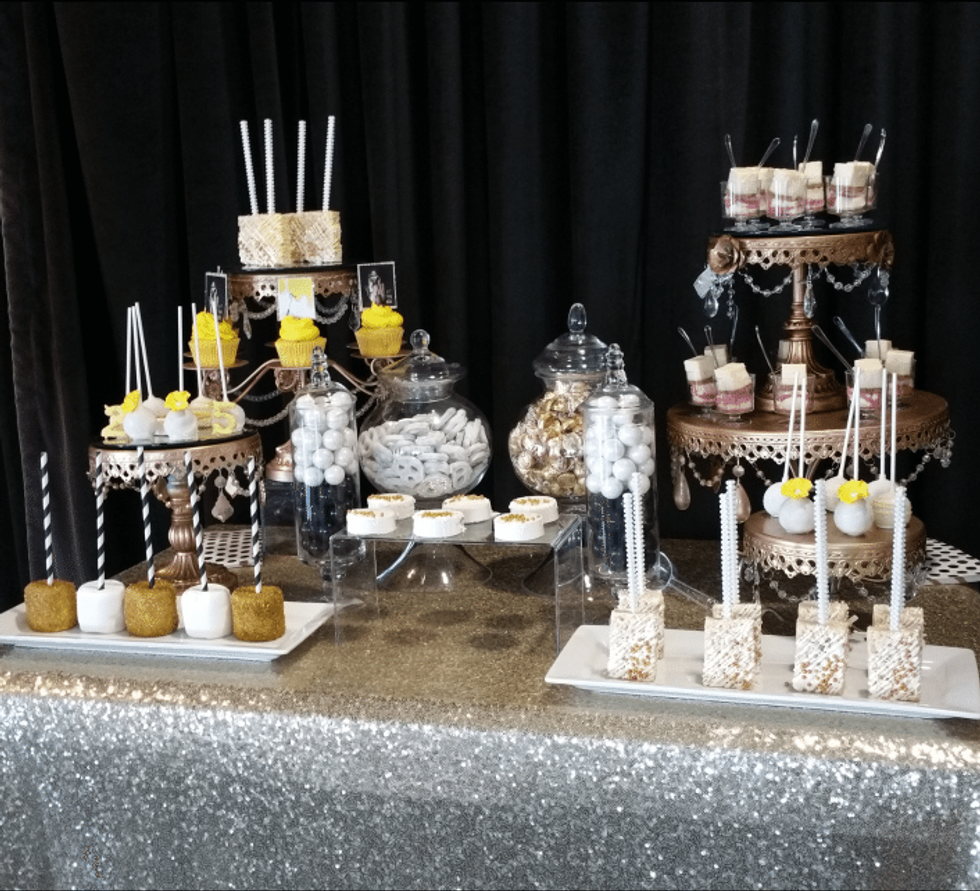 For the Atlanta native, party planning isn't a hobby, it's the fulfillment of a lifelong dream. One that she had pushed aside after graduating from Morgan State and jumping the broom at the age of 22. As she puts it, life took over, priorities shifted to marriage and motherhood, and the little girl who once envisioned herself planning other people's weddings became a woman working a nine-to-five for the government.
That is, until her youngest daughter turned three. While many mom's lament at the idea of having to put together a noteworthy gathering for their little one, Totten saw it as an opportunity to tap back into her creative aspirations. "Once I had my daughter I realized, hey, I had dreams. I had stuff that I wanted to do. So I was like let me plan a party for her."
But she didn't just want the typical Chuck-E-Cheese gathering; she wanted something special that catered to the likes of her little princess. Realizing that there was a lack of options for girls, she decided to take matters into her own hands and create a one-of-a-kind event that both friends and family would never forget.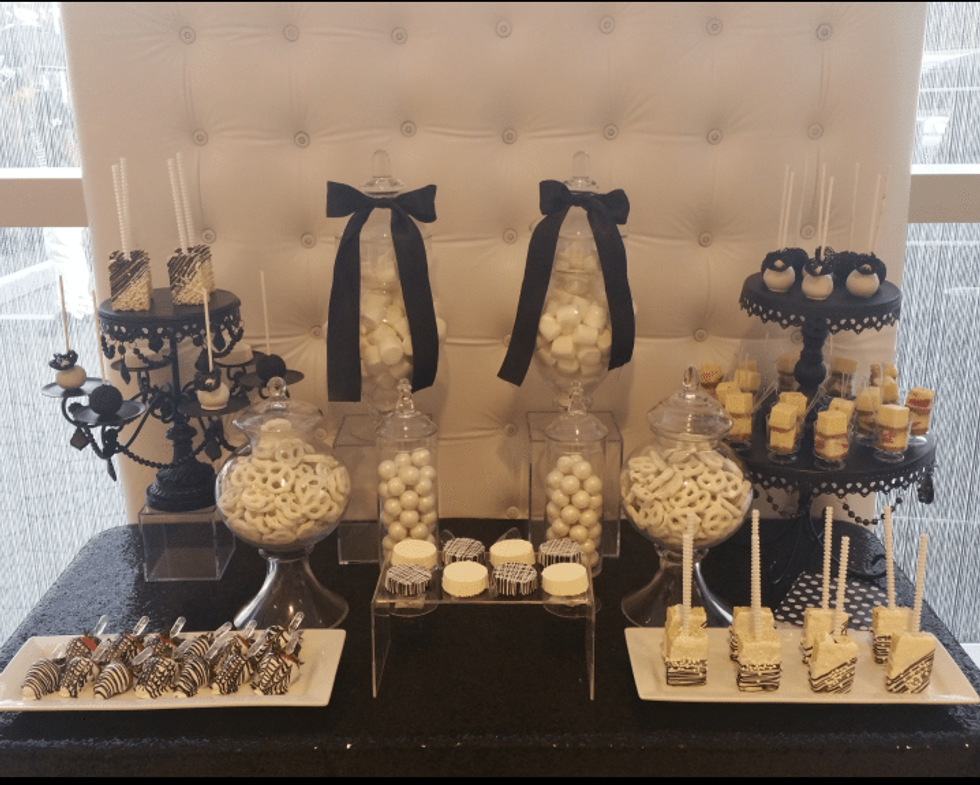 Kids dessert table at Tammy Rivera's swimsuit launch.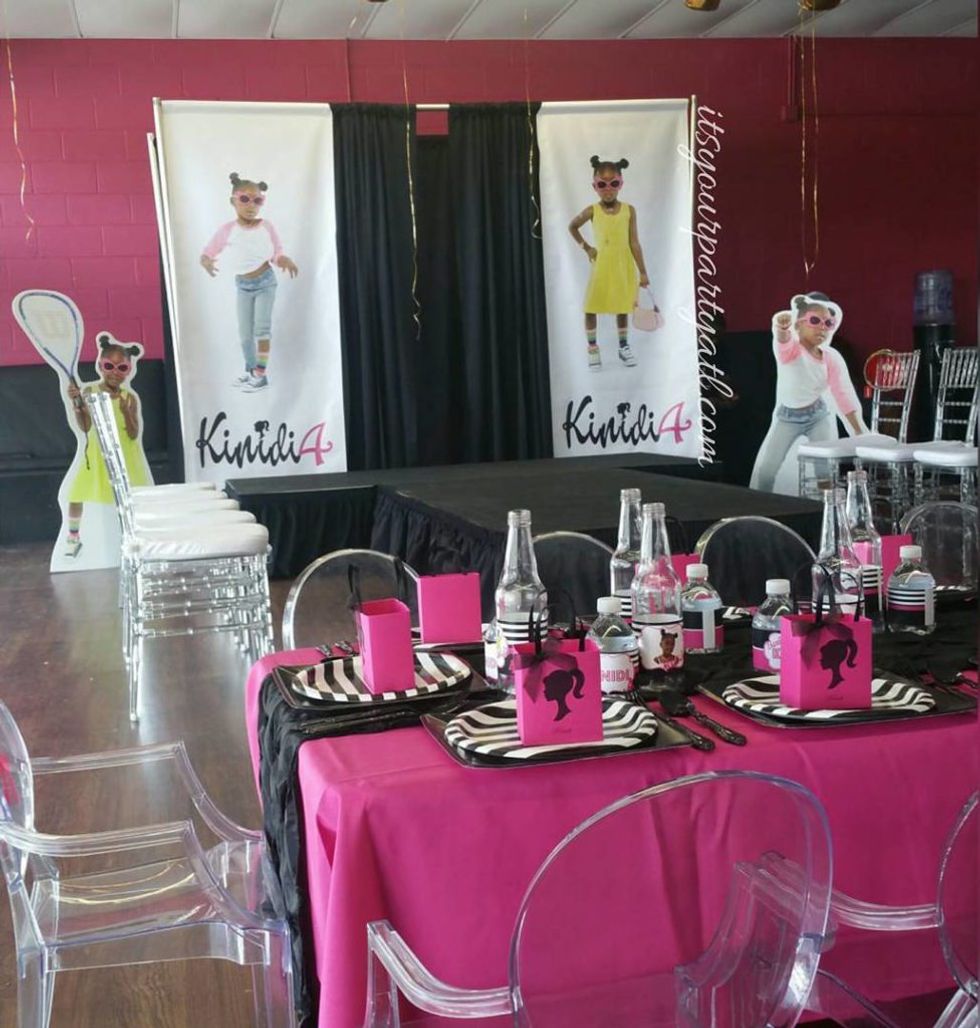 Its Your Party ATL set up for a kids fashion show
After sharing her goals with her boss, she was provided with a copy of The Go-Giver, a story centered on a character striving for success. Totten began to revisit her own purpose in life. "After reading the book, literally it clicked. I was talking to [ my boss] and she was like, if it's your passion and it brings you joy, you should try to do it."
But there were a few problems. Well, perceived problems that turned out to be excuses in disguise. "My reason was life was in the way. I have a responsibility by my kids. I have a husband. I have a job. We've got insurance. We've got a house. We've got a mortgage. And so I was basically like no, I can't do this."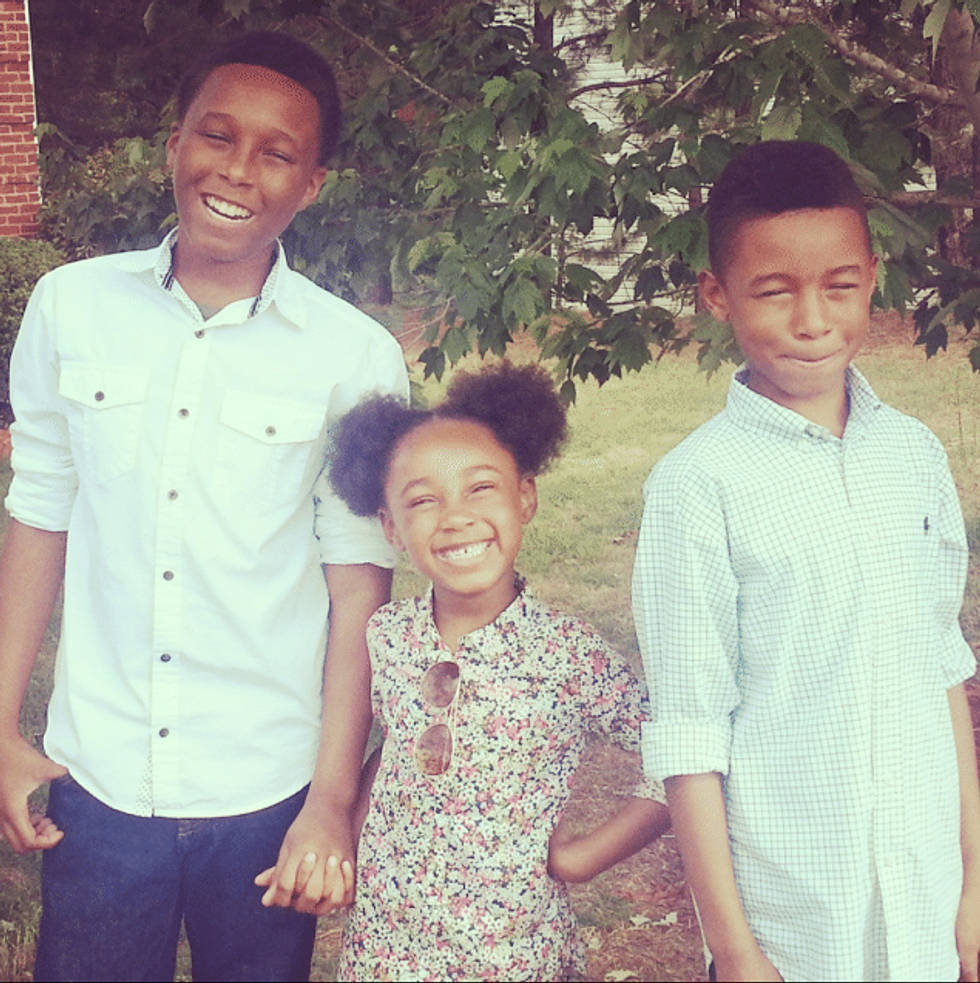 With encouragement from her husband, family, and a circle of equally driven and women entrepreneurial friends, Totten could no longer defend her reasoning for not going after the one thing that both scared and fueled her. She started taking weekend classes—eight hour long sessions on everything from baking to decorating—and spent nights perfecting her planning skills in preparation for launching her own business. In 2012, It's Your Party became official. "I felt like I had no choice but to go out and pursue my dreams. I'm like why not? What's holding me back? I can't say it's my husband. I can't say that I don't have the support. So why do I think that I can't be a professional at it? I've literally just looked at it like I don't have a choice. This is what I want to do and I have no reason not to. Why should I settle and not do what I really, really love to do?"
Totten started with kid parties and baby showers for clients in the surrounding communities, making sure to tag her Instagram photos for those scouring hash tags for events in the Atlanta area. It didn't go unnoticed. "I was doing an event for a rapper named Young Scooter, and the lady who was doing balloons there was like, 'oh I follow you on Instagram and I love your work!' And then she ended up calling me one day and was like Tiny is having a charity event that she does every year for kids for Christmas. Do you want to contribute at all?"
There was a catch—she wasn't getting paid for her services. But what she sacrificed monetarily she gained in connections. "I literally look at it as marketing, and if you can't afford marketing then you can't afford to do business. Because marketing is a huge part of business."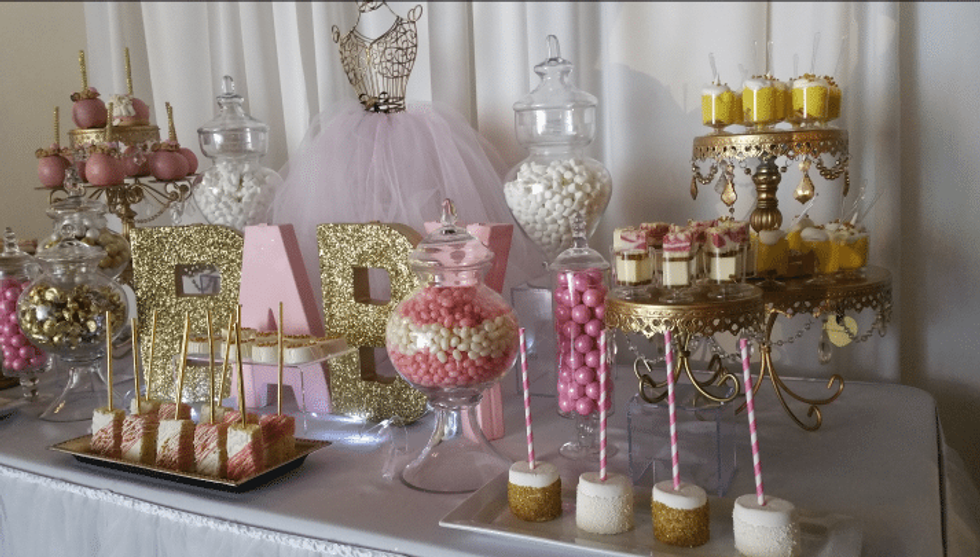 Dessert table at T.I. and Tiny's baby shower
After successfully lending her talents for the event, she received a request to create the dessert table for rapper T.I. and his wife Tiny's baby shower, and soon began partnering with her fellow event planners on a number of events catering to celebs and their children in addition to maintaining her own steady stream of clientele. Totten believes that it's her uniqueness and knack for personalization that takes her ideas to the next level. "I'm putting your child's pictures on the label and things that can make a party unique for that person and making it a memorable event."
The average client comes to It's Your Party armed with just a theme or a color scheme, and it's up to Totten to bring the vision to life through customized invites (that she prefers to do herself), décor, and edible creations. "Once I create the invitations, my head is already at the event. I'm already visualizing your linen, your labels, etc. I already have it drawn out and know exactly how it's going to look. So basically it starts with the invitation."
If she's working in tandem with other party planners, she still prefers to have a certain level of control over the event. "If you're using an outside person, I need that person's information because I want to coordinate with them. It's a stress-free process for you. I do a lot of treatments with the visuals so that way I don't have to worry about everything not matching and not coordinating. Everything has to coordinate and match, and if I have total control, then it's going to be successful."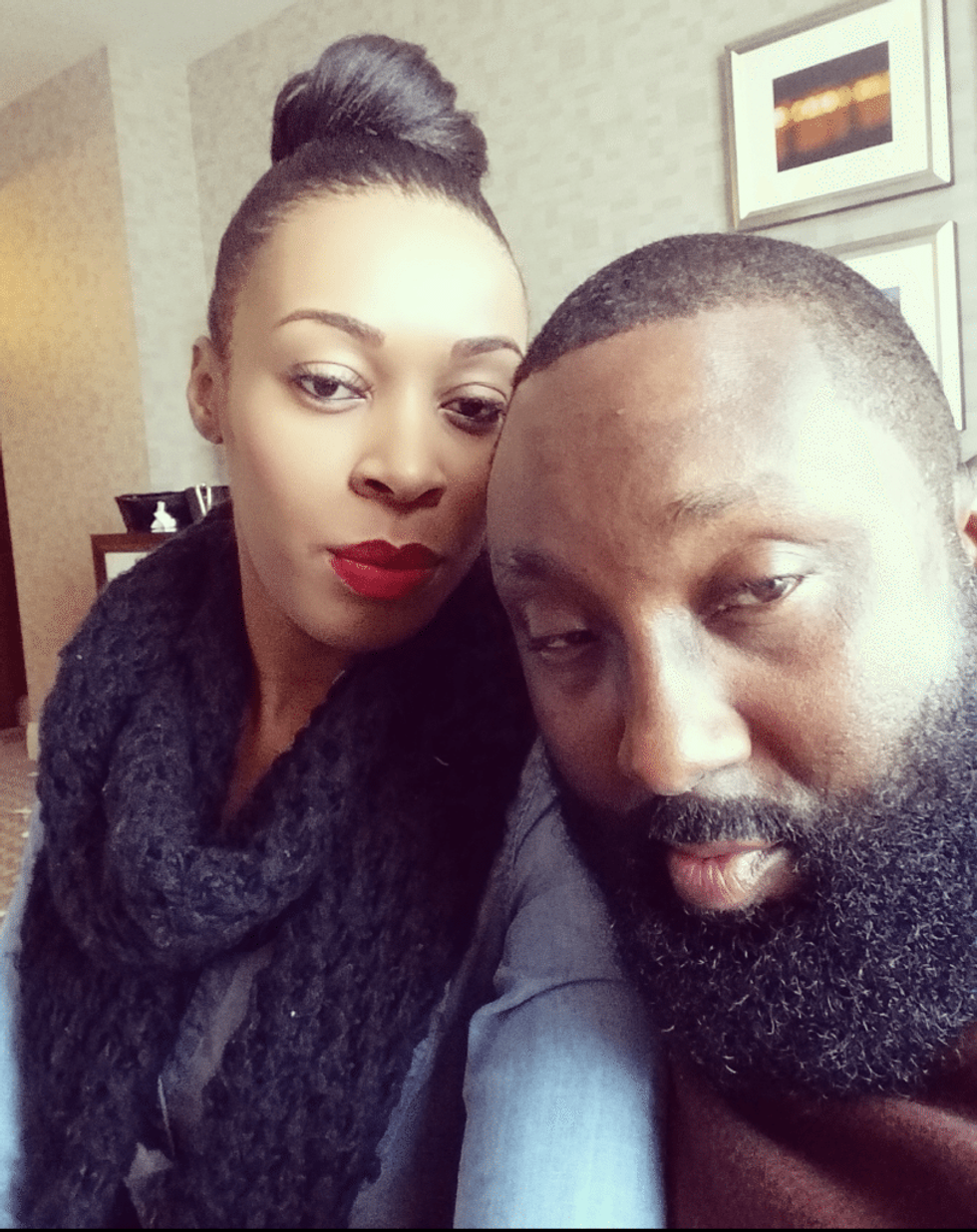 Summer and her husband.
Being a boss, a wife of 13 years and a mom (she recently had her fourth child in January) while still working part-time at her government job, is no easy feat, but having the support of her husband, especially, helps her to stay committed to the end goal. "I'll call him like babe I need you to look up who this person is because they're calling me about the party and he'll come back to me in like five minutes and give me the whole history on them. He's just like you need to go for it. If he sees me renting stuff too often he'll be like, do you need to buy it? I don't want you paying rent now. Without support I would've been like man forget this."
Totten admits that there are times that she feels guilty about missing football games and cheerleading practices. It helps knowing that she has a strong support system in her family and friends, and makes sure to bring her kids along when situations permit. "If I'm just going to be at a party for a couple of hours, I'll bring them along so they see oh this is my mom's party. That helps me feel that they know why I can't do certain things."
The sacrifice does come with rewards, though. In this case, it's knowing that she's no longer dying in the confinements of comfort and instead is living her dream.
"To know your purpose and actually have the willingness to pursue being yourself, having freedom and feeling comfortable enough to be yourself, to me is an ultimate goal to me for any woman."
While many women struggle to find the answer of how to have a marriage, kids and a fulfilling career, Totten is proving that it's possible to both be your own boss and come home to a loving family. It's all about being unafraid to pursue everything that you want, and not making excuses as to why you don't deserve to have it all.
To find out more about Summer's event planning business, visit Its Your Party ATL on Instagram.