Ayesha Curry is the girl boss we all aspire to be and she is proof that basketball wives are far more than mere trophies. As she and her husband rose to fame in the sports arena, the multi-talented mother used her talents to become an icon in her own right.
---
In February, she revealed her pregnancy with Baby Curry #3, but she recently took to Instagram to share the news that a bun in the oven isn't the only thing she's been cooking up. She announced that she's hosting a brand new cooking game show on ABC with a grand prize that could buy a whole lot of groceries for one lucky family. She posted on Instagram:
"So excited I FINALLY get to talk about this. This mama has been hard at work on a new exciting project!!! I'll be hosting and exec. Producing a new competition series for @abcnetwork called Family Food Fight!!! 8 families from across the country will go head to head to claim the title of America's number 1 food family! Not only that... they'll win $100,000."
Family Food Fight will be the first major project for Ayesha's production company, Yardie Girl Productions, and will add to her long list of food-related accolades. The 29-year-old Canadian-American mogul mommy is also the CEO of a wine company, restaurant, and meal kit delivery service and was the first woman to be named a CoverGirl who is not currently pursuing a career as an actress or singer.
Ayesha released her own cookbook, The Seasoned Life: Food, Family, Faith, and the Joy ofEating Well where she shares personally curated recipes, and garnered a number of guest appearances on various cooking shows before starring in her own in October of 2016. Ayesha's Homemade, later called Ayesha's Home Kitchen, was given two six-episode seasons on The Food Network and gave fans an in-depth look at what it was like in the personal and professional lives of the Currys.
Ayesha shared that she has been cooking since she was 12 and told People in 2017 that she had always had an affinity for cooking, because in essence, it is an act of love. She said:
"I am a firm believer that food makes people feel something. It makes people feel good, warm and happy. That's the most rewarding thing for me, when someone takes that first bite and I see a smile. It's probably the same adrenaline rush Steph gets when he plays a game."
She admitted that her current pregnancy has been difficult, but she still makes time to kill it in the culinary world. Ayesha positioned her brand to have an extremely lucrative portfolio, and still makes time to be a great wife and mother. She is proof that women are pretty much superhuman.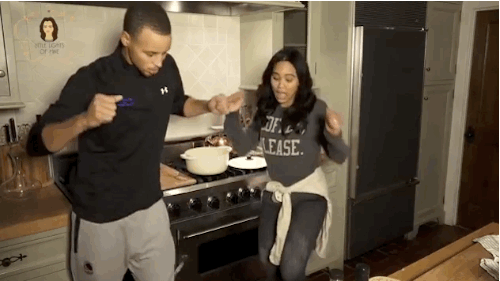 img.buzzfeed.com
Though we don't have an official release date for the new show, I can't wait for Ayesha Curry to heat up the summer with details on how me and my family can get hooked up to win that $100K!

Featured image by Getty Images