---
As Told To is a recurring segment on xoNecole where real women are given a platform to tell their stories in first-person narrative as told to a writer.
This is Mieka Joi's story, as told to Charmin Michelle.
I have always loved fashion and how it makes us feel. I love the creativity and individuality that is encouraged. I love the places that it can take you. I love the happiness it brings...
Your outfit can literally elevate, and even transform, your mood and confidence. And what's even better, is we can achieve an amazing look on any budget.
Throughout my life, the experiences that I've had, the things that I've seen and learned, and the opportunities that I have come across, is what ultimately drove me to make the decision to dive head-first into a space that I oh so loved.
And from there, a dream was born...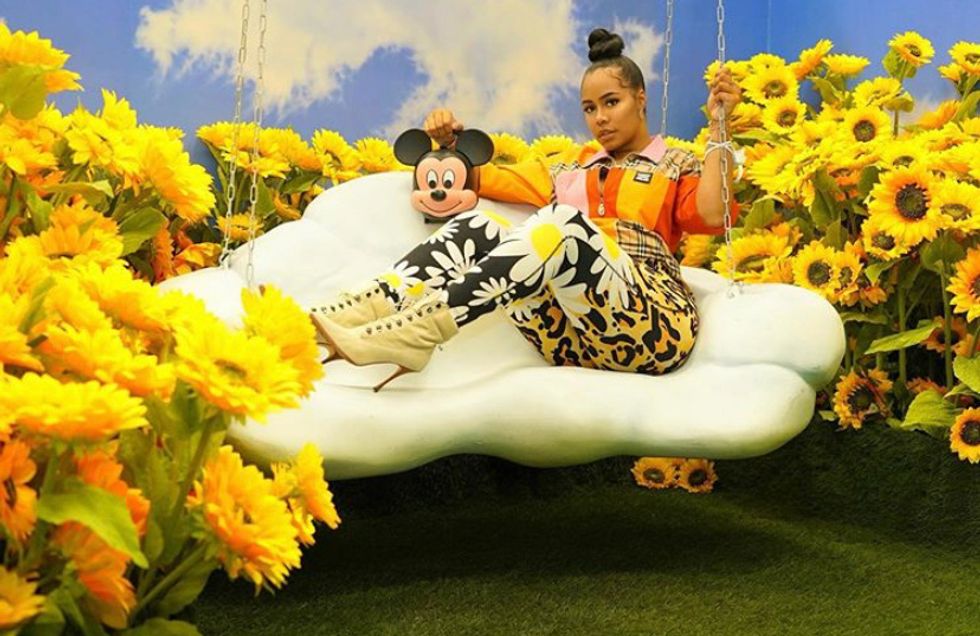 The Birth Of A Designer

I've lived my life as the CEO and Head Unicorn of my fashion label, well before I even founded the company. It was always just in me.
I'm a Chicago girl—in every aspect—born and raised. I grew up with entrepreneurship at the forefront of my household, as both of my parents were business owners. Since birth, I saw my mother, a successful single black female entrepreneur, give everything she had to her business and family. So naturally, I didn't know any other way in terms of a profession. Witnessing her work ethic, instilled a different level of confidence in me when it came time for me to pursue my own passion and career.
My company is Rich Girl Candy. We're a mood-changing symbol, using neon and varying colorful elements to encourage happiness and light-feeling childlike bliss. We pride ourselves on being a feeling; a vibe. And we celebrate individuality and standing apart from the status quo.
When you see my brand, you see color, fun, flair, and fashion, something many shy away from.
Long before getting to the point of where we are today, I worked in the fashion and styling game, dating back to my sophomore year at Clark Atlanta.
My roommate and I were approached with an opportunity to intern for a top-tier district buyer for Rocawear. And for me, this was a dream come true.
Rocawear? As in Jay-Z's Rocawear?
Sis, I am on the way...

I mean, Jay has always been one of my favorite artists, and I adore the Rocawear brand, of course, even to this day. So, basically, there was never even a moment where I considered otherwise.
We each accepted and ran with being students of fashion. One of the dopest experiences ever. Being in that environment, and just being in the presence of so many people I could learn the inner workings from, was beyond priceless. I was able to first-hand observe the fashion industry from a different perspective, which of course, was intriguing.
From here, there were a few bumps and bruises, developed companies, and partnerships made. I even took on various clients for styling and consulting, and eventually, Rich Girl Candy was born. This was in 2013–I was 25 years old.

And since that internship, to now, you've seen my work on a few of our faves—Serena Williams being one (she looked so bomb that day)—in addition to many others.
The Beginning Of Forever
I'm often asked the origin of RGC, and for me, it's simple. Rich means "abundance". And in some capacity, we are all rich—whether rich in love, rich in friendship, rich in health, or even in wealth. Basically, I want all women to be fruitful. I actually originally planned for RGC to solely be a high-end resale shop for designer bags and shoes. The accessories would originally serve as a treat to women, similar to how candy is for kids. Thus, Rich Girl Candy.
Over time, we became an all-in fashion brand, complete with a girl's youth line, partnership collections with celebs, athletic wear, swimwear, and even grinders—color always being the focus. While evolving, I knew I wanted to target fly basketball and soccer moms—those moms who match sweats with a Chanel bag or mix their fave designer dress with sneakers instead of heels. I wanted our woman to be completely comfortable, but still turn heads, whether running errands or going to a concert.
Our first year, we honestly wasted way too much money, there was so much trial and error. My biggest disappointments and lessons lived in these moments, hell they survived there. I was forced to become well-versed in fashion basics—ones that people don't necessarily consider, such as understanding the necessity to plan 6-12 months ahead of time (because ladies, fair warning, no factory is ever on schedule). This changed my entire perspective on how I conduct business.
So, now, while most are mapping out their 2020 fiscal year, I'm thinking of 2022.

But make no mistake about it, I've had so many rewarding moments with my business. One of my favorites, last year—the first time we attended ComplexCon in Chicago. Such a monumental moment for my team and I. For one, it was ComplexCon, the mecca of the most influential minds in the country. And two, it took place in my hometown. Being in LA and traveling often, can all take its toll. So this, for me, was a full circle moment.

Entrepreneur Girl, In A Rich World
Listen, ladies, I tell my story solely to empower. That's all I really want. My entire brand is based on it. To empower is to truly want to see others win, while supporting that win in whatever capacity you can. It's being the example, or the leader, for all women to look up to and grow from. I may not agree with how someone runs their business, but we are all doing what works for us. Everyone has their own journey, and that's OK. And this goes for all women, of all shades, with all body types, and in all facets of work.
Empowerment isn't exclusive to a specific group of women who have passed a specific threshold. And it's certainly not for sale.
We are so much more powerful when we support each other in the lanes that we choose for ourselves, we deal with enough shit on our own.

And being in my world, I often see a faux notion of that support; a thin layer. This isn't enough for me. I believe in wholehearted loyalty and protection of our queens—and if you really wanna have that conversation, let me know. I'm always intrigued by the mere misconception.
So, my advice and affirmations as a business owner lie here:
If entrepreneurship is a path you want to take, or a path you're currently on, stay your course. It's your course.
There will be many people wanting you to pay them to build your brand. No one can build or sell your brand like you can. Get help where necessary, but when it comes to vision, save that money, sis.
The best publicity is free. Quality product sells itself.
You will want to give up. Don't. These times just confirm that you're on the right path. Nothing great comes without fear. Keep going, always.
Find your passion. Don't take on a journey just because you see someone making money from it, that's not your passion. It's forced. Therefore, it's work.
When I'm overwhelmed I meditate. I pray, I read, I take time to reflect inward; mostly tapping into what lessons the universe is trying to teach me. I'll listen to a few of my go-to podcasts and I'm big on journaling, it helps to release buried feelings and emotions.

As for what's next for me, with the quarantine, only God knows. A lot of the events and festivals we had for summer have been postponed, so now we're in campaign mode, which represents our new reality. I am, however, focusing on engaging with our customers and audience, letting everyone know we are in this together, and in the meantime, building out the brand, making key connections, and promising a solid next move.
And I'm making a point to do all of the above, while continuing to support everyone around me. And you too.
To keep up with Mieka Joi, follow her on Instagram at @miekajoi_.
If you have a story you'd like to share, but aren't sure about how to put it into words, contact us at submissions@xonecole.com with the subject "As Told To" for your story to be featured.
Feature image courtesy of Shaun Michael.