We've all heard the common phrase "Jane of All Trades" thrown around, but it's always a bonus to be able to put a face with the concept that we, as Black women, can both aspire to and relate with. Angela Yee is one such person.
Many of us know her as the lone female voice (of smart-witted reason) who has held it down proper for all of us as a host on The Breakfast Club, offering a dose of powerful femininity and intelligence that keeps her co-hosts, out-of-pocket callers, and famous guests in line when need-be. She's done this while juggling duties as the co-founder of Juices for Life, a juice bar launched in Brooklyn, N.Y., managing director of Drink Fresh Juice, a juice and wellness drink brand, founder of Private Label Detroit, a boutique line of hair extensions and wigs, and her latest venture Coffee Uplifts People (CUP), a coffee brand that puts inclusivity at the forefront.
---
Oh, and let's not forget the podcast, Lip Service, which she hosts with two other unapologetically boss and bold women, Stephanie Santiago and Gigi Maguire, where they talk sex and relationships with hip-hop and pop culture elite.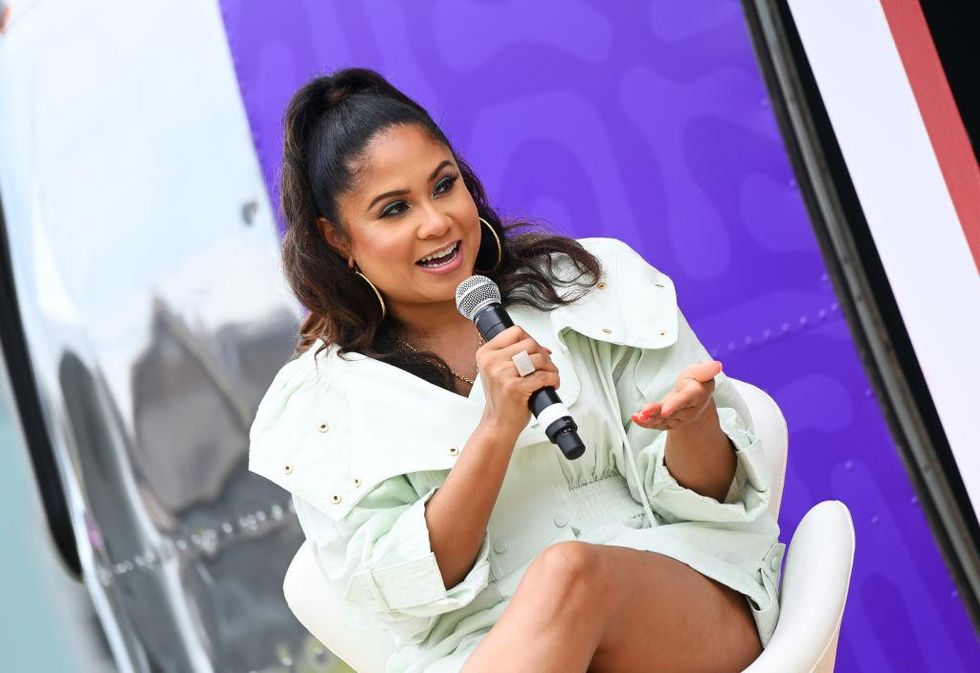 Paras Griffin/Getty Images
So you might have read all that and said, "Well, sis, that ain't all trades." Let's go back a bit: Yee got her start in entertainment interning for MTV and, later, for the legendary powerhouse that is the WuTang Clan. She transitioned into a management role with the group, handling payroll, attending label meetings, and organizing events. Before that, she was a teacher of 6th- and 7th-graders, and she'd eventually go on to work in satellite radio, hosting and co-hosting popular shows before becoming part of the award-winning trio at The Breakfast Club.
And she does it all with the kind of coy smile and effortless style that brings to mind Bey's "I Woke Up Like This" mantra.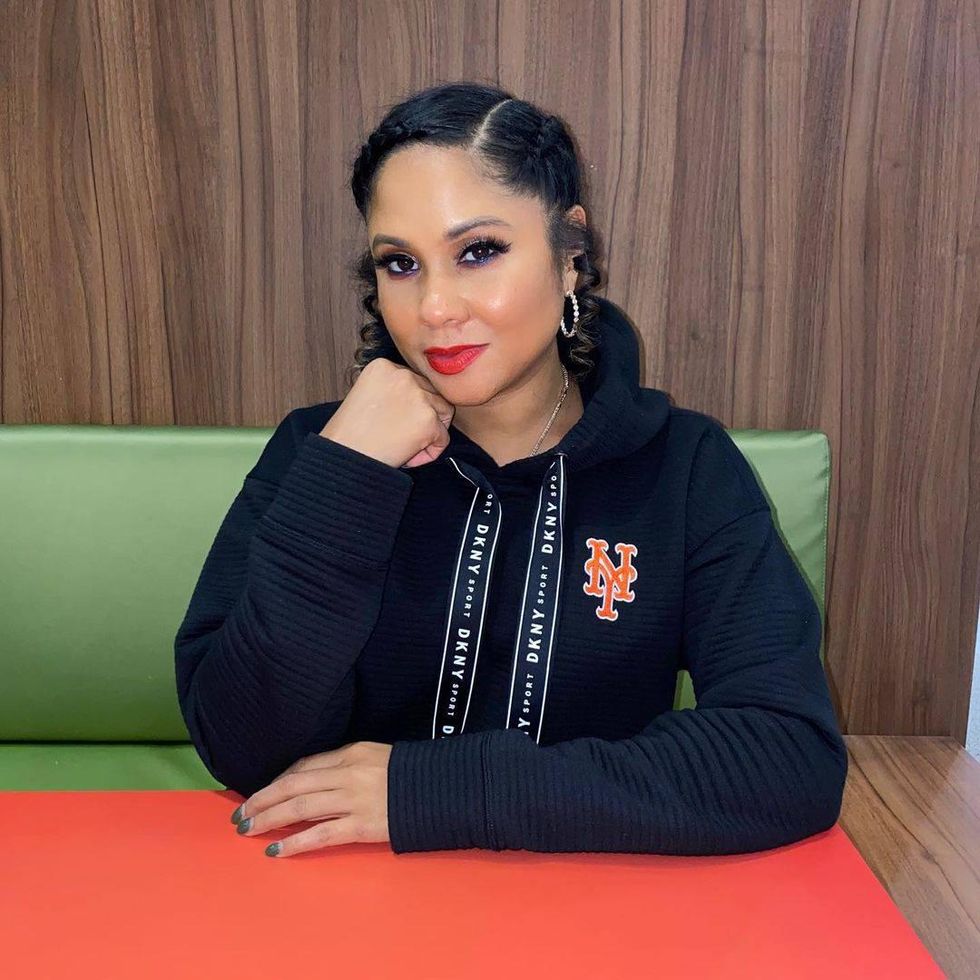 Image via TeamYee/Facebook
We caught up with Yee for this exclusive xoNecole interview, right before her appearance at this year's Célébrez en Rosé, a two-day VIP experience taking place in Washington, D.C. on Labor Day weekend.
The event, which centers on culture, Rosé and entertainment, is set to feature headliners including Lupe Fiasco and Estelle. "I am really just deliberate about supporting other Black entrepreneurs," Yee said. "We've had such a rough past year-a-half, and it's not even over yet. The fact that they're doing it in two days this year so that it can be a socially distanced event is something that shows that we need some time and space to be together, but we need to do that as cautiously as possible. We need it."
Yee talked further about why women need to stick together and rely on their tribes, what's really behind her more than 15 years in entertainment, and why she chooses to keep pushing boundaries in business.
xoNecole: You've been in the media business for many years and have remained relevant, fresh, and successful. What do you think has helped in your longevity?
Angela Yee: Networking has been one of the main things, especially early on, but to continue doing that is one of the most important. Also, it's about being able to work really hard and having the ability and skill to accomplish the things you want to. Another thing [that's key is] supporting people and treating people well, along with that networking. Whether it is the receptionist or the president of the company, you should treat everybody with respect.
"Once I start feeling comfortable in a position, I know it's time for me to figure out what my next move is. I never want to become complacent or feel like, 'OK I got this down pat' because I feel like I'm not challenging myself. So it's always important to challenge myself."
Along with that is to always learn. I'm always taking classes on different things or even just looking online to find out ways I can improve myself. With starting a business and being an entrepreneur, I still take classes with the Small Business Administration in New York. I'm getting my real estate license as well, so I believe that you should always be challenged to advance and learn even more.
And last, it's really hard work. Nothing beats hard work, and you can't just coast by. I still go the extra mile. If you listen to the show, I'm the one who most likely has done the research. I'm the one looking up the story and making sure I get to work before everyone else. Hard work is just a fundamental thing. Nobody wants to work with somebody who doesn't pull their own weight, and I go above and beyond.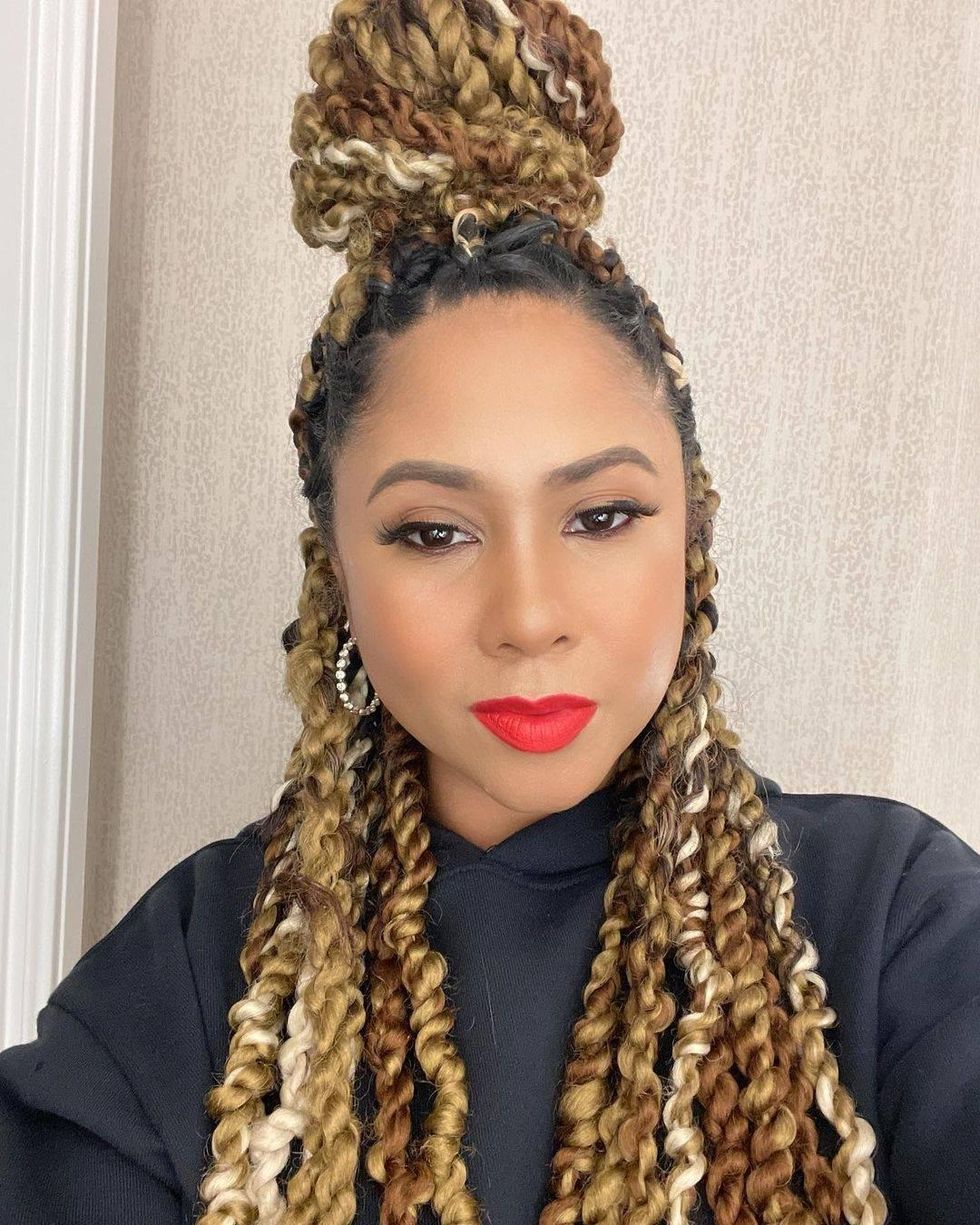 Image via TeamYee/Facebook
And that's even clear in the multiple businesses you've launched, from your juice bar to your line of juices and wellness drinks, to the extensions line, and now with CUP. Why get into coffee?
We were looking for a space during the pandemic to store the juices. So we met with the owner of Brooklyn Roasting Co. [Jim Munson] about their place at the Brooklyn Navy Yard because they had this huge refrigerator we could use. Our guy LaRon [Batchelor], who's one of my partners for the company, had worked with him already, doing sales and distribution. So after our meeting, we all just had a synergy, and he told us, "You guys should think about starting a coffee company." We were already like, "Hmmm, maybe we could actually do that."
Partnering up with a company like Brooklyn Roasting that already knows the ins and outs of the business, we knew they'd be able to support us if they were on board. They own 25 percent of CUP and they're helping us a lot, even with opening the space, with the equipment, and with training. They are also able to roast our beans. It was just kind of a no-brainer at the time.
"There are several reasons that coffee might not be healthy [such as] when you add a lot of cream and sugar, but the coffee beans themselves are really good for you. I know it's helped me so much as far as my mind being sharp and the caffeine helping me stay awake for the day. It also has great benefits for your digestive system. I only add almond milk. That is my trick to make sure I get those benefits."
I also love the fact that the history of coffee [began] in Ethiopia. Most of the population there drinks coffee and so it really is something we should be involved in from start to finish in all different aspects. I want to make sure we're always educating ourselves and encouraging people to be on board with that. Sometimes, I think when we think of coffee, we think middle-aged white man. We have to change that thinking.
In wearing many hats, sometimes you've also been the only woman in the room holding your position. What's your advice for other women to take up space?
We always must show and prove. And get your tribe together. Make sure you have other supportive women around you, and support other women as well, because we have so many things in common when it comes to being in these spaces not always feeling welcome, comfortable or valued.
"We should be intentional about learning from other women so that we can have people we can lean on. That's helped me a lot. It's great when you have a rough day at work or something happens and you have someone you can speak to—who you can vent to and come up with a plan of action."
Also, don't let people make you feel defeated. You have to go hard. That really drives me because I know what my skills and abilities are and I'm not going to give anybody the pleasure of ever seeing me fail.
For more on Angela Yee and her ventures, follow her on Instagram @AngelaYee. And to check out more information on headliners and tickets for the Célébrez en Rosé festival, visit their website.
Featured image via Angela Yee