---
With Miss Universe's recent win, Black women now hold every major Pageant title in the world. Melanin is here, and seeing why is 2020 vision. Our culture has waited too patiently, and no we're not giving out standing ovations for acceptance speeches anymore as much as we're honoring the natural crowns of melanin hair glory that graced each stage.
Our sisters, already crowned by the tresses of their natural hair, fro'd or faded, curly kinky hair or not, our Queens have came and conquered. Another representation of our blackness entering a room and needing no invite. Like Tupac at the picnic in Poetic Justice.
The current headlines are ringing as the world is surprised for the FIRST time in history that there is a Miss America, Miss USA, Miss Teen USA, and Miss Universe who are ALL BLACK WOMEN. It's not a coincidence that we're seeing melanin wisdom rising at its finest. In fact, it's a glimpse of what is about to happen with our next decade. Order is happening before us.
It's an honor that Zozibini Tunzi joins the group as the newly crowned Miss Universe, but here's why our Pageant Queens are all Black:

It's out of their control now. They have run out of creativity and need us to renew their minds. They can't keep up with our excellence because when we embrace our culture, our light is way too hard to compete with.
Their time is simply, up. Our ancestors gave them 400 years to erase the lies they taught us but they still missed the parts that lead us to our melanin truth and we no longer beg for the acceptance. We show up and take home new titles.
Our ancestors' great-great grandchildren have reactivated their spirit on this earth and something inside of us all is something that they can't have. Now granted, we do still have some who keep missing the mark on all this black glory happening, failing to see the obvious signs, tapping into the air of energy out here, but my oh my, collectively and professionally, we are black, we are getting it and we are here.
We simply are unstoppable. Until the 1940s, pageants barred women not of the "white race" from participating. Despite later changes to the rules, a black woman did not participate until the 1970s and, even then, we weren't really welcomed. This decade is sure to leave all that behind, and as you can see, we're coming in groups now.
I recall a time when Steve Harvey announced the wrong winner and a pageant queen's title easily got replaced in seconds, but this time, the riches of our complexion can't be mistaken or taken. Black Queens, there is a part of you that is deeply rooted in continuous winning seasons and now our blackness has tapped into yet another and it's rightfully recorded.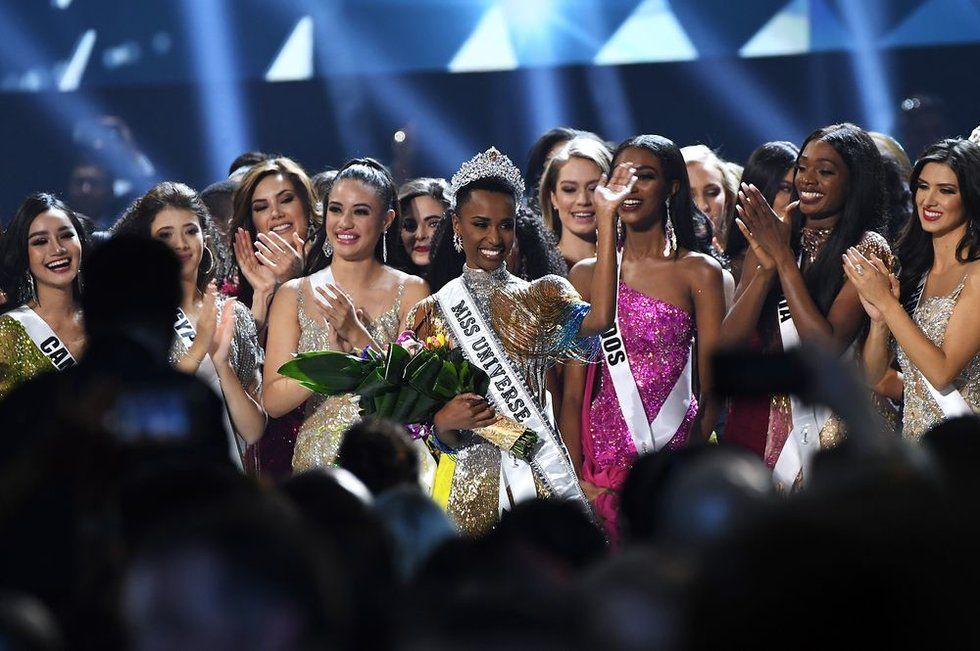 Getty Images
We've raised the bar. As we rise above all the branches of our life: family, money, kids, hustles, credit, purpose; may our souls and peace flourish as well, because our own management of "know thyself" will keep us here. It's needed.

As we've witnessed Miss Universe take the last crown, my soul shook at her looks. Her hair, so fiery short - cut into the obedience of her soul's rhythm. Her eyes, piercing its ancestry pride at every angle. Her poise, clear with deliverance to the loudest sound of knowing who you are wholeheartedly. It is something obvious and ever-so-special about her and the title 'Universe' has awakened Mother Nature to what we honor her for, the truest form of coconut-oiled blackness.
Zozibini Tunzi is her name and has put the cherry on top for every black Pageantry win this year. Salute Queen! The 26-year-old gender violence activist hailing from South Africa recently wrote:
"Tonight a door was opened and I could not be more grateful to have been the one to have walked through it. May every little girl who witnessed this moment forever believe in the power of her dreams and may they see their faces reflected in mine. I proudly state my name Zozibini Tunzi, Miss Universe 2019!"
Now that's dope!
Reflecting over earlier in the year when viewers' excitement showed up for the other three, one viewer said, "It is important to little brown and black girls to see three strong figures, three strong women, African-American women that are doing so much great work," Ms. Franklin told the New York Times in May. "People will argue that race doesn't matter. But race does matter in America, because of the history, because of slavery."
That's true, our blackness needs all acceptance today, tomorrow, and beyond.
As Senator Kamala Harris in all her brown-skin glory tweeted in May, "Nia, Cheslie, and Kaliegh: you are trailblazers, creating your own path on your own terms."
She's right, this is officially living while black, congratulations Queens!
Featured image via Paras Griffin/Getty Images
Did you know that xoNecole has a podcast? Subscribe on Apple Podcasts or Spotify to join us for weekly convos over cocktails (without the early morning hangover.)