It was love at first sight for two freshmen at the University of Maryland, College Park.
---
After meeting their very first week on campus, Kevin decided it was time to make Brittany his lady just two months later. But while the connection seemed quick, it took some time for the two to finally grow into one another before Kevin thought it best to make Brittany his wife.
Seven years of dating and a Master's degree under Brittany's belt later, Brittany moved to New York to be closer to her man. After eight months of living together, Kevin popped the question.
Brittany and Kevin will be on their way to Montego, Jamaica to wed in 2017. In the meantime, read just why Kevin asked and why Brittany said 'yes.'
On Why They Lived Together Before Becoming Engaged
Kevin: Over the seven-and-a-half years that we have been dating I have come to learn that Brittany is truly a ride or die type of woman, and she always puts God and family above all else. That trait is very hard to come by and I felt lucky to be with someone that will always be there for me. That selflessness has made me into a better person. She is also highly intelligent and is not afraid to debate on topics that she is passionate about, which can make for interesting dinners. Personally, I felt it was crucial that we lived together for a year first to ensure that we can co-exist in the same home. We learned so much about each other that you wouldn't know otherwise! At the moment when you feel truly blessed to be with the one you love it is time to start looking towards the future!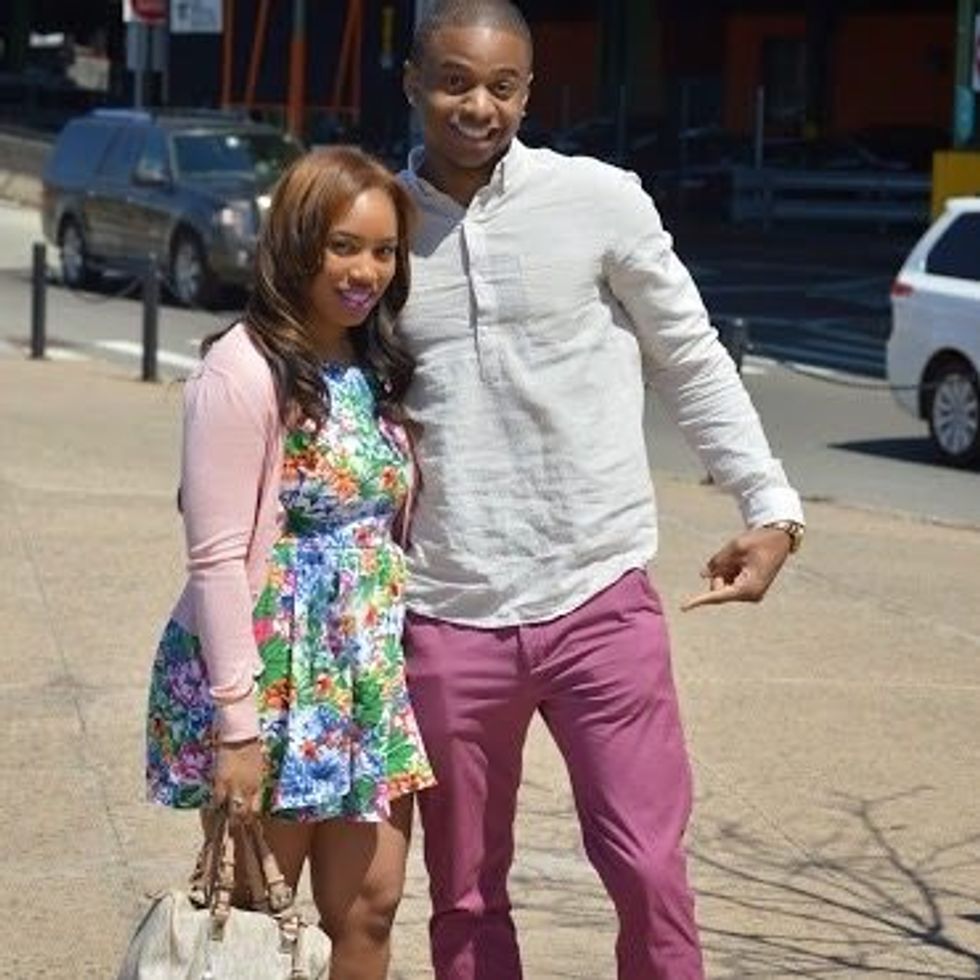 How He Caught Her Eye (And Her Heart)
Brittany: The first thing that attracted me to Kevin was his assertiveness. We both noticed each other at the Freshman mixer but he took the initiative to approach me and strike up a conversation, which I was impressed with. As we got to know each other over the first few months, I realized how caring and genuine he is, which is something that I truly appreciate years later. He is always looking out for my wellbeing and making sure that I am happy, sometimes even over his own happiness. I feel very safe and secure when I'm with him and I'm confident in his ability to lead us and our future family.
As a young black woman who is very independent, it's very reassuring to have a partner that you respect and trust to make the best decisions for you and your relationship.
Another trait that I admire about Kev is his adventurous nature. Sometimes he goes overboard, like jumping off cliffs on vacation [side eye], but I can honestly say that he does motivate me to step outside of my comfort zone and be more fearless.
When It Was Time To Discuss Marriage...
Brittany: We always talked about marriage as a goal eventually, but I didn't get serious about it until I finished grad school. When we decided we would move in together. I set real expectations that I didn't want to be a girlfriend forever, but I also didn't want him to feel pressured. I wanted him to feel 100% ready because this is a serious commitment that we both needed to be prepared for.
[Tweet "I set real expectations that I didn't want to be a girlfriend forever "]
Kevin: We talked about it over the years. I think it's a natural progression of a relationship to talk about your future, which for me included marriage. I knew that once we moved in that within a year I was going to be ready to make that big step!
How She Balanced Her Career With A Long-Distance Relationship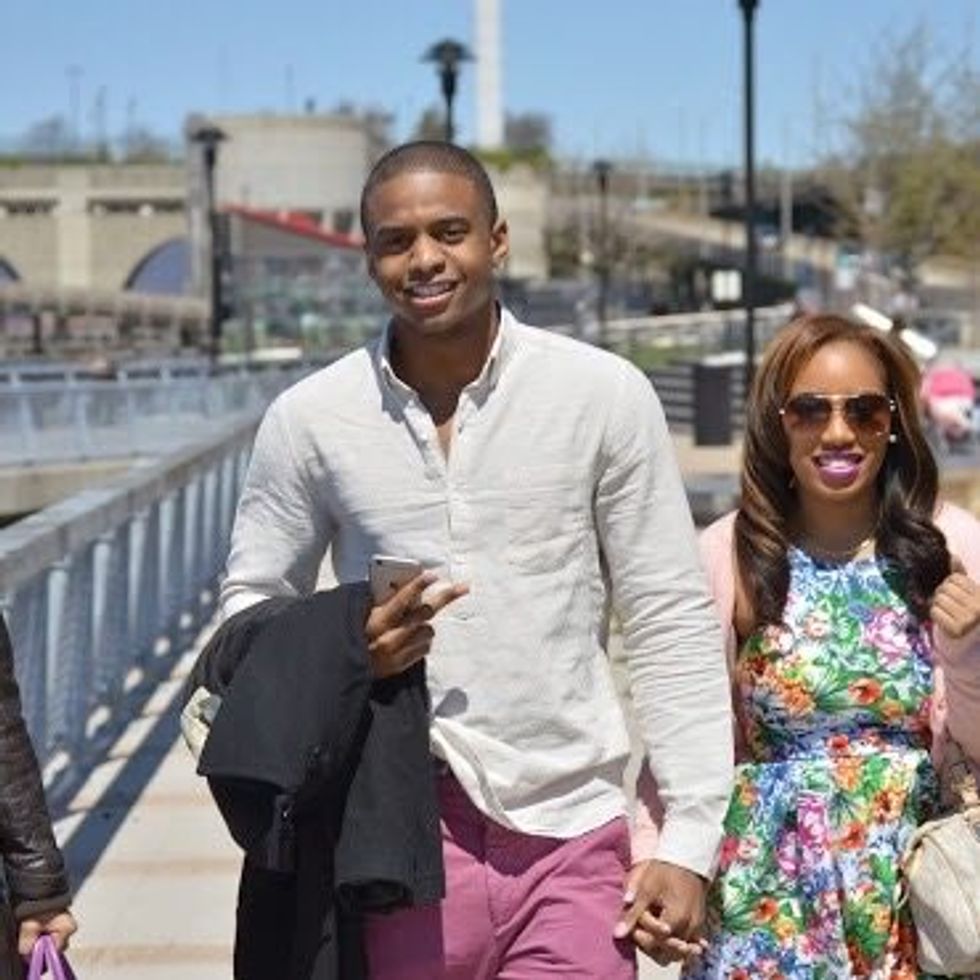 Brittany: Honestly, it was easy to balance when you have a partner who encourages you to go after your dreams. We have both been each other's biggest advocates when it comes to motivating each other to be our very best. Kevin was very understanding when I had to make time to study and make time for friends at school. My education has always been my number onr priority and something that my parent instilled in me from a young age. I just had to have faith that if Kevin and I were meant to be, it would work out in the end (and it did!)
Being in a long-distance relationship over the years did have its challenges, but we made sure to set weekends apart to visit each other and made the most out of the times we spent together. We had the opportunity to explore two different cities (Philadelphia and NYC), which made our dates even more fun. We would use FaceTime every night and text to check-in throughout the day to helped us stay connected. We both realized that this was a temporary sacrifice to pursue and build our careers to eventually begin building our long-term future together.
How He Got the Family Involved
Kevin: Generally, I like to think about things from a long term perspective. Months before I knew that her family was traveling from Maryland to New York to visit family that was in the Bronx. It just so happened to be the same week that my family flew my grandparents up from Florida to surprise my grandma with a birthday party, which had all of her family and friends. I knew this was my time to strike!
Knowing the time frame all I had to do was plan something I felt was worthy enough to demonstrate my love. I told her family and my family that I wanted to have a brunch for Britt's birthday which was a few days before. I also called her best friends from Maryland and told them they need to make this brunch. Overall, I think that it worked out with over 50 of our family and friends able to attend. I takes a village to cultivate a relationship so I felt it important to have them invoked if possible.
Popping the Big Question
Kevin: I can admit now that I was slightly nervous. I wasn't nervous about actually proposing, but more so nervous that my plan, which took sometime to plan was going to be executed with precision.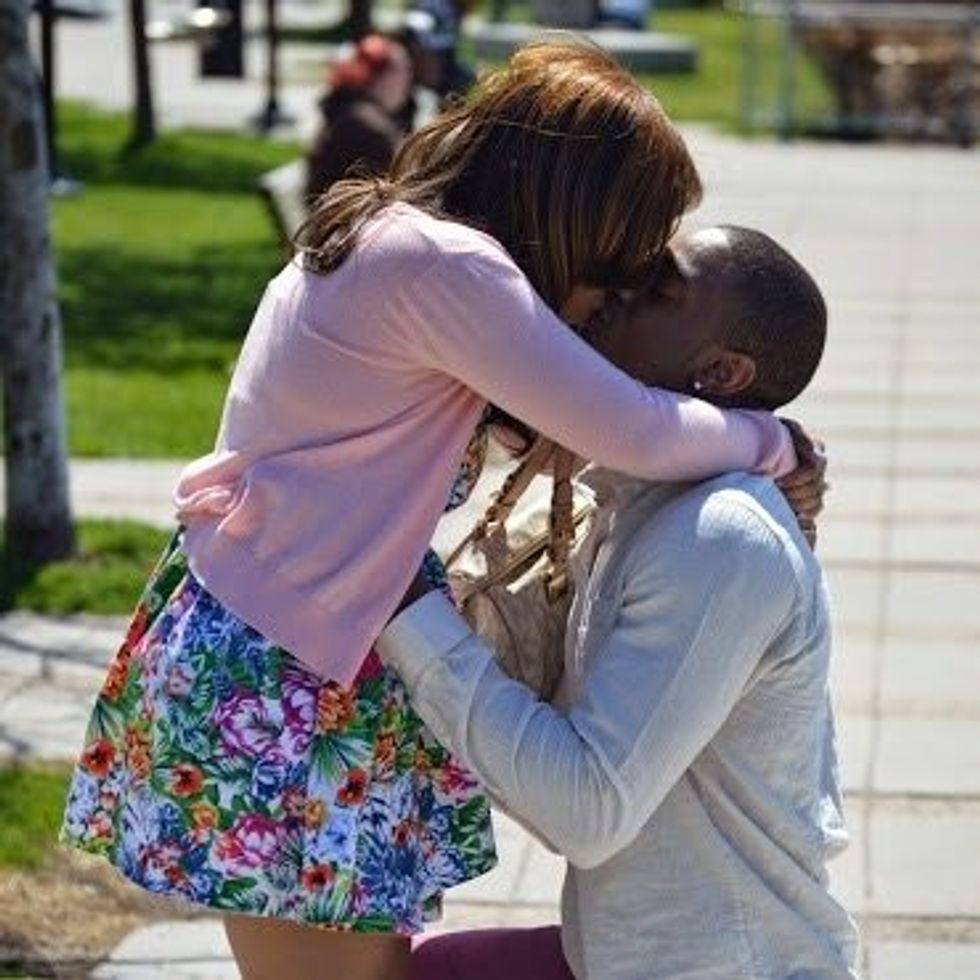 The day started off with us waking up early and having to first visit her family in the Bronx. Her parents and grandparents traveled that same day from Maryland to visit Britt's great uncle who just had a knee replacement surgery. We make it to the Bronx at around 11am. It was great seeing her family, but that was not my main mission of the day.While we were mingling with her family, I was texting my brother and one of my friends throughout the morning to ensure that the brunch location was set! Britt loves to be around family, needless to say it was a challenge to pry her away from them so that we could make it to the brunch location on time. We ended up taking an Uber Executive and finally arrived to the pier around 1pm. Previously, I told Britt that my brother wanted to take some photos for his website and he wanted to involve us. Given that she was dressed, hair done, nails done, perfect!
Upon meeting my brother and his now fiancée at the pier, we began taking photos, partially to stall as people were arriving late of course and so that I can start thinking about the moment to come. We started to walk down the pier towards the brunch location. My brother and his fiancée started to fade to the back as Britt and I walked up. Now at this very moment in my head I thought well it's time--man up! Finally it was just me and her. I had her face the west side overlooking the water and New Jersey. I got on one knee and expressed how much she truly meant to my life and that I wanted her forever. Once the ring came out, she was shocked! I then had her turn around and about 50 yards away were 50 of our closest family and friends! Her reaction made it all worth it!
Planning their destination wedding to Jamaica
Brittany: Since both of our families are from Jamaica getting married there was kind of a no-brainer for us. Since he planned the engagement, he jokes that I am responsible for the wedding, but he will definitely be helping me to make the decisions. We want an outside wedding with either a waterfall or beach backdrop. Overall, we just want it to be one big party with friends and family. Like Kevin mentioned, we are super family-oriented so my biggest wish is that all of our friends and family will be there to help us celebrate our union.
Kevin: I think that I am most looking forward to being in the presence of family and friends. I want our wedding to not only to solidify the union between Britt and me but also solidify the union of the village of family and friends that helped to cultivate our relationship.
Do you have a love story or proposal story that you would like to share? Contact us at editor@xonecole.com, Subject 'Proposal Story.' Include photos and video (if possible)!