---
If you tuned in to the Soul Train Music Awards on Sunday night, you may have noticed a few unfamiliar faces hitting the stage belting out beautiful melodies and reminding us that R&B does indeed touch the soul. One memorable act was the neo-soul duo Lion Babe, who took to the Centric Certified Stage to perform their single "Impossible".
And it was everything!
Lion Babe frontwoman Jillian Hervey whipped her honey-blonde mane and kicked her sky high platforms across the stage, while producer Lucas Goodman backed his home girl with the right keys and beats. It was definitely a jam-worthy moment.
.@LionBabe better work that curly mane! #SoulTrainAwards

— HelloBeautiful (@HelloBeautiful) 1448852736.0
The duo first hit the scene in 2012 with their hit "Treat Me Like Fire", which has more than 1 million views on Vevo. Since then, Jillian and Lucas have been making quite an impact in music overseas, while recently dropping their Pharrell Williams collaboration "Wonder Woman".
If you're unfamiliar with the group, let me catch you up on the neo-soul duo that will have you listening to their whole Spotify catalog.
1. Jillian is the daughter of actress Vanessa Williams.
Even though Jillian is the daughter of singer/actress Vanessa Williams, Jillian said that she had never actually thought of making music until after she met her producer. She told Hunger TV:

"...My whole family is musical – both my grandparents were music teachers, so it was mandatory to be in chorus, and play an instrument, and be in band. And then there was just always music in the house, and a lot of people around us that were also musicians and stuff...So I think it was just being in that whole atmosphere. It definitely started in the home, but I didn't ever really think about making music until I met Lucas."
2. He's the "Lion," she's the "Babe."
The name stems from Lucas' zodiac sign (Leo), and Jillian's hairstyle (Babe). Jillian's curls are crazy sexy!

3. Their first hit "Treat Me Like Fire" is fire.
Seriously, their debut song is ill. Check out Jillian swinging her honey blonde curls across the screen, and Lucas turning up the beat in the video!
4. The duo got their start when Lucas made dance songs for Jillian.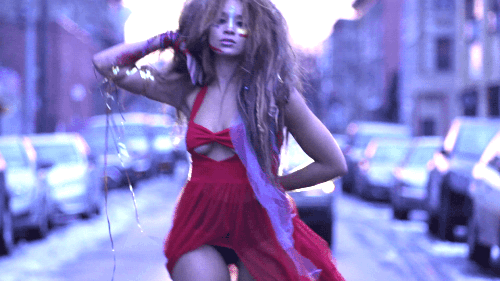 The two actually met when they were still students. Jillian originally wanted to be a dancer, but after connecting with Lucas, her life started to take a different direction. According to Interview,
Hervey, who studied dance at the [Eugene Lang] New School, and Goodman, who studied music at Northeastern, met at a college party. Goodman was playing songs he produced in his dorm room and Hervey wandered over, wanting to know more. After the dorm room introduction, they began collaborating—first with Goodman producing music for Hervey's dance performances and now, full fledged songs.
5. Lion Bane has opened for Childish Gambino, and has already worked with some heavy hitters.
Their sound and delivery is what definitely sets them apart in the neo-soul landscape. It's no wonder why they've already opened and worked with Childish Gambino, Mark Ronson, and Pharrell Williams.

Get into this group by checking out "Don't Break My Heart" and their acclaimed song "Wonder Woman" featuring Pharrell Williams below!
Are you feeling Lion Babe?
Featured image via Giphy