Simone Ledward Boseman had her first sit-down interview since the passing of the love of her life and celebrated actor Chadwick Boseman. Chadwick, most known for starring in Black Panther, lost his battle with colon cancer in Aug. 2020 at the age of 43 and while his death was a shock to many, Simone and others close to the actor were privy to his diagnosis and were there for him during his final days. In a Good Morning Americainterview with The View co-host Whoopi Goldberg, Simone reflected on her life with the Oscar-nominated actor and coping with his death.
---
"I met this person, who was a wonderful man, and he ended up being a global superstar," she said. "And really, after Black Panther came out, it did kind of happen overnight."
She added, "I can't believe that I was so lucky. I can't believe that I got to love this person, and I also got them to love me too."
Simone and Chadwick met after he completed filming the 2014 James Brown biopic Get Up. He was attending a James Brown tribute concert at the Hollywood Bowl, which is where she worked and the actor expressed interest in her.
"We were on the side of the stage at a certain point, and I guess he didn't know if I was really catching his hints. And he just kinda randomly just bent down and untied one of my shoelaces … as a little joke," she said laughing. "And I said, 'Oh, okay, so this is flirting, this is him flirting with me.' And then he got back down and said, 'Oh, I'm sorry.' He got back down, and he retied my shoelace."
The singer admitted she fell for the Ma Rainey's Black Bottom star "pretty quick." "He was so intentional," she said. "He did not go into anything with his eyes closed. And I knew that I could follow him off the edge of a cliff because he's got a plan, you know?"
"I think when I really realized that, it was like, 'Okay. This is it. We're not going anywhere. I'm in it. He's in it.'" She added, "He was just the smartest, most caring, most genuine, most just real, authentic, truth in everything -- like nobody that I had ever met."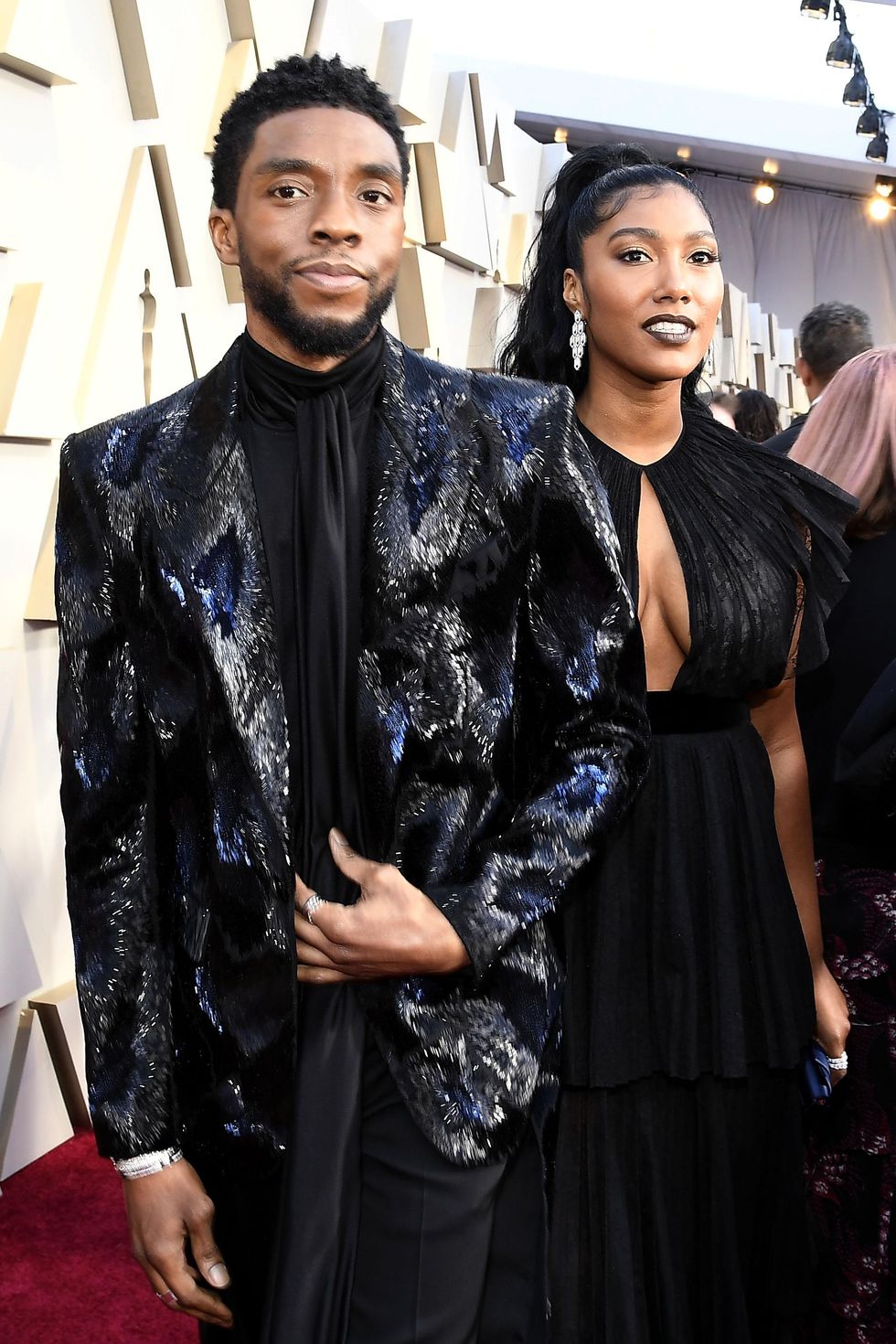 Kevork Djansezian/Getty Images
The two got married in 2018, two years after he was diagnosed with stage III colon cancer. When he died, his cancer progressed to stage IV, which was when the COVID-19 pandemic lockdown began. The Golden Globe winner decided to keep his battle with cancer private.

"That meant that everybody was in their house, and there was no pressure for anybody to go outside, or go to a meeting, or be seen," she said. "… As much as that [was] just such an awful time in the world, it seemed like, 'Is this a crazy coincidence that we get to actually be inside?' We get to be here with family… together."
She added. "Everybody in the world is also experiencing this togetherness in the midst of this awful, scary, unpredictable time, so it really reduced, I think, that risk of -- you have to be out, you have to go do this … It reduced that for us."
Simone has spoken on the impact Chadwick has had on her as well as others and she hopes to continue sharing his legacy with the world. Before he passed, the 42 actor expressed that he wanted to create a foundation for students in the arts. While the foundation is still in its early stages, Chadwick was still able to help young people thanks to his alma mater Howard University. The HBCU renamed its fine arts program the Chadwick A. Boseman College of Fine Arts and they even established a scholarship in his honor.
"I can't believe that I was so lucky," she said. "I can't believe that I got to love this person and I also got them to love me too. Sure, he was an actor and that was -- there was a lot of fun stuff that we got to do. But he was an artist."
"He was an artist, and he was a leader and he was a king. And that I got to be by his side for that -- that he chose me to be by his side for that is just -- it's the greatest blessing," she continued. "Even with the pain of his loss, now I still get to have this beautiful spirit relationship with him. And that, while it's difficult to accept, is also beautiful because he's an ancestor now. He is and he is never leaving me."
Chadwick Boseman's Widow Breaks Her Silence in Exclusive 1st Interview l GMA
Let's make things inbox official! Sign up for the xoNecole newsletter for daily love, wellness, career, and exclusive content delivered straight to your inbox.
Featured image by Jesse Grant/Getty Images for Disney