Not all of us have the luxury of kissing our 9-5 goodbye when we venture out to start our own business.
---
Heck, some of us might be completely satisfied working for someone else while we rock our own business on the side. Whatever you're going for, don't let your full-time job be the reason you don't open your own business, especially if it's something you're really passionate about.
Trust me, I get it, working your business at the same time as your job might feel overwhelming to even think about. But it is definitely possible. And you can do it without feeling like you're going to shut down and have burnout. Here's how.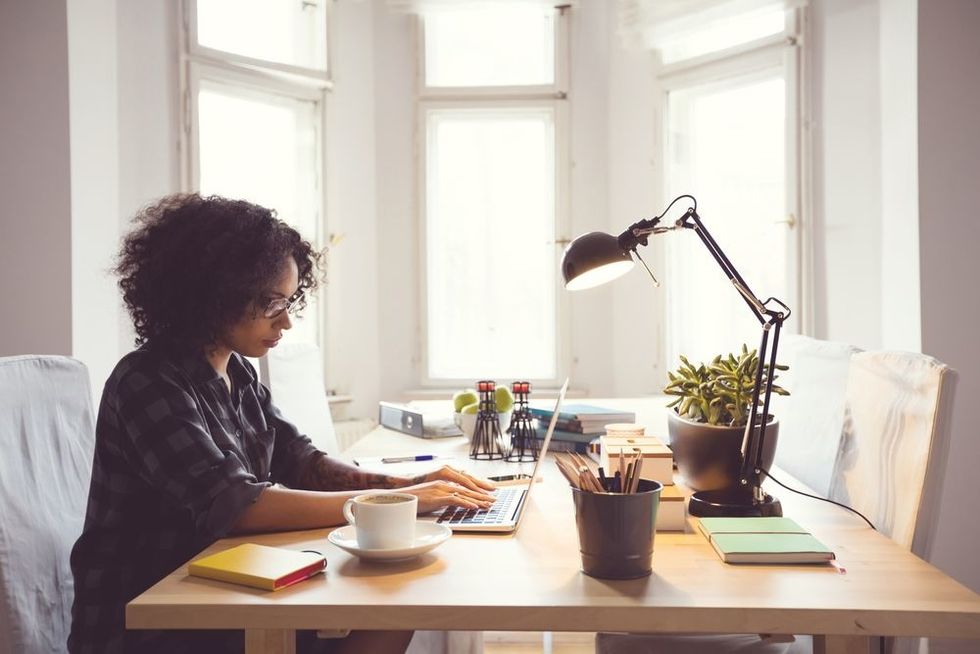 Getty Images
Have A Plan, Sis
So before you start this amazing journey of launching a business while you're still rocking your full-time job, you gotta get a plan. And not just a business plan, a real-life plan. For starters, do you ultimately want to be able to work your business fully, or keep a job on the side, even if you don't need it? I totally get it if you don't necessarily dream of being your own boss but still want to express your passions with a business. Full-time entrepreneurship doesn't have to be for everybody. Or, do you want to work your business as much as possible until you don't need a job anymore?
Whatever you decide will determine how hard you'll go and how much work you'll put in on the regular. Of course, you can adjust and radio edit as time goes on, but it's super important to have a plan instead of aimlessly wandering into this life changing step. It doesn't take long to write down where you want your business and your career to be in six months, a year, three years, five years, and so on. It's your prerogative and it's your business. You just have to make sure it makes sense for you.
Make The Most Of Your Weekends/Days Off
If you're working a Monday thru Friday job, or even a job that requires you to clock in on the weekends, you really have to make the most of your days off. If you have the standard two days off a week, then make one of those days off that you work on your business like crazy. You could even split it up and work a few hours a day on each day if you're worried about getting overwhelmed. Because as much as we love the grind, even a superwoman needs a rest day more often than we'd like. It's all about working smarter, not necessarily harder.
You can also take advantage of some evenings after work, or if you work nights, some mornings and afternoons before work. Whatever you do, just make the most of your time off and your free time in general. If you live in a major city like Chicago or New York where you rely on public transportation, you can even use those moments to brainstorm and write down the amazing ideas you have rolling around. You just have to find your sweet spot and balance between taking advantage of every free moment, and not burning yourself out. Because if you go way too hard and get exhausted, your business and your health could get the short end of the stick.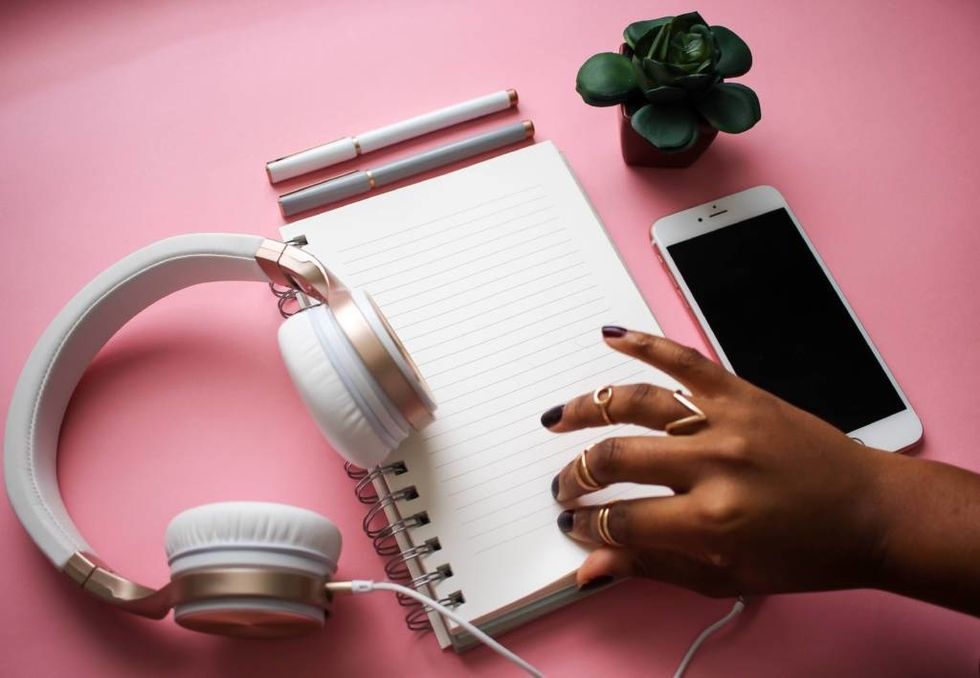 CreateHERstock
What's Your Real Goal?
Whatever it is, go for it. The sky's the limit. The new Kanye might be on some other stuff but the old one was right when he said, "You gon touch the sky baby girl!" All you have to do is go for it. I think the best idea is to write down your dream goal. Not just when it comes to revenue and profit but also when it comes to your reach, target audience, and benchmarks you want to meet. Put dates next to them, and then write a plan on how you'll get it done.
Once you put details next to your dreams, like the how's and the when's, you'll see that they're much more reachable than you might have ever thought. For this particular point, the when is the key. Even if you have to get a cute planner to schedule and write down time you'll work on your business in the morning, on your lunch break, and whenever you see fit, you'll find that you're inching closer toward your goal; even if it is slowly but surely.
Don't Be Afraid To Ask For Help
At some point, as your business grows, you're going to need help; especially while you're working your full-time job. I love that within my group of friends, all of us have different strengths, and we let each other capitalize off of them. Whether it's me editing one of their blog posts or them helping me sit down and focus on my brand image, it's not a bad thing to use other's strengths in areas where you might be lacking; especially if you're offering your own services too.
Another way you can ask for help is to find a mentor. While your business idea is a unique one that will bring something special that no one else can offer, it's pretty likely that someone else has already accomplished something similar. Whether it's in a different industry or with a different target market, don't be afraid to reach out to someone and ask them to guide you along until you take off the training wheels.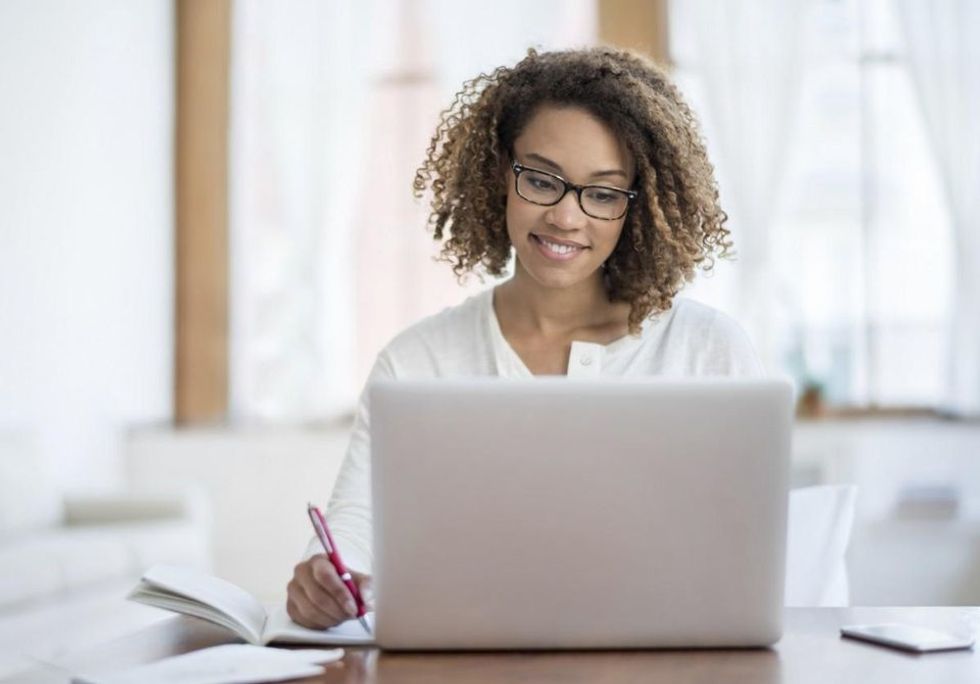 Getty Images
Rock That Budget
So one of the best parts about having a full-time job is that it can pay for your business until you're ready to fly solo (if that's what you aim for in the future). While you're working your job, use that to your advantage to fund projects, events, or anything that can help build your businesses in the long run. Even if you're just starting out with an idea and haven't been able to lay out the logistics, thanks to your job you can at least start a savings account that will serve as a pretty nice cushion when you're ready to launch.
From building a website to advertising to potential clients, business expenses can definitely add up with the quickness. So don't be ashamed of letting your hard work at your job pay for it until you don't need it anymore.
Have you started on your own business? What are some tips you have for navigating owning a business and having a full time job?
Featured image by Getty Images
Charmaine Patterson
Charmaine Patterson is a journalist, lifestyle blogger, and a lover of all things pop culture. While she has much experience in covering top entertainment news stories, she aims to share her everyday life experiences, old and new, with other women who can relate, laugh, and love along with her. Follow Char on Twitter @charjpatterson, Instagram @charpatterson, and keep up with her journey at CharJPatterson.com .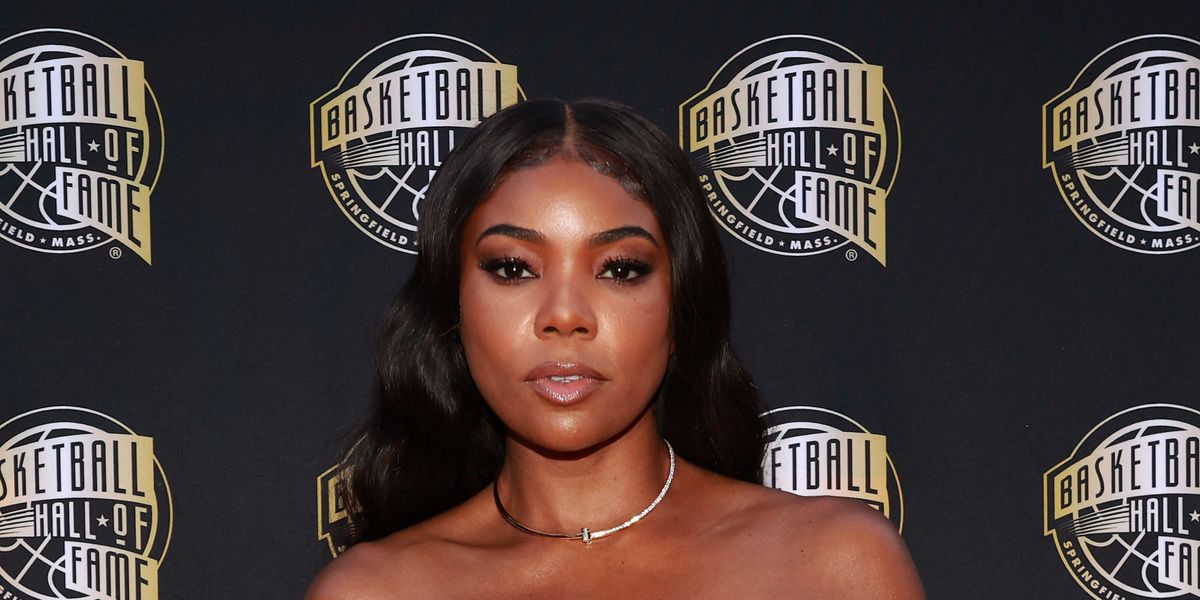 Whenever Gabrielle Union graces the movie screen, she immediately commands attention. From her unforgettable scenes in films like Bring It On and Two Can Play That Game to her most recent film, in which she stars and produces Netflix's The Perfect Find , there's no denying that she is that girl.
Off-screen, she uses that power for good by sharing her trials and tribulations with other women in hopes of helping those who may be going through the same things or preventing them from experiencing them altogether. Recently, the Flawless by Gabrielle Union founder partnered with Clearblue to speak at the launch of their Menopause Stage Indicator, where she also shared her experience with being perimenopausal.
In a xoNecole exclusive, the iconic actress opens up about embracing this season of her life, new projects, and overall being a "bad motherfucker." Gabrielle reveals that she was 37 years old when she was diagnosed with perimenopause and is still going through it at 51 years old. Mayo Clinic says perimenopause "refers to the time during which your body makes the natural transition to menopause , marking the end of the reproductive years."
"I haven't crossed over the next phase just yet, but I think part of it is when you hear any form of menopause, you automatically think of your mother or grandmother. It feels like an old-person thing, but for me, I was 37 and like not understanding what that really meant for me. And I don't think we focus so much on the word menopause without understanding that perimenopause is just the time before menopause," she tells us.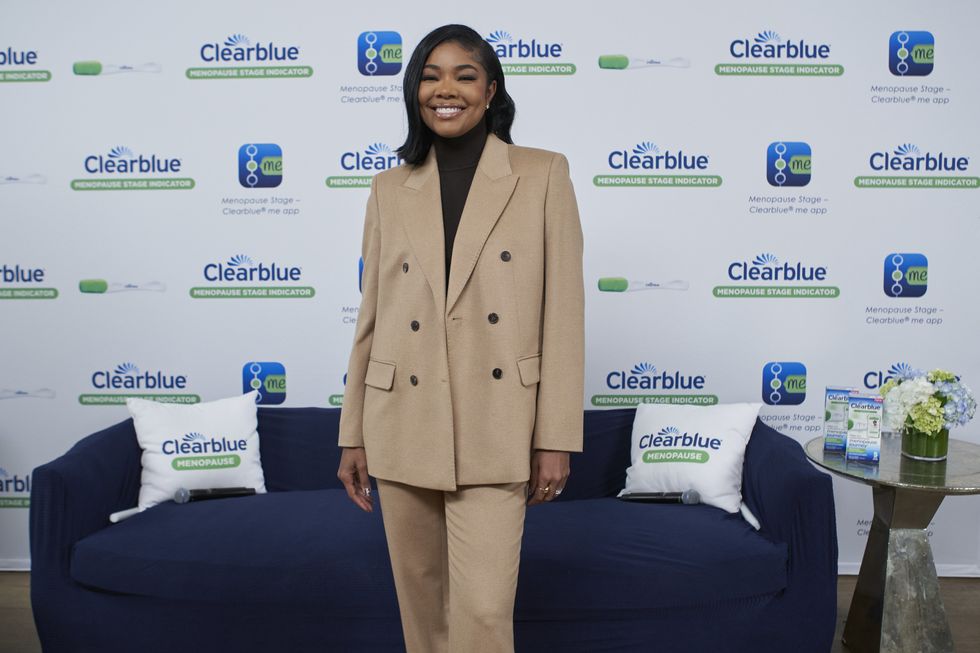 Gabrielle Union
Photo by Brian Thomas
"But you can experience a lot of the same things during that period that people talk about, that they experienced during menopause. So you could get a hot flash, you could get the weight gain, the hair loss, depression , anxiety , like all of it, mental health challenges , all of that can come, you know, at any stage of the menopausal journey and like for me, I've been in perimenopause like 13, 14 years. When you know, most doctors are like, 'Oh, but it's usually about ten years, and I'm like, 'Uhh, I'm still going (laughs).'"
Conversations about perimenopause, fibroids, and all the things that are associated with women's bodies have often been considered taboo and thus not discussed publicly. However, times are changing, and thanks to the Gabrielle's and the Tia Mowry 's, more women are having an authentic discourse about women's health. These open discussions lead to the creation of more safe spaces and support for one another.
"I want to be in community with folks. I don't ever want to feel like I'm on an island about anything. So, if I can help create community where we are lacking, I want to be a part of that," she says. "So, it's like there's no harm in talking about it. You know what I mean? Like, I was a bad motherfucker before perimenopause. I'm a bad motherfucker now, and I'll be a bad motherfucker after menopause. Know what I'm saying? None of that has to change. How I'm a bad motherfucker, I welcome that part of the change. I'm just getting better and stronger and more intelligent, more wise, more patient, more compassionate, more empathetic. All of that is very, very welcomed, and none of it should be scary."
The Being Mary Jane star hasn't been shy about her stance on therapy . If you don't know, here's a hint: she's all for it, and she encourages others to try it as well. She likens therapy to dating by suggesting that you keep looking for the right therapist to match your needs. Two other essential keys to her growth are radical transparency and radical acceptance (though she admits she is still working on the latter).
"I was a bad motherfucker before perimenopause. I'm a bad motherfucker now, and I'll be a bad motherfucker after menopause. Know what I'm saying? None of that has to change. How I'm a bad motherfucker, I welcome that part of the change."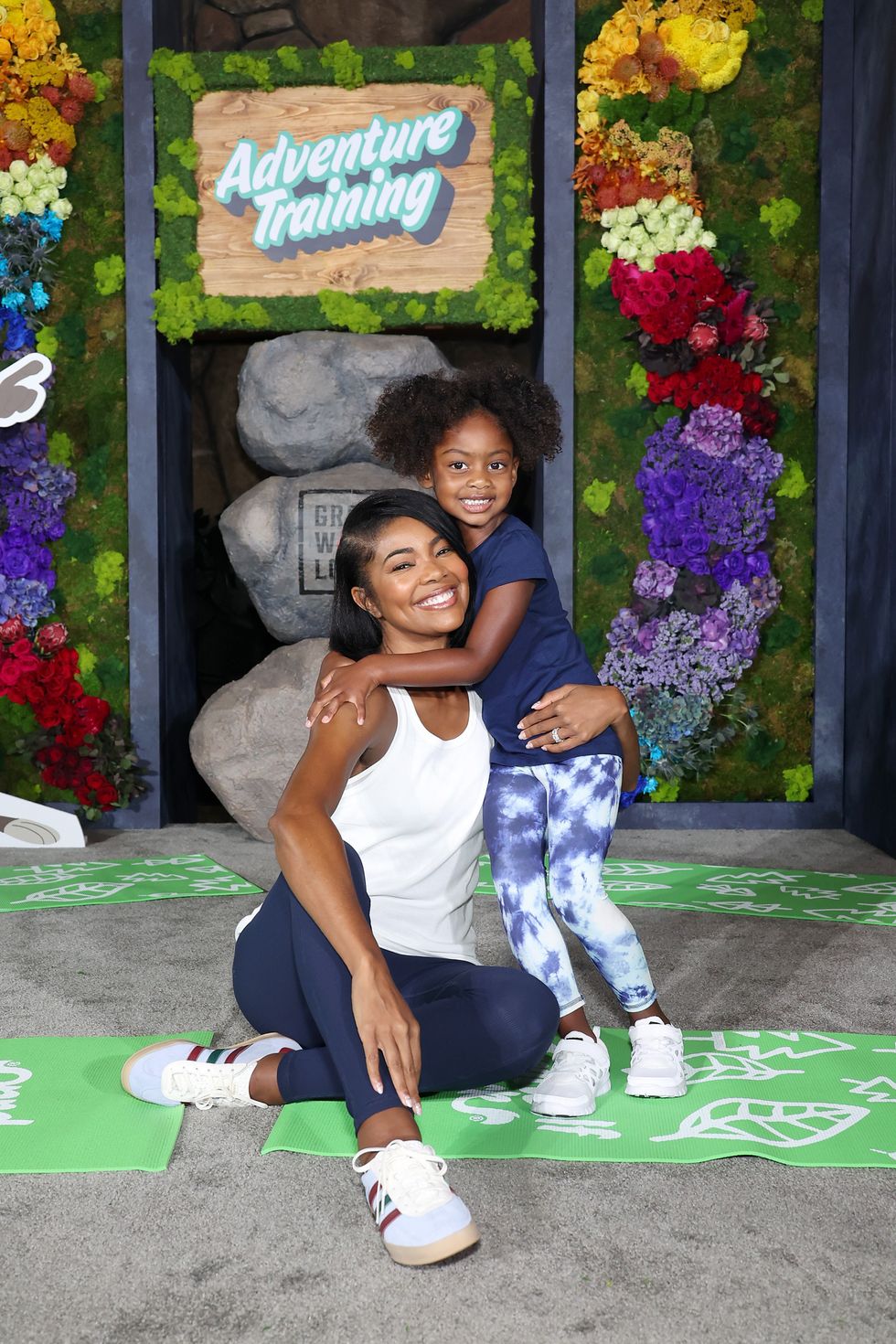 Gabrielle Union and Kaavia Union-Wade
Photo by Monica Schipper/Getty Images
"I hope that a.) you recognize that you're not alone. Seek out help and know that it's okay to be honest about what the hell is happening in your life. That's the only way that you know you can get help, and that's also the only other way that people know that you are in need if there's something going on," she says, "because we have all these big, very wild, high expectations of people, but if they don't know what they're actually dealing with, they're always going to be failing, and you will always be disappointed. So how about just tell the truth, be transparent, and let people know where you are. So they can be of service, they can be compassionate."
Gabrielle's transparency is what makes her so relatable, and has so many people root for her. Whether through her TV and film projects, her memoirs, or her social media, the actress has a knack for making you feel like she's your homegirl. Scrolling through her Instagram, you see the special moments with her family, exciting new business ventures , and jaw-dropping fashion moments. Throughout her life and career, we've seen her evolve in a multitude of ways. From producing films to starting a haircare line to marriage and motherhood , her journey is a story of courage and triumph. And right now, in this season, she's asking, "What's next?"
"This is a season of discovery and change. In a billion ways," says the NAACP Image Award winner. "The notion of like, 'Oh, so and so changed. They got brand new.' I want you to be brand new. I want me to be brand new. I want us to be always constantly growing, evolving. Having more clarity, moving with different purpose, like, and all of that is for me very, very welcomed."

"I want you to be brand new. I want me to be brand new. I want us to be always constantly growing, evolving. Having more clarity, moving with different purpose, like, and all of that is for me very, very welcomed."
She continues, "So I'm just trying to figure out what's next. You know what I mean? I'm jumping into what's next. I'm excited going into what's next and new. I'm just sort of embracing all of what life has to offer."
Look out for Gabrielle in the upcoming indie film Riff Raff , which is a crime comedy starring her and Jennifer Coolidge, and she will also produce The Idea of You , which stars Anne Hathaway.
Feature image by Mike Lawrie/Getty Images
Sex
Nov 30, 2023 13:00 PM EST

A dead bedroom can kill any relationship. In all long-term, committed relationships , couples experience various phases, from the initial passion to a more complex and enduring connection. Yet, as time passes, sex may decrease, which introduces an issue often referred to as "bed death."
According to Advance Psychology Partners , 'bed death' occurs when individuals in a committed relationship experience a decline in the frequency of sexual activity and fall short of the desires of both or either partner. It is sometimes labeled a " sexless relationship " due to the infrequency of sex. In the U.S., an estimated 20 million people find themselves in such relationships.
This shift is a significant change for couples. Let's face it: no one wants to be in a sexless marriage or relationship. But how can couples effectively confront the impact of fading physical intimacy on the overall health of their enduring partnership?
"I have found that many factors influence one's desire to dive, and it is often not a majority of just one thing. Most people assume that if they don't desire [sex], they are no longer physically attracted, but in my experience, that has little to do with it most of the time," explained Brittanni Young, LMFT, CST .
"Some of the heavy contributors that I see most often include excessive goal orientation towards orgasm, people not prioritizing their own sexuality, and the landfill of 'should's' that develop from toxic sexual scripts created long ago in upbringing," she added.
Furthermore, these issues are not exclusive to any particular orientation, but it does manifest differently.
Young is a licensed marriage and family therapist, sexologist, and board-certified sex therapist who practices in Georgia and Florida. She has worked in the sexology field for over a decade. Young helps couples and individuals looking to get through challenges of all facets facing sexuality and intimacy, such as desire mismatch, over-compulsion, and dysfunctions. She recently launched a deck of intimacy connection cards called " Show Me Your Cards ." Young is working on another product that helps teach children to consent and negotiate appropriate touch. She sat down with xoNecole to discuss what causes the decline in the bedroom, the myth of 'lesbian bed death,' and recommendations on overcoming "bed death."
The Decline In Intimacy
Intimacy often dwindles within relationships, a phenomenon triggered by various factors such as stress , the insidious monotony of routine, and the toxicity of unresolved conflicts, to name a few. While couples manage daily life, exchanging intimate desires and concerns may take a backseat. Sadly, this gradually erodes the closeness once shared in the relationship.
"Typically, the first thing I do when working with a couple on desire challenges is rule out medical causes by referring them to their primary care physician or other provider they are working with," Young shared. "There are times when unmanaged or mismanaged conditions factor into low desire levels. Also, many medications can wreak havoc on keeping desire levels up, such as antidepressants, SSRIs, anti-anxiety, and blood pressure medications, to name a few."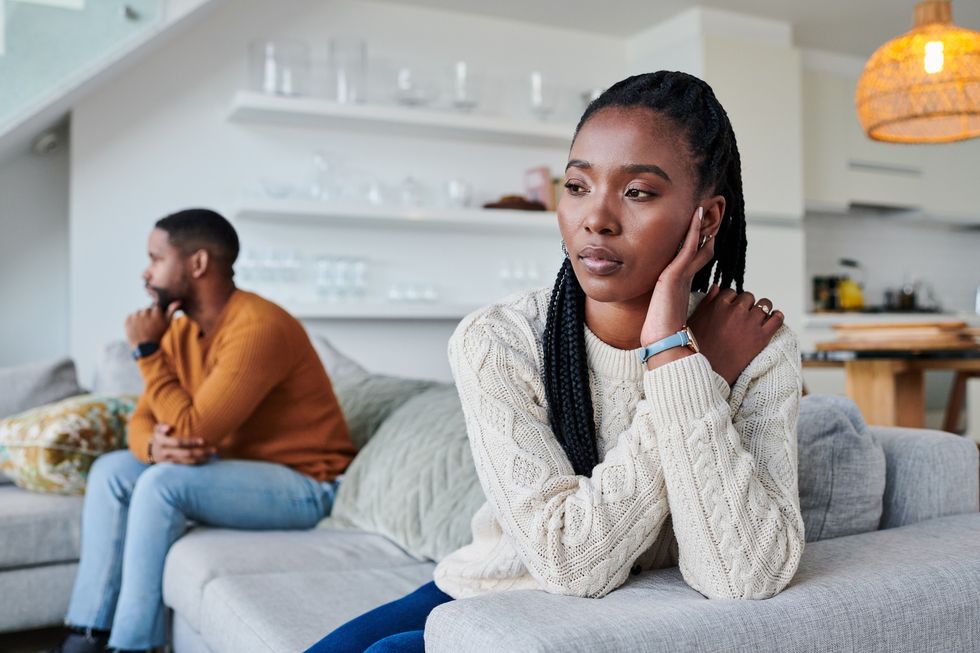 Jeff Bergen/ Getty Images
"Next, I look at the state of the relationship. If there is dissatisfaction in the relationship, then it definitely affects how close and intimate one wants to be to another. There are also plenty of individual factors one can bring into the equation, such as low self-esteem , anxiety , depression , feelings of shame or guilt around one's own sexuality, and external life stressors that can get in the way. I find that life stressors can be a big one for folks, as once you get in the habit of not prioritizing sex, it tends to stick," she added.
Fortunately, there are ways to prevent "bed death." It can involve prioritizing your wants and open communication about sexual needs.
"What tends to be effective for all couples is taking an inventory of how satisfied they are with their sexual behaviors and engagement. Being truthful in this vein can be the start of unlocking inhibitions that can keep you from seeking out and being genuinely vulnerable in intimate spaces," Young explained. "Next, I suggest opening up lines of communication around these truths. When people assume that nothing can be done, hope is lost."
The Myth Of 'Lesbian Bed Death'
The notion of "lesbian bed death" perpetuates a simplistic and inaccurate stereotype about the sexual dynamics within lesbian relationships. Contrary to the myth, the experience of a decline in intimacy is not universal among lesbian couples. The diverse spectrum of relationships among women challenges this oversimplified narrative, emphasizing that the complexities of sexual dynamics extend beyond stereotypical assumptions.
"The notion of 'lesbian bed death' is based on a research study done by Pepper Schwartz in 1983 that found that lesbian couplings fell behind in sexual frequency compared to heterosexual and gay male couplings," Young revealed.
"Several other studies [after] have replicated these findings but give very little information about sexual satisfaction . Despite there being more research needed overall in the sexuality field, more recent research did find that when it comes to the length of sexual encounters, lesbian couples had the longest duration of encounters. To that end, sexual quality over quantity is a better marker of satisfaction, and that is what I pay most attention to in my work. With that said, dissatisfaction can happen in all couplings over time," the sexologist continued.
Factors influencing reduced intimacy among lesbian couples may include communication challenges, societal pressures, and individual variations in libido. Menstruation can also play a role, with some couples navigating discomfort or hormonal changes during this period.
"There are certainly some nuances that come into play with lesbian couples that differ from heterosexual or other-oriented couples. As I stated earlier, physiological factors can factor into the rise and fall of libido. The hormone fluctuations that come from menstruation and menopause can impact desire levels, and it is double present in lesbian couples. Another nuance is the lack of a sexual script from society on lesbian sexual behavior. There are patriarchal roots to sexual research, which have created our societal norms that tend to leave out anyone who isn't heterosexual," Young stated.
Overcoming The Challenges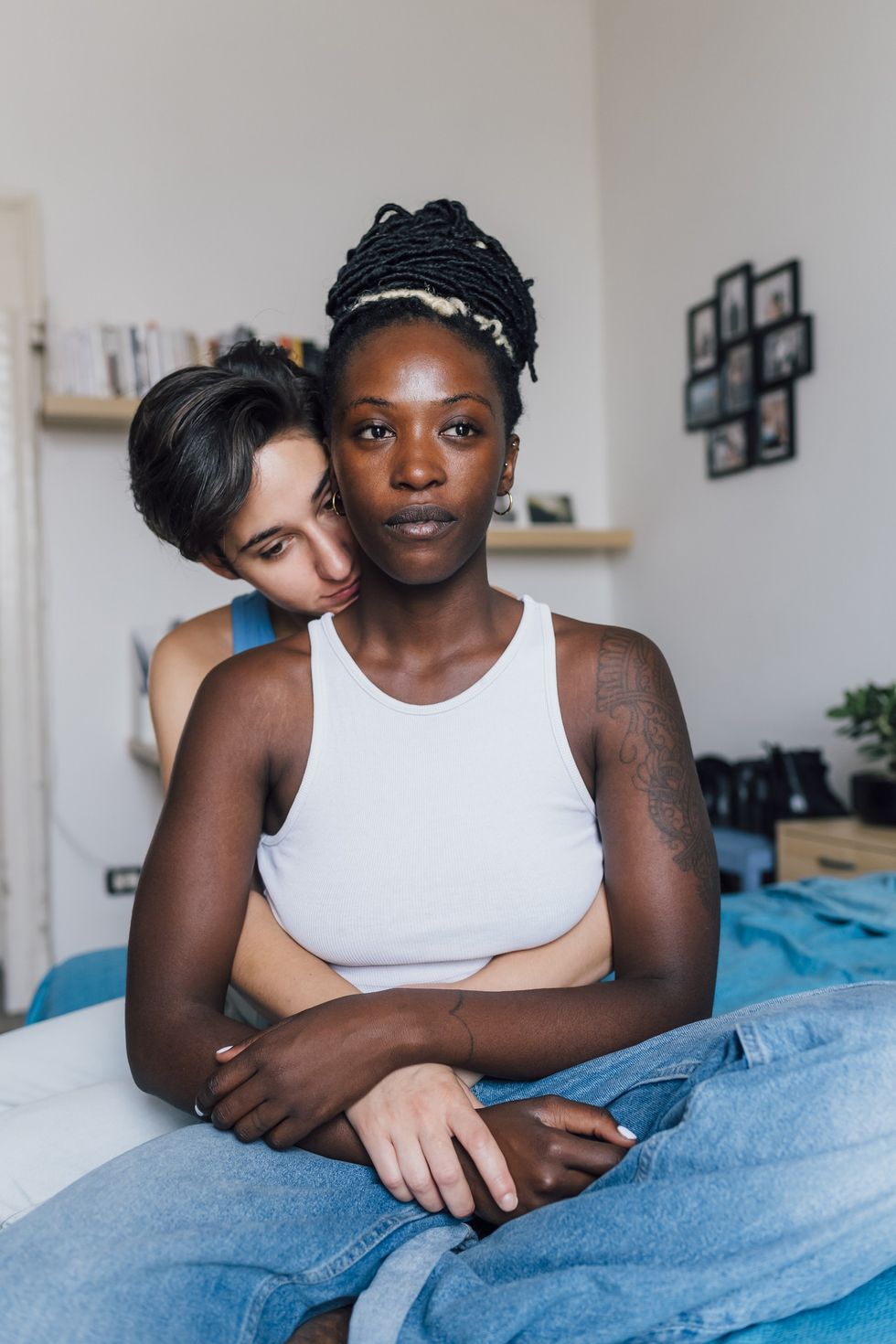 Westend61/ Getty Images
While 'bed death' challenges couples, solutions are within reach. By identifying and addressing the underlying causes, couples can rekindle the flame of intimacy and ensure a healthier, more fulfilling relationship.
"In the words of Esther Perel, another sexual professional in the field, 'love enjoys knowing everything about you; desire needs mystery.' I recommend keeping it in the front of your mind, prioritizing, and keeping it interesting. Be open to learning more about your own sexuality every day, as well as your partner. You are always growing; what worked for you 20 years ago may not be the same today. Stay curious with one another and be open to exploring new ways to pleasure. You deserve it," Young said.
For instance, Young advised that couples should "keep sexual encounters light and playful." And not be afraid to introduce new elements, such as toys .
"Touch often in ways that are consensual and feel safe! I made 'Show Me Your Cards' to serve this purpose specifically. Just because you do not feel in the mood to go all the way does not mean you aren't in the mood to hold hands, exchange body massages, or dance together. Connecting often in any physical form, as long as it feels pleasurable, still counts as 'being in the mood,'" she said.
Overcoming the hurdles of "bed death" and debunking myths surrounding 'lesbian bed death' offers a unique perspective for couples grappling with the difficulties of sustaining a connection. Learning the proper ways to work through a sexless relationship can help foster a healthier, more fulfilling relationship.
Feature image by Vladimir Vladimirov/ Getty Images