---
The next time I hear about a woman brag about not wearing wigs, I'll give her a cookie for her efforts and sashay away in my 28-inch frontal unit like a boss. The first time I saw my sister put on a wig, I wanted one of my own. She was in her mid-twenties when she was diagnosed with Leukemia, and despite her painful recovery process, she always looked f*cking fabulous. Even if she didn't feel that way. I realized then that wigs were a sort of armour for women of color and served as an outlet of creative expression for her in one of the roughest periods in her life.
When my sister put on her wig, she was no longer a woman who was hopeless and cancer-ridden. Having full autonomy to switch up her look despite losing her hair during chemotherapy was a sign of strength and demonstrative of the perseverance that eventually led her into remission. As a multifaceted, three-dimensional woman, I find that wigs and hair pieces offer me range in my personality and at times enable me with the bravery that it takes to kick ass in even the most uncomfortable areas of my life.
Some days, I wake up feeling like Ms. Celie, but soon after, I put on my mane of platinum blonde curls, I transform into Sasha Fierce. Don't get me wrong, I see so much beauty in Color Purple cornrows, but there is a whole wonderland of adventure that weave has to offer, and if you haven't yet, you should take advantage.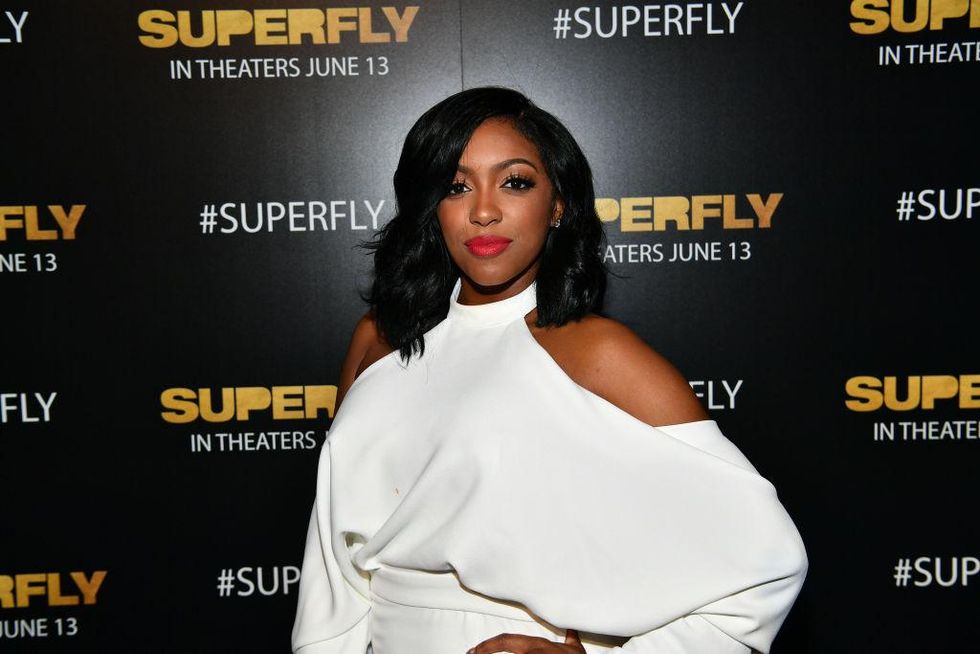 Paras Griffin/Getty Images for Sony Pictures Entertainment
Porsha Williams recently opened up to Allure about how a traumatic split from her estranged ex-husband led her discover new facets of her personality. In the interview, she said that she coped with the blow to her self-esteem after her highly publicized divorce from Kordell Stewart by tapping into known previously unknown archetypes of her personality and consequently finding love in her natural self.

Now, the reality star has her own line of unprocessed hair extensions and has a room in her home dedicated to more than 40 wigs of various lengths and colors that all have their own names. A few of the high-maintenance beauties mentioned in her glorious collection include Olivia, the highbrow business woman who doesn't take any bullsh*t, Carrington the Southern housewife with an eye for good houseware, and Pocahontas - yes, like the movie.

She told Allure:

"When my assistant got hired, he didn't think that half of his job would be maintaining my babies."
Wigs and frontal sew-ins are often given a bad name because it's assumed that since I'm using an alternative method of hair styling, there must be something that I don't like about myself. The truth is, protective styles are lit and can ensure that your natural hair stays healthy and without chemical additives.
A woman's hair is the extension of her personality, and wigs give us the opportunity to be whoever tf we wanna be without doubt or explanation. Porscha is a reminder that finding yourself means losing your old identity in more ways than one. Switching up your look can give you confidence that you didn't even know you needed.

For you, that may mean doing a big chop, or even taking a note from our girl and investing in your own personal wig closet.
Read Porsha's full feature over at Allure.
Featured image by Paras Griffin/Getty Images for Sony Pictures Entertainment