---
OK, so if you're like me, you naturally gravitate toward refreshing, loving families that make up their own rules, and live by their own standards. After all, society tends to try to pigeon-hole what a family is supposed to look like, and we all know that it's possible for it to not be just one thing.

The MAZELEE family on YouTube, is one of those families, and one of my personal faves. They're an African-American and Korean-American blended family, consisting of the parents, Alena Maze and Joe Lee, in addition to their adorable seven kids, all with different backgrounds and ethnicities. Their story is anything but "traditional" and they wear it so well, that they've managed to accumulate 1.9M subscribers, all of which have fallen in love with them the same way I have. From being divorced and remarried within a week, not naming one of their children until she was 8 months old, and now, even considering adding another child to the clan—all while teaching the importance of heritage through Korean lessons and Black Lives Matter marches—MAZELEE has certainly solidified my spot under their video viewership.
And recently, they so massively shared the hair wash routine of their entire family, consisting of different products for each hair type, ranging in 2A to 4C, and ages (at the time of the video) 8 months to 15.
How this family manages to champion through wash day, I'll never know, but it was a full-on adventure.
*Some of the links provided are affiliate links. If you purchase a product through the links provided, xoNecole may earn a small commission.
Akyli
First up was Akyli, who's texture is in the 3C/4A realm. She opts for the Aussie Miracle Moist Shampoo and Aussie Miracle Moist Conditioner with avocado and Australian jojoba oil. She has to heavily condition her hair because she has curly, frizzy hair, due to lack of moisture. Her hair is also dyed at the ends, which causes it to tangle.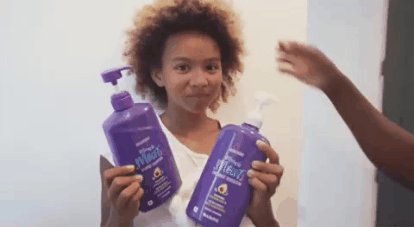 Azaio
Azaio uses both a low porosity SheaMoisture Raw Shea Butter Moisture Retention Shampoo and SheaMoisture Raw Shea Butter Moisture Retention Conditioner, as well as the Aussie conditioner for volume. She has the longer, thicker hair in the family, meaning it has to be sectioned while washed. Her texture is likely a 4A/4B texture, and has a tendency to loc easily. Thorough detangling is key in her wash process.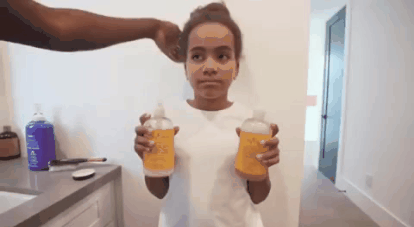 Amyah
The oldest, Amyah has a 4B/4C texture and used the SheaMoisture Manuka Honey & Mafura Oil Intensive Hydration Hair Conditioner, as she personally schooled us all on the importance of using products that didn't contain silicone. She followed up with SheaMoisture Jamaican Black Castor Oil Strengthen & Restore Leave-In Conditioner.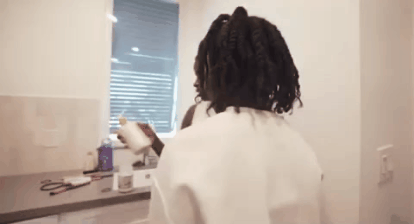 Arazo
Arazo, has naturally thin Shirley Temple-esque curls, which her mom admittedly struggled with learning initially. She used a mixture of all of the above products, but a simple Denman Brush and a little coconut oil is all that's necessary to control this 2A/2B hair type.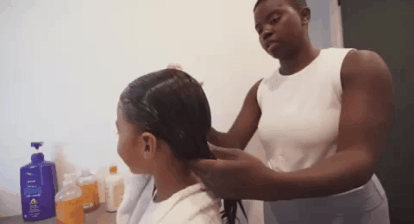 The youngest and final three kids were completed in a Part 2 video, but trust me, they were just as cute and clean too.

Round of applause for this mom and dad!
Check out the full hilarious video below:
Our Family's Hair Wash Day Routine 💆🏾♀️ 7 Kids 7 Different Hair Types (Part 1)www.youtube.com
Featured image via MAZELEE/YouTube