Come through sis!
---
Hoda Kotb has officially replaced Matt Lauer after his recent termination in response to several sexual assault claims from coworkers past and present.
This news doesn't come as a surprise for viewers as Hoda's seamless transition over the past few weeks proved her ready for the job. "It's 2018, and we are kicking off the year right because Hoda is officially the co-anchor of Today," her co-anchor Savannah Guthrie announced Tuesday on air. "This has to be the most popular decision NBC News have ever made, and I'm so thrilled."
Beyond that, Hoda's new role sends a powerful message to Today show viewers- one of hope, change, kickass feminine power, and, of course, black girl magic.
.@SavannahGuthrie announces @HodaKotb will be co-anchor of TODAY. #SavannahHodaTODAY https://t.co/B64n2FmCwq

— TODAY (@TODAY)1514894749.0
After the termination of Lauer, most of us wondered how and who could replace the man who had been the backbone of the Today show for the past 20 years. Hoda, who hosted the fourth hour of the Today show with Kathy Lee Gifford, stepped into the role temporarily after the news of Lauer broke saying, "This is a very tough morning for both of us, I've known Matt for 15 years and I've loved him as a friend and a colleague, and just like you were saying, Savannah, it's hard to reconcile what we are hearing with the man who we know, who walks in this building every single day."
Over the next few weeks however, Hoda proved that her charisma and chemistry with Savannah Guthrie was unbeatable. We were all hoping this dynamic duo would stay together, and now our prayers have been answered. Regarding her co-host and teammate, Hoda said:
"When you click with someone, man, woman, it doesn't matter. If it works, it works. We're sort of like sisters."
This new team of two marks an important day for NBC and the Today show. The duo will be the first ever female co-anchor team to host the Today show, and we are not sleeping on the message it sends to viewers and industry professionals alike. The act of replacing a white male with a black female is revolutionary in itself, but the concept of replacing a man adding toxic masculinity to a professional environment with a team of two outspoken, intelligent, and highly capable women takes it to another level.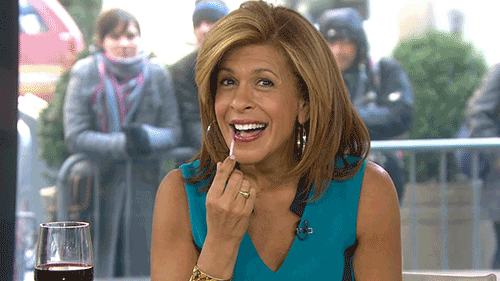 media.giphy.com
The Today show made a conscious choice to not only believe their women employees, but also to uplift and empower them professionally instead of punishing them like so many other industries do. In hiring Hoda, Today has effectively hired the Anti-Lauer and effectively reinforced standards in the workplace.

In a statement to People, Hoda had this to say about her network's radical and progressive move:
"We're grateful to NBC for not having some old-fashioned notion about what an anchoring team should look like."
Hoda's revolutionary new gig will be one for the books but let's not think she got this job just because some guy was fired. Let's get this straight - Hoda earned this. She put in her time. She proved her journalistic capability and passed so many tests with flying colors. In fact, Hoda won a daytime Emmy award in 2010 for her exceptional work on the Today show team. She's been a presence and force in journalism since the early 1990's and we aren't expecting this powerhouse woman to go anywhere anytime soon.

Congratulations Hoda and the entire Today show *modern* family! You did the damn thing.
Featured image via Today Show/Instagram