---
A couple's wedding day is arguably one of the most important days of their lives which is why it can also be an extremely stressful time. There's so much to decide on: wedding party, guestlist, bridal party, colors, venue, food, etc. And then, there is the wedding dress. The dress sets the tone for the big day and all eyes will be on the bride as she makes her entrance. So many factors play a part in choosing the perfect wedding dress: budget, personal style, wedding theme, and timelines, so it's no wonder it can all seem overwhelming.
Add a pandemic to the mix and you might be ready to just march down the aisle in some sweatpants. But, before you do, I spoke to some amazing women who have been where you are and they are giving me the lowdown on why they chose the dresses they chose and how they knew it was the one. Whether you had to postpone your wedding until next year, change the venue, or downsize, we hope that these brides provide some inspiration for your upcoming special day.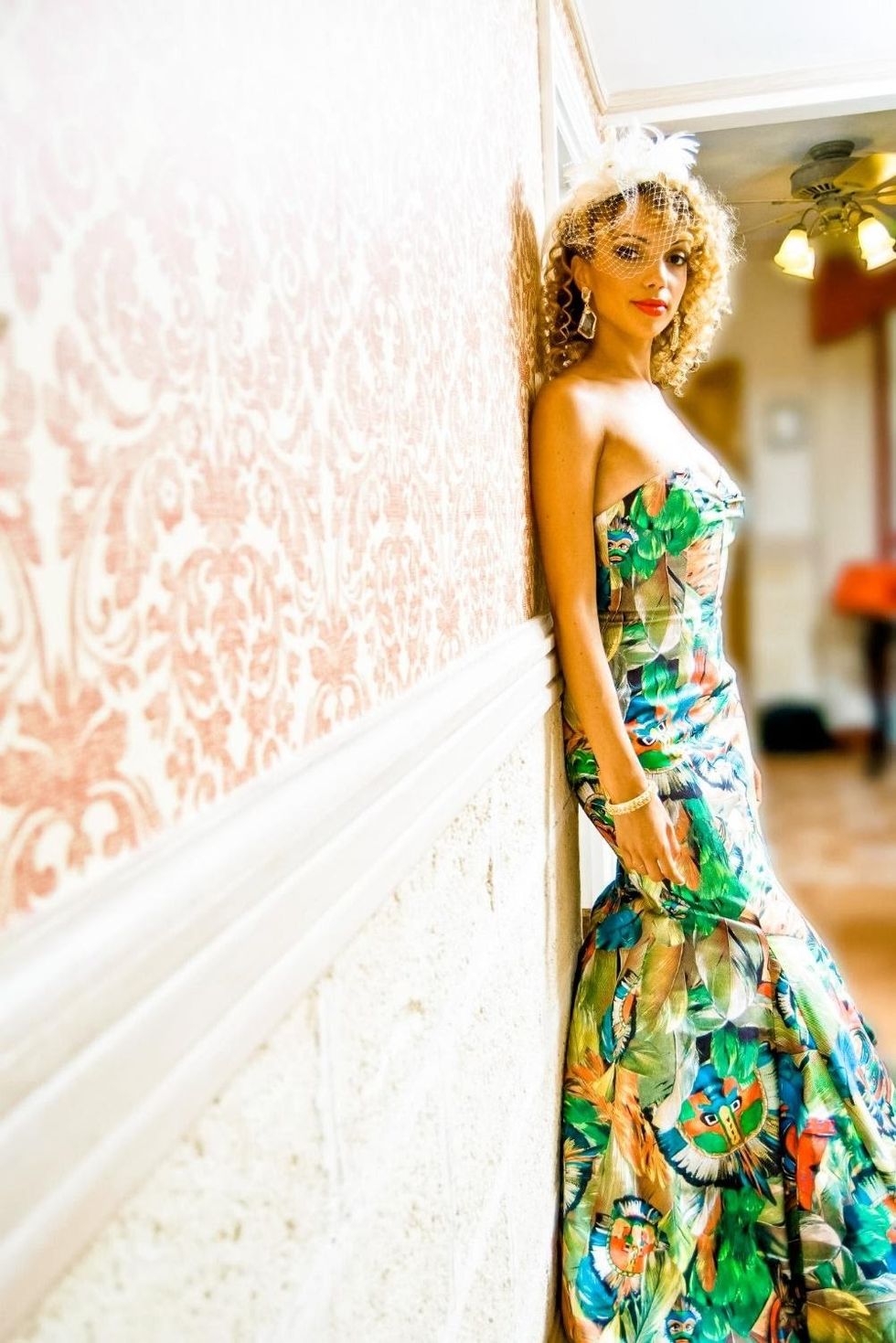 Courtesy of Charmaine
"Everything leading me to this dress felt like it was destined to be. I left a disappointing wedding dress appointment, and as I walked to get a bite to eat, I saw a store window that was merchandised with so many elements that screamed ME! A gold mannequin (I am a gold fanatic), peacock feathers (my wedding colors), and of course, the dress...MY dress. I instantly said, 'Now that's what I wish I could wear.' It was far from white and anything typical, so it hadn't crossed my mind that I could wear something so unique.
"I went in the store, tried it on, it fit perfectly, and I just knew in that moment that I was going to wear what felt the most authentic to me. Coincidentally, my bridesmaid dresses had already been chosen at that time, and they just happened to be green, so it really felt like that dress was made for me."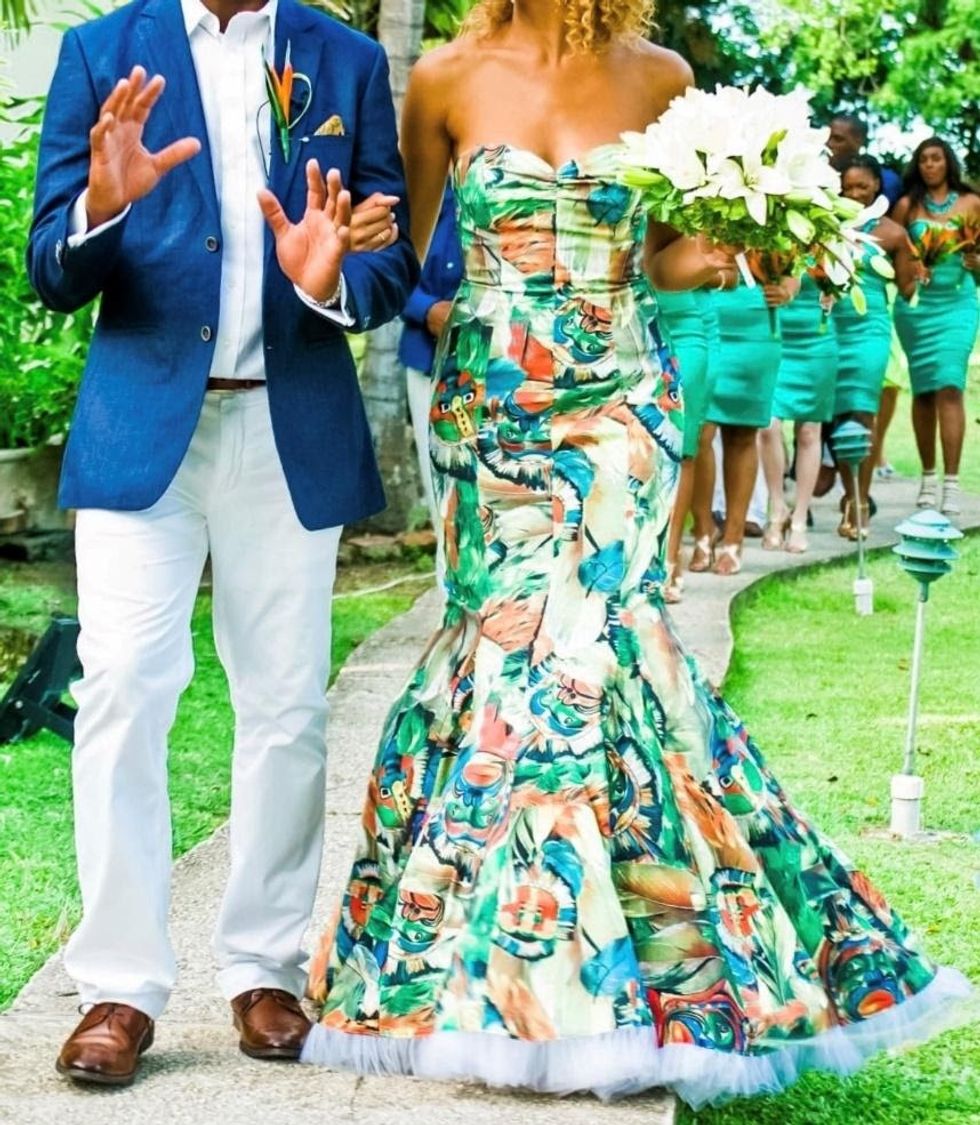 Courtesy of Charmaine
"I got married in 2012, and I was on my dress hunt while living in Toronto, Canada, so the selection was quite limited at the time. This was during the blurry instagram food pics era, so I definitely didn't have many inspiration photos saved. This is to say, I didn't have a major vision as I honestly doubted the options available. I figured that accessorizing my look would be the best bet for a unique colourful moment, and I am just happy I was able to find my dream dress by a fun twist of fate after a failed dress appointment."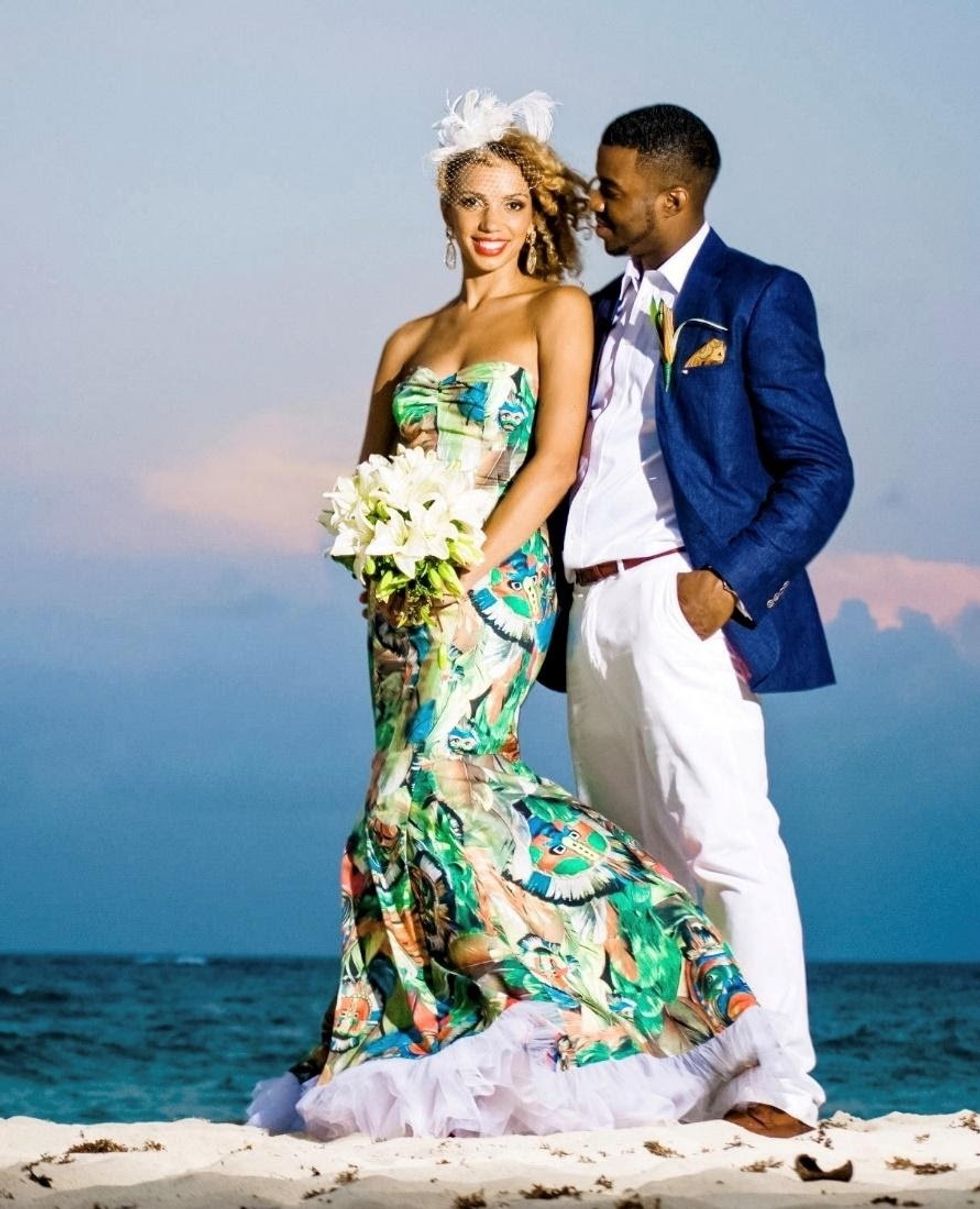 Courtesy of Charmaine
"My dress was created by TOME from the Tome Dress Salon in Toronto, Canada. It was really special to wear a dress while working with the actual designer, because I am a creative person with DIY tendencies. The moment I tried the dress and it fit and I teared up, I looked at Tome and said, 'Can I wear this to get married?' And he said, 'You can do whatever you like!' We laughed and I honestly felt empowered, because I knew he was 100% correct. I then said, 'Now let's make it bridal!' So we worked together to make it more of a mermaid silhouette with tulle peeking out, and added a feathered headpiece. I have Caribbean roots and my wedding was a destination wedding in Barbados, so it just felt perfectly on theme as well."
For more of Charmaine, follow her on Instagram @charmsie.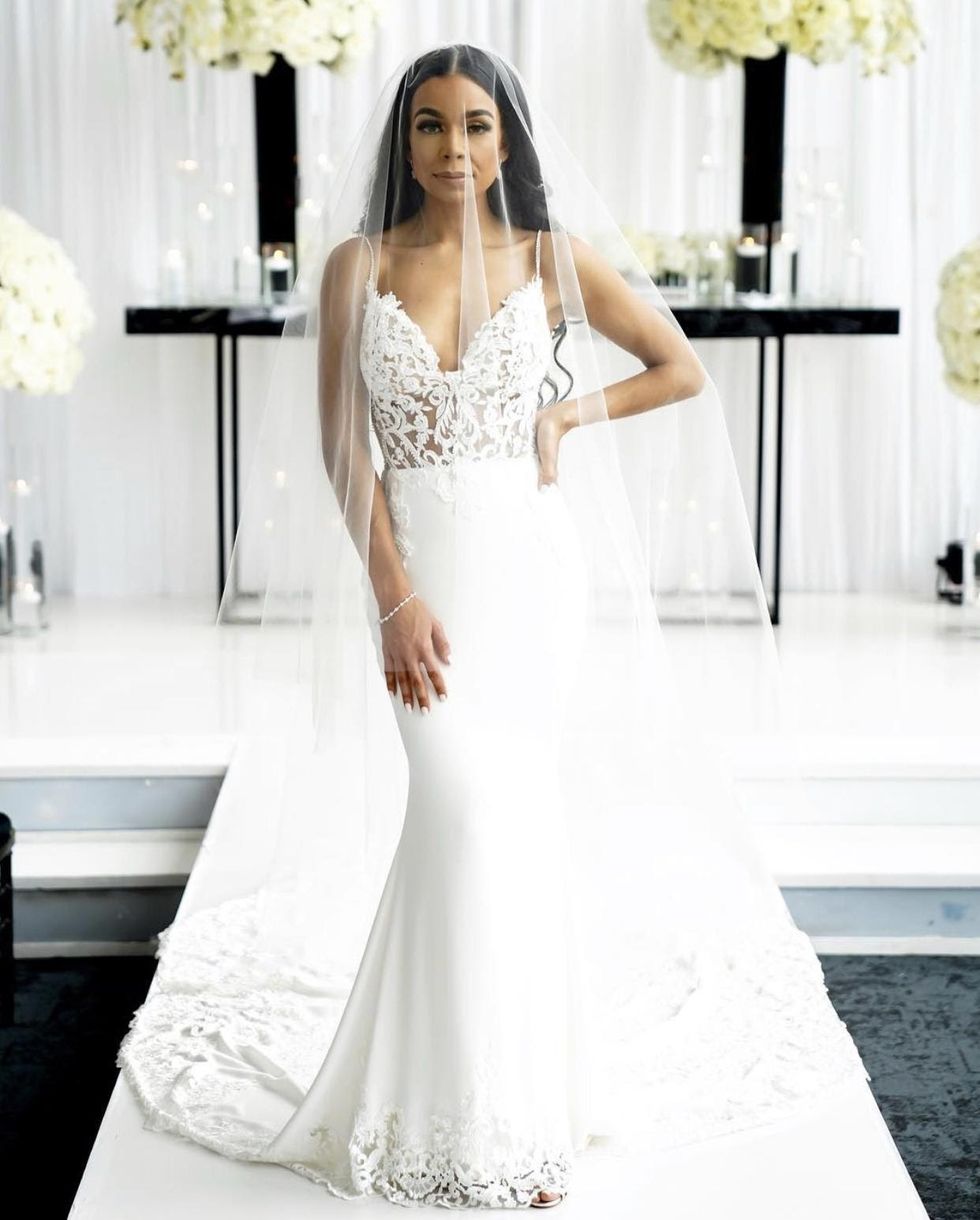 Courtesy of Courtney Brand Agbetola
"There was no overwhelming feeling of it being the one when I put it on, if I'm being completely honest. My first go-round with dress try-ons, I found a Berta gown that I was so certain was the one and I had my heart set on it. I wanted to buy it on the spot, but knew that my now-husband wouldn't be too happy if I spent $14,000 on the first dress I tried on. He encouraged me to go to at least one more bridal shop to try on dresses just so that I'd be sure. A designer I was following on Instagram was having a trunk show at this small neighborhood bridal shop close to me called Parvani Vida that had been there since I was a little girl, so I asked my sister if she wanted to go with me to look. I ended up finding both of my dresses that day and neither one of them were a part of the trunk show that I went there for.
"When I tried on that dress, I loved that it was bright white and showed just enough back and chest, but it was the train that made me say 'yes'. The dress was simple, but the six-foot train was extravagant and all I could imagine was it trailing behind me down the aisle in all of its lace and beaded glory. It was the quiet wow that I really wanted."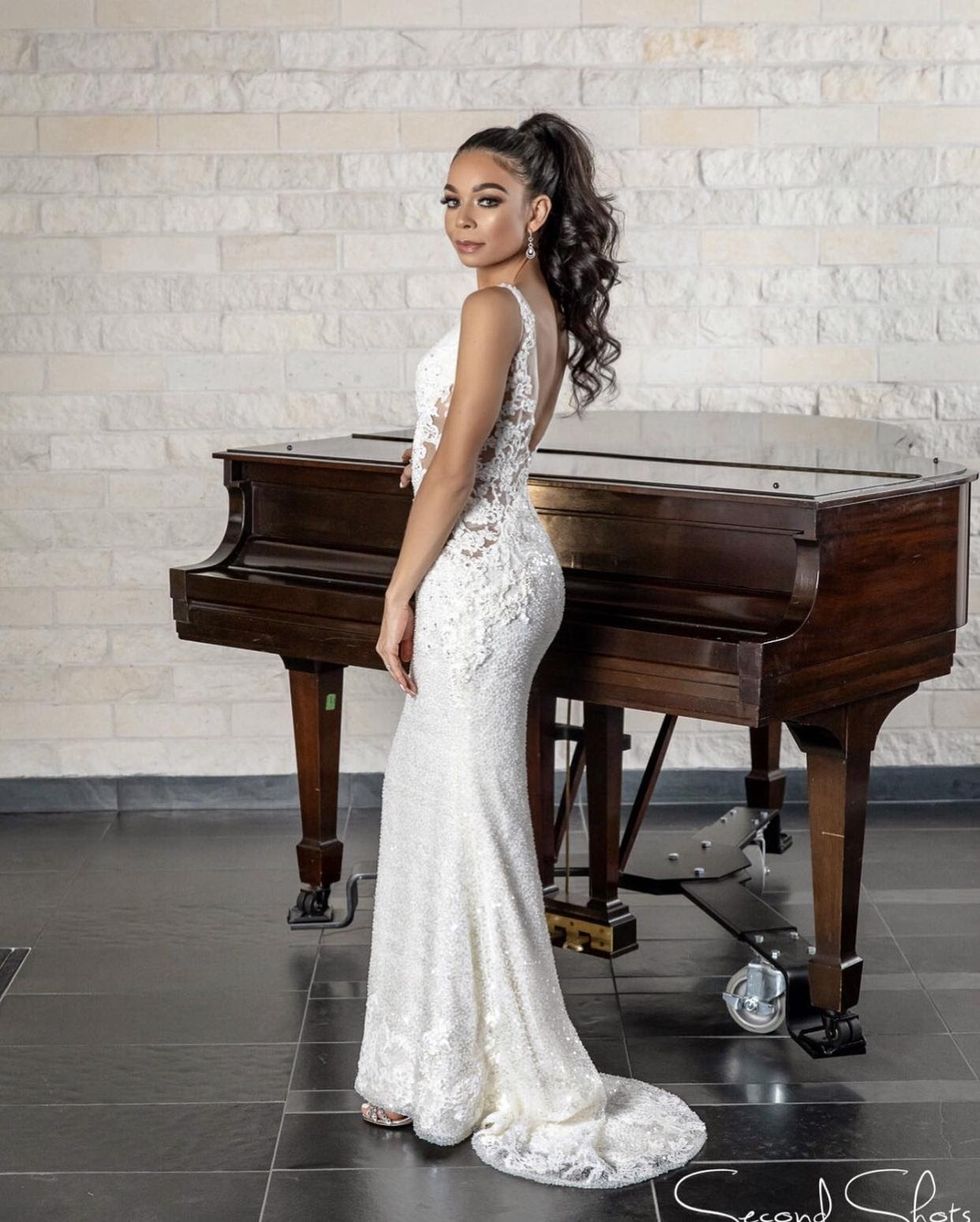 Courtesy of Courtney Brand Agbetola
"I was really wanting to choose something classic, that I'd be proud to look back on in five, ten or fifteen years and still be happy with my choice. I also wanted a dress that was reflective of who I am as a woman. This particular dress felt like it embodied me. A little daring, but simple. A little sexy, but timeless and sophisticated with just enough detail. Gorgeous enough to make a statement without being too loud. I also had to consider what kind of bride my husband wanted to see walking down the aisle. I didn't want to look like a princess, but I did want to look like an angelic version of myself as I walked towards him. This dress hit all of those points.
"I could have gone on and on with dresses, but I chose that one and had to be done with it, because unless you're designing a dress from the ground up, it's so easy to feel like your dress is missing something. Both of my dresses were Enzoani wedding gowns. Prior to getting engaged I'd never really imagined myself in a wedding dress, so I can't say that I envisioned myself any particular way. I did know that I didn't want a strapless gown, or a ball gown. I knew I wanted something form-fitting with no overwhelming ruching or any fabric that was noisy. Looking back, I looked exactly how I wanted to look on my wedding day and wouldn't have changed a thing about my dress, hair, makeup or even jewelry. It all truly worked out perfectly."
For more of Courtney, follow her on Instagram @greeneyesgoldsoul.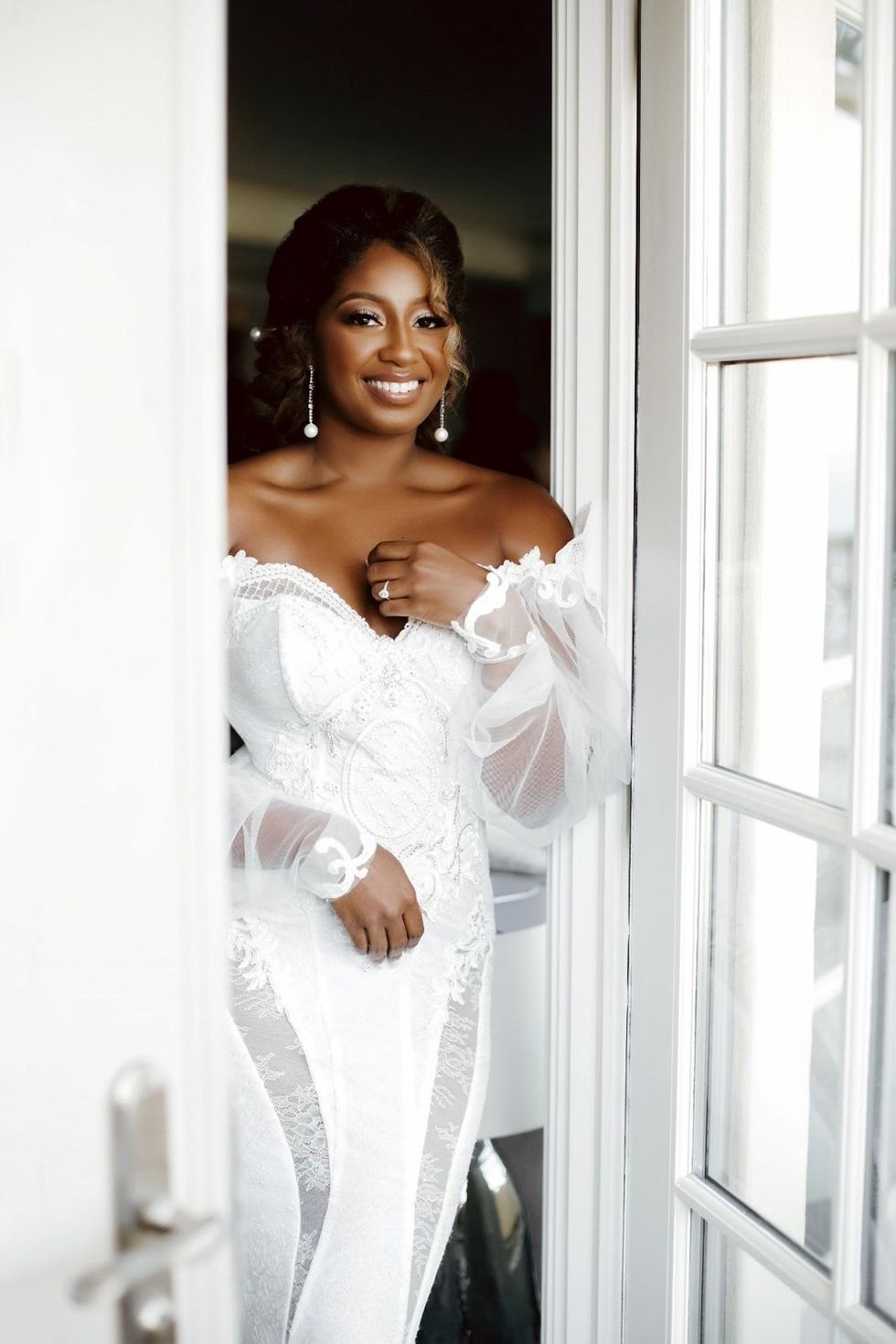 Courtesy of Courtney Bryant
"The day I found my dress, the location we visited was the 3rd or 4th place we had been to. I still hadn't found anything I absolutely loved, so by the time we arrived to this particular location I was excited but pretty certain I would have to get my dress made. When my bridal stylist Leandra McCall pulled the dress, I was reluctant to try it because it didn't look anything like I envisioned but she convinced me. It was the 2nd to last dress I tried on and every single dress that I tried that day and prior to had to be shimmied and jumped into but my dress, it slipped on with so much ease. It fit like a glove and it actually took my breath away. I didn't want to be the cliche and cry but as I looked in the mirror I felt the tears well up. And I was shocked because I really almost didn't try it on.
I fell in love with it the moment I slipped it on. I felt classy, sexy and comfortable in it and the drama and glam was exactly what I wanted. It complimented me in all the right places and I felt like I could dance in it all night."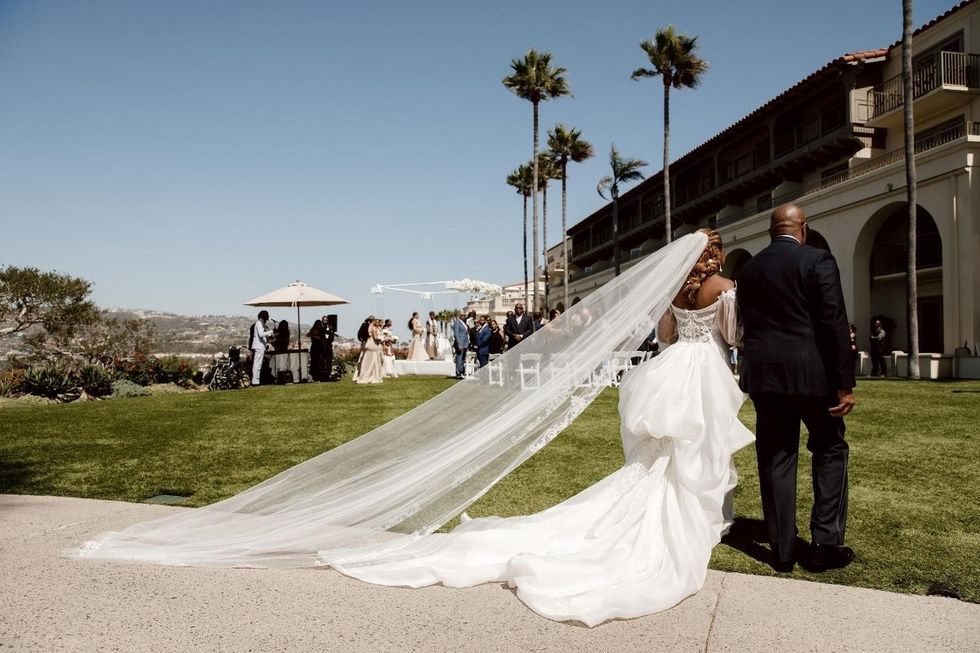 Courtesy of Courtney Bryant
"Also, this one dress could be 'customized' into three different dresses. My skirt and sleeves detached so I walked down the aisle with my skirt and long sleeves. For dinner, I wore off the shoulder sleeves and the skirt. And for dancing, I removed the skirt before changing into my second dress."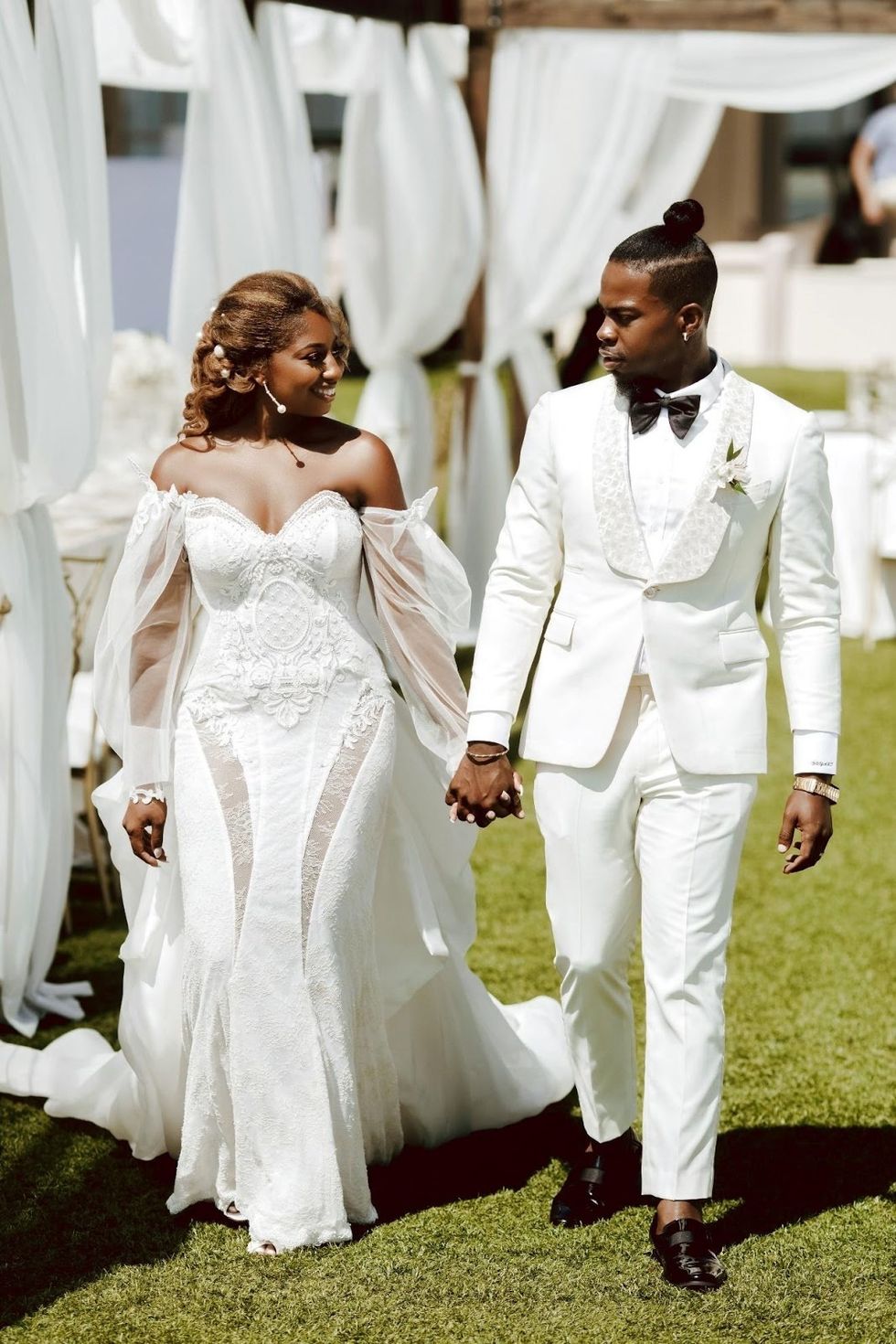 Courtesy of Courtney Bryant
"I purchased the dress at Bridal Reflections on 5th Ave and it was created by Galia Lahav. We customized the both sets of sleeves, the train on skirt, the sheer panels on the back and the beaded design in the front to really customize it to my liking. Fun fact: I was so nervous to really love the dress that I had to visit it three times before committing to it."

For more of Courtney, follow her on Instagram @curlsandcouture.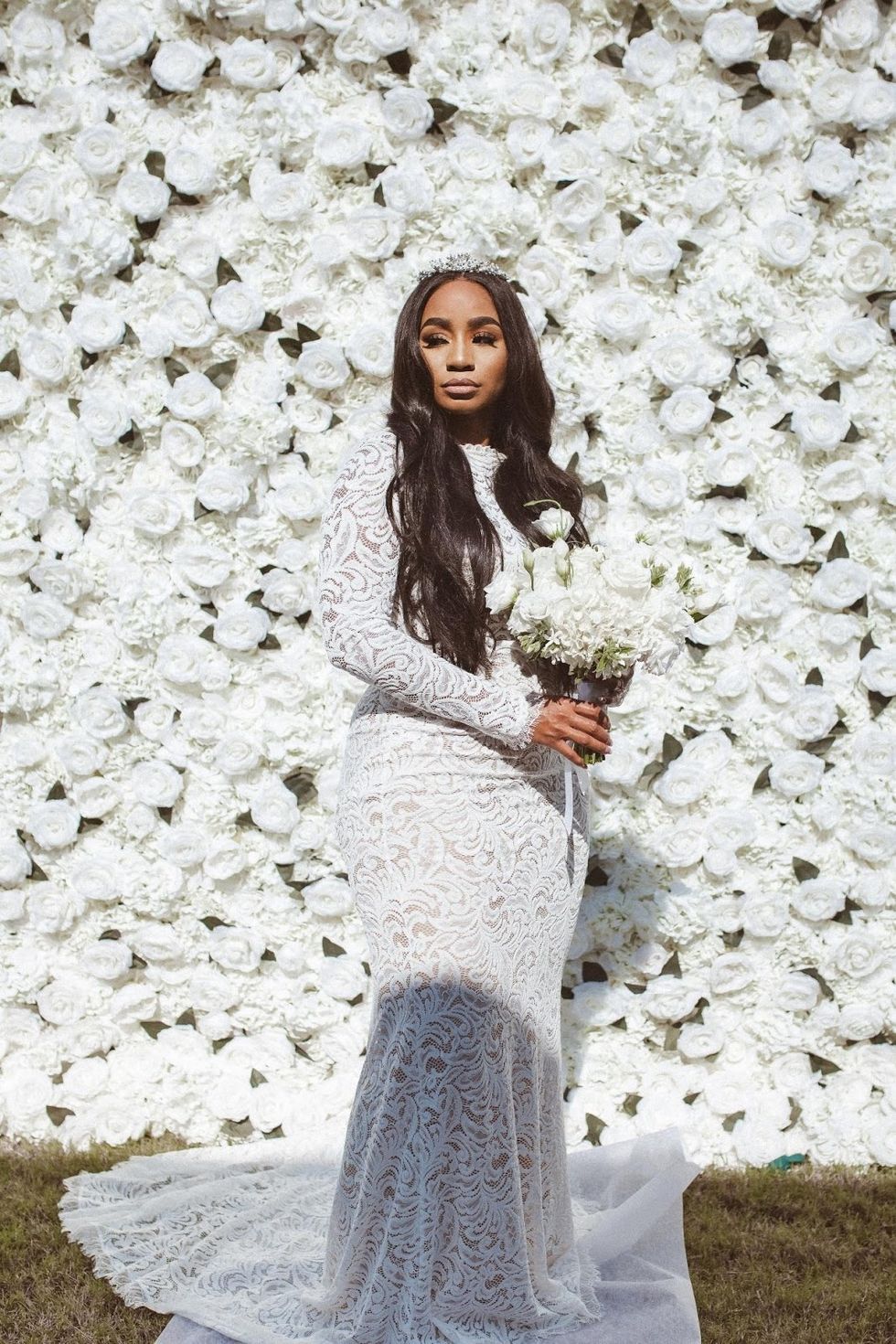 Courtesy of JaLisa E. Jefferson
"With my husband and I knowing and planning that whenever we got engaged, we'd want to get married right away, I ordered a dress on ASOS the day after he proposed. If you are a frequent online shopper like myself, you know they don't play about their two-day shipping. Long story short, it came Monday evening and did not fit. My manager then reached out to Grace Loves Lace right away hoping we could pull something off. They were clearly sent by God. They opened the store on a 'closed' day and had someone come in on their off day, all to move mountains and get me in this amazing dress and veil—the morning of the wedding! In 20 minutes, I tried on this dress and was out the door! I am so grateful for them, their incredible service and for accommodating me on such short notice.
"In a sense, I kind of feel like this dress chose me. Like I previously stated, this dress was truly a saving grace moment. Upon visiting Grace Loves Lace and trying on my wedding dress, I knew this was the one. It fit like a glove and was exactly what I envisioned it to be!"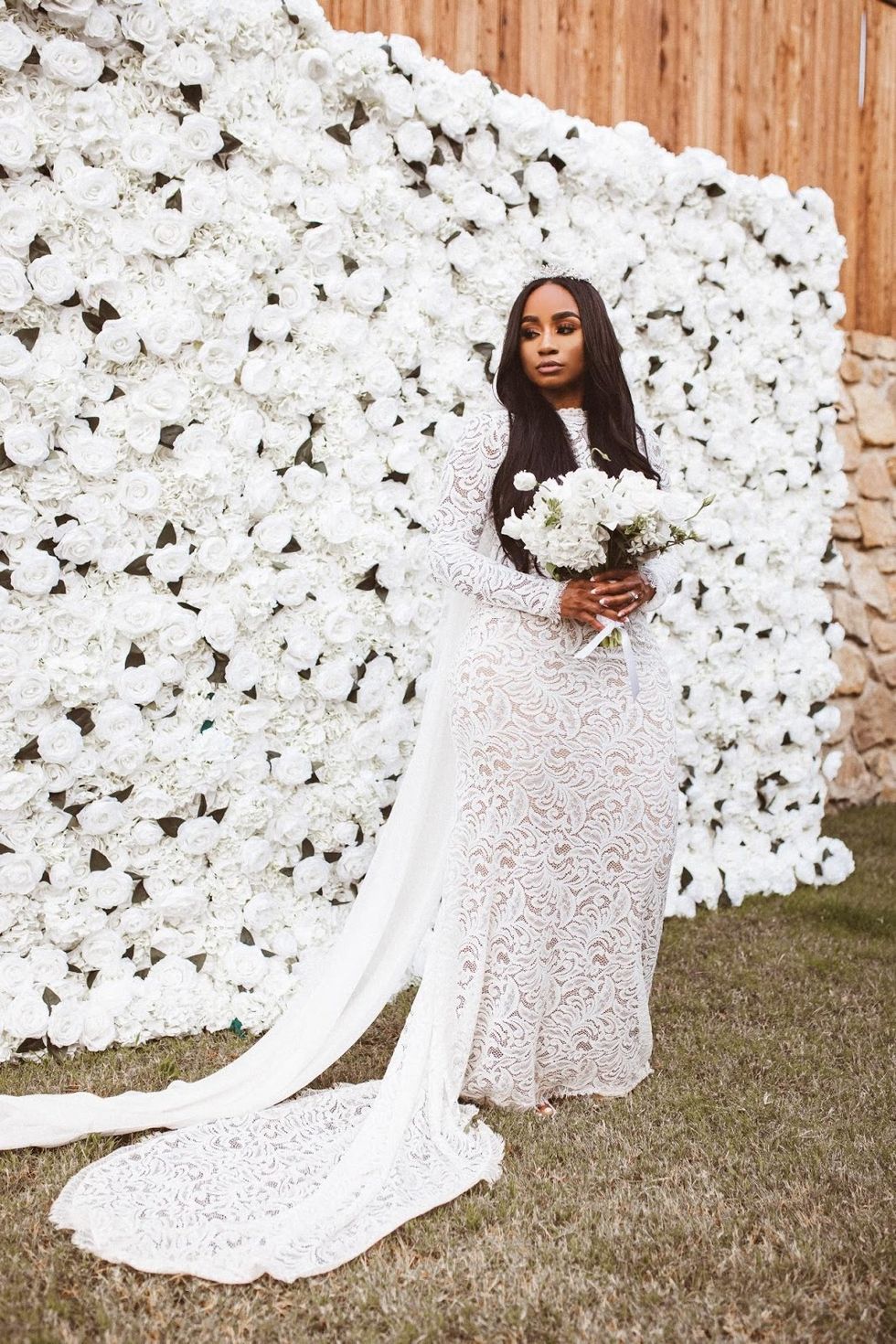 Courtesy of JaLisa E. Jefferson
"Although I initially had a totally different vision for my wedding dress, I quickly realized this was what I needed and didn't even know it until it sort of just happened. My initial disaster of a wedding dress quickly turned into the most beautiful gown I'd ever seen."
For more of JaLisa, follow her on Instagram @jalisaevaughn.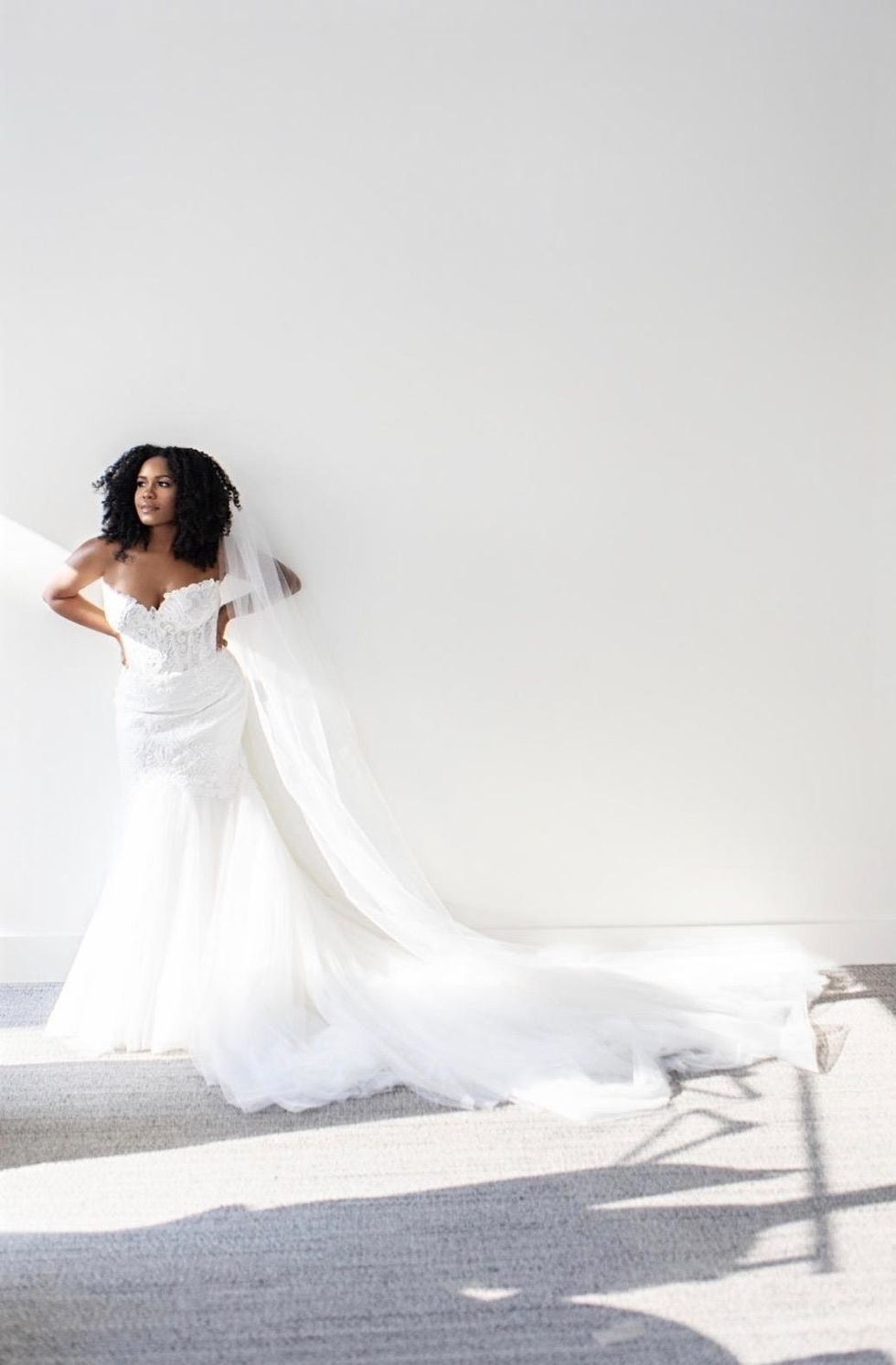 Dress Details: Bridal Boutique: Adorn Bridal located in Nashville, TN.
Designer: Rita Vinieris Rivini
Courtesy of Kristen Desiree
"Before finding the perfect dress for me, my family and I had been shopping around all day long at different boutiques before stopping at our very last appointment for the evening. None of the dresses I had tried on up until this point had given me the 'WOW' factor just yet. I must admit I was beginning to get discouraged a little bit. As soon as we arrived at the last boutique, I immediately said to myself, 'I'm going to find my dress here.' I began trying on different ones and as I tried on 'my dress', I could just feel it. Keep in mind there were no mirrors in the fitting room. The stylist helping me started to say, 'Oh my goodness, Kristen' as she was helping me put it on. My heart started racing because I was so anxious to see.
"As I walked out, the looks on my mother's and sisters' faces were in awe, just speechless. Their mouths hit the floor and my sister said, 'You look absolutely breathtaking.' I walked over to the mirror, completely shaking, and the second I saw myself, emotions of joy and happiness took over. I had never felt more beautiful before in my life and that's when I said this is 'The One'."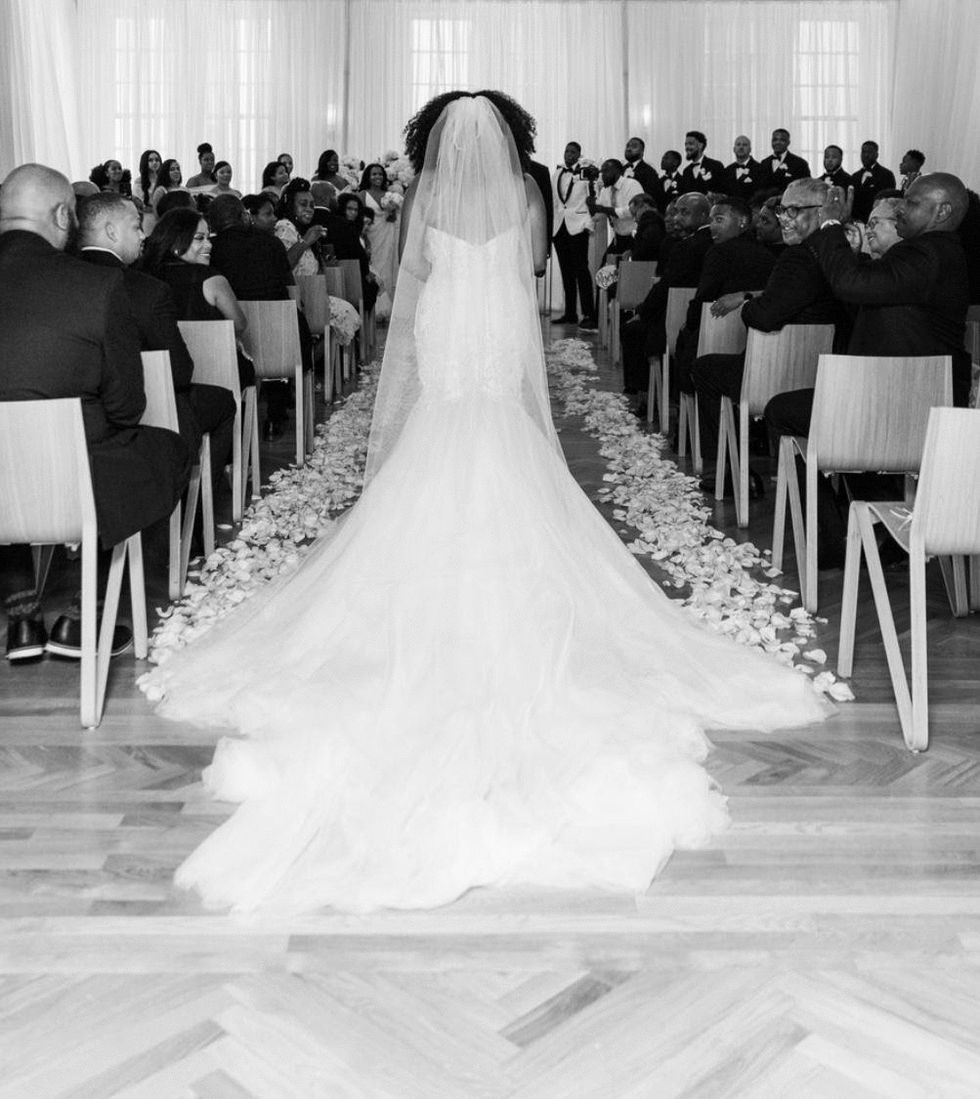 Courtesy of Kristen Desiree
"Honestly, my dress is a slight departure from what I envisioned simply because I always saw myself walking down the aisle in a long-sleeve lace detailed dress with a dramatic train! I was set on having sleeves and had specifically said from the beginning, I did not want it to be tube top. But, little did I know, a sleeveless gown was meant for me."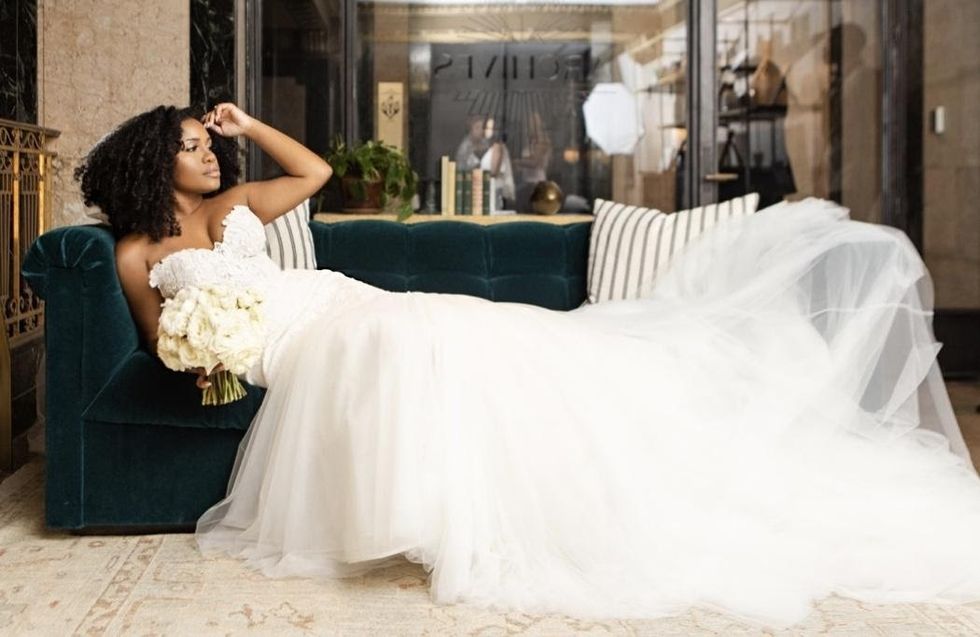 Courtesy of Kristen Desiree
"I chose this dress because not only did it stun all of the most important women in my life, but I didn't have not one negative thought about this dress. I knew I wanted to feel extremely confident and beautiful walking down the aisle to my best friend, soulmate, confidant, and soon-to-be husband. This dress solidified that for me. There are a million beautiful dresses in the world, but when you find that one that instantly fills your heart and the room with emotion and love, you have to say 'yes' to the dress!"
For more of Kristen, follow her on Instagram @curlyhairedchik.
Featured image courtesy of Charmaine