When you're attending school to become a sex therapist or educator they have something called SAR, or Sexual Attitude Reassessment. The goal is to determine where you stand on atypical or sensitive scenarios that may walk into your office in the form of your client(s). By "atypical," I simply mean that it's not your run-of-the-mill couples counseling session. One of the topics that came up – one that would've never crossed my mind – was bodily fluids. Prior to that, I never considered that people might be into a wide range of bodily fluids and I also didn't realize the various ways that bodily fluids could be incorporated into sex.
---
Now, I'm sure you're curious as to what a SAR may encompass. You usually are asked to preview the material at hand so yes, we absolutely would watch porn in our classroom as a means of exposure. The teacher provides a disclaimer and makes it clear that you can step out at any given time. Anyways, the 'bodily fluids' chapter came up, and there I was watching scat play (fecal matter), vomit, and blood to sum it up. Needless to say, or maybe not needless, blood was easily the most tolerable of the list as it wasn't nearly as gross to watch TO ME.
I'm not here to kink shame or 'yuck someone else's yum,' as we might say in class. But instead, I am here to share the introspection I gained from my time in school – that not everything is for everyone and scat play kinksters were never going to be my people.
I say all of this to say, I now have a weird stillness when I hear about certain things – after all, my training has prepared me. Plus, I've always been interested in the occult which makes things such as blood play far less unsettling. I've even used menstrual blood to fertilize my plants! So, when Megan Fox and fiancé Machine Gun Kelly recently admitted that they drink one another's blood, I was chillin'. "It's just a few drops," she told British GLAMOUR, "on occasion for ritual purposes only."
We tend to only think about blood play within the confines of sexual intimacy as period sex. However, there is a vampire kink in and of itself, and we all know how that ends. Not to say that the couple labels themselves as 'vampires' but to say that blood sharing is more common than you know.
That's just one thing you need to know, but here are a few other things you may not have known about blood sharing.
Bound for Life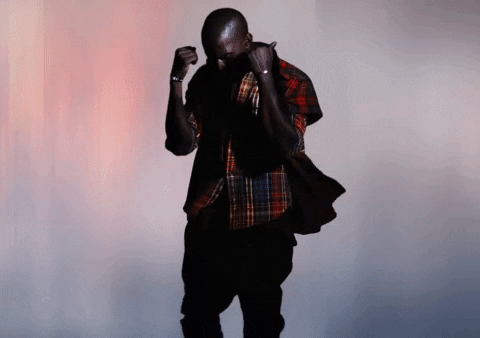 Giphy
The witchy community needs you to know that blood is a binding agent. That's probably not exactly what they call it, but baked goods are on my mind apparently. Do you know that old saying about not eating just any woman's spaghetti? Well, it's not for nothing! (Editor's note: In some cultures, it is believed that by putting menstrual blood in someone's spaghetti, you can capture that person's heart.) Yes, the thought of unknowingly eating someone's blood is definitely gross, but it's a binding spell that creates extreme attachment and intimacy.
And though you may not be bound for life exactly, like any love spell, it is believed that such an act makes it extremely difficult to detach and can be risky to engage in. The witch community doesn't even recommend having period sex with just any partner for this reason. The couple themselves have said that it is only done on occasion and for "ritual purposes only" with just a few droplets – so yeah, take heed.
Take Special Care
Generally speaking, it is highly encouraged that you conduct research when engaging in blood sharing. Furthermore, it's not recommended that you go rogue and slash open one another! Vampire experts have commented on Megan Fox and Machine Gun Kelly's practice and strongly suggest that blood sharing be conducted by a medical expert for the safest practice. They also strongly suggest a lengthy period of research before you even take your first sip of the vampire-esque lifestyle.
The Obvious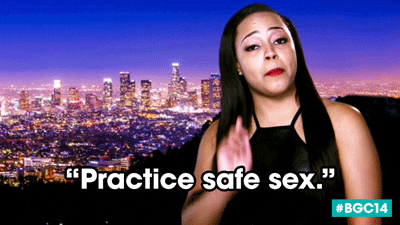 Giphy
Not only does blood sharing require initially being tested for bloodborne illnesses, but it requires ongoing testing. And in between all of that? A grave ability to trust your partner! Testing is great and recommended every three months, but as you may know, testing and the results don't hold up for any intercourse that may have occurred prior to incubation periods. If you had sex two days before you go in to get tested, it's unlikely that the results will reflect any sexually transmitted infections you've come into contact with in the past two days.
And though sex is an act we hope to only do with people we trust, the reality is, that not everyone stays faithful nor does everyone practice safe sex when they do decide to stray from relationships. It's imperative that this isn't the case when choosing to engage in blood play as there is only so much that testing can catch – testing is but so preventative.
Though I don't half expect too many of our readers to go out trying this, I suspect that there may be a few and the other portion of you are just curious and intrigued by the couple's boldness to admit to, what so many people might feel, is an unsanitary practice.
But, here's to hoping that this read answers some of your (maybe) burning questions.
Let's make things inbox official! Sign up for the xoNecole newsletter for daily love, wellness, career, and exclusive content delivered straight to your inbox.
Featured image by Getty Images