It seems like there's never been more of an abundance of things to catch up on streaming sites than there is right now. From a sexy and salacious blind dating reality show to a wholesome comedy about a group of elementary teachers, there's a show that fills every one of our needs. The ladies of XoNecole are here to help you decide what your next binge-watch pick should be!
---
Hanna Phifer, Culture Writer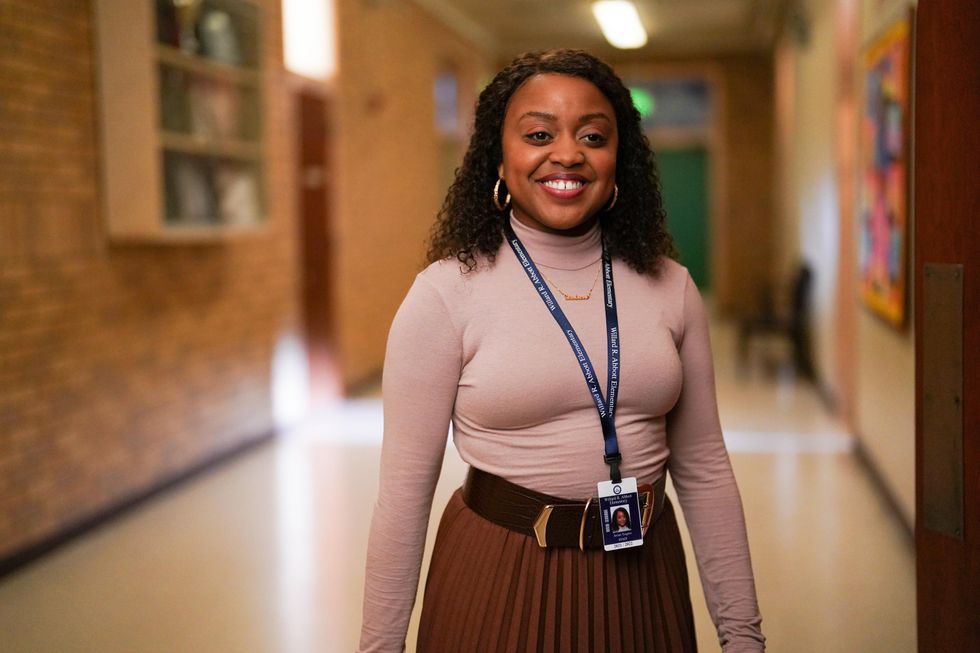 Quinta Brunson in 'Abbott Elementary'
ABC/Ser Baffo
Last Sunday left a Euphoria-sized hole in my heart after the season finale of HBO's wildly popular teen drama starring Zendaya. In the meantime, I caught up on ABC's newest comedy Abbott Elementary starring internet sensation Quinta Brunson as a terminally earnest elementary teacher who navigates the cynicism of her fellow teachers and the systemic roadblocks her Black students face. It's on a brief break right now which I might not survive.
Janell Hazelwood, Associate Editor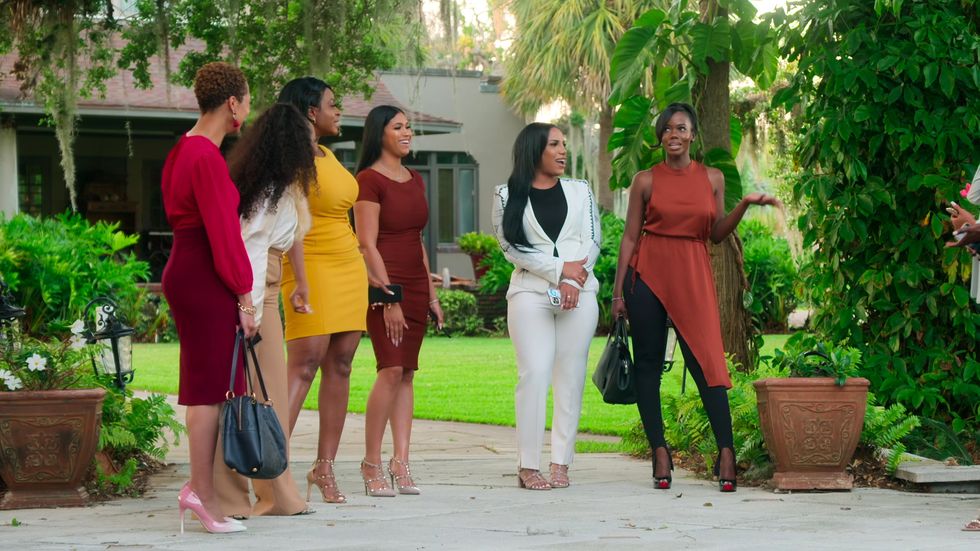 The ladies of the Netflix series 'Selling Tampa.'
Netflix
I'm a documentary, period drama, and reality TV fanatic. (And I'll never apologize for loving some ratchet entertainment!) I especially love the reality shows that serve up entrepreneurship or leadership with a side of drama like Netflix's Selling Tampa, which features a women-led real estate firm. VH1's Black Ink Crew and OWN's Love & Marriage Huntsville are two other favorites. I religiously tune into The Gilded Age, an HBO drama set in New York in the 1890s, and Snowfall, a crime drama set in the '80s heyday of Jheri curls, Cali cocaine, shady politics, and high living.
And while Kanye West might be a contentious figure right now, I'm still loving Jeen-Yuhs, showing us the inspiring come-up journey of arguably one of the most talented musicians and hip-hop minds of the 21st century. The music and early 2000s nostalgia brings back many good memories of my college years and is the perfect reminder to keep grinding toward my goals, no matter how long the road to success might be. The Marvelous Mrs. Maisel, an Amazon Prime show about an up-and-coming comic in 1960s New York, also gives me all the feels for Joan Rivers, classic Manhattan eateries, and my childhood memories in Brooklyn's Williamsburg community.
Brooke Obie, EIC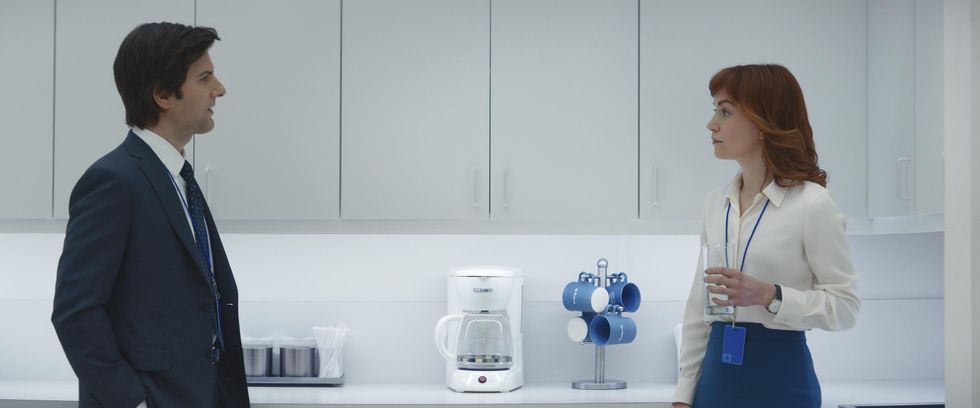 Adam Scott and Britt Lower in 'Severance' on AppleTV+
AppleTV+
All of my favorite shows and movies are about the weird ways people deal with grief. (The Leftovers, Lost, basically anything Damon Lindelof has done.) My new weird grief binge is Severance on AppleTV+. The premise is that there are people willing to have a device entered into their brain that would sever their memories of their work life from their personal life memories; when you show up at work, you have no memory of who you are, you just do your work. And when you leave, your personal memories return and you have no memory of what you did at work.
OBVIOUSLY, there are no Black women in the main cast who have signed up to let white people cut their brains open (though there is one severed Black woman in the supporting cast and some non-severed Black women who play interesting roles in the story, alongside a fascinating severed character played by the hilarious Zach Cherry, and a menacingly cheerful non-severed character played by Trammell Tillman). But as both an indictment of capitalism and a meditation on grief, the series is an interesting exploration of what kinds of trauma you'd have to be overcoming in order to alter your brain irreversibly.
Sheriden Chanel, Senior Lifestyle & Relationship Editor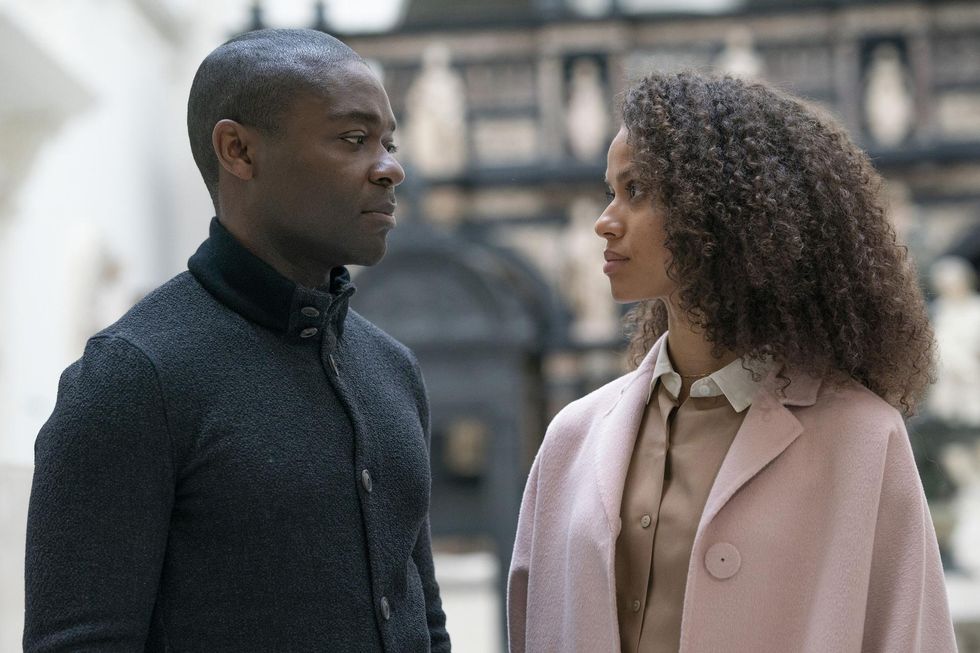 David Oyelowo and Gugu Mbatha-Raw in 'The Girl Before'
Amanda Searle/HBO Max
I've been trying to be more intentional about consuming content in the Spanish language because I'm learning Spanish. After revisiting the classic film Selena recently and realizing it didn't really withstand the test of time, I was nervous about investing in a (mostly) biographical series that is about a culturally significant Latin artist. But, I was pleasantly surprised and am currently on season two of the Netflix show Luis Miguel: The Series, and I absolutely love it. It's been great getting to know the artist behind some of the popular singles I've heard in passing while living in Mexico or from friends here. He has lived a very interesting life, one filled with wins, but lots of losses. And the actor that plays him, Diego Boneta, is a force and navigates the portrayal of Luis through his late teens, 20s, 30s, 40s seamlessly. A true delight to watch.
Also, anything Gugu Mbatha-Raw is in, I'll give it a watch. The Girl Before on HBOMax had me captivated from minute one. I am a sucker for thrillers where a house feels like a malicious force and this series delivered that for me and then some. I loved that it was this mystery that made me believe it would unfold one way, thanks to the chilly and calculated performance by David Oyelewo, but then was like, 'Not so fast.' I had a feeling, but the connection between the house, the performance of newcomer Jessica Plummer's character in the past intermingled with Gugu's performance of her character in the present, was a four-part limited series I didn't want to take my eyes away from.
Featured image by Getty Images