The 75th annual Golden Globes aired last night and the star of the show was none other than part business and entertainment mogul, part godmother of the universe, Oprah Winfrey.
---
After receiving the Cecil B DeMille Award, Oprah (the first African-American woman to receive the award btw) graced us with quite possibly one of the best acceptance speeches in awards show history.
In their beautiful and authentic form, Oprah's words rained a message rich of history, hope, and an unequivocal stance against the injustices plaguing groups like the press and most notably, women. Her timely speech was nothing short of powerful, ringing a bright future specifically for girls of today, yet impacting each and every soul in the room and in homes across America.
Everyone was inspired.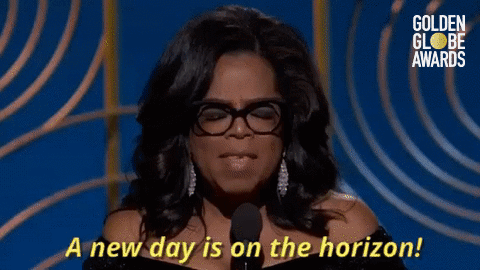 …So inspired that "Oprah 2020'' became the trend of the night on social media as a call-to-action for the queen to save us all and run for president in the next election.
And although she's shut down the push for presidency in the past, her speech, lined with all kinds of political undertones, and last night's celebrity support is making that push real and the possibility of an Oprah campaign a little more promising. Even longtime partner Stedman Graham told the Los Angeles Times, "She would absolutely do it."
CNN Money reported this morning that sources close to Oprah could confirm that the media mogul is "actively thinking" about running for president. Political commentator Bill O'Reilly even added his two cents to the collection plate on the potential Oprah 2020 presidential run:
If @Oprah wants to run for President in 2020, the Democratic Party will be thrilled to have her. She skillfully pla… https://t.co/DWdu1tYQpM

— Bill O'Reilly (@Bill O'Reilly)1515425565.0
So could Oprah actually run for president and could she do a decent job as Commander-In-Chief? Yes and yes. Here's why.

She's technically qualified.
At minimum, Oprah meets the qualifications to become a US presidential candidate. She's over the age of 35, a natural-born citizen of the United States and has resided state side for at least 14 years. Yes, these are the only requirements to running for president of the free world. Hence, why we're in the situation we're in now, but I digress.
Don't know if Oprah is seriously considering the White House, but I can't wait for all the hypocrites who support T… https://t.co/mXqzRdRo26

— Keith Boykin (@Keith Boykin)1515425046.0
She knows great adversity and success.
Oprah was born poor - Dirt. Bottom of the mud. Poor. But somehow, despite extreme poverty and sexual and physical abuse, Queen O rose above the odds meant to destroy her and managed to build a billion-dollar empire all while changing the world for the better. Presidents often have to turn s*$@ to sugar, and no one else has accomplished that in the way Oprah has.
The queen has spoken. #Oprah2020 https://t.co/99CC28CoIp

— Hayley Jones (@Hayley Jones)1515389626.0
She's likeable.
Let's face it. One of the keys to being a viable option for the next presidency is the gift of likeability, especially now. And who doesn't love Oprah? She's inclusive, uplifting, and sing cheers when she speaks. If you've met someone not in agreement or awe of her greatness please show them to me. We can get them help afterwards.
you free healthcare!!! and you get free healthcare!!! everyone gets free healthcare!!! #Oprah2020 https://t.co/MwybeEdEjd

— lancer (@lancer)1515419367.0
She's Change.
Political affiliations and stances can be argued, but not many would argue that the current presidency has left us in a time of growing controversy, incessant unrest, and isolation of countless groups. The future of America depends on a drastic change starting with who's leading us from the oval office. If an exact opposition to our current situation exists, it's Oprah.
Why this massive #Oprah2020 moment? Because Oprah is the antithesis of Trump: A well-spoken, incredibly smart & co… https://t.co/5LS2GV1CV5

— Like, Totally Stable Genius (@Like, Totally Stable Genius)1515419176.0
Can we count on seeing Candidate Winfrey on a 2020 ballot?

Oprah's no longer flat out rejecting the notion and with so many in support of the idea now, it's not completely a false hope. There are already companies selling "Oprah 2020" coffee mugs.
Y'all want #Oprah2020 so bad? Prove it. Spend this year electing Black women to office in 2018. Put in the work. Sh… https://t.co/OQeYO7i2qW

— April (@April)1515389085.0
A new wave is here, and the pressure for change in the form of Lady O is thriving. I just hope that if Oprah does plan on running for president, the year 2020 gets here swiftly. I'm ready to say, "President Winfrey."