---
In xoNecole's quarterly series Dope Abodes, we tour the living spaces of millennial women, where they dwell, how they live, and the things they choose to adorn and share their spaces with.
It's a warm summer's day when McKenzie Renae invites us into her home.
Upon entering, the young creative has an instantly inviting aura that her space also reflects. Soft candles are lit, and on her speaker is the new H.E.R. record that just dropped, providing the perfect ambience to her undeniably dope abode. Whether it's for her hair or her sense of style, McKenzie has made waves on the internet as a woman to follow. And as we take in a tour of her place, we are reminded that the Atlanta-based multi-hyphenate (who also contributes to xoNecole from time to time) is the host of a wealth of knowledge on styling, a fact that effortlessly lends itself to her overall decor aesthetic.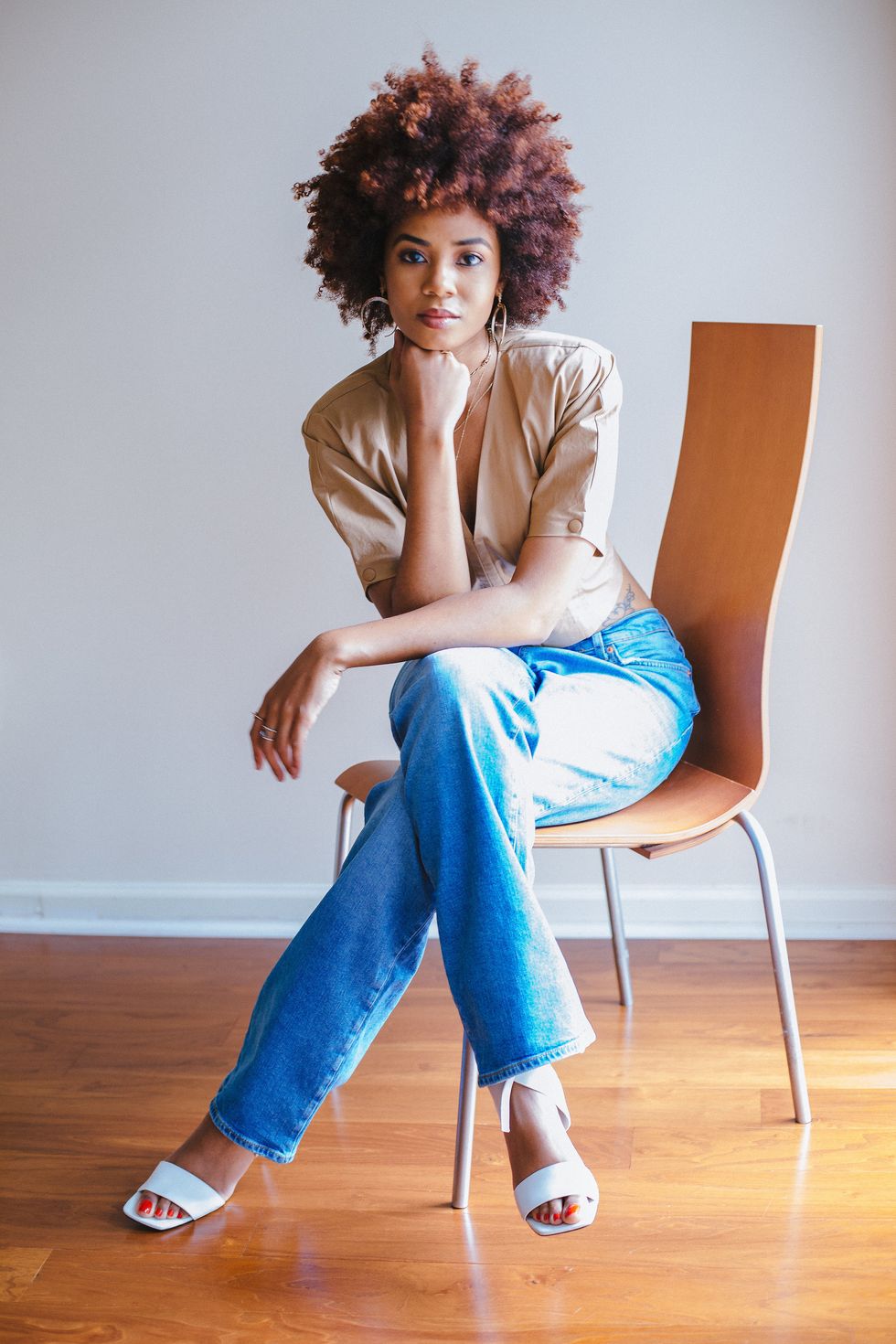 McKenzie Renae
Photo By: Sanniyah Sloan Photography/xoNecole
"My favorite thing about my home is that I feel like it's me," McKenzie shared with us. "I've lived in two different apartments and I was finding my style, but I really feel that this is really a reflection of who I am, and I feel really good about walking home every day. It's just a feel-good feeling. I don't have a favorite piece, it's just the feeling I get when I come home."
In addition to an apartment tour, xoNecole was able to see the full extent of the magic behind her eye for flair while getting some backstory on the pieces she chose to live with her in her Buckhead condo.
Something Blue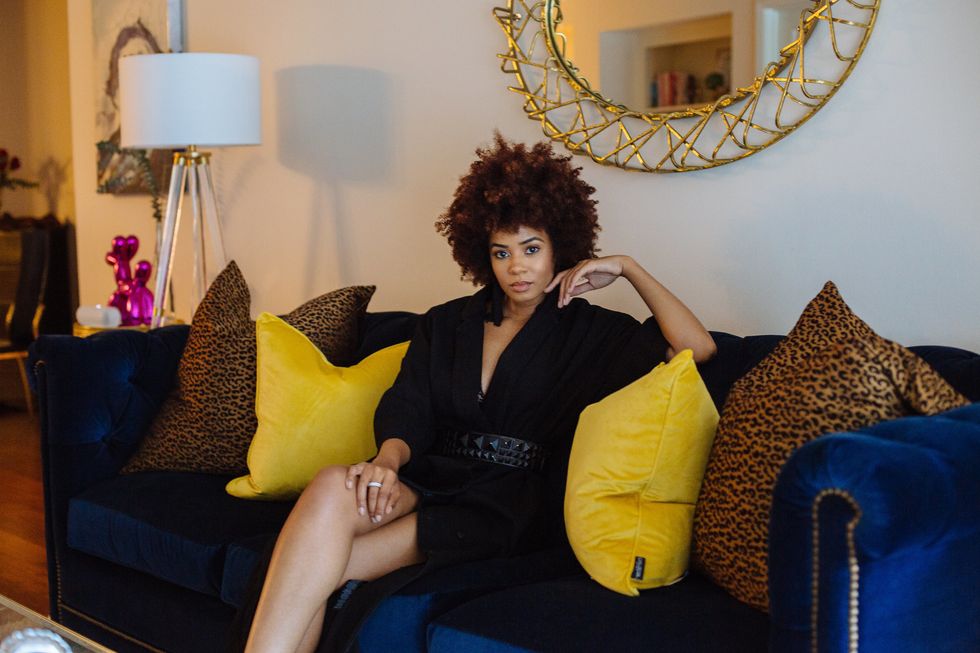 Photo By: Sanniyah Sloan Photography
"I styled everything [in my apartment] around this one sofa. I knew I wanted a royal blue tufted sofa. That's what I wanted, and I searched high and low for it. That's the first thing I started with and everything else I designed around that one sofa. I love it. I got it from Arhaus. It's my one investment piece in the entire house," she laughed. "And then everything just kind of came around it."
Barbie Dreams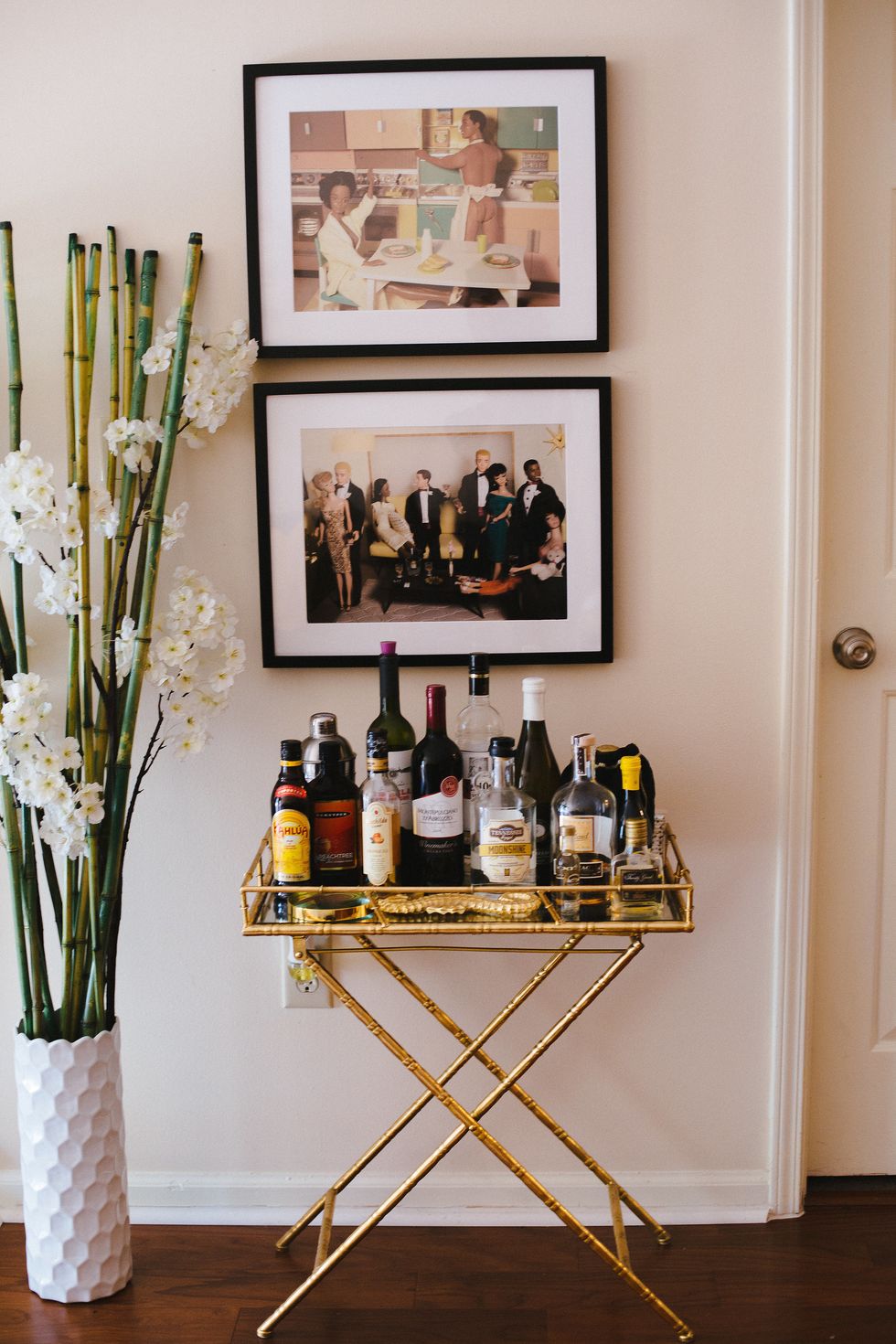 Photo By: Sanniyah Sloan Photography
"These Barbie dolls on the wall are actually vintage Barbies that I got in New York when I went for my birthday this year. They had all different kind of layouts, like Barbies on the beach, and it's all vintage," she recalled fondly. "I thought it was kinda cool because he had black Barbies."
Off the Wall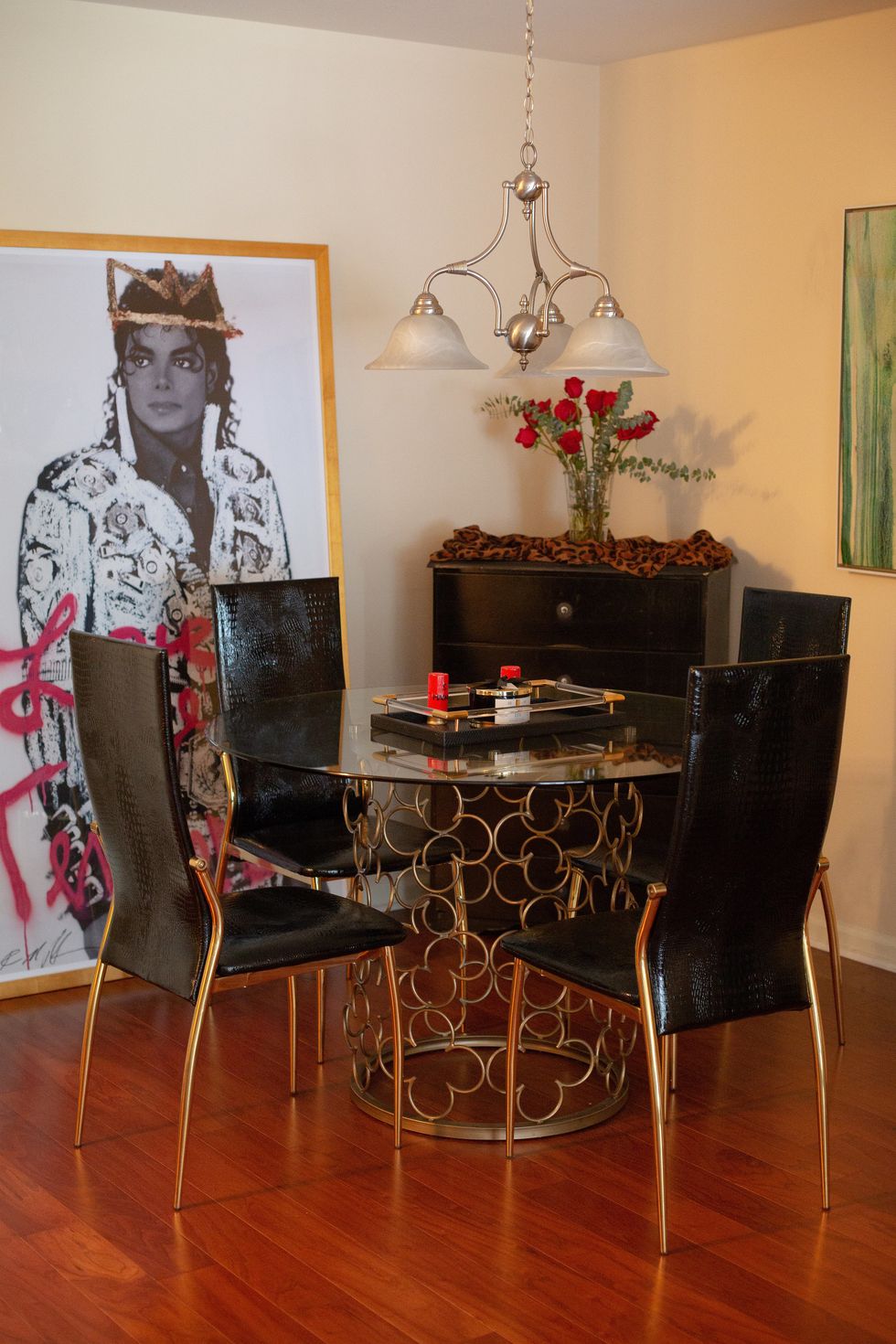 Photo By: Sanniyah Sloan Photography
"I bought this Michael Jackson piece at American Signature Furniture. I thought it was really cool and I really wanted a big piece of art. Big art is expensive and I'm a newbie at figuring out what my taste in art is, so I thought this was cool. The graffiti on top of Michael and the crown - I really liked it. It was a great deal and I just had to have it. It was perfect for the wall. I want to say I got this table from Overstock.com. And I think I got the chair from the same website."
Tunnel Vision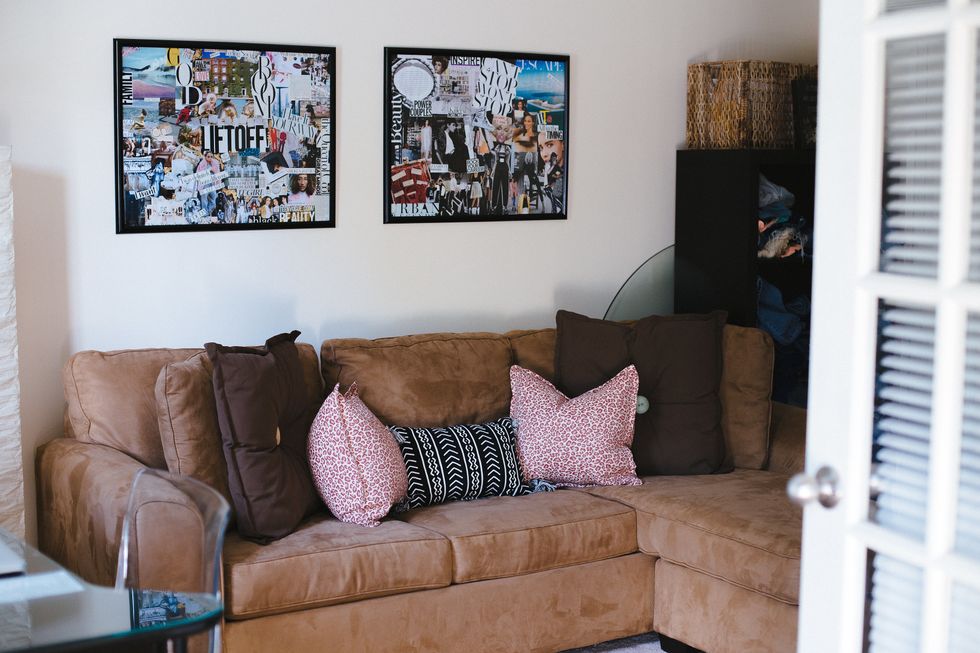 Photo By: Sanniyah Sloan Photography
"I wanted my vision boards to really speak to me - not just be thrown up there. Visuals are everything to me, so it needs to look nice, look neat, and make sense. I have it organized in certain ways on the vision board, and different words that stand out to me, and the gold that's on there - just to kind of make it look more like art so that it's not so temporary. Because I feel like your visions can last, it doesn't just have to apply to one year," McKenzie reflected.
BOSS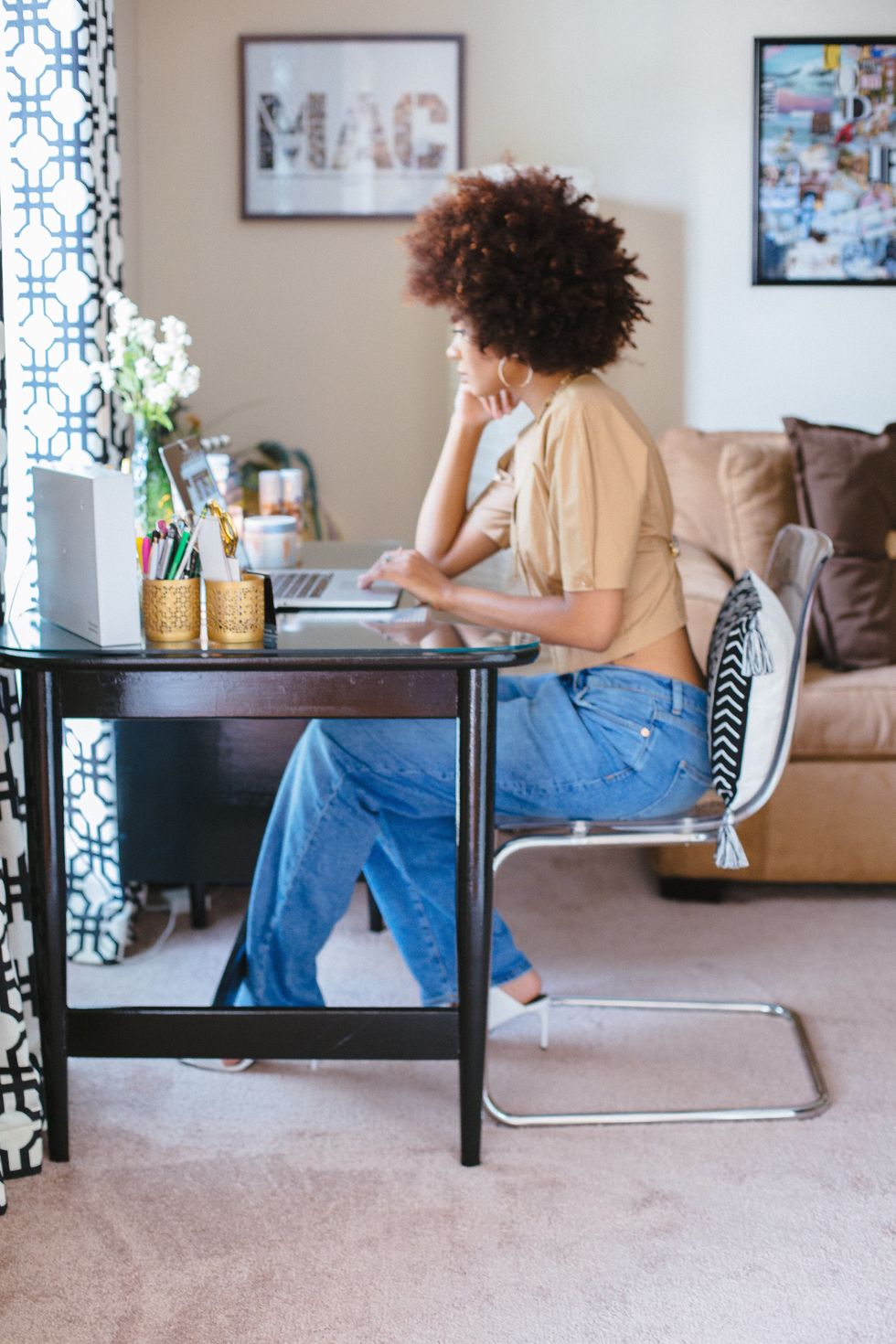 Photo By: Sanniyah Sloan Photography
"I love my desk area the most. My desk in my office is actually a vintage desk that I redid." She continued, "It's comfy in here, it's quiet in here. I write in here a lot. I read in here a lot. I like to create vision boards and stuff like that. I create my jeans in here. I take a lot of my product shots in here when I'm doing reviews. It's also my guest room when I have guests over."
Keep up with McKenzie by following her on Instagram.
Click through the gallery below to tour her dope abode, as well as some of the intimate details that make her apartment feel like home:
Photos By Sanniyah Sloan Photography for xoNecole

Originally published on April 6, 2019