---
Take a moment to think about who you consider your friends to be. I'm not talking about who you're connected to on social media or the folks that you're cool with and speak to every once in a while. I'm referring to the individuals who you tell your deepest secrets to, the ones who will not only loan but will give you fifty bucks when times are tight. The people who will sit up on the phone with you through a break-up, have encouraged you every time you've taken a calculated risk and affirms you every chance they get. Who are those folks?
It has taken me years—decades, really—to figure out who my true friends are. Do you know what the bump-and-bruises of discovery have taught me? A good friend is one of God's greatest gifts and a bad "friend"? They are about the most destructive and disappointing thing that can ever happen to a human being.
Know what else I learned? A lot of us could be spared the drama of faux friends if we set standards of expectation before we give someone the privilege of the title. And while the list I'm about to share isn't a concrete definitive one, let's just say that since I made sure these things checked off in my own world, my friendship circle has been a lot healthier and the drama has been sooooo much less. FINALLY.
Want more stories like this? Check out these xoNecole related reads:
The 5 Must-Have Friends Everyone Needs
The Truth About Maintaining Friendships As An Adult
Friends That Believe In You Aren't Necessary But They Feel So Damn Good
The Real Reason You Can't Be Happy For Her
Featured image by Getty Images
Shellie R. Warren PCC
Different puzzle pieces are creating bigger pictures these days. 2024 will mark a milestone on a few different levels, including the release of my third book next June (yay!).
I am also a Professional Certified Coach. My main mission for attaining that particular goal is to use my formal credentials to help people navigate through the sometimes tumultuous waters, both on and offline, when it comes to information about marriage, sex and relationships that is oftentimes misinformation (because "coach" is a word that gets thrown around a lot, oftentimes quite poorly).
I am also still super devoted to helping to bring life into this world as a doula, marriage life coaching will always be my first love (next to writing, of course), a platform that advocates for good Black men is currently in the works and my keystrokes continue to be devoted to HEALTHY over HAPPY in the areas of holistic intimacy, spiritual evolution, purpose manifestation and self-love...because maturity teaches that it's impossible to be happy all of the time when it comes to reaching goals yet healthy is a choice that can be made on a daily basis (amen?).
If you have any PERSONAL QUESTIONS (please do not contact me with any story pitches; that is an *editorial* need), feel free to reach out at missnosipho@gmail.com. A sistah will certainly do what she can. ;)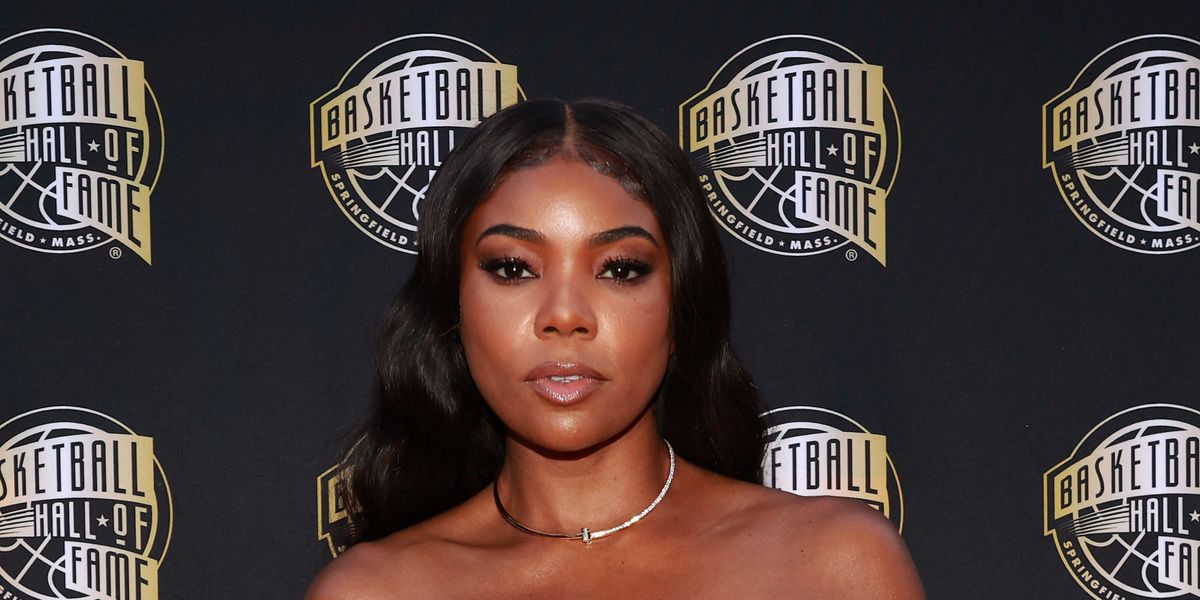 Whenever Gabrielle Union graces the movie screen, she immediately commands attention. From her unforgettable scenes in films like Bring It On and Two Can Play That Game to her most recent film, in which she stars and produces Netflix's The Perfect Find , there's no denying that she is that girl.
Off-screen, she uses that power for good by sharing her trials and tribulations with other women in hopes of helping those who may be going through the same things or preventing them from experiencing them altogether. Recently, the Flawless by Gabrielle Union founder partnered with Clearblue to speak at the launch of their Menopause Stage Indicator, where she also shared her experience with being perimenopausal.
In a xoNecole exclusive, the iconic actress opens up about embracing this season of her life, new projects, and overall being a "bad motherfucker." Gabrielle reveals that she was 37 years old when she was diagnosed with perimenopause and is still going through it at 51 years old. Mayo Clinic says perimenopause "refers to the time during which your body makes the natural transition to menopause , marking the end of the reproductive years."
"I haven't crossed over the next phase just yet, but I think part of it is when you hear any form of menopause, you automatically think of your mother or grandmother. It feels like an old-person thing, but for me, I was 37 and like not understanding what that really meant for me. And I don't think we focus so much on the word menopause without understanding that perimenopause is just the time before menopause," she tells us.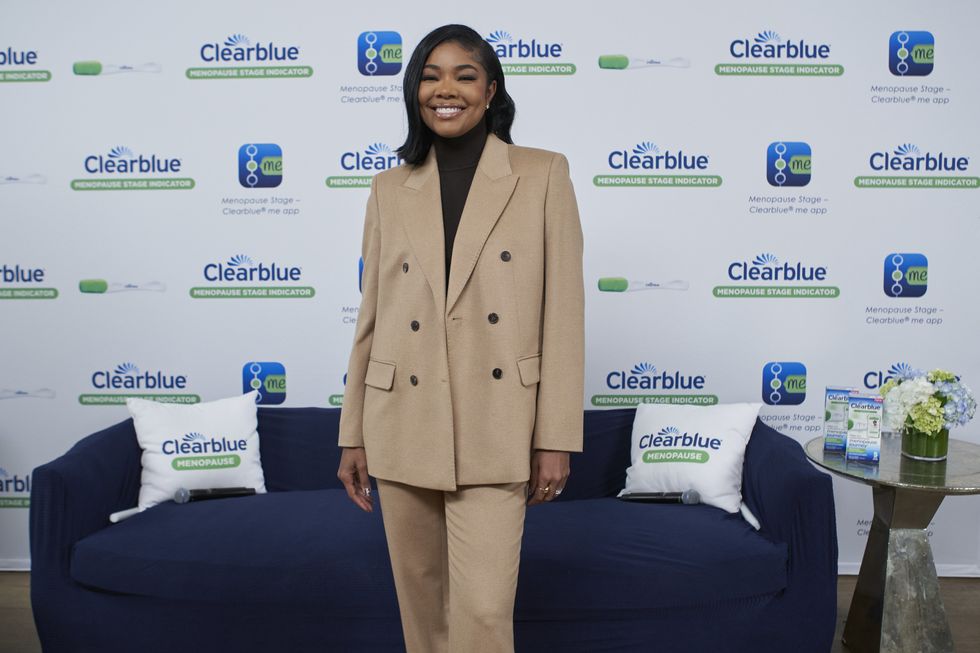 Gabrielle Union
Photo by Brian Thomas
"But you can experience a lot of the same things during that period that people talk about, that they experienced during menopause. So you could get a hot flash, you could get the weight gain, the hair loss, depression , anxiety , like all of it, mental health challenges , all of that can come, you know, at any stage of the menopausal journey and like for me, I've been in perimenopause like 13, 14 years. When you know, most doctors are like, 'Oh, but it's usually about ten years, and I'm like, 'Uhh, I'm still going (laughs).'"
Conversations about perimenopause, fibroids, and all the things that are associated with women's bodies have often been considered taboo and thus not discussed publicly. However, times are changing, and thanks to the Gabrielle's and the Tia Mowry 's, more women are having an authentic discourse about women's health. These open discussions lead to the creation of more safe spaces and support for one another.
"I want to be in community with folks. I don't ever want to feel like I'm on an island about anything. So, if I can help create community where we are lacking, I want to be a part of that," she says. "So, it's like there's no harm in talking about it. You know what I mean? Like, I was a bad motherfucker before perimenopause. I'm a bad motherfucker now, and I'll be a bad motherfucker after menopause. Know what I'm saying? None of that has to change. How I'm a bad motherfucker, I welcome that part of the change. I'm just getting better and stronger and more intelligent, more wise, more patient, more compassionate, more empathetic. All of that is very, very welcomed, and none of it should be scary."
The Being Mary Jane star hasn't been shy about her stance on therapy . If you don't know, here's a hint: she's all for it, and she encourages others to try it as well. She likens therapy to dating by suggesting that you keep looking for the right therapist to match your needs. Two other essential keys to her growth are radical transparency and radical acceptance (though she admits she is still working on the latter).
"I was a bad motherfucker before perimenopause. I'm a bad motherfucker now, and I'll be a bad motherfucker after menopause. Know what I'm saying? None of that has to change. How I'm a bad motherfucker, I welcome that part of the change."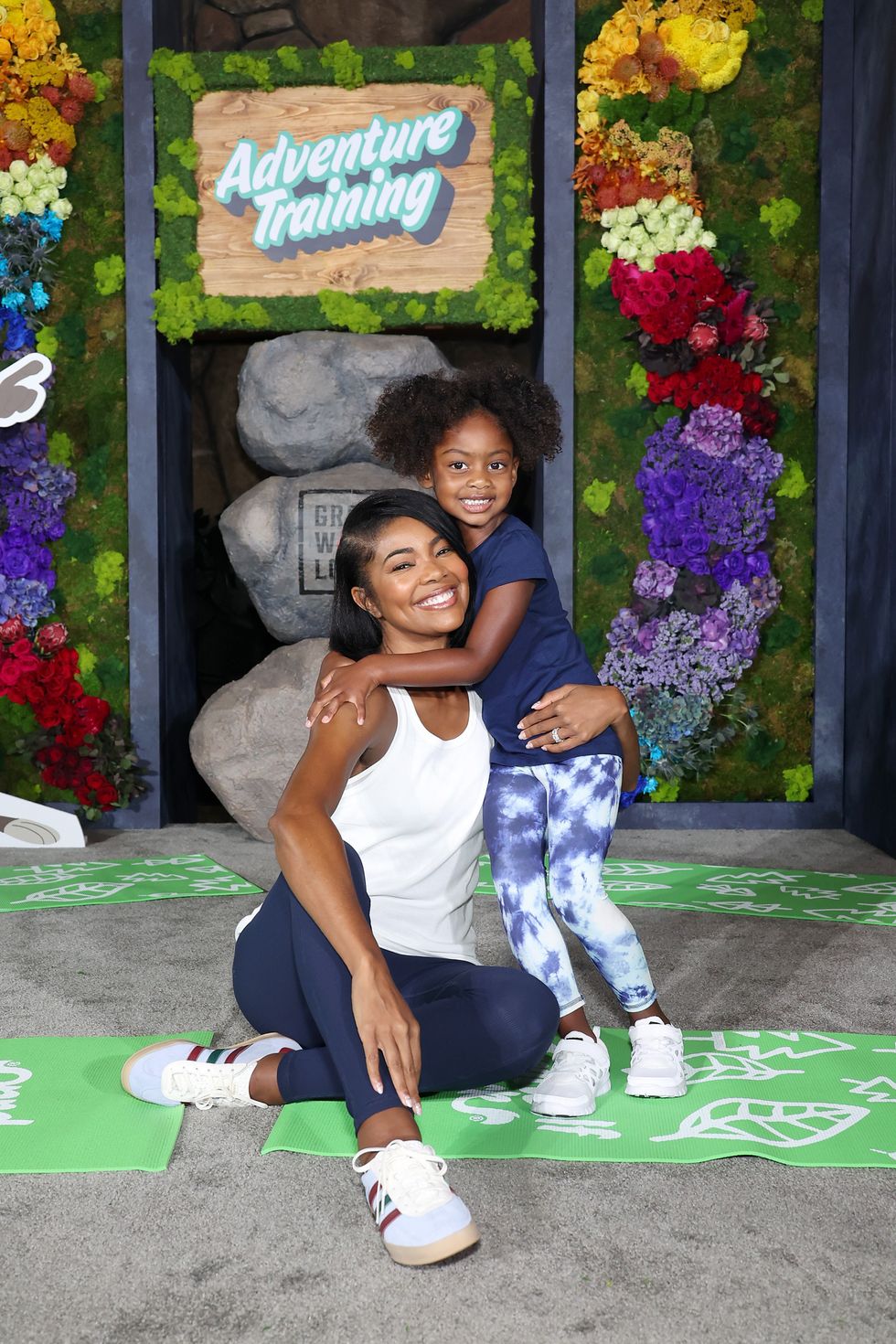 Gabrielle Union and Kaavia Union-Wade
Photo by Monica Schipper/Getty Images
"I hope that a.) you recognize that you're not alone. Seek out help and know that it's okay to be honest about what the hell is happening in your life. That's the only way that you know you can get help, and that's also the only other way that people know that you are in need if there's something going on," she says, "because we have all these big, very wild, high expectations of people, but if they don't know what they're actually dealing with, they're always going to be failing, and you will always be disappointed. So how about just tell the truth, be transparent, and let people know where you are. So they can be of service, they can be compassionate."
Gabrielle's transparency is what makes her so relatable, and has so many people root for her. Whether through her TV and film projects, her memoirs, or her social media, the actress has a knack for making you feel like she's your homegirl. Scrolling through her Instagram, you see the special moments with her family, exciting new business ventures , and jaw-dropping fashion moments. Throughout her life and career, we've seen her evolve in a multitude of ways. From producing films to starting a haircare line to marriage and motherhood , her journey is a story of courage and triumph. And right now, in this season, she's asking, "What's next?"
"This is a season of discovery and change. In a billion ways," says the NAACP Image Award winner. "The notion of like, 'Oh, so and so changed. They got brand new.' I want you to be brand new. I want me to be brand new. I want us to be always constantly growing, evolving. Having more clarity, moving with different purpose, like, and all of that is for me very, very welcomed."

"I want you to be brand new. I want me to be brand new. I want us to be always constantly growing, evolving. Having more clarity, moving with different purpose, like, and all of that is for me very, very welcomed."
She continues, "So I'm just trying to figure out what's next. You know what I mean? I'm jumping into what's next. I'm excited going into what's next and new. I'm just sort of embracing all of what life has to offer."
Look out for Gabrielle in the upcoming indie film Riff Raff , which is a crime comedy starring her and Jennifer Coolidge, and she will also produce The Idea of You , which stars Anne Hathaway.
Feature image by Mike Lawrie/Getty Images

It's well known that successful people are intentional in how they set out goals for their day, month, or year, so planning ahead to reach your career goals in order to advance professionally is a must. Whenever it's time to do anything , I'm a big fan of starting with my "why" and moving forward from there. And in putting on my coaching cap here (I mean, I guess I should put that master's degree into use), the major "why" starts with a line of open-ended questioning---a fun exercise in reflection and honesty with yourself.
Whether career advancement means a promotion , a total change, a jump into entrepreneurship, a salary increase , or taking a total break from the hustle altogether, you can come to a few great realizations and learn how to set and achieve career goals for 2024 by asking the following questions:
1. What aspects of my current work make me feel motivated, happy, and accomplished?
For me, this question allows me to not only think positively about the next steps in my career but to ensure that the work I'm doing aligns with my values. I like to feel accomplished and challenged in my work. I'm also motivated by doing acts of service and building a certain quality of life. I think of these things when I consider my career development and advancement.
Write down what you love about the work you do, what tasks are your favorite, and how your work makes you feel. Are you into moving up the ladder or being of support to leadership? Are you great at administrative tasks but hate public speaking?
Are you more passionate about being the visionary versus handling tedious tasks? Are you more into working from a corporate or home office, or do you like being out in the field or working hands-on with people or things? What is your standard when it comes to feeling accomplished, and how does your industry measure success , results, or impact? Does success tie directly into how much you earn a year? These are just examples of the secondary questions you must ask yourself to assess what keeps you going and makes you tick when it comes to a career.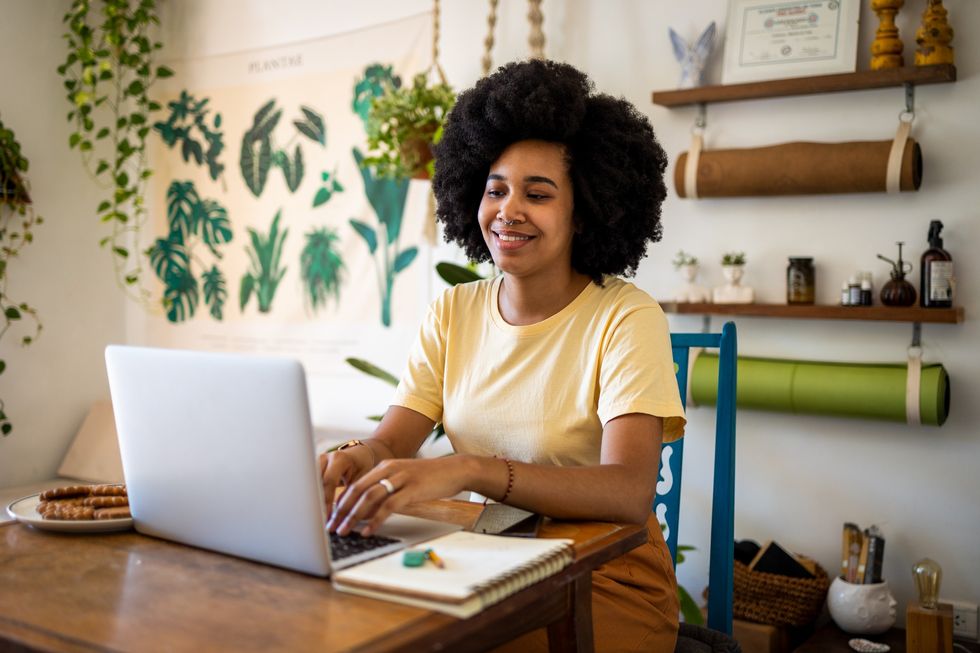 Getty Images
2. What is my current standing or status in my industry?
It's always good to assess where you currently are in order to know where you're going. And keep it real with yourself. Take a look at your resume and the reality of your job duties , what you actually do from day to day, where you work, and how you've been an asset to a company or industry. What were your sales last year? What projects did you lead that met deliverables? How have you positively impacted the life of someone else as part of your job? What was your attendance like? What's your current salary? Did you get promoted? Why or why not?
Take into account the feedback---constructive criticism, praise, or "bad"--- that you've gotten in your performance reviews, from your managers, or from your coworkers. Also, consider your education and training, whether it's traditional or learned through experience.
Are you at the epicenter of excellence and healthy competition when it comes to reaching the highest levels in your industry (related to location, market, or company)? Are you making the impact you want in terms of the number of people you serve and the types of clients you work with?
If there are areas of improvement, such as communication, time management, leadership, or soft skills , write those down as well. You want a full picture of who you are as a professional in order to map out where you need to go from there.
3. What aspects about my current work do I totally hate?
The answer to this one can come easy for many of us, as oftentimes, we are very clear on what we don't like about our jobs or careers. (That's a major reason I didn't make this the No. 1 question.) And even if you totally love your job, there are always some aspects that aren't as enjoyable as others. Write down the tasks, office culture nuances, and other things related to your daily or monthly work life .
Do you hate going into an actual office? Does the company's way of doing business clash with your values or what you believe to be a better way? Is your company not quite a good fit for working parents or diverse professionals? Are you finding yourself becoming smarter and more efficient than your boss? Do you cringe about the tasks associated with managing people or processes?
Again, get real about this so that you can plan accordingly in terms of changing jobs , and careers, or simply shifting your perspective and approach if your job is one you want to remain at but you don't enjoy the grunt work of it.
This question is also a good way to find out what you want to do when you're utterly clueless about that as well. Maybe you're in a rut or still figuring things out when it comes to what you'll do for a living, so figuring out what you definitely don't want to do will help lead you to what you do .
4. Considering my lifestyle, triggers, and way of thinking, what method of goal-setting serves me and will realistically work?
Many coaches tout the benefits of setting S.M.A.R.T. goals, but that's not the only method you can use to set goals and stick to them. I'm a big fan of the HARD method (which stands for heartfelt, animated, required, difficult) because it's more along the lines of how I think, how I work, and how I process goals with the consideration of my obstacle triggers (i.e. people and things that lead to procrastination, heightened anxiety, or waning determination).
I find the SMART technique to be formulaic, strict, and quite boring, so I'm less inclined to meet my goals because I don't feel the passion or excitement to do so. (That's not to say it doesn't work. Again, this is based on the person and what motivates them to follow through on a process of setting goals.)
There are other methods for setting goals, including OKR (objectives and key results) , micro goals (setting multiple smaller goals versus one larger goal), or backward goals (starting from the outcome and planning backward from there based on what that end goal entails).
With any technique, you'll need to come to some sense of clarity about where you want to go (or at least how you want your work life to look in 2024 or beyond) and be able to hold yourself accountable by setting deadlines or measurable targets to hit within setting the goal. There might be changes you need to make, additional classes or training you need to get, or maybe even relocation in store, but you won't know until you actually map out using some sort of technique that can organize your thoughts and plan of action.
5. What resources do I need that contribute to career fulfillment and the quality of life I want?
Another commonality among the successful is the fact that they have a tribe, and they don't achieve success alone. It takes community and resources in order to advance. Write down what resources you might need and how you can tap into those resources in order to meet some of the goals you've set using the methods mentioned previously.
How can you get a mentor? Do you need to go back to school or get more education? Are you able to intern, volunteer, or position yourself for certain projects at your current job in order to gain experience? If you're considering entrepreneurship, what grants or programs can you apply for in order to be a success, get funding, or transition from your 9-to-5?
What financial, time, or personal support will you need from family, friends, and colleagues in order to reach your goals? What expenses (and yes, time and your talent are expenses) can you cover in order to reach those goals (i.e., tuition, extra time after work, volunteer hours, or mental focus)? Consider all resources and possibilities, even if you deem them impossible or unreachable.
While there might be very real systemic and societal barriers to accessing resources for career development and advancement--- especially for Black women---there are resources that you can tap into. Add hard work, research, reliance on your network, use of your unique skills, and an attitude that nobody can stop you, and you've got a prosperous plan for career success in the new year.
Let's make things inbox official! Sign up for the xoNecole newsletter for daily love, wellness, career, and exclusive content delivered straight to your inbox.

Featured image by Luis Alvarez/Getty Images