"I hate when people have that view towards marriage just because others around them are divorced or going through issues. What does their failed marriage have to do with you?"
---
That was a comment from a reader on an article I recently wrote about mismatched expectations. I hate to admit it that with #RelationshipGoals hashtags being thrown around and endless articles encouraging men to find themselves an "Ayesha Curry" or "Michelle Obama" to wife up, the media and the relationships we're surrounded by affect our outlooks on love more than we'd like to believe.
We'd all like to think we're creating a unique love story all our own, but most of us want the same things you'd find in any The Perfect Match type rom-com: respect, trust and someone who won't judge us when we spend way too much in Target…every single damn time.
[Tweet "The media and the relationships we're surrounded by affect our outlooks on love"]
Journalist and first African-American female co-host of The Today Show, Tamron Hall, is no exception. In an interview with People magazine, she once revealed how her sister's tragic experience in a relationship has seriously impacted her own ideas about love and intimacy.
"No one deserves what happened to my sister," Hall opened up about witnessing her sister, Renate, become involved in an abusive relationship. In 2004, Renate was found bludgeoned and beaten to death floating face down in the pool of her Houston, Texas home. The incident was the final blow in Renate's history of being involved with abusive men. Hall reveals she witnessed a violent altercation herself on one occasion.
"I said to her, 'What's wrong with you?' 'You're too beautiful. Too smart. You can do better.' All the things I've learned now are wrong [from domestic abuse advocates], I did them all," Hall revealed about the incident she witnessed in her own home.
Hall says she was upstairs when she heard a scuffle from downstairs. When she came down, she found a bruised Renate in the middle of a room in shambles. After asking the man to leave, Tamron began to question her sister about the relationship. As an advocate for women who are victims of domestic violence, Hall now knows that it's important for women in these situations to not feel judged. Renate stayed in the relationship until her untimely death. Although the man was the only person of interest in the investigation of Renate's death, due to lack of evidence, no arrests were made and the case remains an unsolved homicide.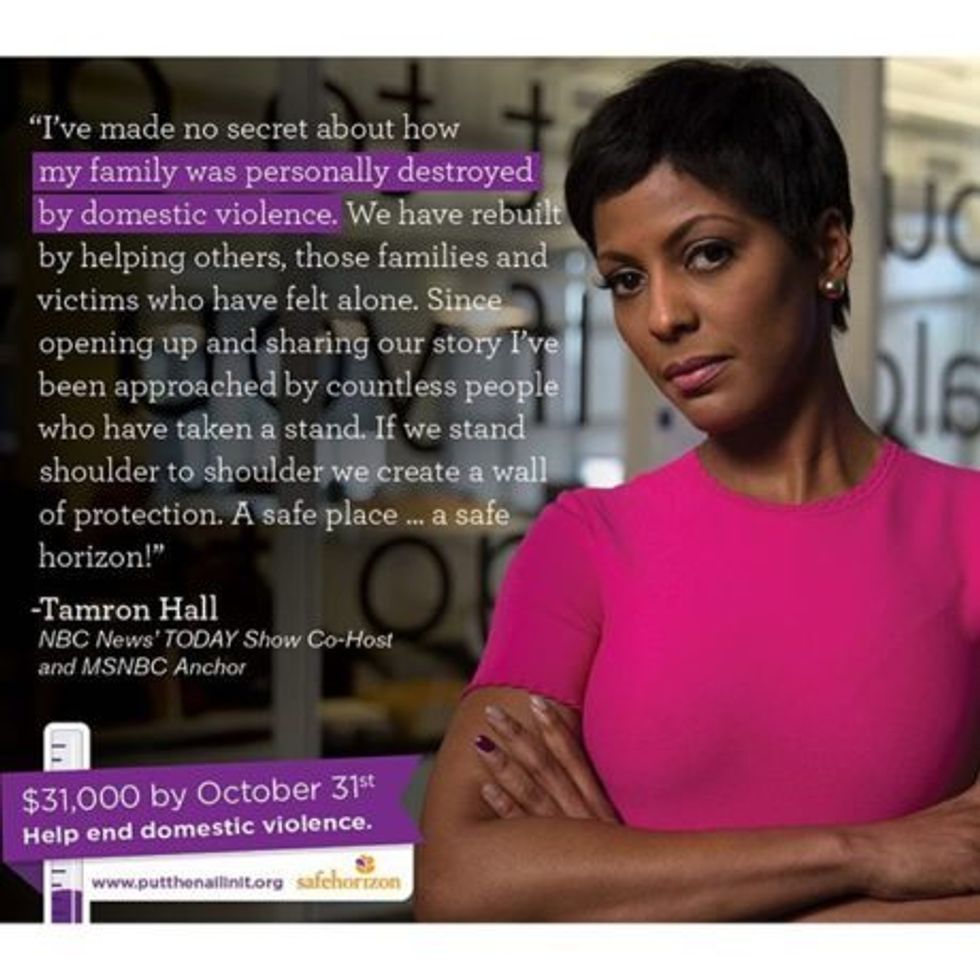 Hall admits that she carries some guilt for her sister's death and feels knowing what she knows now, she could've handled things differently:
"I think Renate thought some part of me still judged her."
But Renate's death has not been in vain. In her honor, Hall has committed a part of her career to advocating for victims of domestic violence and educating friends and family members on how to support loved ones who find themselves in abusive relationships. Hall works with groups like Safe Horizon and Day One to help families of victims find closure. In 2015, she was honored the Women of Courage Award by Philadelphia's Lutheran Settlement House for her work in sharing the stories of survivors of domestic violence on the Today Show's Shine a Light series.
But the conflicting feelings surrounding her sister's experience have affected more than Hall's professional mission, they have affected her personal life as well. Joking that her friends have nicknamed her "The Runaway Bride," Hall admits that Renate's relationships have made her approach her own with caution:
"I've been engaged a couple times. Thank God no one was abusive, but [my sister's situation] makes me cautious."
The 47-year-old shared that she's been engaged twice but never made it down the aisle:
"I never bought a dress, but I was close, in Vegas and another time in Cozumel," she says. "I chickened out both times." Tamron Hall with family and sister Renate (right).
Photo courtesy of Tamron Hall
Hall also admits that a phobia of divorce along with the demands of her career have also played a huge part in her hesitance to commit to long-term relationship. "I'm sad about it some days," she revealed although she is quick to confirm that the success she's experienced as a journalist is a pretty big damn deal:
"I know it's rare to have a single woman on morning TV who doesn't have a child, and I'm Black! But I love my job."
As a super Tamron Hall stan, I must admit I love the job that she's doing too. Hall holds it, balancing sass and sophistication, and being the "young and fly" auntie I never had. She might as well be a living, breathing Being Mary Jane. But don't get it twisted, Hall is no slave to her success and finds time to schedule some fun in after handling business:
"I date, don't get me wrong," she says. "I'm not up here filing my fingernails on a Friday night. I want to find someone to share my life with."
And if possible she wants to have it ALL:
"I've not given up on having a child. But I hope whatever route of parenthood I choose, whether it's adoption or I'm able to conceive, I just hope that I'm able to give someone as beautiful a life as my parents gave me."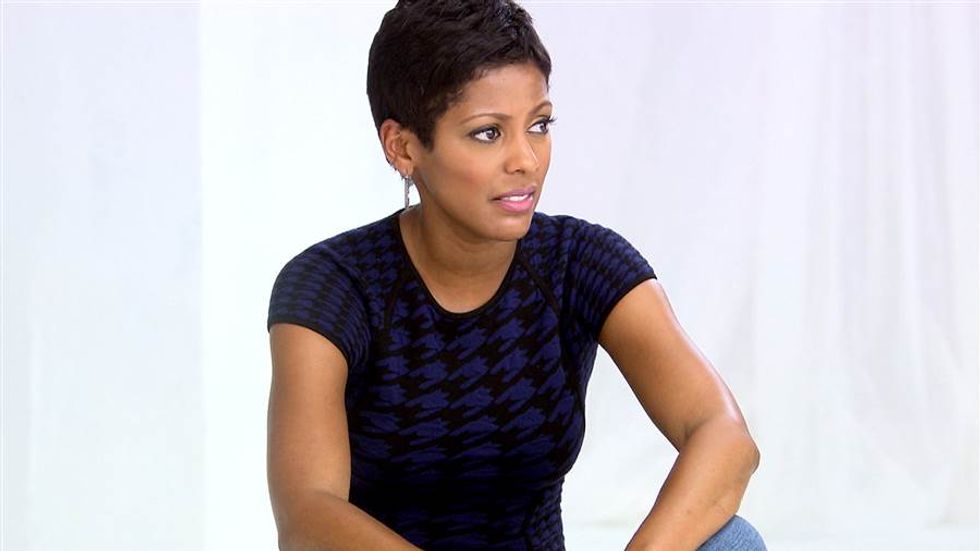 Hall's whole approach to relationships got me thinking about the examples of love that are set for us and how they define what a healthy relationship is and exactly what we want. Growing up in a two-parent household, I was lucky to witness a relationship of love, respect, and loyalty between my parents on a daily basis. My mother taught me how to maintain my independence while still being a part of a team. My father taught me the importance of having standards and demanding respect. But more than that, I owe a lot of what I learned about relationships to my older sister. I love my big sis to death, but I have to admit I learned a lot about what I didn't want in a relationship from her example.
I think the only thing as painful as watching your daughter deal with heartbreak, is witnessing your mom or sister deal with losing love.
There were plenty of times I've sat in my room listening to New Edition and Troop beg and plead on the other side of the wall, muffling my sister's cries. In addition to watching my sister give her all to men from the very beginning of a relationship, (fulfilling my duties as an annoying little sis) I've read diary entries about how she would fall head over heels only to get taken advantage of or cheated on. Witnessing these lessons firsthand didn't make me exempt to the heartbreak any teenage girl has to go through as a rite of passage, but I did find myself keeping my guard up a little longer after meeting a guy.
I was hesitant to start acting like a girlfriend before officially getting the title. I saw my sister make lunches for men who didn't have enough respect to not double book their side chicks so they didn't all show up with soup and a sandwich at the same damn time. Some relationships I didn't take as seriously because I knew maintaining my independence and keeping my options open would lessen the chances that I'd find myself crying into my pillow to "Can You Stand The Rain?"
Whether it's your parents going 22 years strong or Ayesha Curry cheering from the sidelines when her hubby Steph breaks another three-pointer record, there's nothing wrong with looking to the relationships around us as a reference for what we want or don't want from love.
What matters most is that we use these examples to help shape what works for us. We all won't be Ayesha Curry, but there are some pretty awesome Kisha's, Bianca's, and Michelle's that are holding it down for their men just fine. Just because your BFF has been cheated on by every man she's ever been with, doesn't mean it's only a matter of time before you discover it going down in your own man's DM's. You have to take into account the unique circumstances of each relationship on its own. If Hall's experience can teach us anything, it's that every relationship, good or bad, can teach you about what you want from love as well as a thing or two you may not have known about yourself.
"It hasn't shaped my life, but it's given me courage I didn't know I had."