21-year-old millennial supermodel Slick Woods has managed to bring the world to their knees time and time again, and has proven to the mainstream fashion industry that she is one bad mutha (shut your mouth). Both figuratively, and now, literally. In July, she revealed her pregnancy with partner, Adonis Bosso and the internet was in shambles. In the past, Slick has been transparent about everything in her life from her previous drug addiction to her sexuality.
She's made it a point to be an open book for her audience, and like most great tales, her story is still unwritten. She recently sat down with Elle UK to talk about her come up, motherhood, and of course, Rihanna. Many know Slick from her eccentric wardrobe, glorious gap-toothed smiled, and frequent cameos with high-profile celebrities, but few know the details behind hard-knock life that the Fenty model endured before her success.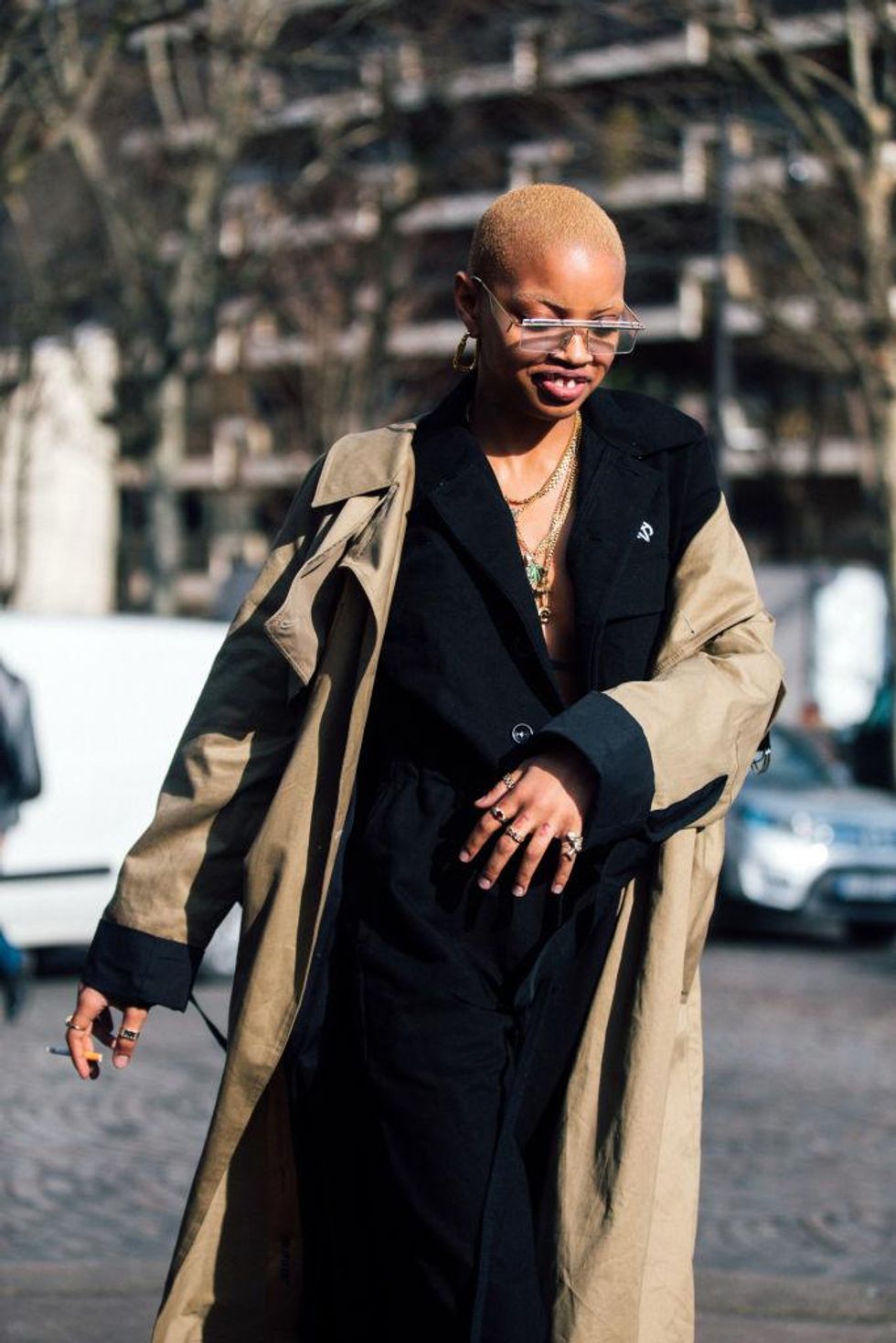 Melodie Jeng/Getty Images
The Minneapolis-born supermodel's mother was indicted for manslaughter when she was only four years old, leaving her to be raised by her grandmother. When Slick was seven, a tumultuous divorce left her and her grandmother homeless and sleeping in cars and motels. She told ELLE:

"I didn't have anything. You learn how to survive; to be OK with nothing. And you learn how to use the little energy you do have to give to the people who can't survive having nothing, so they can keep going."
Slick was a high school dropout by the age of 17, and turned to a drug and violence-infested life on the streets. Slick's series of unfortunate events would soon come to an end after meeting an unlikely friend at a bus stop who asked if she had any experience in the modeling industry.
"'I'm like, 'I'm going to tase this n***a.' I didn't trust him. I didn't know if he was trying to make me a porn star."
Little did she know, this encounter would earn Slick her first big modeling gig that would ultimately gain the attention of stars like Kanye West and Rihanna. Slick said: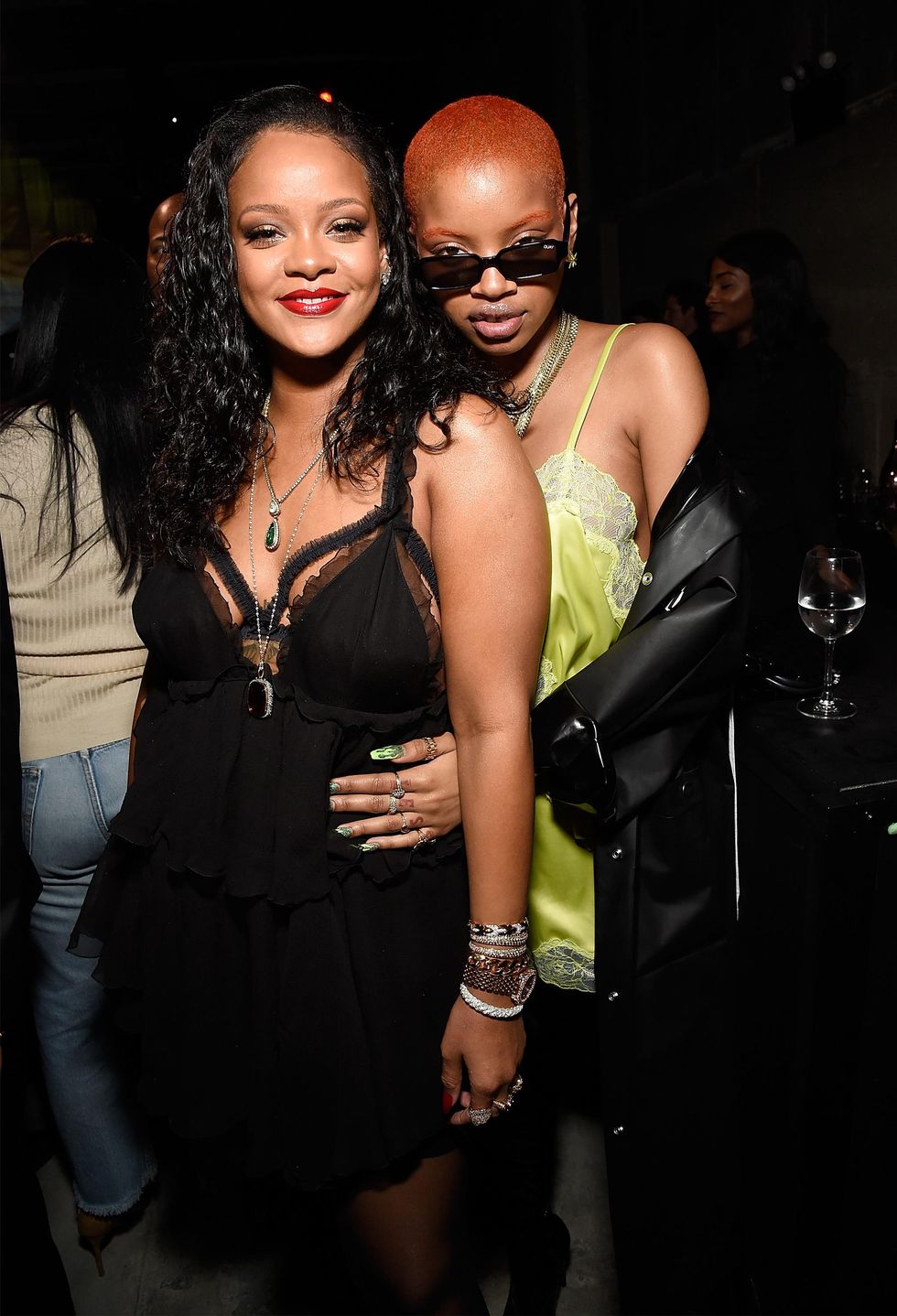 Kevin Mazur/Getty Images for Savage X Fenty
"[Rihanna] saw a photo of me on Instagram, found me, and we hit it off. You ever loved someone so much that every time you see them, you end up in tears somehow? She reminds me of my mother. Like, they're the same person. I tell them they remind me of each other all the time."

Slick's mother, who was a gang member, is still in prison, but the young model maintains that their relationship is as strong as ever:

"Being a gang member, everybody expected her not to be the best mum. But my mum was very hands-on with me as a child. My mummy read to me in the womb. And she's proud because she knows that everybody expected me to be exactly what she was. She went to prison when she was 19. I became a model at 19. And I can take care of my mother when she gets out."
Slick's said that her troubled childhood gives her all the more reason to create a better life for her own little family. She revealed in the interview that with the help of Erykah Badoula, she would be welcoming baby boy Saphir this September. Slick told ELLE that she and her supermodel bae Adonis are both more than excited for his arrival.

"At 14, 15, I never expected to ever be giving any type of life; to be this happy with having a child. From not having family to being able to create your own. Things you lacked, things you missed out on, trauma – you can erase that by creating new life. All those things you didn't get, all those hugs and kisses. I can retract those things with my son's life. In giving him that childhood, it heals you as well. In hugging your son, it's giving a piece of that back to you, too. I need him as much as he needs me."
Read the full interview here.
Featured image by Melodie Jeng/Getty Images