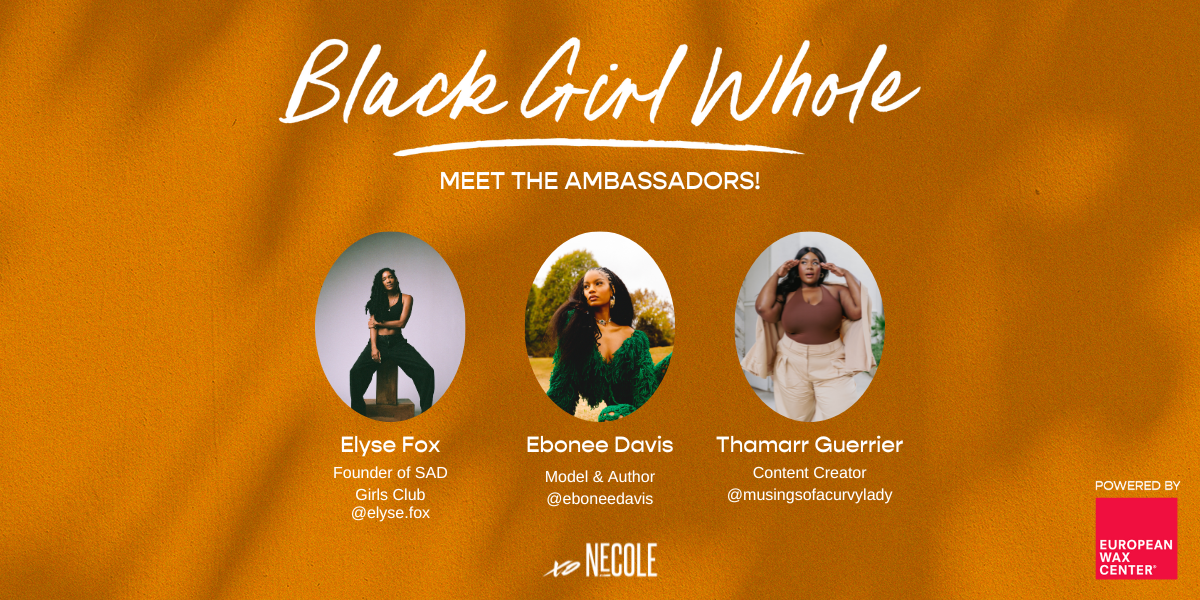 banners
Introducing The Ambassadors of xoNecole's Black Girl Whole Campaign
The path to healing isn't linear, and wellness doesn't look the same for everyone. xoNecole's new wellness hub, Black Girl Whole, is a celebration of that fact.
Welcome to Black Girl Whole - the ultimate wellness destination to find your self-care rhythm. We're here to get you tapped into what makes you feel whole, happy, and full of joy. We're here to encourage you to focus more on the journey and less on the destination. We're here to inspire your greatness!
But let's be real — you can't have wholeness and healing without accountability, right? That's where our Black Girl Whole ambassadors come in. To help bring this new campaign to life, we've ushered in the help of some very talented and inspiring content creators: SAD Girl's Club founder Elyse Fox, model and activist Ebonee Davis, and content creator Thamarr Gurrier. The Black Girl Whole ambassadors were hand-selected by xoNecole to their own custom wellness challenges that we'll be following throughout the year. Whether it's journaling, taking more steps per day, or just getting more rest, there will be a mind, body, and spirit mission woven into each challenge to ensure you feel whole and happy from the inside out.
Meet our Black Girl Whole ambassadors below, and don't forget to check back to join our seasonal wellness challenges.
Ebonee Davis
Ebonee Davis is an American model, poet, actor, and activist from Seattle, Washington. Over the last six years Ebonee has become one of the fashion industry's most prominent voices, advocating for representation and diversity in front of the camera as well as behind it. In 2017, after penning an open letter to the fashion industry illuminating the importance of representation, Ebonee was asked to do a TED Talk at the University of Nevada on the topic of systemic bias in fashion which she titled "Black Girl Magic in the Fashion Industry". Following her talk, she has delivered countless speeches, participated on panels, and written for numerous publications, all while using her platform as a model to uplift, inspire and create space for those who visibility has been systematically denied.
Ebonee's BGW Affirmation: "I am a magnet for blessings."
Elyse Fox
Elyse Fox is a director, activist, and tastemaker living in New York City. You may have read her name in bylines for Vogue Magazine, Forbes and Broadly to name a few. Through her efforts to create access and community within the mental health world Elyse has partnered with Nike, Harvard University, The U.S. Intelligence Community, Instagram, and many more. Her mission is to connect communities, spread awareness and access to resources through vulnerability, gathering, and storytelling.
Elyse Fox BGW Affirmation: "Never build a life that you need to vacation from."
Thamarr Guerrier
Thamarr is a content creator and author of the blog "Musings Of A Curvy Lady." She's a positive body activist who fights to create the inclusion and visibility that is lacking in the fashion and beauty world. Thamarr started Musings Of A Curvy Lady in 2012 as an outlet to promote her personal style. Through her social media channels, she's constantly creating avenues for women to support other women.
Thamarr's BGW Affirmation: "I am healing more and more every day."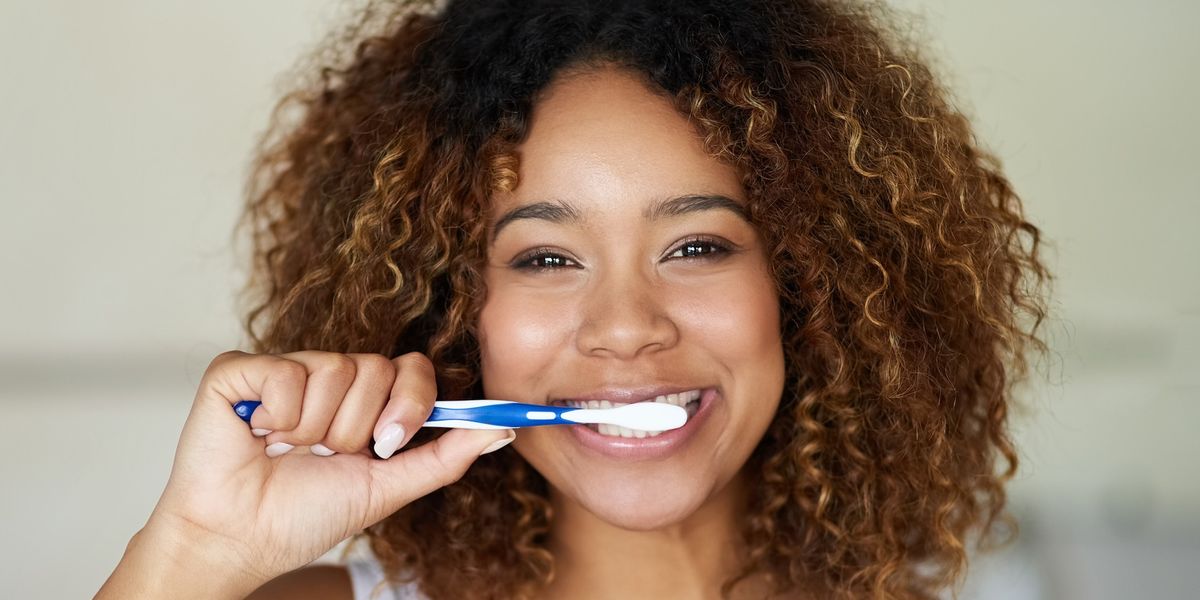 This article is in partnership with Sensodyne.
Our teeth are connected to so many things - our nutrition, our confidence, and our overall mood. We often take for granted how important healthy teeth are, until issues like tooth sensitivity or gum recession come to remind us. Like most things related to our bodies, prevention is the best medicine. Here are five things you can do immediately to improve your oral hygiene, prevent tooth sensitivity, and avoid dental issues down the road.
1) Go Easy On the Rough Brushing: Brushing your teeth is and always will be priority number one in the oral hygiene department. No surprises there! However, there is such a thing as applying too much pressure when brushing…and that can lead to problems over time. Use a toothbrush with soft bristles and brush in smooth, circular motions. It may seem counterintuitive, but a gentle approach to brushing is the most effective way to clean those pearly whites without wearing away enamel and exposing sensitive areas of the teeth.
2) Use A Desensitizing Toothpaste: As everyone knows, mouth pain can be highly uncomfortable; but tooth sensitivity is a whole different beast. Hot weather favorites like ice cream and popsicles have the ability to trigger tooth sensitivity, which might make you want to stay away from icy foods altogether. But as always, prevention is the best medicine here. Switching to a toothpaste like Sensodyne's Sensitivity & Gum toothpaste specifically designed for sensitive teeth will help build a protective layer over sensitive areas of the tooth. Over time, those sharp sensations that occur with extremely cold foods will subside, and you'll be back to treating yourself to your icy faves like this one!
3) Floss, Rinse, Brush. (And In That Order!): Have you ever heard the saying, "It's not what you do, but how you do it"? Well, the same thing applies to taking care of your teeth. Even if you are flossing and brushing religiously, you could be missing out on some of the benefits simply because you aren't doing so in the right order. Flossing is best to do before brushing because it removes food particles and plaque from places your toothbrush can't reach. After a proper flossing sesh, it is important to rinse out your mouth with water after. Finally, you can whip out your toothbrush and get to brushing. Though many of us commonly rinse with water after brushing to remove excess toothpaste, it may not be the best thing for our teeth. That's because fluoride, the active ingredient in toothpaste that protects your enamel, works best when it gets to sit on the teeth and continue working its magic. Rinsing with water after brushing doesn't let the toothpaste go to work like it really can. Changing up your order may take some getting used to, but over time, you'll see the difference.
4) Stay Hydrated: Upping your water supply is a no-fail way to level up your health overall, and your teeth are no exception to this rule. Drinking water not only helps maintain a healthy pH balance in your mouth, but it also washes away residue and acids that can cause enamel erosion. It also helps you steer clear of dry mouth, which is a gateway to bad breath. And who needs that?
5) Show Your Gums Some Love: When it comes to improving your smile, you may be laser-focused on getting your teeth whiter, straighter, and overall healthier. Rightfully so, as these are all attributes of a megawatt smile; but you certainly don't want to leave gum health out of the equation. If you neglect your gums, you'll start to notice the effects of plaque buildup, which can irritate the gums and cause gingivitis, the earliest stage of gum disease. Seeing blood while brushing and flossing is a tell-tale sign that your gums are suffering. You may also experience gum recession — a condition where the gum tissue surrounding your teeth pulls back, exposing more of your tooth. Brushing at least twice a day with a gum-protecting toothpaste like Sensodyne Sensitivity and Gum, coupled with regular dentist visits, will keep your gums shining as bright as those pearly whites.

With two Eclipses happening this month, this is one of the powerhouse months of 2023 and one that will be unforgettable for many. The month begins in Libra Season, and with Mercury also entering Libra on October 4th. When Mercury is in Libra, the focus is on keeping the peace, creating harmony, and finding the beauty in life. Relationships, finances, pleasure, and creation are all the focus during Libra Season, and this month overall will be creating a lot of positive change in these areas of life.
What October 2023 Has In Store For Your Zodiac Sign
On October 8th, Venus moves into earth sign Virgo, and love takes on a more serious and grounded tone here. Venus in Virgo has high standards and wants the best of the best. There is a possibility of becoming overly critical in love or relationships with this energy, however overall, Venus in Virgo will be focused on letting go of unhealthy behaviors in love and creating more positive ways of relating, giving, and receiving in relationships. A few days later, Pluto goes direct in Capricorn after going retrograde in Aquarius back in May, and fewer power struggles and obstacles are more likely.
With Pluto direct in Capricorn, it is easier to reach your goals, build success, and see your own self-empowerment in it all.
On October 12th, Mars enters Scorpio, and Mars loves being in this water sign as it's the ruler of Scorpio. Mars in Scorpio is passionate and direct and heats things up when it comes to your relationships. Mars will be in Scorpio until November 24th, and a spark is definitely being lit. A few days later, we have a New Moon Solar Eclipse in Libra.
This Solar Eclipse is creating a fresh start in love, but may also be bringing things to the forefront that are uncomfortable to see. A Solar Eclipse in Libra is relationship-oriented, and this is where you will be seeing the most impact now.
Before the month ends, Mercury enters Scorpio on October 22nd, Scorpio Season begins on the 23rd, and there is a Full Moon Lunar Eclipse in Taurus on October 28th. The end of October is when a lot of big moves are being made, and transformations are occurring, and it's about letting go of baggage before moving forward again. The Lunar Eclipse in Taurus is another eclipse that has an impact on relationships, as both Libra and Taurus are ruled by Venus, the planet of love.
Through what is changing and transforming in some of your close relationships, this energy suggests there is greater love on the other side of it. Find gratitude in where you are, and stand in hope and self-belief for where you want to be.
Featured image by Kyra Jay for xoNecole