It's time to go back down in the Valley!
---
This Friday marks the premiere of the highly anticipated second season of STARZ's hit drama series
P-Valley
. Set in the hot and steamy world of stripping located in the even hotter and steamier state of Mississippi,
P-Valley
quickly amassed a fanbase thanks to its sexy cast and its tackling of issues like sex worker rights and challenges, poverty, domestic violence, gentrification, queerness and more.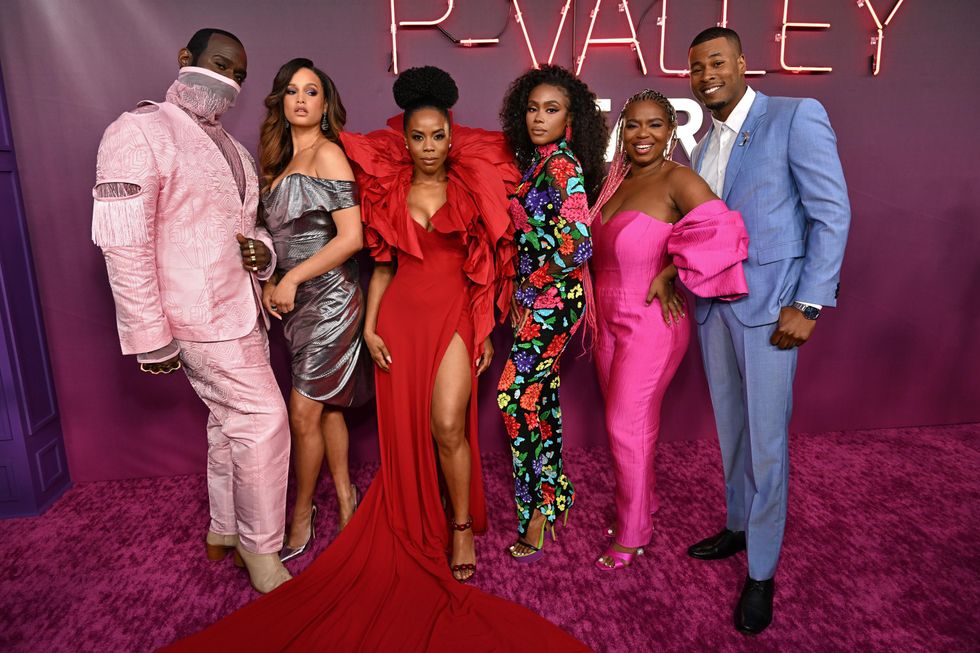 Katori Hall stands with the stars of P-Valley, (L-R) Nicco Annan, Elarica Johnson, Brandee Evans, Shannon Thornton, and J. Alphonse Nicholson at the P-Valley Premiere in LA
Rodin Eckenroth / Stringer
One person who wasn't surprised by the show's immediate success is its creator Katori Hall. "I had an inkling," Hall tells xoNecole. "If the show had an opportunity to be seen, that it actually would take flight."
Hall first got the idea for P-Valley in 2009, inspired by her frequent trips to strip clubs in the south and her brief time taking pole dancing classes. "My own experience with strip clubs and that class collided in my brain," Hall says. "And it made me want to do a lot more research about the women who are dancers and just learn more about their lives."
Hall initially conceived the idea for P-Valley as a play. The Pulitzer Prize and Olivier Award winner and two-time Tony Award nominee have been thriving in the medium since 2009. "Stripping is such a theatrical experience," Hall explains. "I grew up down south, I grew up going to clubs. So I was really impressed and inspired by the show of stripping." Once she saw her characters come to life on stage, however, she realized she wanted to explore them for a longer period of time than a stage play allows. "I want my characters to participate in more than just this story," Hall says."There's so many other stories that I want to tell with these characters."
Much of the success of the show comes from the vibrancy of the characters such as the flamboyant strip club madam of the Pynk, Uncle Clifford (Nicco Annan). Hall credits her family for providing the inspiration for those characters. "Uncle Clifford is actually a fusion of my real Uncle Clifford and my mom and my dad," Hall says. "I just wanted to create this very gender-fluid character who was very feminine and masculine in equal measure." Other characters she says like the Pynk's OG star stripper Mercedes (Brandee Evans) or the Pynk's fastest rising star Miss Mississippi (Shannon Thornton) are amalgamations of women she's met in the strip clubs and also her older sisters.
As the youngest of four girls, Hall says that her parents were "tired" by the time it came to raising her, so she says that she was given the space to explore her creative interests more. "From the time I was itty, itty, bitty, I was writing in my journals and creating plays with my dolls," Halls says. "I knew that I was destined to put words down on paper and create characters and worlds."
When she attended college at Columbia University, she initially pursued theater as an actress. However, it was the dearth of meaty roles for Black women in her theater program that led to her wanting to create her own roles for herself and for other women that Hall says "look like myself." It was through creating her own stories and characters that Hall realized the sort of power she was able to possess over her career.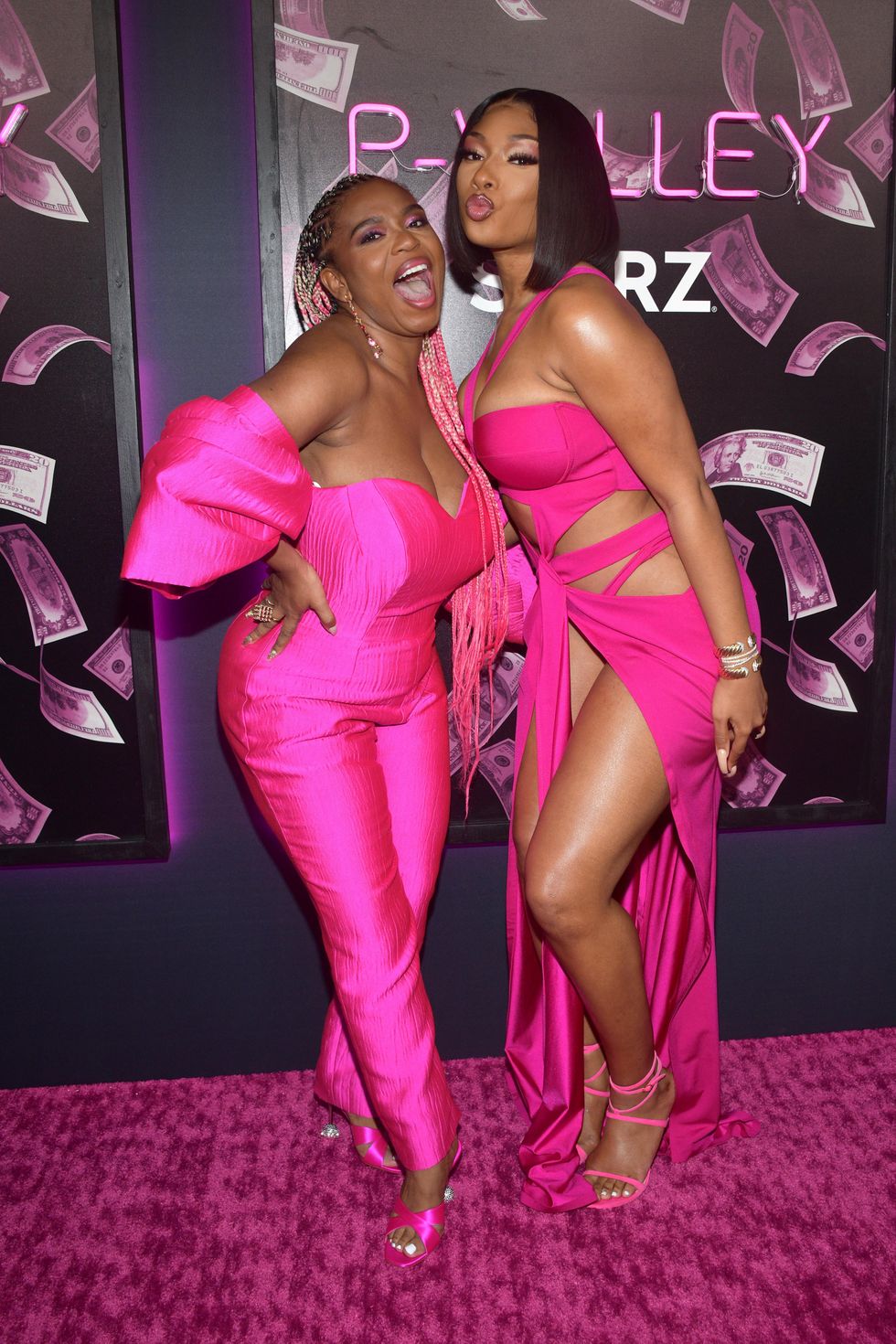 Katori Hall and Megan Thee Stallion at the P-Valley Premiere in Los Angeles

Araya Doheny / Stringer
Hall says that she is committed to writing stories that center the Black female experience, stories about survival, and stories about the underdog. By setting P- Valley in a strip club, she allowed her to use that space as a metaphor. "Oftentime within a strip club there are moments of liberation and then there are moments of exploitation," Hall says.
We see it all and more in the latest season, including more music from Lil Murda (J. Alphonse Nicholson) and even a track by Megan Thee Stallion. At the Los Angeles premiere of P-Valley on Thursday, Hall took the stage to tease what we can expect in season two of her hit show: "It's deeper, it's darker, and it's 1000% better."