---
With the rise of more and more black women breaking away from traditional 9-5s to become their own bosses, the CEO is getting a revamp as the SHEeo. CEOs are forging their own paths, blazing their own trails, and turning their passion into a profit. Curious to know how she does it? In the Meet The SHEeo series, we talk to melanated mavens leveling up and glowing up, all while redefining what it means to be a boss.
Dionna Collins originally launched ComfiArt in 2016 as a way to combine her graphic design and digital marketing skills into unique home goods pieces for herself. But a year later, a job layoff led the entrepreneur to rebrand ComfiArt to cater to consumers who want affordable art and home decor and expanded her product offerings to include apparel and accessories. Partnering with local artists and brands in the Atlanta community, ComfiArt services e-commerce, events, and business-to-business clients wishing to take their space up a notch without sacrificing quality or style.

In this week's feature, meet Dionna Collins of ComfiArt.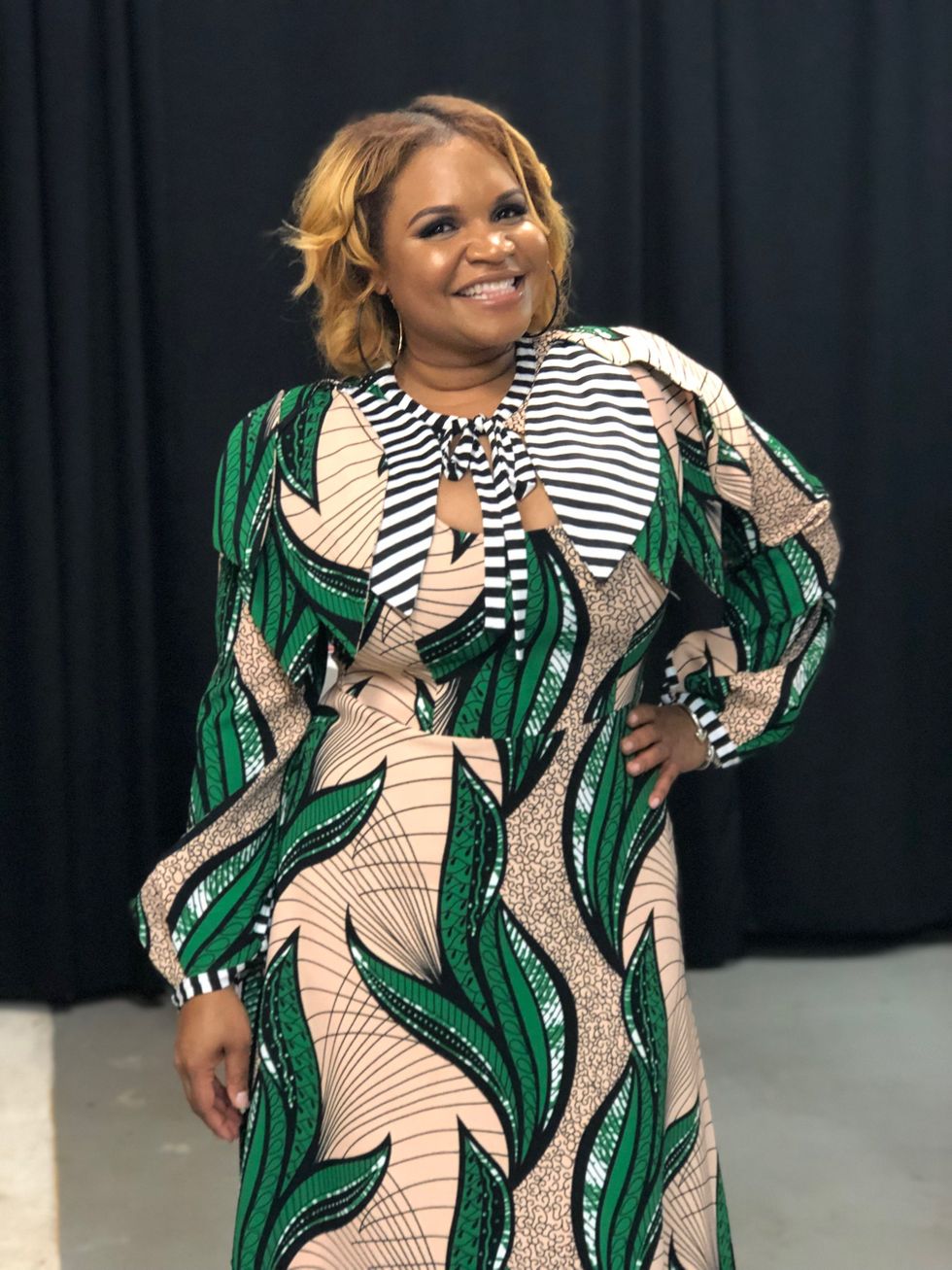 Courtesy of Dionna Collins
The Stats
Title: Founder/CEO of ComfiArt
Location: Atlanta

Year Founded: 2016
# of Employee(s): 2
30-Second Pitch: "ComfiArt was founded in 2016 as an affordable way to buy unique art that you can wear and also decorate your space. We create exclusive pieces while collaborating with artists and brands around the community."
The Details
What inspired you to start your brand?
I've always loved graphic design. I have 14 years in the graphic design and digital marketing world, but I didn't want to deal with freelance market. I started ComfiArt for myself. Originally, it was only pillows and home goods. Creating ComfiArt has allowed me to be able to create for the consumer while feeding my soul with the love and passion of creativity without the pressure.
What was your "A-ha!" moment that brought your idea into reality?
My "A-ha!" moment was in 2017 when I got laid off from my job. While trying to generate an income, that pushed me to rebrand ComfiArt. I expanded the products I was selling online to include more apparel and accessories, which led to the three tiers that make up ComfiArt: e-commerce, events, and business-to-business.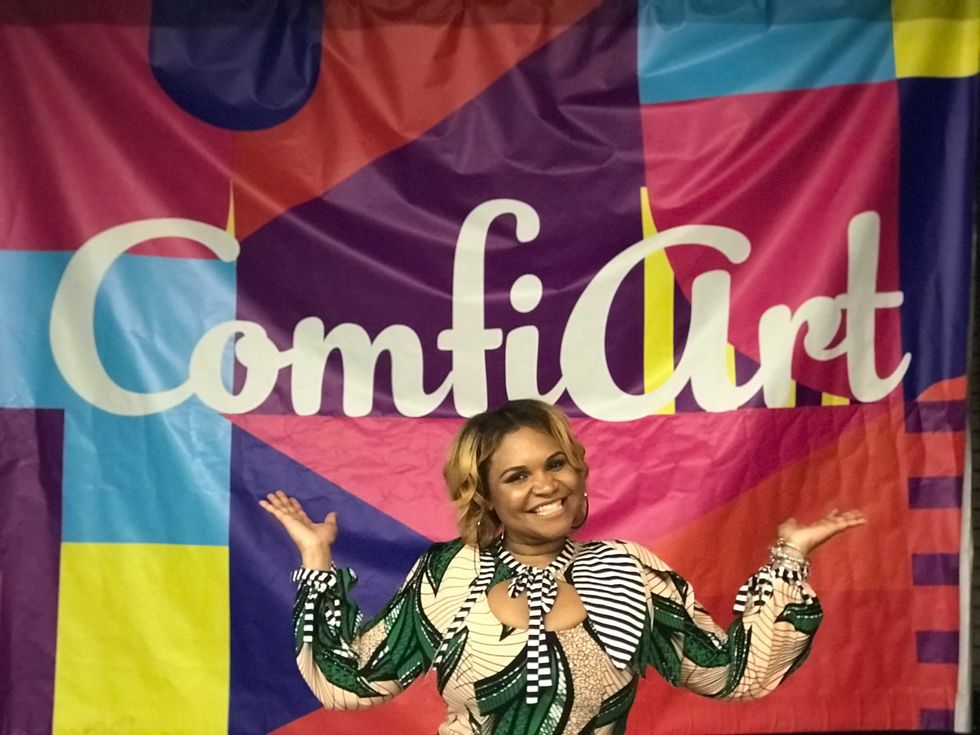 Courtesy of Dionna Collins
Who is your ideal customer? 
Being that my main focus is on art, we at ComfiArt like to collaborate with artists in their area, Atlanta, Georgia. With that, we ensure that people are able to afford beautiful artwork in the small pieces we offer online. Our goal is to make sure that if you aren't able to afford a $5,000 and upward original piece, you can afford original artwork with ComfiArt. Our ideal customers are art enthusiasts, people that love unique items, creatives, home decorators and people who like to stand out from the crowd.
What makes your business different? 
ComfiArt is an affordable way to bring unique art that you can wear and also decorate your space. We create exclusive pieces while collaborating with artists and brands around the Atlanta area. The collaborations we have with Atlanta artists help them find other alternatives in creating financial wealth for themselves. Some ways that we help are by curating events, connecting them with brands, and sharing profit opportunities with ComfiArt through our website e-commerce.
What obstacles did you have to overcome while launching and growing your brand? 
Like everyone, I'm still going through obstacles. Finances are one struggle as a small business. It can be hard finding funding to help grow and expand the business. Self-doubt, confidence, and depending on others to make my dreams come true are some of the obstacles I've overcome so far and I depend more on myself now. This entrepreneurial life is more personal. It has forced me to depend on myself, not doubt my own ideas and how to follow through. Now when I hear a "no" or a door closes, I don't get as upset anymore. I just realize that it's not the time or that God is telling me that I'm not quite ready and that opportunity will come back when the time is right.
What was the defining moment in your entrepreneurial journey? 
For me, I don't think I have one yet. In this past year, I have reached some major milestones in regards to helping artists sell their artwork and expanding my brand identity, as well as collaborating with other major brands such as WeWork and Whole Foods while still being such a young company. As a brand, what sets me apart is being able to bring artists to platforms and environments that they're not typically used to being in. In the upcoming years, I'd like to expand more on that. The NBA, Hawks, Nike, Amazon, and Coca-Cola are a few of the brands that I'd like to collaborate with.
Where do you see your company in 5-10 years?
To be a global brand. In the next 5-10 years, I want to be the company that brands call to find artists while being the brand that artists come to find contracts for work. Our main purpose at ComfiArt is to help artists find alternatives to building financial wealth while merging the gap between brands and artists and assisting with government contracts. My goal is to also expand the e-commerce aspect of ComfiArt and collaborate with more artists while being the brand that hosts major art events throughout the country and simultaneously expands the experiential realm for artists.
Where have you seen the biggest return on investment?
Social media has been our biggest ROI. We get a lot of traffic via Instagram and influencer marketing through our events with other artists. This has helped to grow my email marketing list and expand the brand to other artists.
Do you have a mentor? 
No mentors, hoping to find one soon to assist with questions that I have on building and expanding the company and learning more about investments and finances.
Biggest lesson you've learned in business? 
Not everyone will believe in your dreams at first, you just have to trust and believe in yourself and take risks. It takes a lot of hard work, dedication, blood, sweat, and tears. It won't happen overnight, you just have to be consistent.
For more ComfiArt, follow them on social media @ComfiArt.