Since Lauren London's breakout role in the 2006 cult classic ATL, the actress captivated audiences with her stunning beauty and quickly became known as one of the baddest Black women in Hollywood. At 38 years old, the mother of two's beauty is still unmatched and she recently shared her beauty secrets with Vogue.
---
Check out the You People star as she dishes on her favorite Black-owned beauty products, how she stays looking young, and why no one can touch her eyebrows.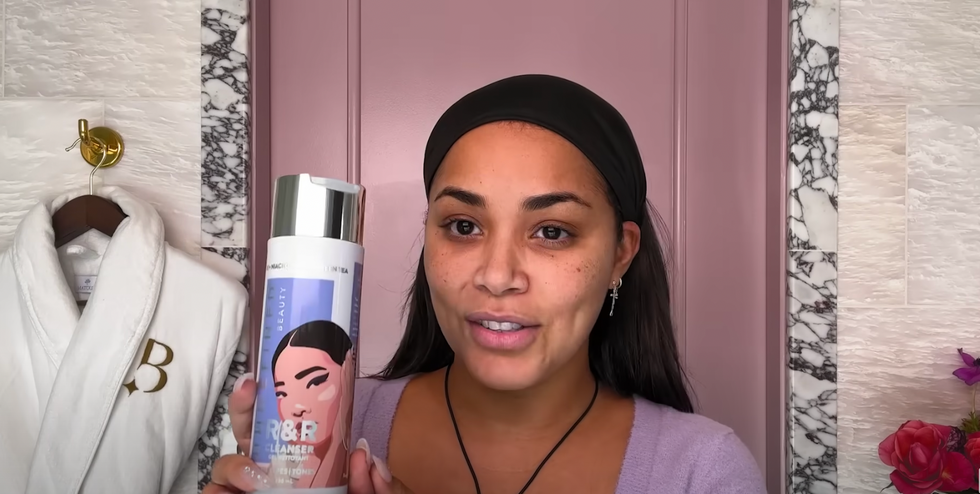 Vogue/ YouTube
Skincare
Lauren is an advocate for washing your face, especially after a bad experience she had in high school. "I've always been serious about washing my face," she says. "I feel like when I was in high school, I learned the really harsh lesson of going to bed without washing my face and I had a really bad breakout on my forehead." The L.A. native uses the Black woman-owned brand Undefined Beauty R&R Cleanser.
Because Lauren has sensitive skin, she likes to use natural products on her face. One of her favorite products, which is also owned by a woman of color, is PurpL & Prosper Calm Complexion Serum. This serum has jojoba oil and licorice root that helps with skin sensitivities.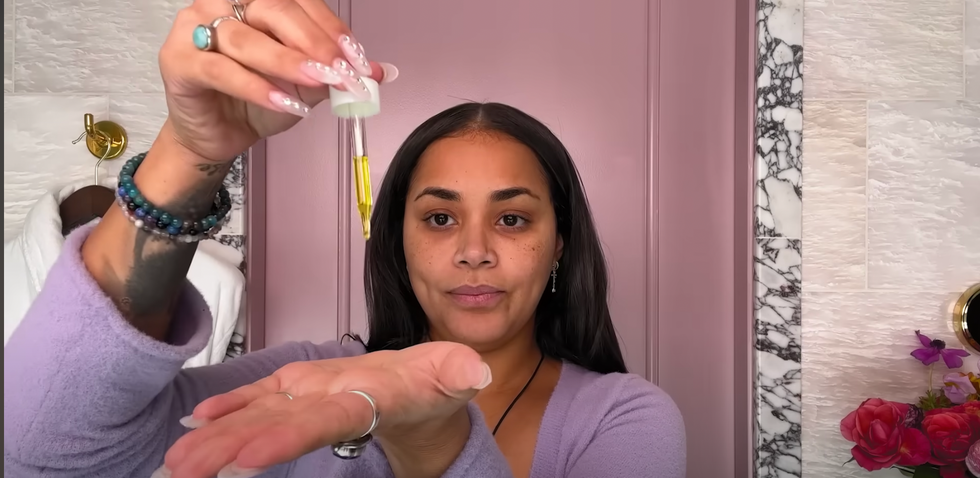 Vogue/ YouTube
"Growing up, I don't remember any Black-owned skin[care] products around our household and I feel like now it's more available, it's out there," she says. "It's skin[care] products that actually understand what's going on with my skin."
She also likes using Therabody TheraFace PRO, which she credits for smoothing out fine lines. "Red light is really good for the rejuvenation of your [skin] cells and fine lines 'cause sis is not 22 anymore," she explains.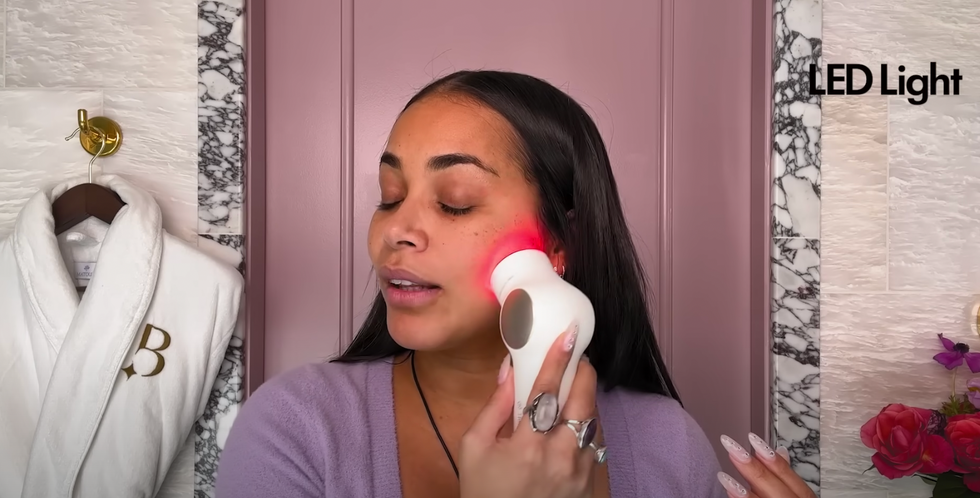 Vogue/ YouTube
While the actress enjoys her skincare routine, she admits it's not a regular thing. "I don't always have time to do this routine, especially in the morning when I have to rush to take the kids to school," she confesses. "If I have some time and I do want to take time with myself and be intentional about my face–this is also very therapeutic–I'll do all [of] this. If I don't have time, it's giving face wash and a moisturizer."
Makeup
When it comes to makeup, Lauren starts off with Laura Mercier tinted moisturizer and follows that with Tom Ford Color Correcting pen and Giorgio Armani Luminous Silk Concealer. "I have really, really dark circles because I don't get enough sleep," she says. "I have two kids, so I use this Tom Ford Color Correcting pen under my eyes before I go in with concealer."
She then uses Tatcha The Silk Powder and Chanel Les Beiges Healthy Glow Bronzing Cream.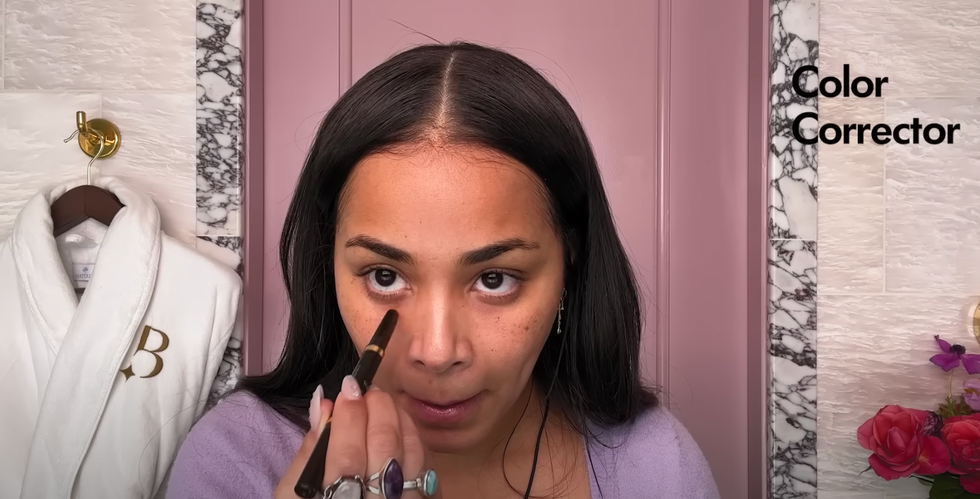 Vogue/ YouTube
"Growing up, Rite Aid or CVS would be where I would buy my makeup and it was really hard finding a color that matched my skin complexion and I felt like you would have to mix and match and I'm not good at that," the actress explains. "I think as time has changed and as makeup has become more inclusive, I hope everyone can find their shade."
When it comes to her eyebrows, Lauren plays no games. She reveals that she doesn't let anyone touch her brows. She says, "I like to keep my eyebrows kind of thick and anybody who knows me knows I don't touch this."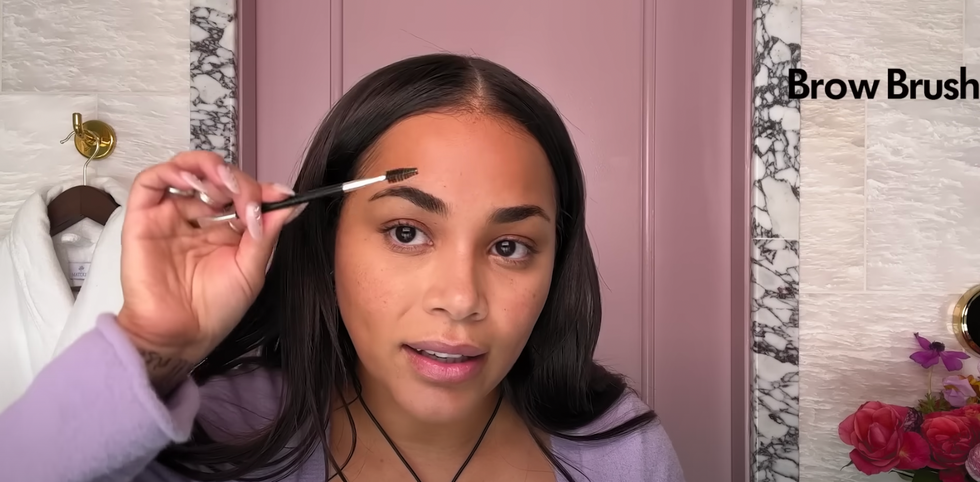 Vogue/ YouTube
She later continues, "When I get my makeup done professionally, I don't let anyone do my brows. They can do anything else, my eyebrows are mine."
In the Netflix film You People, Lauren got to work alongside legendary actress and ageless beauty Nia Long. Nia plays Lauren's mom in the film and she raves about meeting and working with one of her "beauty icons."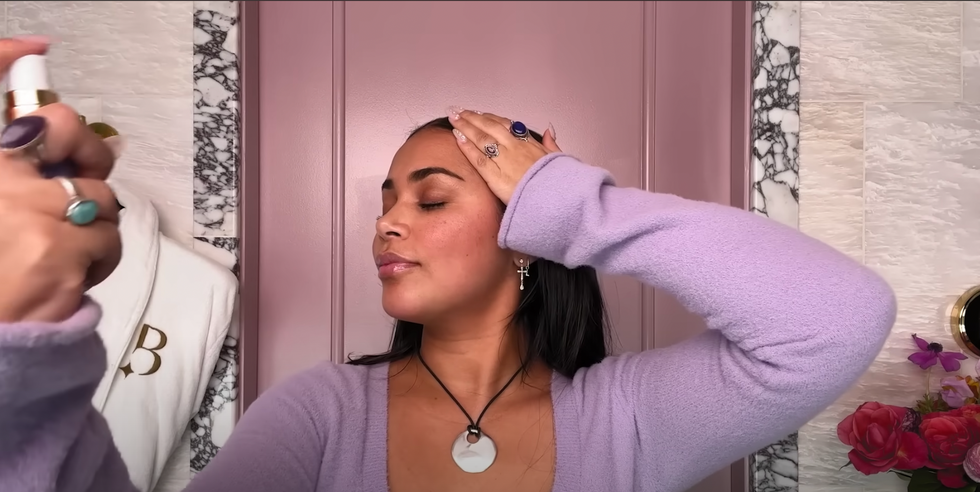 Vogue/ YouTube
"So on this new movie You People, I actually got the honor to work with one of my beauty icons Nia Long," she gushes. "She's a professional. The way she carries herself as a Black woman on a set and she's so pretty on pictures and much more beautiful in person. Her face card does not decline."
After applying Fenty Beauty Liquid Killawatt Fluid Freestyle Highlighter, NARS Powder Blush, Lancôme Hypnôse Drama Instant Volumizing Mascara, and Fenty Beauty Gloss Bomb Universal Lip Luminizer, Lauren sets her makeup with Tatcha The Luminous Dewy Skin Mist to complete the look.
Lauren London's Guide to Flawless Brows & Concealing Dark Circles | Beauty Secrets | Vogue
Feature image by Vogue/ YouTube