---
The end of a marriage doesn't always mean the end of a relationship, and this is especially true when children are involved. Just ask Kenya Moore and Marc Daly, who in light of their recent divorce, say that they are determined to keep their co-parenting game strong.
Just last week couple, who married in 2017, appeared on The Tamron Hall Show only days before announcing the news of their divorce, where they discussed their very emotional experience with IVF and Kenya described Marc as the love of her life. While there seemed to be no sign of trouble in paradise, the couple broke the news of their split in separate statements to People on Thursday. Kenya's statement read:

"It is with profound sadness that I regret to inform my fans that I am divorcing my husband, Marc Daly. Due to recent and ongoing circumstances, I can no longer continue in the marriage. My sole concern and focus is and will always be my daughter, Brooklyn, my miracle baby. She was made in love and true commitment. I ask for our privacy to be respected moving forward."
Marc echoed this same sentiment and explained that although their daughter will remain their number one priority, continuing their marriage is not in her best interest. Although these two have decided to go their separate ways, Marc also noted that no matter what, when it comes to his family, no slander will be tolerated.
"I have come to the difficult decision to separate from Kenya at this time. Our daughter has two parents that love her very much and in her best interests, this situation should remain as private as possible. I cherish our family's good times together and will continue to co-parent in a loving way. Rumors, innuendo or false accusations only serve to hurt our family and will be addressed through counsel as the law permits. Please respect our privacy during this challenging period."
The couple married a little less than a year after they started dating, and both agreed that their connection was instantaneous. Although critics thought she was moving too fast, to Kenya, their destiny couldn't come soon enough. After their first date, the reality star said:
"I probably would have married him in 30 days, the feeling was that strong. But we wanted to wait and get to know each other and make sure it wasn't an infatuation. We needed to make sure it was actually real."
Throughout the short period of time that the couple spent together, they created a lifetime of memories, one of which included an emotional experience with in vitro fertilization. On The Tamron Hall Show, Marc said that although the experience was difficult, neither one of them would trade it for the world. Marc explained: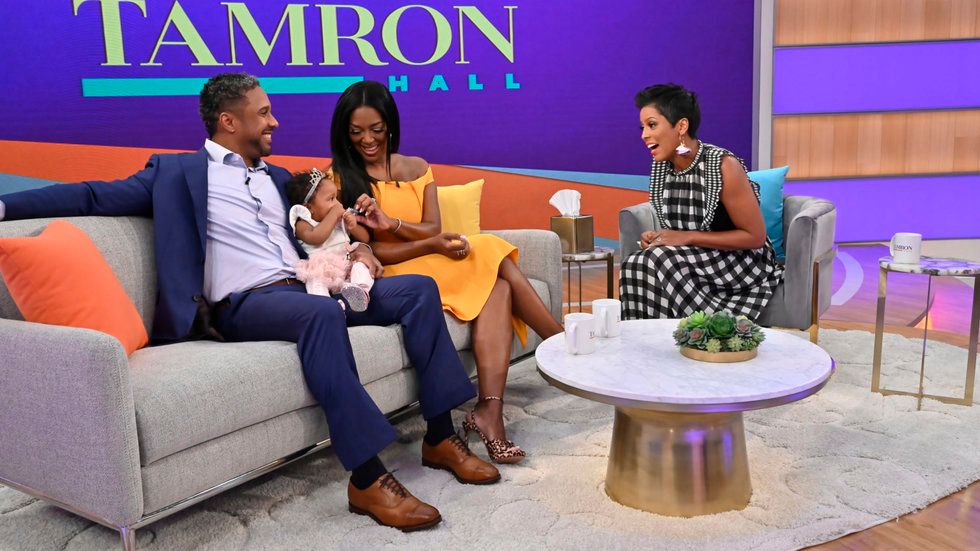 The Tamron Hall Show
"It's incredibly challenging because the success rate for these treatments are very low. So there's a lot of disappointment of expectations. You also have to be prepared for disappointment. So just being there, being supportive, being hopeful, and being positive and just being behind her was what it's all about."
Breakups don't always have to be bitter, and hopefully, the split between these two can be an amicable one. We're sending Kenya and Marc love and light during this difficult time!

Featured image by Kathy Hutchins / Shutterstock.com