Chlöe and Halle Bailey are on the September/ October 2022 cover of Essence magazine where they dished on everything from their personal lives to their solo ventures. The singing siblings began gaining traction online with covers of other artists' songs on YouTube when they were teenagers. But it was their cover of Beyoncé's "Pretty Hurts" that led to a record deal with Queen Bey herself.
---
Now as grown women, Chlöe is 24 and Halle is 22, the duo which makes up Chloe x Halle, are focused on having individual success separate from each other while still supporting one another. Halle will be starring in the live-action remake of The Little Mermaidand The Color Purple and Chlöe has a solo debut album that will reportedly be available this year.
Halle has also been letting fans get a glimpse into her romantic life. The "Do It" singer is dating rapper PonaticMadeDDG and revealed that she was in love.
"I grew up being on YouTube and would always see the young Black creators and was constantly inspired by them. He was one of them," Halle said about meeting DDG. "I completely forgot about him. But then I saw that he was dropping music, and I really gravitated toward this one song. Coincidentally he messaged me — and the rest is history."
While Chlöe is single, she has been linked to Diggy Simmons and more recently Gunna. However, she is now only focusing on her album and shared that her music reflects who she really is and not what society has viewed her as. "It's everything that I've been going through, all the tearing down, people underestimating, telling me I can't do it — all of those things have gone into the music," Chlöe said.
"The album is me picking myself up and talking myself out of any little place or space that the world has tried to put me in, that people and personal relationships have tried to put me in, and even [doing that to] myself."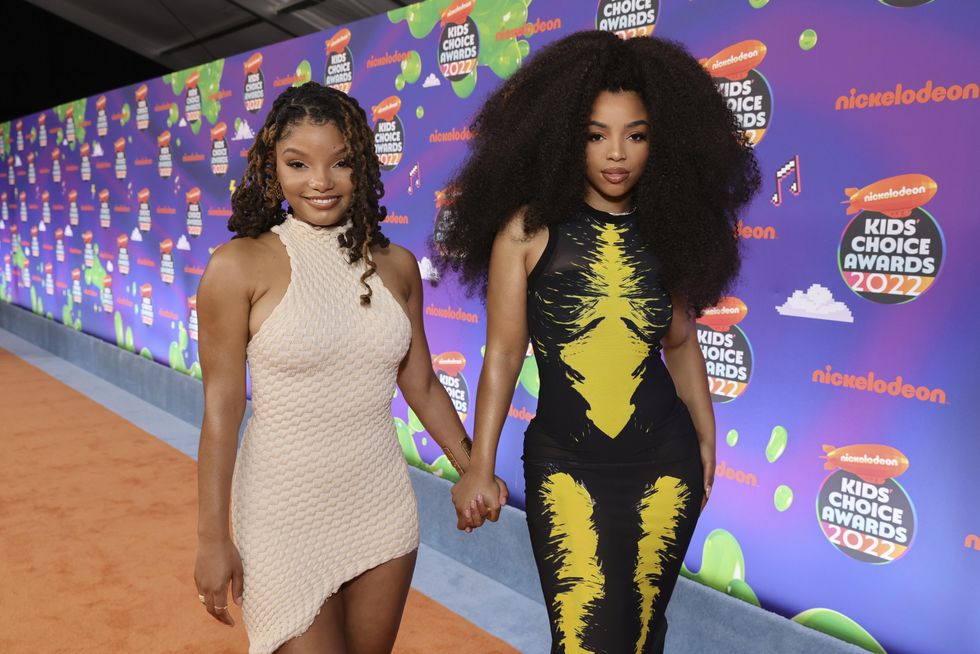 Emma McIntyre/Getty Images for Nickelodeon
The world has often compared Chlöe and Halle especially since they have created their separate identities. The eldest sister has been getting the brunt of the criticism due to her risque photos and dance moves that have been seen as "doing too much." Others have deemed Chlöe as simply confident in her body. However, that's not always the case for the Grown-ish actress.

"As much as people think I'm so confident, 80 percent of the time I feel the complete opposite of that," she said. "That's why I put so much of myself into my music. That's where I feel like myself and where I belong in this life — whenever I'm onstage. The girl I see and I watch sing back, she intimidates me. I'm like, 'Who the hell is that?'"
Halle, on the other hand, is proud of how much they have grown over the years and is loving their grown woman weight. "Finally, I'm 22 years old, and some of the weight is sticking, and I'm happy about it," The Little Mermaid star said. "Chlöe has the booty, and I'm getting some cleavage."
And while she may be the younger sister, she is overly protective of Chlöe and her loved ones. "If you've got a problem with so-and-so, then we've got a problem," she said. "I'm a fire sign ... If I love you and somebody crosses you, it's over. That's been my stance since I was young."
She also explained that that is why she's able to connect with her The Color Purple role so much. Halle plays Nettie in the upcoming musical film. "She's so much like me, because she has that fire inside of her," Halle said."When it comes to defending her sister—as the little sister, I kind of connected my own experiences for the role."
Period, sis.
The internet has witnessed Halle defending Chlöe on more than one occasion and their sisterly bond has been looked at as goals. Here are some of their best sisterly moments.
Halle Defended Chloe Against Matthew Knowles
In March 2021, Matthew Knowles responded to the Beyoncé and Chlöe comparisons calling them "insulting." Halle seemingly hit back at the mega manager by tweeting. "How amazing is it that @ChloeBailey is already an icon," she said. "I ride for my sister till the enddd okayyyy,"
Chlöe and Halle Cried on Instagram Live After Being Apart for So Long
While Halle was filming The Little Mermaid in London back in January 2021, she jumped on Instagram Live with her sister Chlöe and they shared a tearful moment together.
"Because I've always been near my sister," Halle said while tearing up. "So, this is like really—it's different for me, not having you by my side, you know?"
Chlöe Gave Halle Words of Encouragement When Having Imposter Syndrome
Chlöe takes her big sister's duties seriously and makes sure that she is encouraging Halle especially when she is having days where she feels less confident. Halle shared how the "Treat Me" artist empowered her one day while dealing with imposter syndrome.
"It just feels so surreal to be doing meetings [with] all these people that I'm such big fans of and sometimes you feel like you have imposter syndrome," said Halle in an interview with E! News. "Chlöe was lifting my spirits up the other day like, 'No, you're meant to be in there too.' I think that's just so powerful and so special to have someone like her in my life where she can just remind me of that."
Halle added, "My sister empowers me every day just by being herself and watching how hard she works," Halle said. "I think that I've always had a great example in her growing up of what I would like to be and what impact I would want to have on people.
Featured image by Rodin Eckenroth/Getty Images