For as long as I can remember, I have been a lowkey-highkey caffeine addict. Don't let them fool you, caffeine is most definitely a drug. And while some might argue that it is healthier to consume coffee versus beverages like energy drinks or sodas, there is a thin line between its pros and cons. Starting my day with coffee has become a bit of a ritual as much as it has become a necessity. Without it, the caffeine withdrawal would lead to a splitting headache, a decrease in energy, and that infamous midday slump. It hardly seemed worth it to switch my habit to something healthier. However, after doing some research, I decided to make the switch (at least part-time) to drinking matcha.
---
You've probably seen the aesthetically pleasing pics of the pale green beverage with ice cubes or cream art in your feed, but what exactly is matcha? In short, matcha is a fine powder ground from specialty green tea leaves. Because it is ground from the entire leaf, matcha has more caffeine and antioxidants than green tea. It's one of the reasons matcha has become so popular in recent years and can be found in everything from matcha tea to lattes to ice cream and more.
What's really beautiful about drinking matcha green tea versus coffee is the type of caffeine high it provides. When it comes to caffeine content, matcha has 50% less caffeine than coffee. But, due to the amazing nutrients that matcha contains, the body is able to absorb caffeine in matcha much more slowly. So instead of a buzz, it is a steady hum. Keep reading to discover more of the benefits of drinking matcha in your mornings.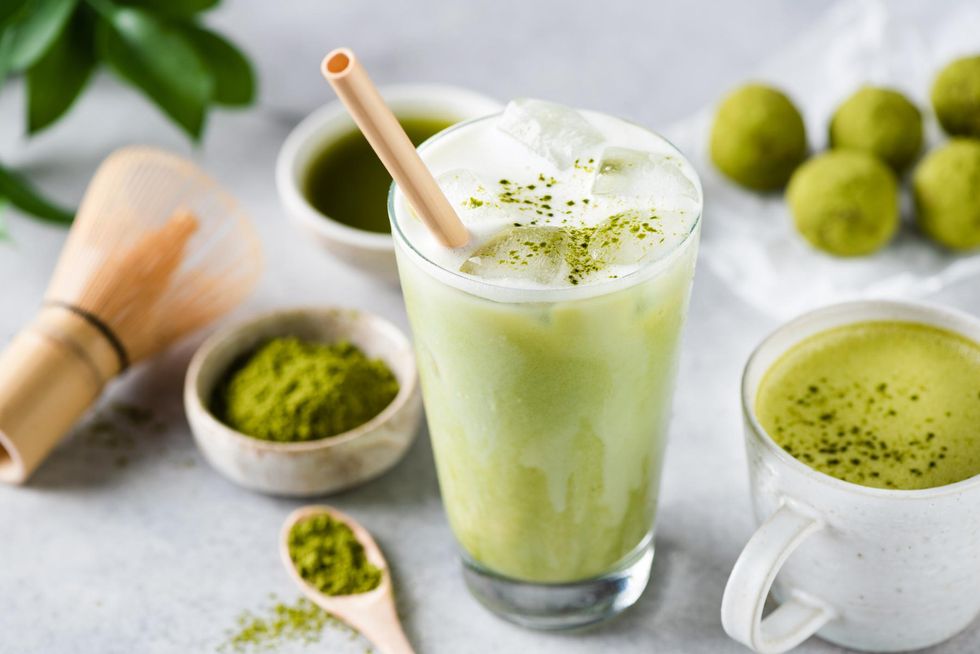 Arx0nt/Getty Images
1. Matcha detoxifies the body.
If you are looking for a natural way to cleanse the body, drinking matcha might be where it is at. Drinking matcha can effectively and gently cleanse the body due to its being rich in chlorophyll compounds. Matcha has been shown to remove the body of toxins by supporting natural detoxification in the liver as well as the kidneys.
2. Drinking matcha has antioxidants galore.
Just like its less potent counterpart green tea, matcha is rich in antioxidants known as catechins. Catechins are a type of flavonoid that helps the body fight disease. Additionally, this results in reducing damage cells might incur from oxidation. The EGCG in matcha helps prevent brain disease and inflammation. It can also lower your cholesterol.
3. Matcha gives you more energy with less jitters.
​As previously mentioned, one of the benefits of drinking matcha is it gives you more energy than other teas. The reason for this is, that a single cup of matcha has more caffiene than green tea. While you don't have the benefit of getting as much caffeine as you would from coffee, having a cup or two of matcha throughout your day is a great alternative to coffee if you are trying to cut back on how many cups of joe you drink in a day. The L-theanine matcha contains not only reduces stress, but it also makes you more alert. The "high" so to speak is cleaner than the one you experience from a cup of coffee.
4. Drinking matcha is a powerful source of nutrients and vitamins.
Another one of the benefits of drinking matcha is how nutrient-rich it is. In addition to the antioxidants, matcha is full of other nutrients as well. In addition to the previously mentioned chlorophyll, matcha is also rich in fiber, magnesium, vitamin C, zinc, and selenium.
5. Matcha helps with focus and concentration.
Drinking matcha also comes with the added benefit of helping you be more productive. Thanks to the caffeine, EGCG, and L-theanine matcha contains, it is believed that those three power players assist with focus. According to a 2017 study, participants noticed a marked difference in their ability to both process information and pay attention an hour after drinking matcha.
Let's make things inbox official! Sign up for the xoNecole newsletter for daily love, wellness, career, and exclusive content delivered straight to your inbox.
Featured image by Goodboy Picture Company/Getty Images