I sat in the corner of the studio enamored as Chloe Arnold hit the replay button for the umpteenth time that day.
She was getting her ladies in formation—her Syncopated Ladies to be exact—and that meant rhythmically tapping out another set of eight counts to Prince's "When Doves Cry." They were practicing for an upcoming tribute to the artist formally known as, just four days after the seemingly-abrupt announcement of his death shook the world. Some dressed in purple in recollection of their trendsetting leader, but Chloe and her sister Maud laced up their tap shoes and did what they do best—let the emotions flow through each click and clack of their rapidly moving feet.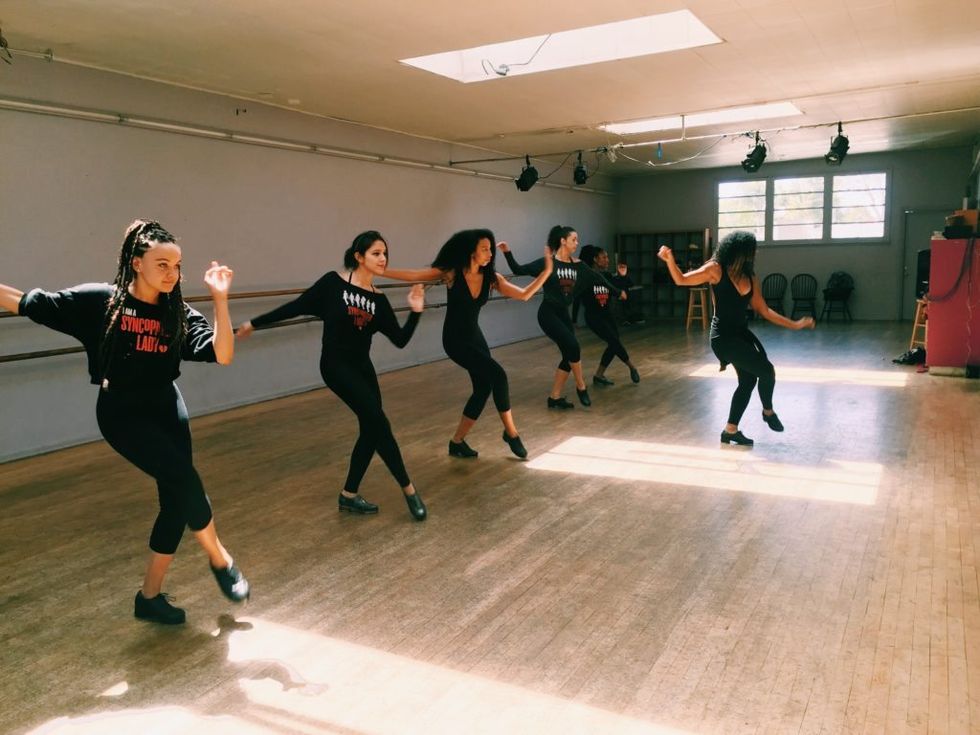 Photo Credit: Kiah McBride
"We met Prince with Debbie Allen," Maud discloses in excitement. "There was a club called 2K9. We were in DC doing a show with Debbie Allen, and I'm like oh my God, Prince is over there! And Miss Allen was like, 'Ya'll want to meet Prince?' And she says, 'Prince! Come here! Meet my family!' And so we literally got in line and he went up to each of us, shook our hands, looked us in our eyes and was like 'nice to meet you.' We got in the car and we were screaming. I was 14!"
I would soon find out that this would just be one of many awe-inspiring stories that I would be privy to that day. There was the story of meeting Michael Jackson, Denzel Washington, and Will and Jada Pinkett Smith—all thanks to the graciousness of their mentor Debbie Allen. "She's known for that," Chloe says. "She's the best!" Maud pipes up.
There's also the story behind the "Formation" video that went viral and brought tap dancing to the forefront of mainstream media—from local news stations to Good Morning America thanks to Beyoncé and her loyal Beyhive members.
"I'm in the Apple store and I see Beyoncé share it, and I scream," Chloe recalls. "Everybody in the Apple store was like what's going on? What's going on? And we're like, Beyoncé shared our video! And the best part is that all of these strangers who have no idea what we're talking about, but just the fact that Beyoncé did something that was helpful they were excited, so then everybody in the story started pulling up the video because they wanted to know what it was and it was incredible."
But as amazing as the sagas of their celebrity embraces and encounters are, the story that stands out the most—the one rooted in tears, trials, and tribulations—is the their own rags to riches story. It's the one where two littler girls who grew up in the hood of Northwest Washington, D.C. in a one bedroom apartment shared by four somehow escape the snares of the ghetto to snag Ivy League degrees. It's the one where a young Chloe developed serious tunnel vision, leading her to dance with some of the greats such as Gregory Hines and the Nicolas Brothers, all before the age of 11, and who by 14 would teach her six-year younger sister to fall in love with the art as well—not knowing that she was being prepared for her purpose, and would one day coach thousands of hopefuls across dance floors all across the world.
The story starts with a six-year-old Chloe, who first fell head over magnetic heels with tap, within the confinements of a strip mall dance studio. At the last thing that she was thinking about was turning her talents into a viable career, but she did find that her tap classes were the perfect daycare for her younger sister. "She had to sit in on all of my dance rehearsals and come along because pretty much we grew up poor," says Chloe.
"The dance class was my babysitter," Maud says.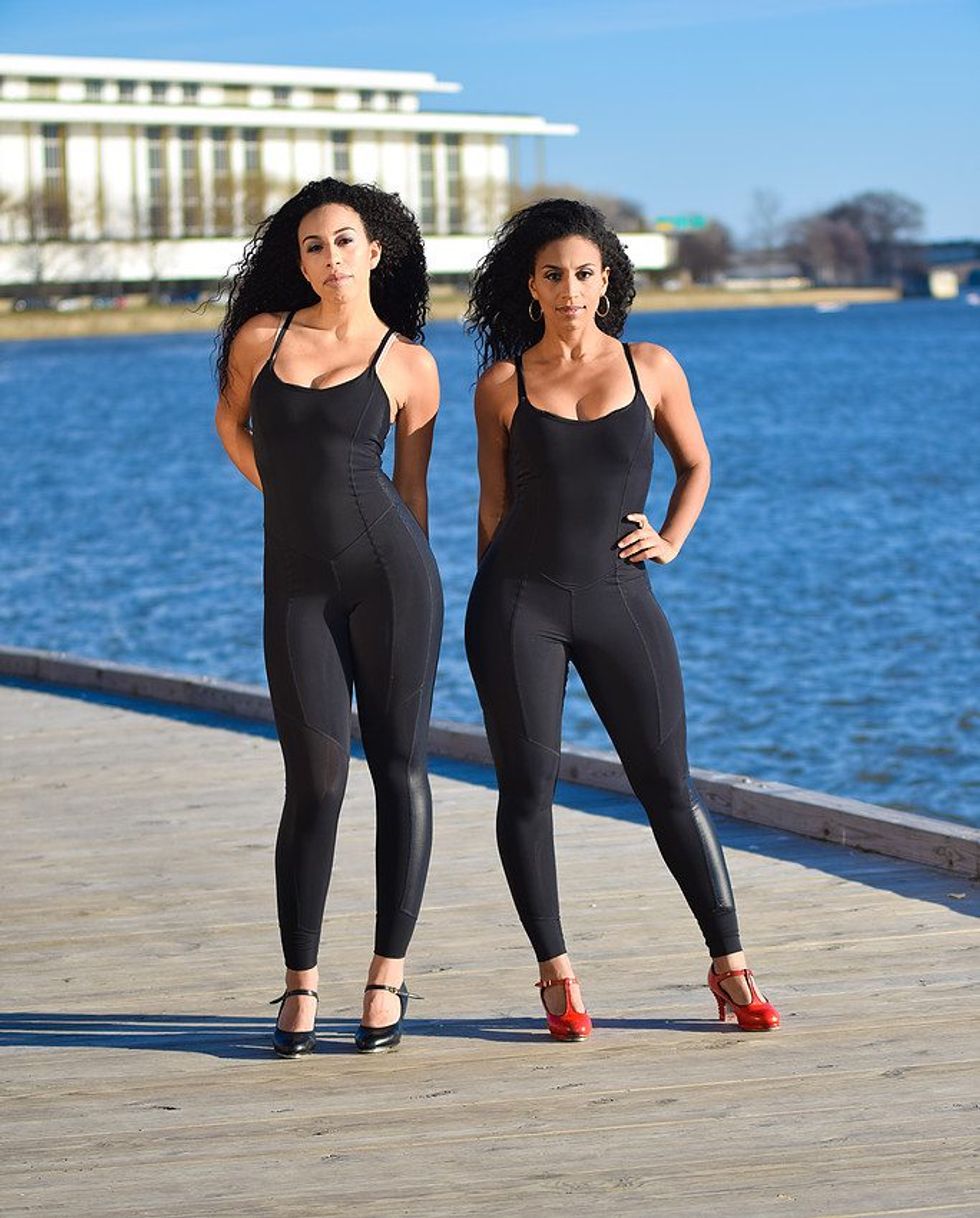 Tap dancing sisters Chloe and Maud Arnold
On the cusp of her teenage years, Chloe was put to work finding every little odd job possible to help cover the costs of keeping a roof over her family's head. She sold scrunchies. Shoveled snow. Baked some goods, and gave them a cool swig of lemonade to wash it all down. Maud, who had yet to even claim double digits, swept hair at the local barbershop. "Not having resources can do one of two things: either break you down and make you feel a sense of despair, or it can make you incredibly resourceful and tighten it. And that's the route we went," says Chloe.
Dance became their solace from the harsh realities of their home life. The Arnold sisters collected VHS tapes featuring underground tap masters such as James "Buster" Brown and Diane "Lady Di" Walker so they could study their routines, and whenever more mainstream notables like Gregory Hines would come to town, they didn't hesitate to take a class. "I don't necessarily remember the steps from any of those classes," says Chloe. "But what I do remember is how they made me feel. I remember the inspiration, the stories, the empowerment, the feeling of being lifted up by someone's spirit, and that it drove us towards our dream."
They spun their 45s and choreographed routines to Michael Jackson's "Billie Jean" and "Beat It" and Kool Mo Dee, connoisseurs of pop culture. And people began to notice that these little girls weren't just your average hobbyist just tapping about for fun—they were forces to be reckoned with. So much so, that they got on Debbie Allen's radar. During the summer months they would stay at the choreo queen's L.A. home while attending the Debbie Allen Dance Academy.
"In many ways our story is kind of like The Fresh Prince of Bel-Air, where she opened up her house to us and her house is really nice, very nice. And it's really inspiring me to come to a new city, start with nothing, be able to live with her and learn all of these lessons ranging from womanhood to being a woman in Hollywood—," says Chloe.
"—to be able to wake up in the middle of the night to wash dishes, just responsibility for stuff," Maud jumps in. "It was like a family it was like summer camp at her house."
When Chloe graduated from Columbia University with her film degree, Debbie Allen invited her to live with her back in L.A. to work at the academy and get on her feet. It was hard work but not without the play. Mondays meant jam sessions where fellow dancers dib and dabbed to the beat with their freestyle routines, and it was at one jam session in particular that Chloe came across a group of ladies who tap danced with a level of passion and courage that was unforeseen in the male-dominated industry. She gathered them together for rehearsals and began doing at least two shows a year with the goal of spreading awareness about the lost art, and the ladies who were bringing it back to the forefront.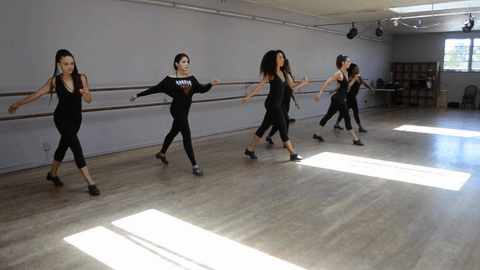 Like tap dancing, becoming a syncopated lady was no easy feat. Chloe was determined to have the best of the best, something that fellow group member Anissa Lee remembers when she auditioned twelve years prior. "I was all over the place and she had me do it by myself and it didn't go well. She was basically like no you're not going to do it this time and I cried and she rubbed my back and was just like you'll get over it. Keep practicing. And I was like yeah I'm going to keep practicing. And I was like the next time there's an opportunity to perform, I'm going to make it happen. And so it kind of geared a switch in my head to amp it up and get these steps together." It was another two years before Anissa would finally make the cut.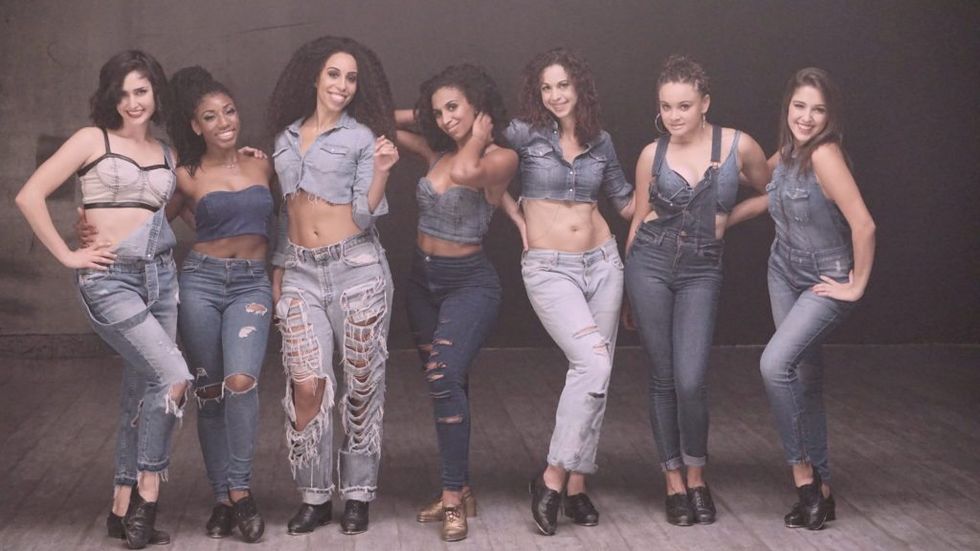 Photo Credit: Syncopated Ladies
Meanwhile, Chloe was making cuts of her own. Particularly the mentality that she had to be like the boys. Up until 2006, she worked hard to fit in to the male-dominated industry and felt self-conscious about her large bottom and womanly curves. So she dressed in baggy clothes and wrapped sweatshirts around her waist, even going as far crafting routines that kept her facing front to keep her butt from being the center of attention. But her first encounter with Queen Bey while working on set at a video shoot reminded her that there's beauty in femininity and no shame in embracing the assets that women are gifted with.
"That experience was really pivotal and defining for everything that I was doing because I watched this woman be such a power house and be on set with a female director, so it was this incredible empowering experience," says Chloe. "I thought to myself, how do I transfer this energy to tap dance? I want us to rock out and it changed my entire vision for how I saw myself as an artist, and what I imagined I would do with Syncopated Ladies. And that's when I then went back to the crew and started to revamp our style. And basically realized that we didn't have to apologize for being women."
[Tweet ""I realized that we didn't have to apologize for being women.""]
Armed with a new sense of pride, Chloe returned to her dance crew with more sensual, yet strong movements, not realizing at the time that her shero would one day be the source of her sudden fame.
"I really thank her for evolving my style, which is so incredible that now—10 years later—she's the person that's taking my art to the world. It's such an incredible feeling that the person that evolved my art is also seeing my art and hearing my voice and connecting to us and saying here ladies, here world are these women, and I'm going to support them and share what they do with you."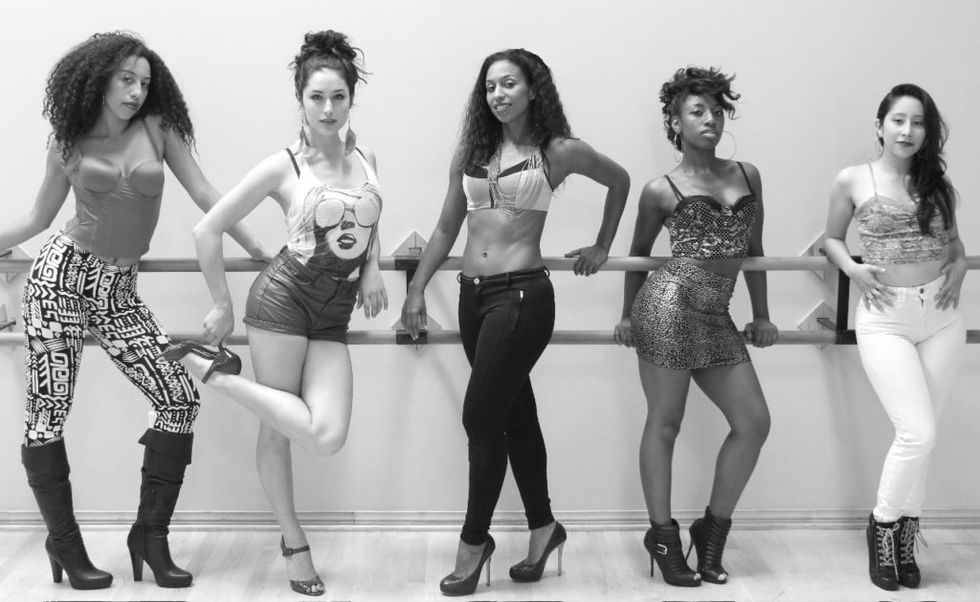 Unity.
Sisterhood.
Fearlessness.
They're characteristics that were instilled in the Arnold Sisters since Debbie Allen began taking them under her wing, For Chloe and Maud, their mentor has not only taught them the value of loyalty, but to be confident in who they are and to accept their own uniqueness. It's part of what keeps them empowered and strong as they continue to uplift and inspire many more young girls looking to break into the business.
"We really believe in giving people opportunities because we've been given so many opportunities and people have taken so many chances on us, and I think that's what human nature is about," Chloe says.
It's part of why the Syncopated Ladies movement is so strong—it's not about self gain, but the development of self-love through the selflessness and the desire to see the woman next to you reach her fullest potential. "I've seen the power of love transform what could see the end of the road for people," Chloe says. "I've known suicidal dancers that just feeling loved, feeling cared about, brings them back around. I've seen extreme poverty, on the bottom, and people rise with love. So I'm just a firm believer that sisterhood is love, and if you value that then your life becomes so full."
[Tweet ""I'm a firm believer that sisterhood is love." - @ChloeArnold"]
"Sisterhood means loyalty, solidarity, and holding ourselves and each other accountable," Maud adds. "Even when you don't think people are looking, it's about what you're doing behind closed doors and holding yourself up to standards and holding up your sisters to those same standards, and not being afraid to call people out and holding them accountable."
And that, ladies, is how you get into formation.
---
Can't get enough of Chloe and Maud? Check out the interview below to get a behind-the-scenes look at the Syncopated Ladies.