In 2001, Serena Williams stepped out onto the courts of Indian Wells to play against Belgian opponent, Kim Clijsters.
---
There, Serena was showered with boos and racial slurs from the crowd's spectators. Despite winning the game, Serena vowed never to return (she returned 14 years later, in 2015), refusing to subject herself against the game's bigots and naysayers.
In 2004, during the U.S. Open semifinals, Serena was singled out by the distinguished tennis chair umpire, Marina Alves. Alves was excused from officiating any more matches on the final day of the U.S. Open after she made five bad calls against Serena in her semifinal matchup against American, Jennifer Capriati. Unable to see past Serena's black body, the serves and returns Alves called out were landing, impressively unreturned, and inside the lines. Nevertheless, with the help of the umpire, Capriati won against Serena Williams.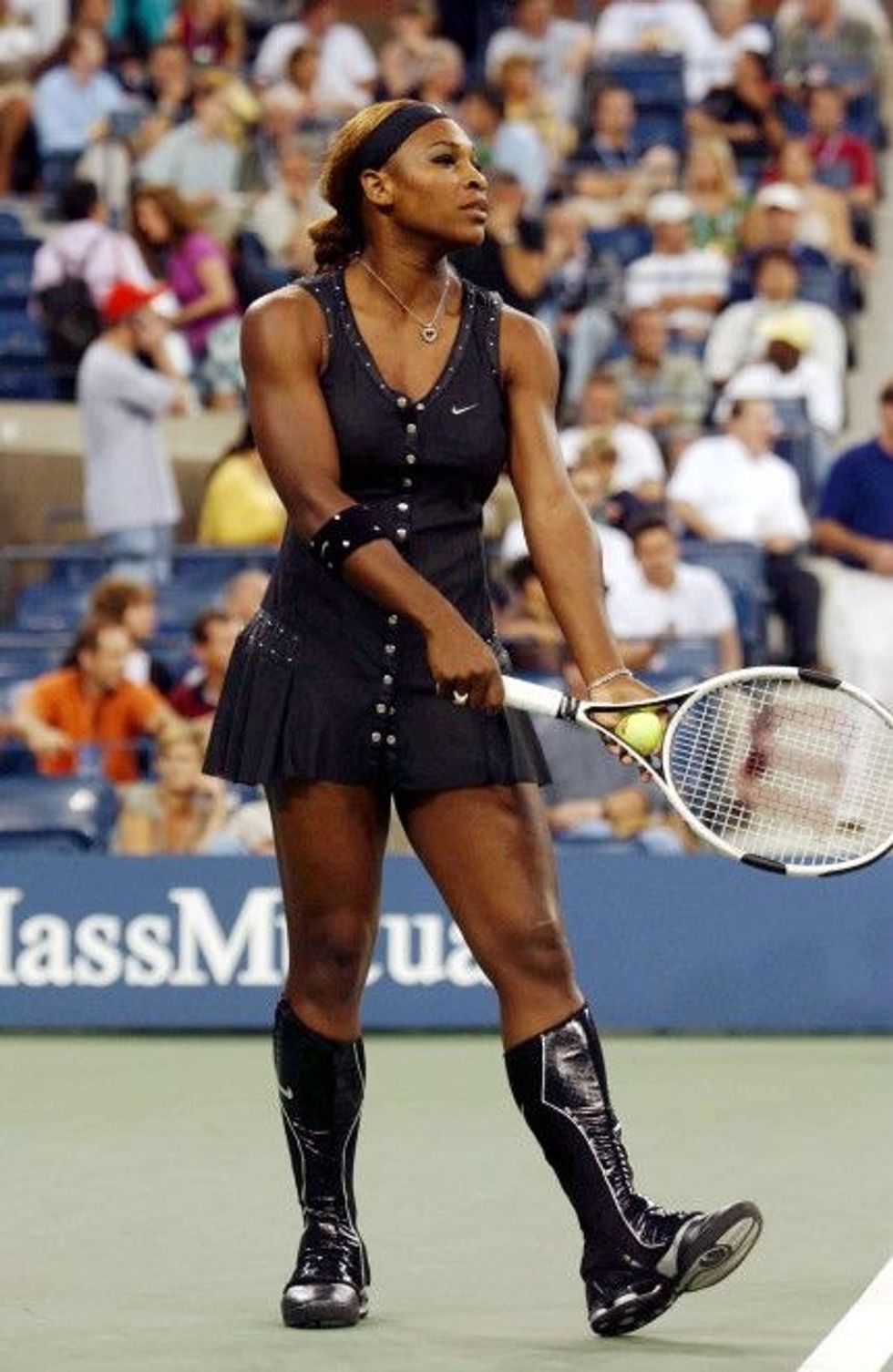 The Tennis Association called Serena and apologized for their umpire's errors and a year later, that match was credited for demonstrating the need for the installation of Hawk Eye, the line-calling technology that took the seeing away from only the umpires and line judges.
In 2009, Serena is again the subject of racial discrimination during the U.S Open semifinals, playing against Kim Clijsters. The umpire, Louise Engzell, was accused of "over-officiating" when she called a foot fault against Serena that no one else was able to locate, despite the numerous replays. After continuous bad calls, Serena gets frustrated and yelled at the linewoman, something that several players do in moments of frustration. However, unlike several players, Serena's outburst results in a point penalty resulting in the loss of the match, an $82,500 fine, plus a two-year probationary period by the Grand Slam Committee.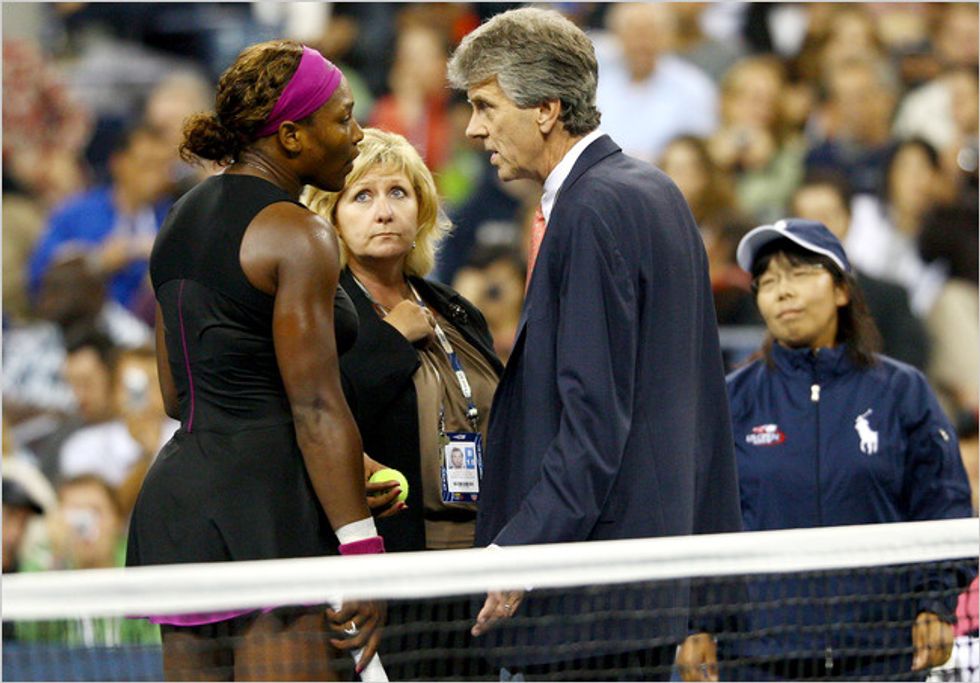 Getty Images
Serena deals with racial discrimination, once again, in the 2012 Olympics, when she brought home the only two gold medals Americans would win in tennis. Her celebratory dance was likened to the "Crip-walk" and was considered "immature and tactless."
In 2014, Williams withdrew from a doubles match with her sister, Venus, because she was "dehydrated, dizzy, and feverish." Nevertheless, despite having proof of her symptoms, Serena was drug tested the next day and had to address comments of her being drunk, drugged, or pregnant during the match.
In 2018, according to Deadspin, Serena Williams has been tested for performance enhancing drugs more than twice as often as other top American women players. In a statement to Laura Wagner, Serena's team said that "the testing was invasive and targeted."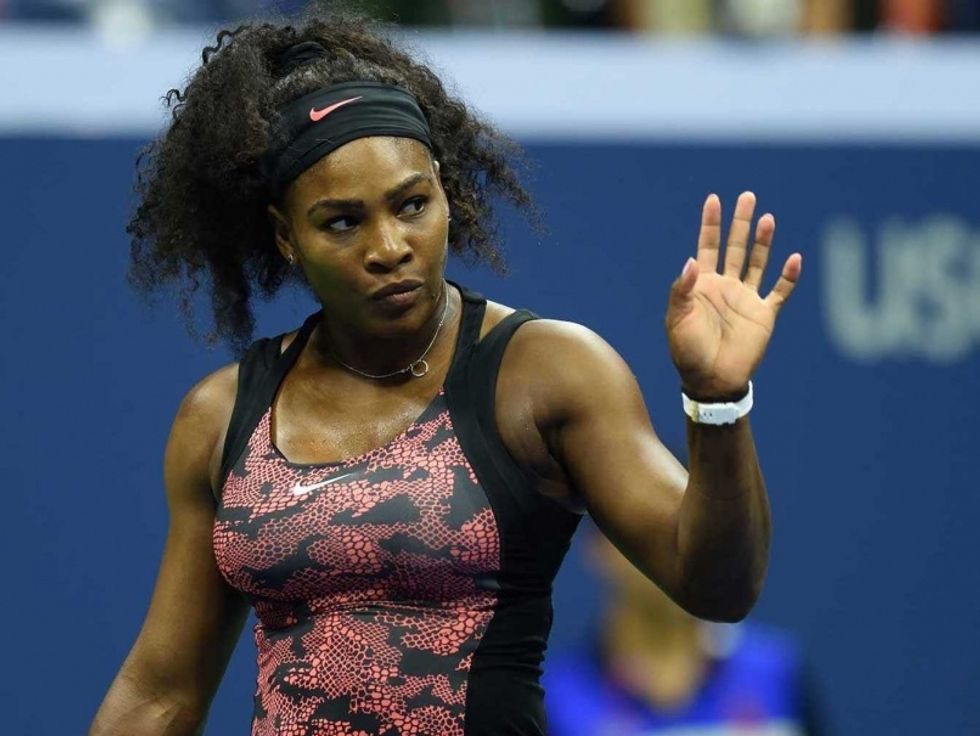 Now, for what seems like the thousandth time, Serena Williams has been targeted by the French Tennis Federation president, Bernard Giudicelli over her French Open attire. According to BBC Sports, Serena Williams will be banned from wearing her striking black catsuit at the French Open, with the tournament set to introduce a stricter dress code.
The 23-time Grand Slam champion said the outfit made her feel like a "superhero" at the Roland Garros this year. Made by Nike, Williams stated that the outfit helped her cope with the issue of blood clots, which she said almost resulted in her death, after giving birth.
In an interview with Tennis Magazine, Giudicelli specifically mentioned Williams' last year outfit and remarked, "It will no longer be accepted." Further saying:
"I believe we have sometimes gone too far. You have to respect the game and the place."

The decision left tennis fans enraged, and many took to social media to raise their voice in dissent. While someone asked how it was okay to wear revealing dresses on court and not a body suit that covered her entire body and made for health reasons.
Nike came out to support Williams and slammed the French Open's new dress code saying, "You can take the superhero out of her costume, but you can never take away her superpowers."
Although repeatedly racially discriminated against while playing the game as fairly as any player possibly could, the tennis star steadily reminds us of her superpowers even without her cape. In a pre-tournament news conference that took place on Saturday (August 25), Serena touched on the newly instated catsuit ban:
"I think that obviously, the Grand Slams have a right to do what they want to do. I feel like if and when, or if they know that some things are for health reasons, then there's no way that they wouldn't be okay with it. So I think it's fine. The president of the French Federation, he's been really amazing. He's been so easy to talk to. My whole team is basically French, so, yeah, we have a wonderful relationship."
With a smile, she also added:
"When it comes to fashion, you don't want to be a repeat offender."

As any hero does, Serena Williams maintains grace under fire and acts in alignment with her higher purpose. For almost 23 years, Serena Williams has shown us that despite the naysayers, the bullies, the critics, and the odds being stacked against her, she will do nothing but rise.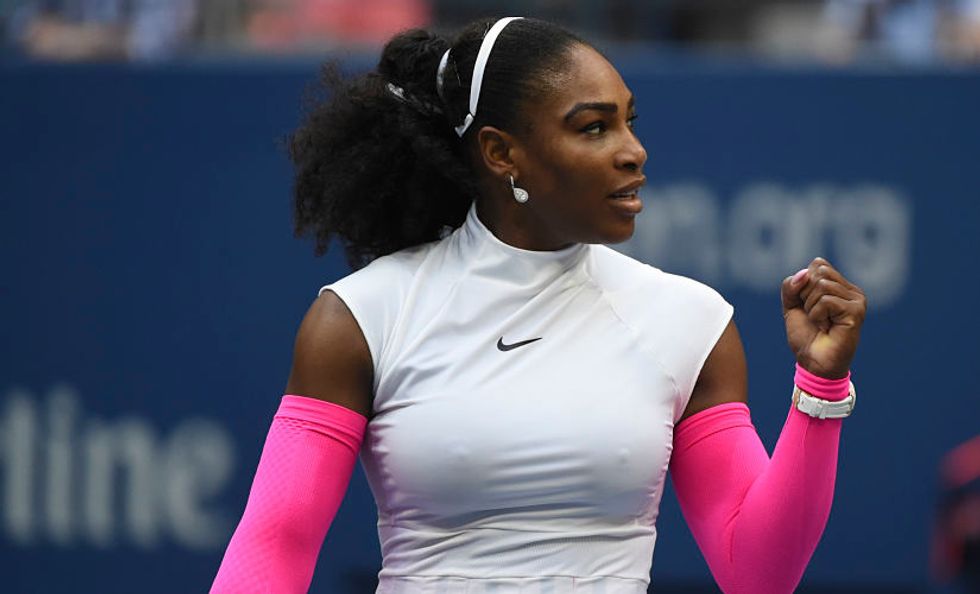 Now, Serena is scheduled to play in Round 128 of the U.S Open, seeded No. 17. She was the runner-up at Wimbledon in July and is favored to place in the U.S Open finals. If she wins, she will tie with Margaret Court as the most successful tennis player of the Open era. Arguably the greatest athlete of our time, it'll be a crown the queen more than deserves.