No matter how mean your cut crease may be, when Naomi teaches you how to put on your makeup, you listen.
---
I have to admit that I don't know much about doing makeup, I'm still trying to get contouring down, but Naomi Campbell just dropped a quick makeup tutorial that will have you looking like a supermodel in no time. Using an array of NARS products, the 49-year-old showed us how she gets her face all the way together for a natural, every day look that anybody could pull off.

These are the 7 products Naomi Campbell uses for an on-the-go glow: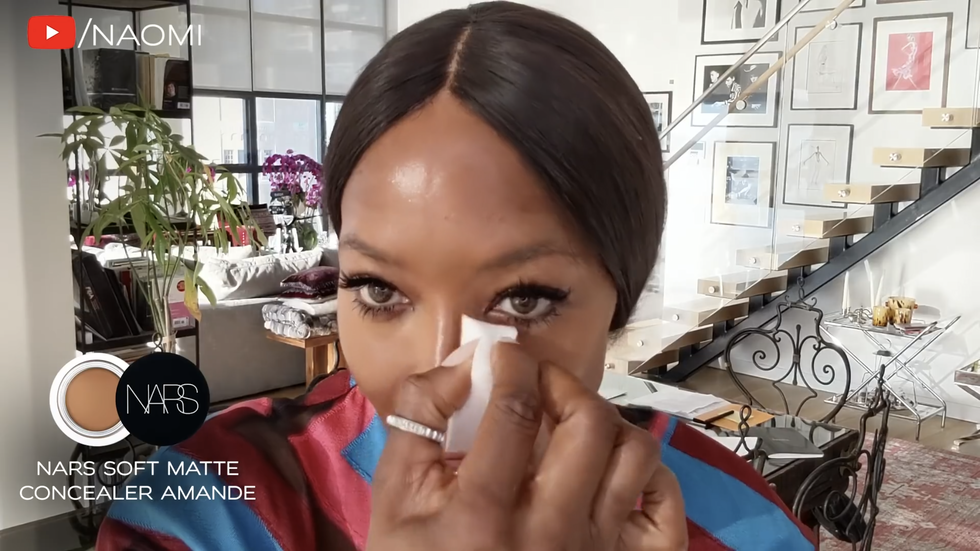 Naomi/YouTube
She starts by applying NARS Soft Matte Concealer in Amande to her T-zone, upper lip, and cheekbones using a wedge-shaped sponge while leaving the outer areas untouched. Naomi suggested only applying concealer to specified parts of the face to create a more natural look.
"You always have to get a good balance and make sure it's even right under the nose, above the mouth."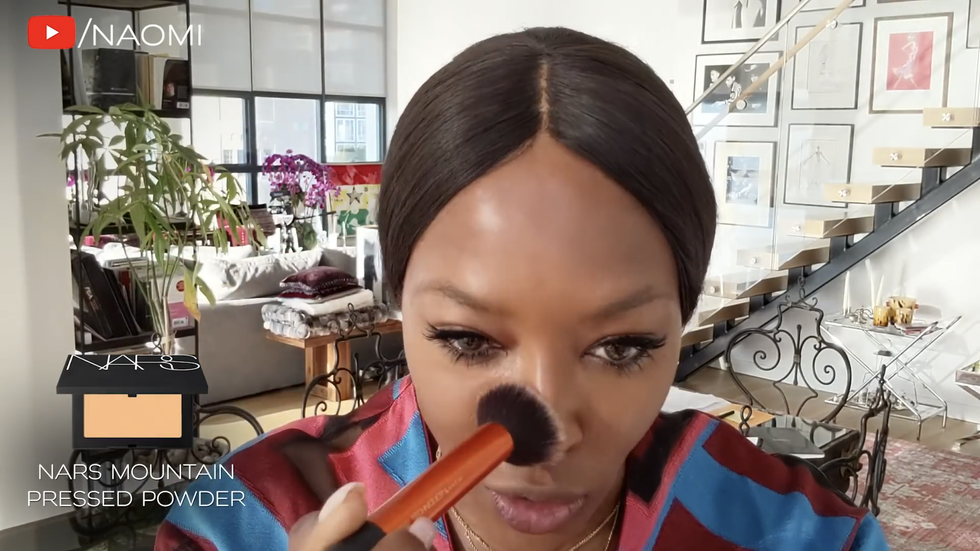 Naomi/YouTube
She uses a medium-sized brush to apply NARS Mountain Pressed Powder to the oiliest parts of her face to remove shine, again, leaving her forehead untouched and focusing on her T-zone and cheekbones.
"I don't want my base to ever look like a mask. I want to just look like I don't have anything on."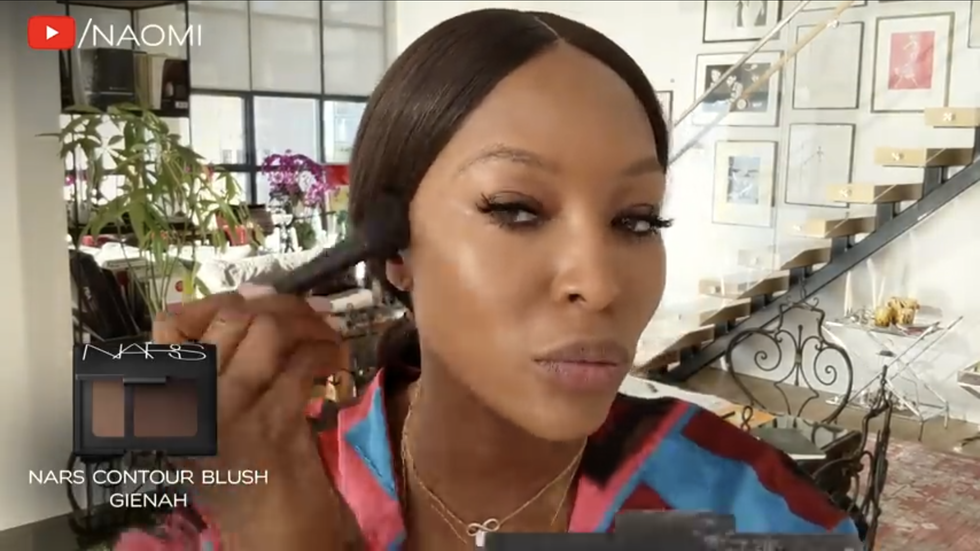 Naomi/YouTube
Using another brush, Naomi used this Contour Blush palette to define on her cheeks, under her neck, and above her eyelids.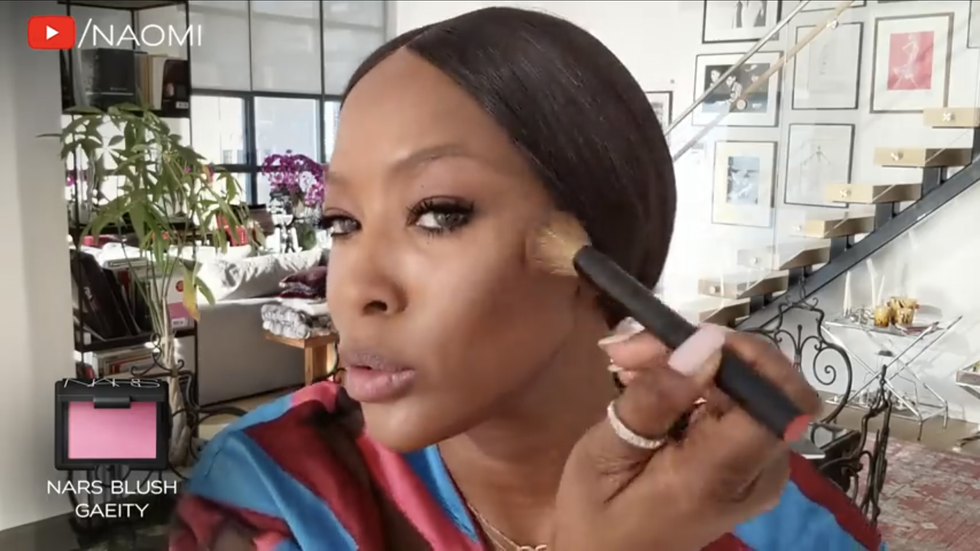 Naomi/YouTube
For the next step, the supermodel applied a bright-colored blush to her upper cheekbones. Naomi said that while on vacation, she'll apply a little more blush on top of the eyes. She never applies it to her lower cheekbones because it takes away from her bone structure.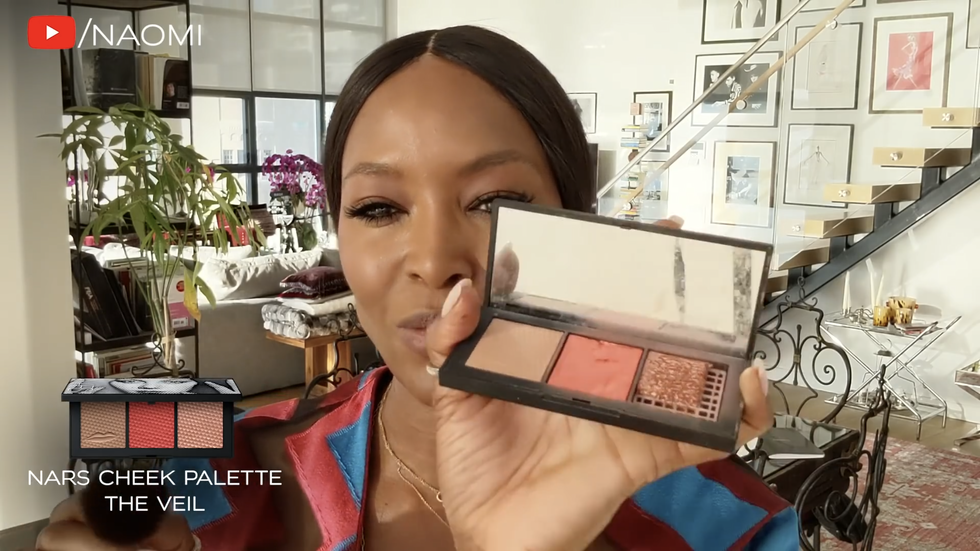 Naomi/YouTube
Naomi shared that she prefers powder highlighters and that her favorite of them all comes from a NARS Cheek Pallete. She mixes a neutral gold and a rose gold from this palette to give her just the right glow.
"This one's one of my favorites: I like powder highlighters. I think they're easier. It's also nice to just put a little highlighter down the nose."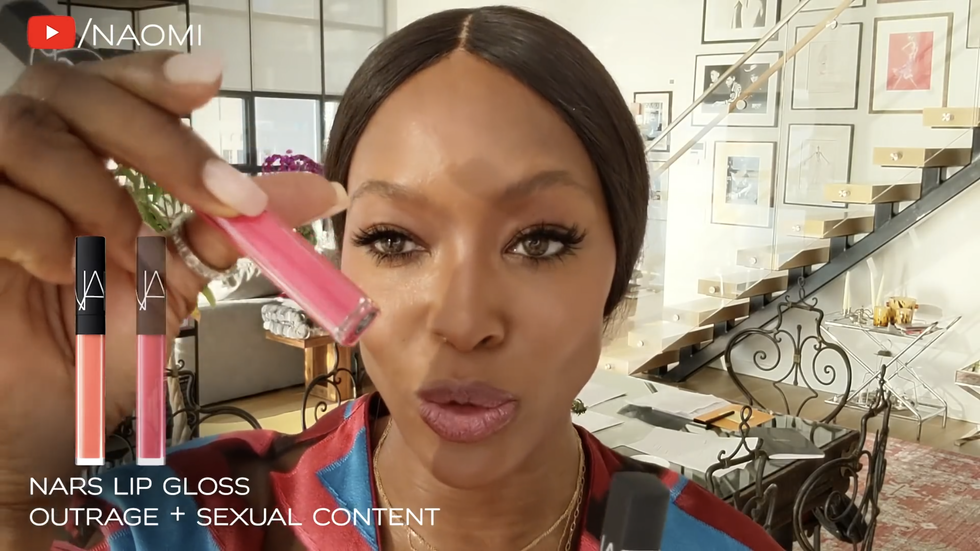 Naomi/YouTube
After retaching for her coveted contour palette to finish shading her nose and neck, Naomi uses a large spooley to groom her brows and gets her lip gloss poppin'. It pretty much seems like Naomi created pink lip color with this vibrant mix of Outrage and Sexual Content.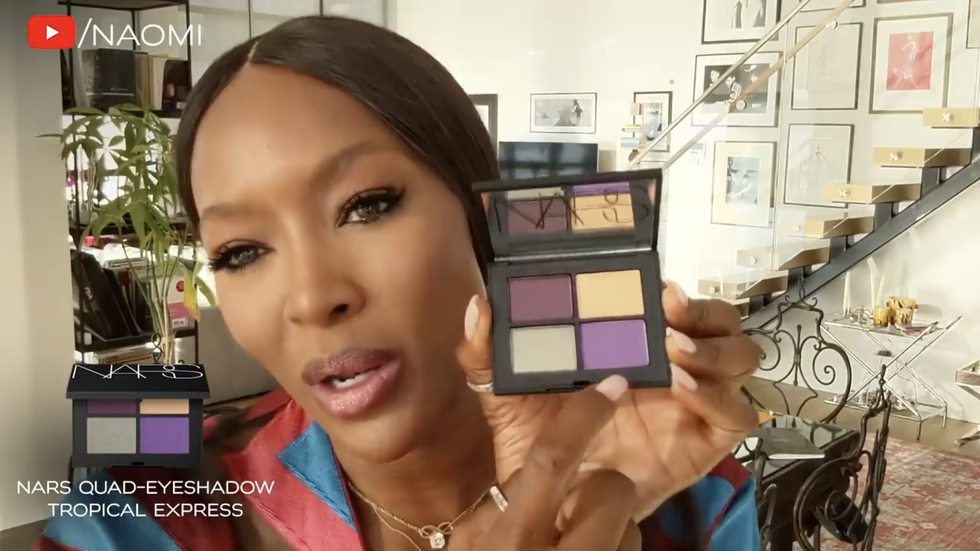 Naomi/YouTube
According to Naomi, your day can never be too casual to rock a vibrant, purple eyeshadow. Naomi pulled her amazing 10-minute look together by applying a bold amount of purple eyeshadow and a gold highlighter from the NARS Tropical express palette to her eyelids and lower brow.
There you have it folks! If you're dying to know the 10-minute routine that will help you serve supermodel face all damn day, check out Naomi's full tutorial below!
My On-The-Go Beauty Routine youtu.be
Featured image by Instagram/@NaomiCampbell.