---
With the Keith Powers, Quincy Browns, and Michael Bae Jordans of the world, you would think that young black Hollywood actresses would have their pick of the crop when it comes to dating some of the world's most eligible bachelors. But, Keke Palmer recently had a different story to tell.
The 24-year-old Berlin Station star is gorgeous, can rock just about any look and call it her own (from red Poetic Justice braids to a chic Nia Long cut), is successful, an accomplished actress, and an accomplished author, with the book I Don't Belong to You: Quiet the Noise and Find Your Voice. She even puts in time at the studio.
What Keke wants in life, Keke gets, and the way she moves through the world is proof of that. She walks a trail that she has blazed for herself. And with her voice and unbothered demeanor coupled with her undeniable talents, she has been able to put her signature on the modern day working girl mantra of "booked and busy."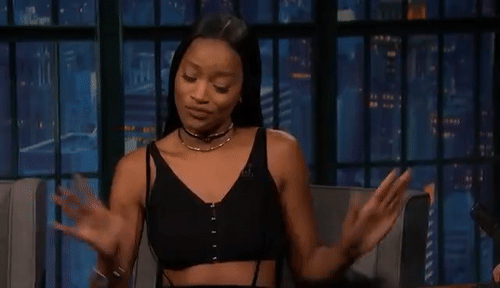 Keke is known for telling it like it is and talking her way through interviews with people like she would an old friend, so when she sat down with ESSENCE magazine's Yes, Girl! podcast, she spilled the tea on her "single" status and the difficulties of dating in Hollywood.
"Dating is terrible for me. When I tell you dating is terrible, it's so terrible because, like, there are times where it will be industry situations and I can tell that the guy is more excited about my career than I am. I've dated guys in the industry that are like, 'I can't wait until you do a movie like Catwoman and movies like that,' and I'm like, 'Are you good? Because I don't like you getting turned on by where my movie career is going!"
For Keke, dating outside of Hollywood offers its own set of challenges that can be just as off-putting as trying to navigate through the Quincys and Keiths of the world.
"…There will be other situations when I'm dating a guy who is not in the industry or maybe he's not that well known, and he comes at me with the whole, 'I'm going to get ready to do this and I got a lot of stuff going on and I'm working too' and it's like, I get it—you want me to know that you're not a loser. I understand. Please stop overcompensating. So, it becomes difficult sometimes to find that sweet spot of somebody who's not trying to compete with you, that doesn't feel insecure about your career, and that's not trying to hi-jack your brand."
Her "booked and busy" status and her desire to establish longevity in her career means that sometimes love does take a backseat to the demands of her career. But the vibe will change eventually.
"I'm always working… That's the thing. Now that I'm approaching my mid-twenties, I'm like, 'Girl, are we going to get married? Are we thinking about – do we even care about personal life, or are we on this career, career, career vibe?' I mean eventually I do."
In true Keke fashion, she explained to the podcast's cohosts Charli Penn, Yolanda Sangweni, and Cori Murray that she knows exactly what she wants and needs from her ideal partner. And the gag is, she won't be compromising or settling in the meantime, in between time.
Featured image via Giphy