---
As 20- to 30-something-year-old women, we have choices and no longer have to subscribe to patriarchal norms that claim that we should be married with children at age 25. Any 25-year-old woman I know will tell you: that standard is outdated, and nearly impossible for some.
We chase our careers and ambitions, knowing that the world is at our fingertips and there's nothing we can't do, except meet a man who can offer reciprocity. Our loved ones always find time to remind us that our ovaries are depreciating and the dating pool is getting smaller, and no matter much magic that we create and give to the world, the question in the back of every black girls mind remains: Will I end up alone?
Undergoing some sort of quarter-life crisis, I sought advice and someone told me, "You'll meet the man of your dreams when the time is right." Excuse me, what is this? A game show? When exactly is the right time and what clock do I have to look at to find it? After some thought, I realized that things never happen exactly the way that I expect them to, but my blessings will always come on time. Jordin Sparks is also a testament to that.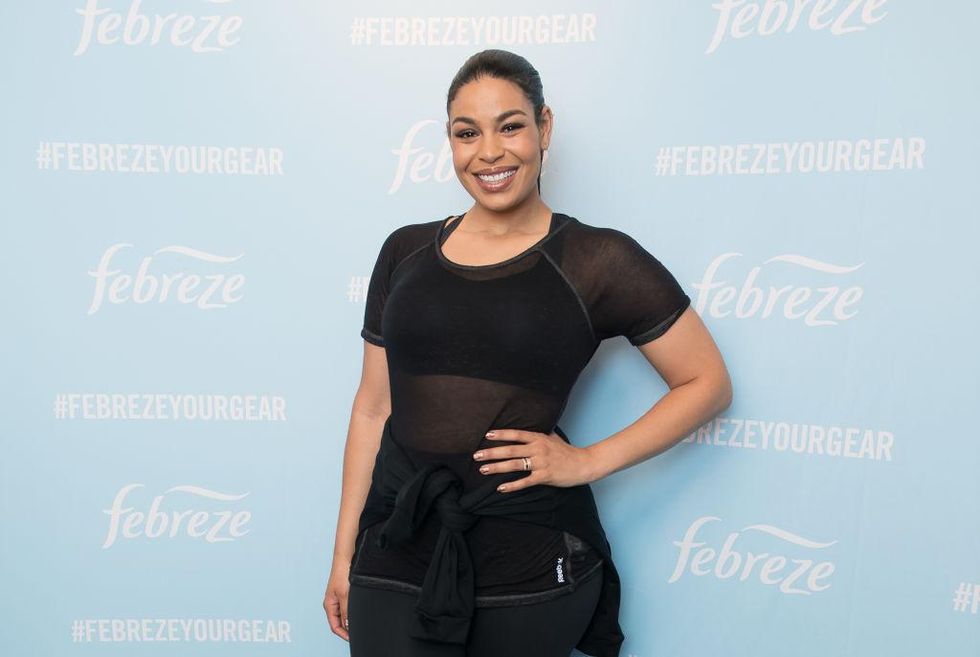 Noam Galai/Getty Images
The last two years of Jordin's life have been pretty insane. She went from boo'd up to pregnant to engaged to eloped all within 12 months, and says that she wouldn't change her experience for the world. Last year, she and her now-husband Dana Isaiah Thomas found out that they were pregnant and announced their engagement. They were married months later in secret, and now have a bundle of joy that has changed their life forever. She told People:

"We went from being two individuals to being one to preparing to bring a child into this world. It was a real whirl."
She said that although things happened fast, she couldn't have imagined a better scenario. Still, sometimes it's hard to believe that she's really a person's mom.
"I'm a mom. That's so nuts I have moments where it just hits me."
She and her hubby's brand new bundle of sunshine was welcomed into the world at the beginning of the month. Baby D.J. was delivered by his father, Dana Isaiah Sr., with the help of Jordin's midwife at a birthing center in Los Angeles. She said that she chose to have a natural birth after deciding that traditional hospitals weren't exactly her style.

"Hospitals just felt a little weird and strange [to me]. I had a feeling I wasn't going to be comfortable on my back and I didn't want to have to give birth that way."
A source reported that black women are three times more likely to die during childbirth than white women, so it's understandable that a lot of women are seeking alternative ways to give birth. The singer said despite her emotional state, she had the strongest fighter on her team right her side.

"He was right by me the whole time. When I was going to different places and different universes with the contractions, he was right there in my ear or rubbing my back."
Isaiah even caught little D.J. on his way out in the world, which both of them said was a life-changing experience.

"[W]hen he handed him to me, I was absolutely overwhelmed with joy. He was and is everything we imagined. I'm feeling pretty good! I am so grateful for my husband and amazing team at the Natural Birthing Center. I don't think I would be feeling this great without them!"
The couple said the arrival of their newborn has made their relationship stronger than ever, and proves that when things don't happen the way we expect them to, sometimes it's for the better. The wait can be exhausting and frustrating, but Jordin and her hubby prove that sometimes the unconventional love stories are the most fun.

Want more stories like this?
Positive Affirmations Helped Ciara Manifest The Man Of Her Dreams
Serena Williams On Motherhood: "Why Do I Feel Sad When I Have A Beautiful Baby?"

Finding Balance: Vanessa Simmons On Juggling Being A Wife, Mother & Entrepreneur

Featured image via Noam Galai/Getty Images