If you were anything like me (or any other teen in the early aughts), you watched Vanessa Simmons religiously on MTV's Run's House, a reality show about her Joseph "Rev Run" Simmons' family, and later on Daddy's Girls, a spin-off that centered around Vanessa and her younger sister and business partner Angela's entrepreneurial ventures in Los Angeles.
---
Back then, it was inspiring to watch the sophisticated first born found and design popular and extremely profitable shoe brand, Pastry, especially for young black girls.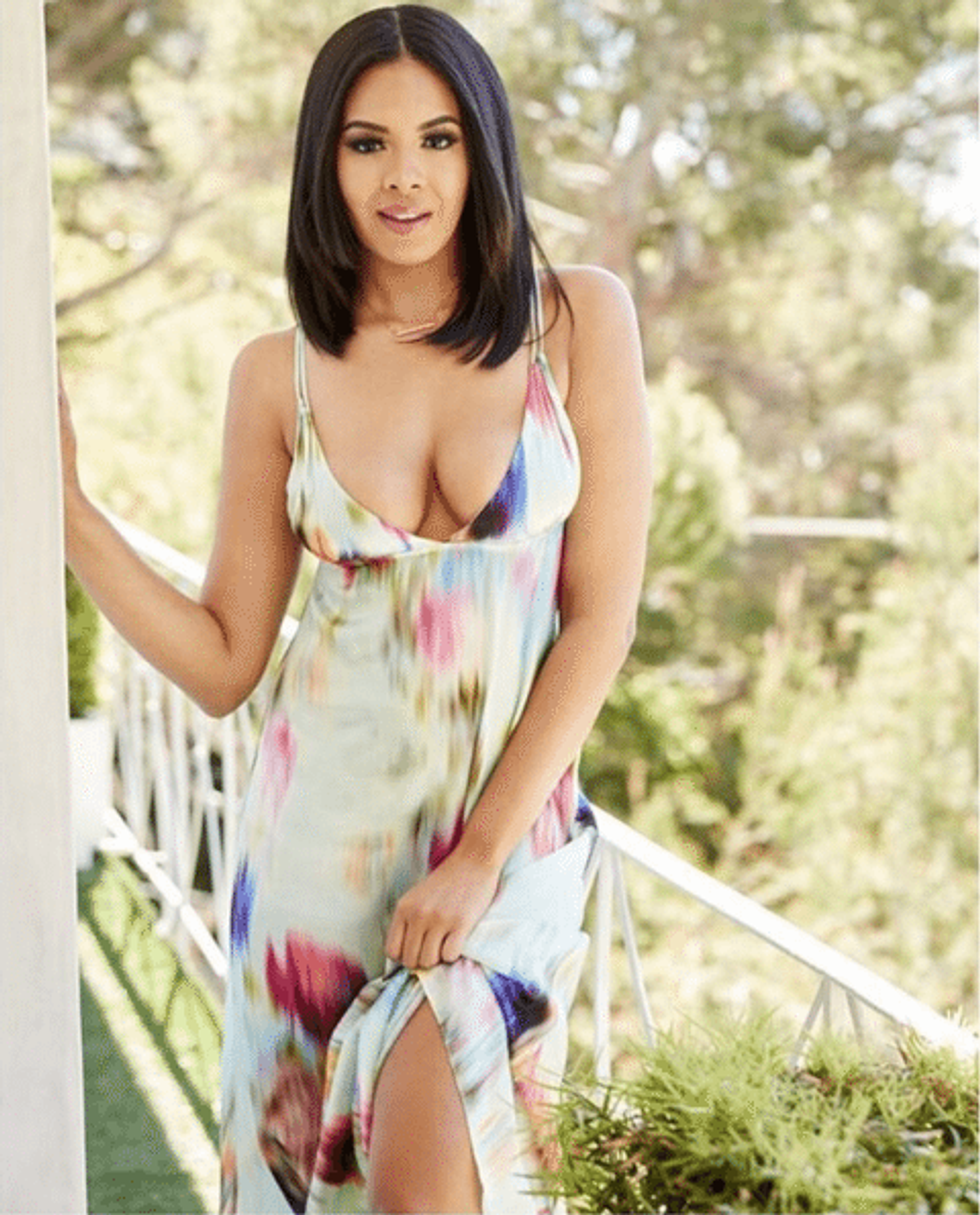 Then, as quickly as the Simmons sisters saw massive success in fashion, Vanessa transitioned into acting and kept a lower profile. She maintained her positioning in news headlines with a brief stint on Guiding Light and a few roles in television movies, but she was largely out of the spotlight. Until about 2014 when her whole life changed and she became a first-time mom.
I caught up with the brown-skinned beauty right as she finished up a workout. It's a summer Wednesday afternoon but the slight breeze is a reminder that a new season is swiftly approaching.
Dripping sweat, she expresses that the motherhood and the time spent away has allowed her to focus on other endeavors, including a new pursuit in entrepreneurship. "I've been working on and self-producing content in preparation for the launch for the last two years," she says in regards to the launch of her lifestyle brand VanessaJSimmons.com.
Work/Life Balance
The former Pastry mogul spends her days running behind her active two-year-old, Ava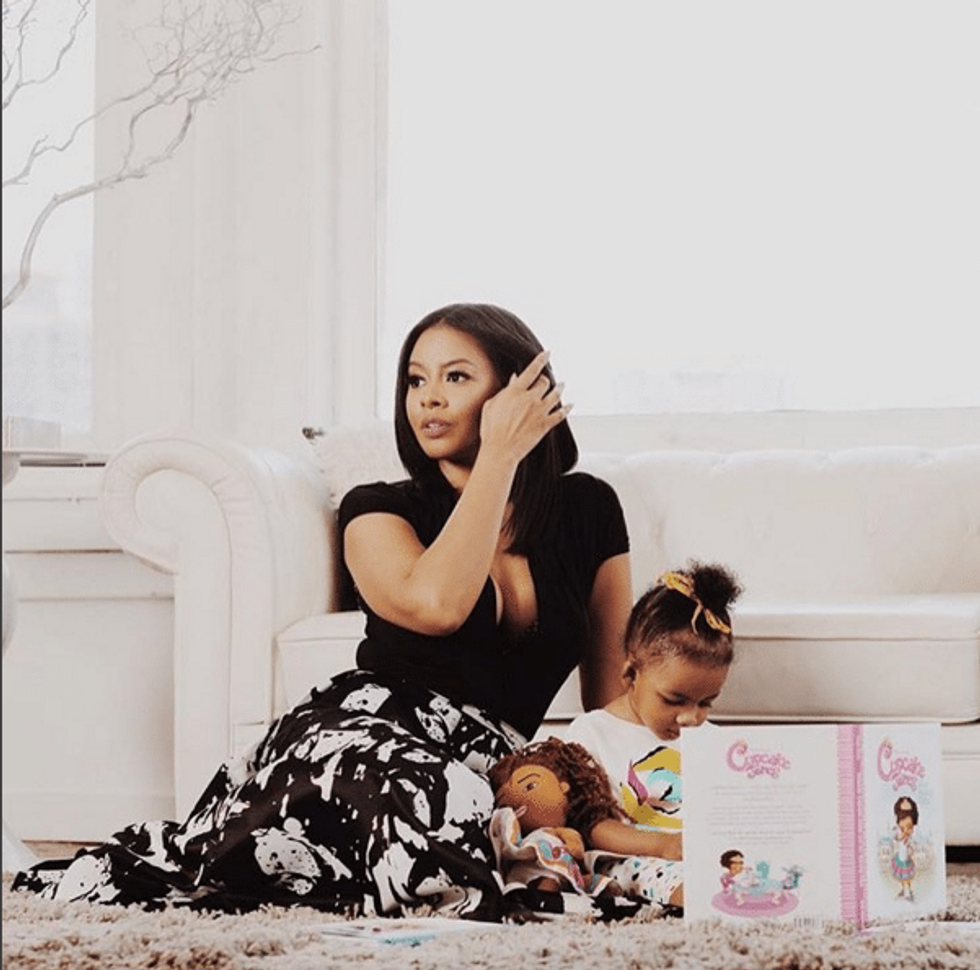 Marie, and being a doting partner to longtime boyfriend Michael Wayans, son of Damon Wayans.
She smiles and tosses around the title "wife" a few times during our conversation, though there's no evidence that the two have actually jumped the broom yet. Nevertheless, she's smitten and it's completely obvious. She goes on to emphasize how these two loves of her life enhance her role as an entrepreneur, even when the balancing act of work and home life proves hard.
"It's challenging," she admits. "Sometimes I do get down like, 'oh my god this is too much.'
Sometimes I just want to completely dedicate my day to my family and be a house mother. Do laundry, cook for my husband, and make sure my daughter is stimulated in all the right ways.
But I also want to be able to provide for her what I had growing up and ten times more. In the most beautiful way, they're the inspiration for everything that I do."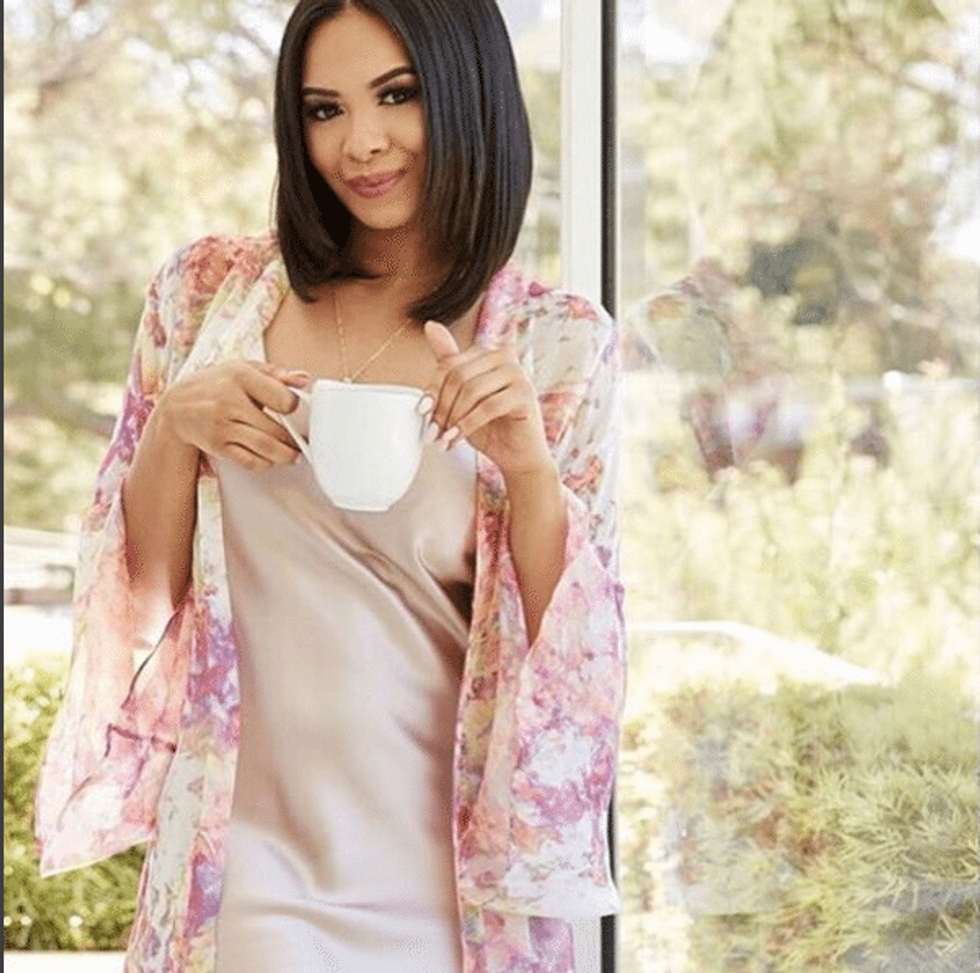 Though you won't see an overwhelming amount of #relationshipgoals selfies on Vanessa's Instagram page, it's clear that she's very much in love with her man. When I ask her how true love has transformed her, she credits her focus on being her best self. "Being in a long-term committed relationship shows maturity and it has helped me find me," she says. "It's transformed me in a way that it inspires me to work on myself every day, even if I'm taking small steps to what I think is a better me. I always want to be the best that I can be for him."
There's a lot of love in Vanessa's abode and also the weight of a legendary legacy in both music and acting. So does this mean her little one is destined for showbiz? "I want to push my daughter to do whatever it so that she wants to do, " she says. "Right now I can tell you she loves singing and dancing. She's a little dramatic –– she is my daughter –– and it's every beautiful watching her grow into the person that she's gonna be. I don't want to say that she'll be in entertainment. I want her to excel in whatever it is that she wants to excel in."
More Than Just The Reverend's Daughter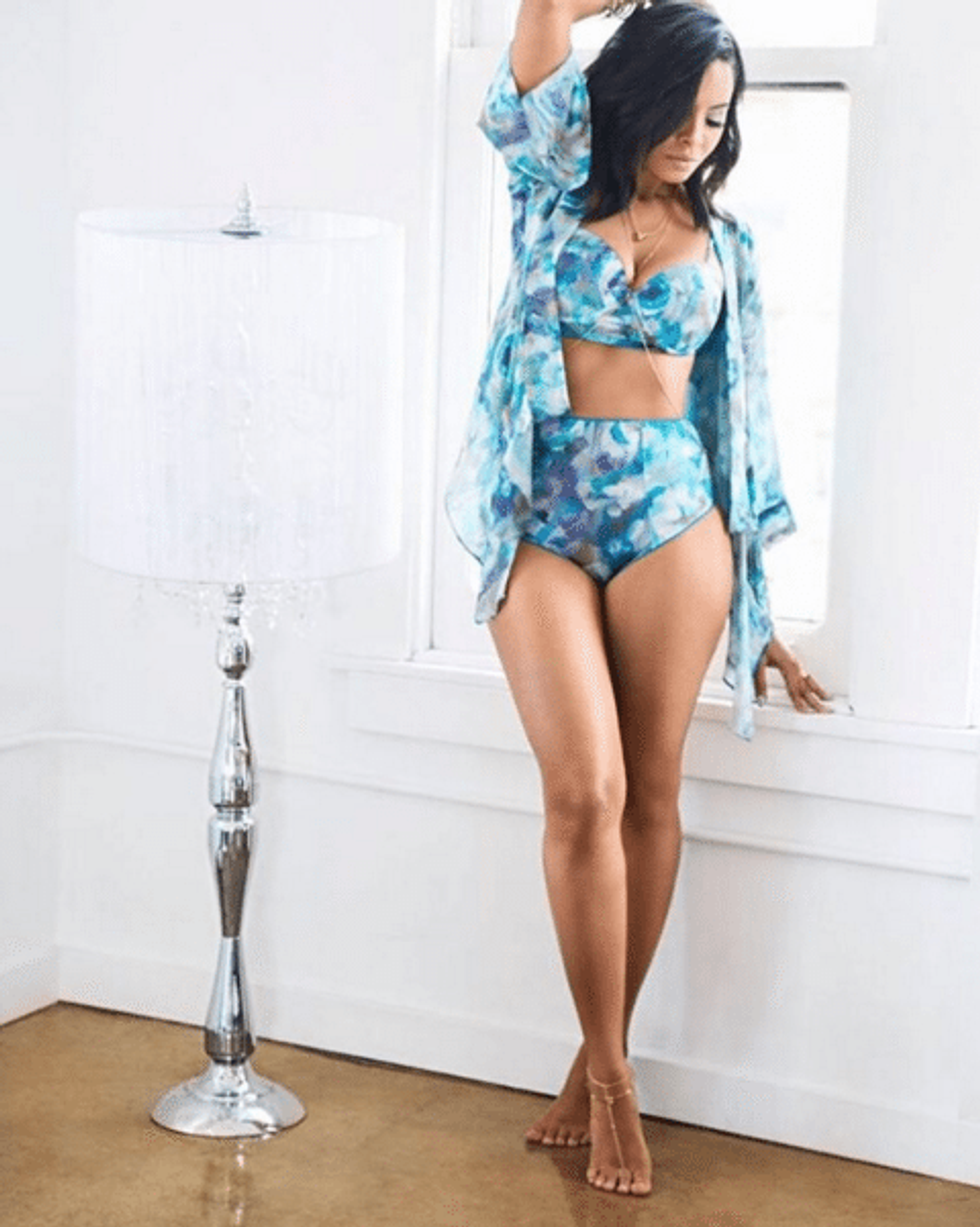 With her house in order, Simmons has the mental capacity to evolve in new ways creatively. "I'm obsessed with butterflies," Simmons tells me while explaining the inspiration for an upcoming fashion collaboration with Print All Over Me, inspired by her transformation as a woman. Fittingly, her newfound confidence is reminiscent of the brightly colored insect she adores. While being a reverend's kid once informed her choices in acting roles and other business decisions, nowadays she's a woman who solely listens to what feels is right for her and makes her own choices accordingly.
"I remember looking at scripts and being like, 'This character has to do what? What is my dad gonna think?' I want to make him proud, so I did sometimes step away from projects that I felt weren't up to par to his values. It definitely was a struggle for me, but I learned to really discern what projects are good for me, what projects aren't and what goes along with my brand. My uncle always says this: 'Only do shit you truly believe in.'"
[Tweet "Only do sh-t you truly believe in."]
And what does she believe in? The impact of pageants on young girls.
Simmons is the co-owner and creative director of Miss Teenage California, a scholarship program that awards young women with over $30,000 in scholarships every year. "Miss Teenage California is my baby," she says. "I was a pageant girl myself growing up. Pageants can sometimes get a bad rap, and that's because people don't know the amazing things that it can do for young women. It gave me confidence, sisterhood and it just really pushed me and motivated me to live a goal-oriented life."
As she speaks about her rolodex of new ventures, I can tell she's prepared for the next chapter of her career. While she's an attentive mother and wife, she's also a woman on a mission. And come October, we'll have a clear view of who Vanessa is now.
The Rebirth
As fall swoops in to replace summer, Vanessa is set to make a few cameos on Growing Up Hip-Hop, a WEtv reality show the follows kids whose parents are musical titans. "Fans will have a chance to see the behind the scenes work on my new stuff."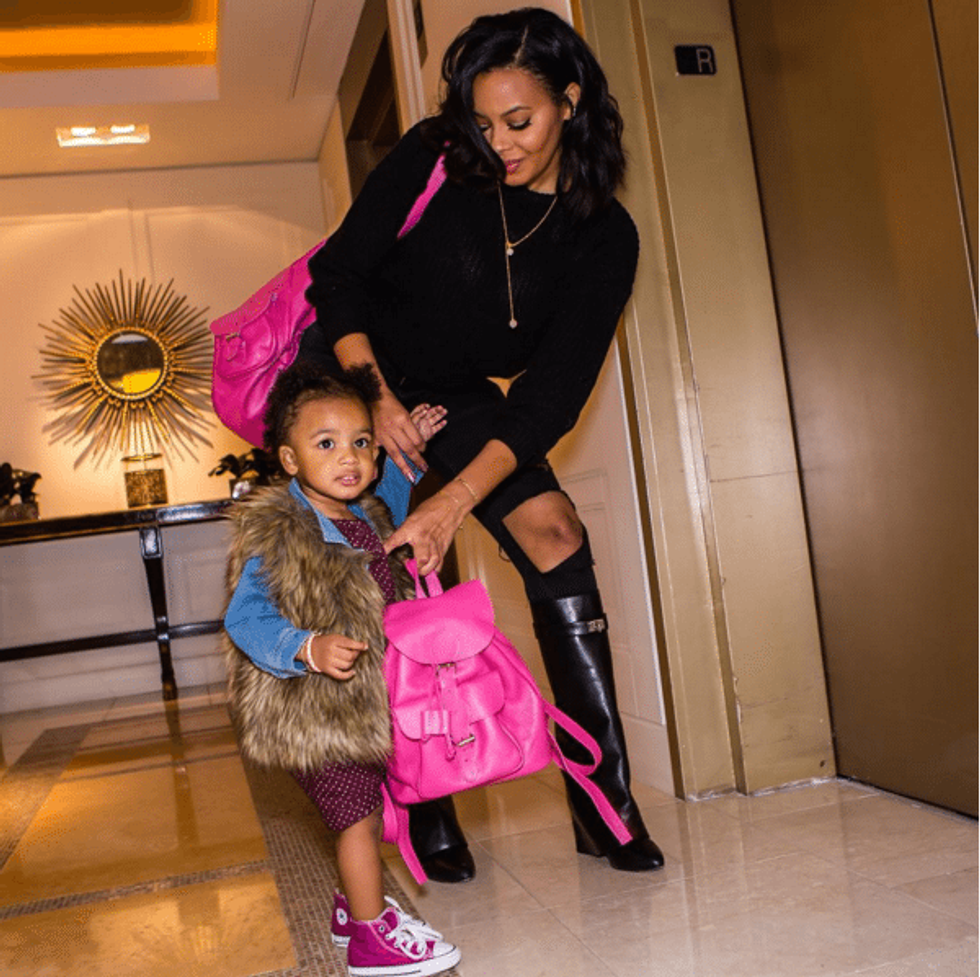 Her drive was put on pause once before, for a good reason, but being a mom has only ignited her passion. "I am a work in progress," she tells me, admitting to not being the woman she strives to be entirely. "I'm growing every day, and motherhood definitely played a big part in me growing up; to really commit to life and what I'm doing.
At this point, there's no point in dabbling around in things that I'm lukewarm about. Everything I have to do now I'm completely passionate about.
Everything I put out there, I know my daughter is going to see eventually so I wanna make sure it's stuff that represents who I am and gives her an example. I'm hoping that the companies and the businesses I'm building now are things hopefully she'll take over one day and she can be proud to take on that position for me."