From Holy to Hubby real quick!
Devon Franklin might be all about a good word, but that doesn't mean he won't read you between the lines.
---
Over the weekend, movie producer and pastor Devon Franklin, and wife, actress Meagan Good, hosted a Christian-themed coupled seminar in light of their latest book, "The Wait: Finding the Love of Your Life Through Abstinence."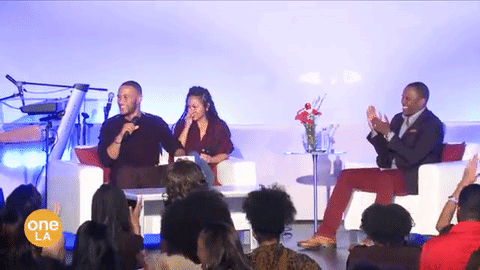 While spending Valentine's day at One Church in L.A., the married couple of three years opened up about their journey in celibacy, love and marriage, as well as encouraged the room to ask questions as it pertains to 'waiting' in relationships. Things quickly went somewhat left when an audience member decided to let Meagan Good know how she felt about the 34-year-old actress' choice of attire in such a way that lead Meagan to cry. Implying that Meagan dresses less than conservative, the woman even asked the actress and wife to "cover up."
"This is not offensive, but I was at the grocery store and I looked at a newsstand and saw you, and you had your breast showing.  I wasn't gonna come here; I wasn't. But the Lord brought me here to see you. You're beautiful. You are a beautiful young woman and your testimony is awesome. Amen. Amen! The Lord let me come and push past the judgement, because you have to make sure what you say and what you do match up, you understand?

So, we're gonna cover up, right?
Um, ma'am, not so fast!
Before Meagan could even respond to the remark, Devon stood up in honor of his wife, letting the woman know to not worry about Miss Good's "Goods" (aka his "Goods" too). Bloop!
"Wait a minute no! Nuh-uh. That is not what we're here for. She's not gonna cover up, she [Meagan] is gonna wear what she wants to wear in the name of Jesus- amen. Amen? Amen. Yes she will!"
Devon Franklin's reaction to someone telling Meagan Good to cover up is #hubbygoals (**in the name of Jesus**) https://t.co/hxznWV9ILg

— Necole 💛💛 (@Necole 💛💛)1455651380.0
Devon went on to assure the audience member that although he still has "love" for her, he is also still from Oakland, and is not for the games:
"God bless you, we love you, I love you dearly but she has been a Christian as she is right now. She wore whatever she wanted to wear, so no we ain't doing that!" "Y'all about to see another Devon that y'all ain't never seen! Remember, I'm from Oakland now!"
The crowd let out a collective 'awwww' as Devon took Meagan (who was visibly upset) into his arm for a passionate kiss, but not before mouthing, "I got you."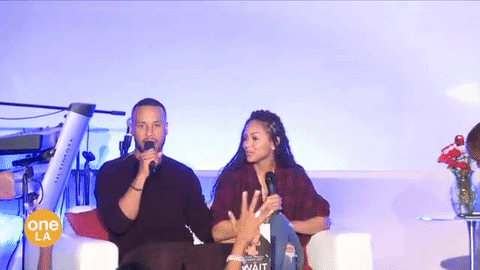 But the way Devon literally adjusted himself in his seat to protect Meagan from the "shots" taken-- Yes Lawd! Push through, 1 Peter 3:7. Protect and honor your vessel, Devon!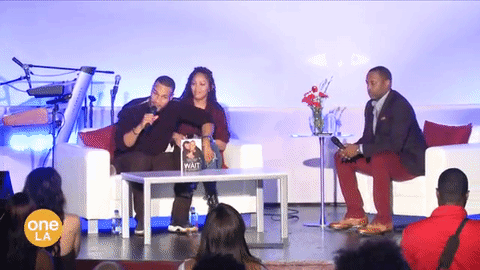 After her hubby gathered up the guest real quick, Meagan garnered up enough strength to respond to the other woman, in the most prayerful and positive way possible:
"I'd like to say one thing. I could've addressed what she said and it would take me a while to address it becasue I have very specific feelings about that. But I just want to say to that young lady, however you feel, if that's how you really feel, then pray for me. And God bless you."
Amen! If you truly believe that your fellow brother or sister in Christ isn't living right, than it's your job to pray for them. The irony is, the woman came not to judge, yet she did anyway. It wasn't her intent that was wrong so much as it was her delivery. Sadly, it is often because of people like her that many are turned off from attending church or Christianity as a whole.
People often think that they must be "perfect" before getting saved and coming to the Lord, but reality is, being saved is very much a process until the day we die. If we could do it without Him, we wouldn't need him. There is a reason why we are told to "come as we are." Meagan gave her life to Christ willingly at the age of 12 and has been working on her process and progress ever since--- just like any and everyone else.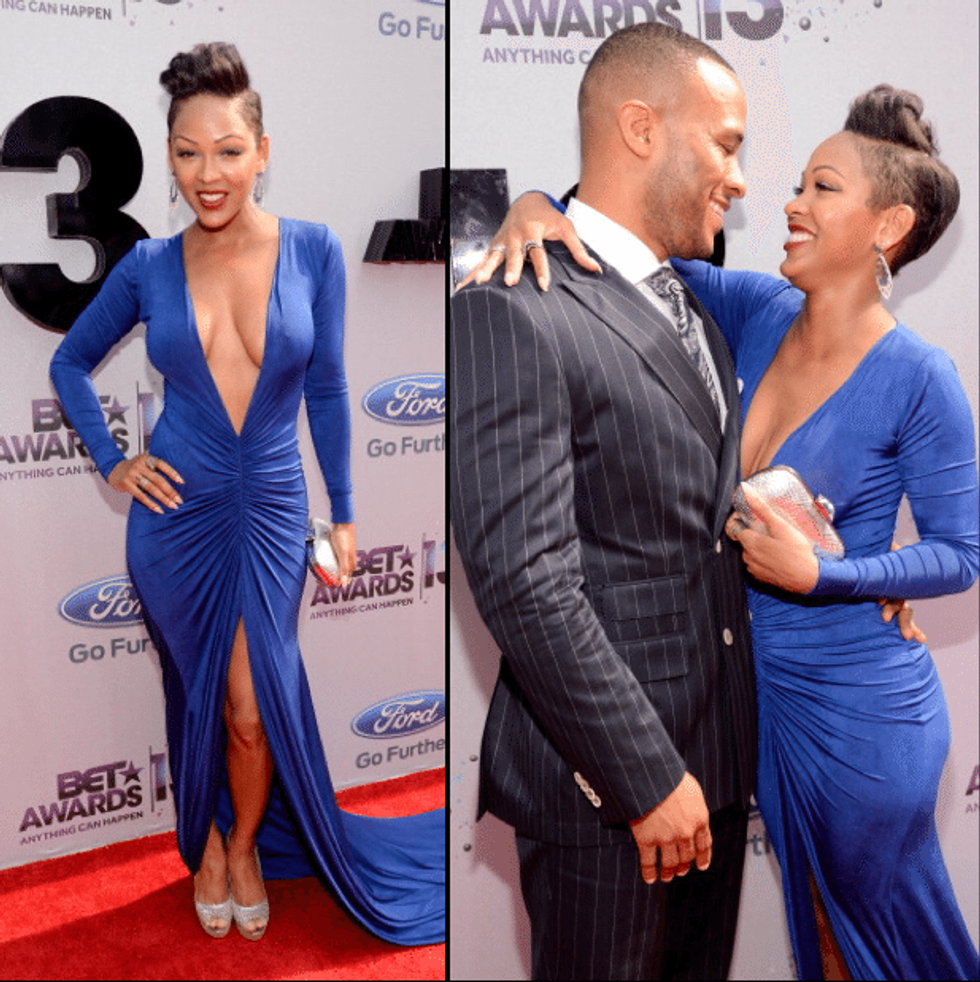 Last year, Devon had a similar moment at the Essence Festival while addressing the controversy that surrounded Meagan's outfit to the 2013 BET awards.
"I don't own her [and] she doesn't own me. We are together and I respect whatever she chooses to put on. When I married her, I said, 'I accept you for who you are. And whatever you choose to wear, that is your right.'

The only ones with the guns out were those that read the same word that says, 'Love your neighbor as yourself.' But the love was not there. I don't have an issue [with her clothes]. It's not about the dress; it's about her heart. And I know her heart is amazing, that's why I love her."
Some will find a way to judge Devon's love and logic towards his wife's attire as well. "Well, if you believe in protecting your wife, wouldn't you want her to not be viewed or objectified as an object of lust?" However, this all goes back to what Meagan had to say-- and pray. Devon, although a preacher, is not perfect either. And perhaps there are flaws in his willingness to not encourage that Meagan dress differently. At the end of the day, at least he has the right idea which is to love and protect his wife. And so long as they continue to be open to prayer and asking for God's guidance, they will grow as both individuals and as a union.
This!!! https://t.co/RfsbVt9OXQ

— Necole 💛💛 (@Necole 💛💛)1455652928.0
Watch the whole video below (you can go to the 53:00 mark to watch the entire interaction)
What are your thoughts on Devon defending Megan?