If Beyoncé had a pocket full of f*cks, she probably wouldn't give them to you, and she make that crystal clear to her haters in her new video, "Formation," which she dropped by surprise today.
---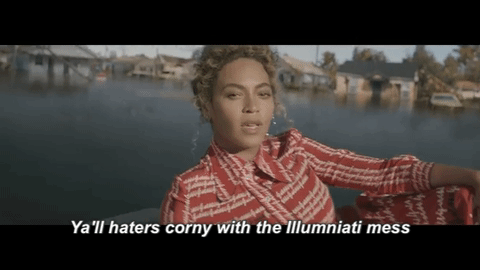 The video goes so hard that the Internet has basically labeled it as an anthem for "#BlackLivesMatter" and for those who aren't able to GAF. The result is a Beyhive full of social media followers who are going nuts over Beyoncé's new visuals.
Wow @Beyonce new video is everything, I can't get over it."You know you that chick when you cause all this conversation" #dropsmic🙌🏽😩👌🏽

— Elizabeth Rhonda (@Elizabeth Rhonda)1454796951.0
Yass! She slays every time!! #TheQueenIsBack RT @TamiRoman: Beyonce is just too real for this life! Formation!!!!!

— K.Alaysia (@K.Alaysia)1454797004.0
MY QUEEN IS BACK @Beyonce ❤

— Tara E B Clark (@Tara E B Clark)1454797162.0
The song, which was produced by Mike Will Made-It and co-written by Swae Lee of Rae Sremmurd, appears to be set in New Orleans, where she kicks it Southern girl style while riding dirty in an El Camino, and going hard in the paint in a drill team formation with her dancers.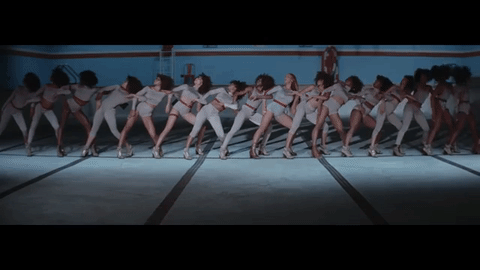 The video features glimpses of her sister Solange, little Miss Blue Ivy (who is looking so very cute and fly), and vocal work from rapper Big Frieda.

Queen Bey also got political in the video, where you will see images of her sitting on a sinking police car, and spray paint graffiti on a building that says, "Stop killing us."



However, it's the "woke" that seems to be capturing fans the most. The child dancing in a hoodie, a man holding a "More Than A Dreamer" headline with Dr. King's image on a newspaper, and Beyoncé proudly holding up a black power fist while standing on a police car has captured everyone's attention.
I dare someone to say that Beyonce isn't intelligent or woke!! #formation is a fcking masterpiece! It was so political!

— H (@H)1454806881.0
Beyoncé's new video has Blue Ivy, Afros, New Orleans, Big Freeda, Red Lobster, Black Lives Matter. She just owned February.

— Jamilah Lemieux (@Jamilah Lemieux)1454792089.0
Beyoncé used Formation to spread the awareness of social injustice, police brutality, & black lives matter. I have so much respect for her

— ً (@ً)1454800281.0
The lyrics to "Formation" are also sure to keep Twitter tongues wagging for at least the next three years. Lyrics like, "When he f*ck me good I take his ass to Red Lobster, cause I slay," "I might just be a black Bill Gates in the making, cause I slay," and "Earned all this money but they never take the country out me, I got hot sauce in my bag, swag," is already generating hilarious Twitter responses from fans and celebrities alike. Even Southwest Airlines got in on the Twitter responses to the video.
🖕🏼 take his ass to Red Lobster

— Kendall (@Kendall)1454792609.0
When you realize your dad took your mom to red lobster every week https://t.co/Re7PPLmbvI

— John Legend (@John Legend)1454794074.0
Got hot sauce in your bag? Checked: #SWAg Carryon: 3.4 ounces or less. #Formation https://t.co/BMp35uLp0F

— Southwest Airlines (@Southwest Airlines)1454804441.0
"You just might be a Black Bill Gates in the making." AMEN, MY SISTA. Look at Bey. Inspiring the masses to possibilities. #Formation

— Awesomely Luvvie (@Awesomely Luvvie)1454796263.0
The Queen is slated to rock tomorrow's Super Bowl Half Time show with Coldplay and Bruno Mars. Entertainment Tonight has confirmed that Beyoncé will be rocking to this jam at the Super Bowl during her set.
What has not been confirmed is what star will be joining Beyoncé on stage for her her show. A "reputable source" told Clever News that a dance battle is supposed to take place during the Half Time Show between Beyoncé and an unnamed celebrity. Since Bey is the queen of bombshell surprises, we'll probably have to wait until half time to see who will be dropping by the stage with her. *sigh*
Until then, download Beyonce's latest track for free on Tidal, and watch the full music video below.
#XOtribe, are you feeling the new track? Sound off in the comments.