I've suffered from eczema since I was a baby. As a child, my eczema was severe and very uncomfortable to deal with. As an adult, it has lessened in severity and sometimes disappears for months at a time. However, in the spring of 2018, my eczema made a reappearance, but this time more severe than it has ever been in my adult years. Usually, I've been able to manage at it home with no problems, but this time it was so out of control, I visited a dermatologist for the first time in my life. I was prescribed with topical steroids to apply to my problem areas (face, neck and ears).
After about a week of use and research on the long-term side effects of the steroids, I decided to ditch the them and try some at-home remedies instead. Long story short, I have yet to return to the dermatologist for my eczema and my eczema flare ups have lessened tremendously.
According to the National Eczema Association, "Eczema is the name for a group of conditions that cause the skin to become red, itchy and inflamed. There are several types of eczema: atopic dermatitis, contact dermatitis, dyshidrotic eczema, nummular eczema, seborrheic dermatitis and stasis dermatitis. Eczema is very common. And in many cases, it's also manageable... over 30 million Americans have some form of eczema."
Everyone doesn't experience eczema the same way. While some may experience mild itching every now and again, some may experience more severe ongoing symptoms that may interfere with their everyday lives..Some symptoms of eczema include:
Dry, sensitive skin
Inflammation
Very bad uncontrollable itching
Dark colored patches of skin
Rough, leathery or scaly patches of skin
Oozing or crusting on the skin
Areas of swelling
Most dermatologists prescribe topical steroids to patients dealing with eczema. However, the long-term effects of topical steroids such as thinning skin is a cause of concern for many patients. If you suffer from eczema and want to find ways to naturally manage it at home without the use of steroids, here are 6 holistic remedies that you can try.
1

.

Meditate and eliminate stress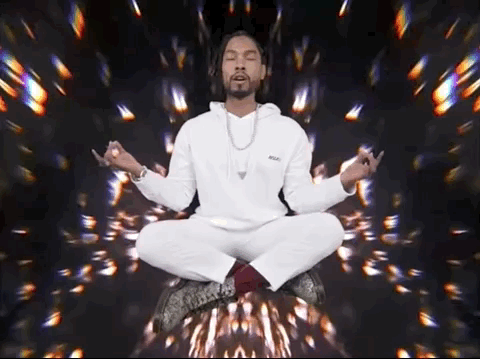 Giphy
Believe it or not, your mind is powerful, especially when it comes to bodily functions and aliments. Stress is another known cause of eczema flare ups. Much like hives caused by stress, when you're already going crazy about the discomfort and itchiness that comes with eczema, stressing over it may cause the condition to worsen. When you're in an eczema-related rut, try calming your mind and taking your thoughts away from the situation at hand. If you're not familiar with meditation, you can try guided meditation apps to help you.
2

.

Hit the gym
Another great way to relax and relieve some stress is through exercise. And no, you don't have to do an intense 2-hour high intensity interval training session to see results. Whether you're going for a light jog or participating in a beginner's yoga sessions, exercising can be a great way to get your mind off of eczema while improving your overall health.
3

.

Check your diet
Giphy
Many people tend to forget that much like your heart, lungs, and stomach, your skin is an organ and what you put into your body does effect it. Though eczema hasn't been scientifically linked to diet, there are a few foods known to cause inflammation in the body. These include peanuts, milk, soy, wheat, eggs, and alcohol. Try eliminating these from your diet (even if it's for a short period of time) to lessen the inflammation on your skin due to eczema.
4

.

Clean up your laundry day
Even if you don't enjoy doing laundry, you must admit that the fresh scent of clean clothes is the one thing about laundry day that you genuinely look forward to. Unfortunately, all of the those dyes, fragrances, and other added chemicals that we associate with the fresh scent of laundry are absolutely no good for your skin, especially if you are battling eczema. Instead, you need to be reaching for clean detergents that don't have any of those pesky chemicals that will further upset your skin.
5

.

Turn down the temperature of your shower water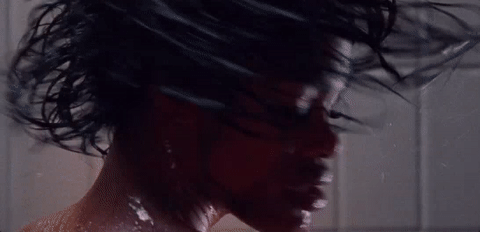 Giphy
We all know how amazing a long hot shower at the beginning or the end of a long day is, but when you suffer from eczema, it's best that you shower in lukewarm water. Hot water (and cold water) tends to dry out the skin, while lukewarm water helps your skin retain moisture. When you already suffer from a condition like eczema, where your skin already tends to be dry and scaly, hot water will only agitate your skin more. If you opt to take baths while experiencing an eczema flare, try an oatmeal bath that can help soothe your skin (specifically the itchiness).
6

.

Transition to clean beauty products
Similar to what we said about your laundry detergent, the products that you put directly on your skin have a big impact on your eczema. Transition to clean beauty products that are free of dyes, added fragrance, and other artificial ingredients that may be irritating your already-inflamed skin can make a huge difference. Start by gradually incorporating natural and clean products into your skincare routine (face and body) until you find natural products that work for you and your eczema.
While eczema may be discomforting and may be even frustrating, it's not impossible to take control of. Try these holistic remedies until you find one that makes living with eczema much easier.
Featured image by Getty Images
Related Stories
Why You Really Should Be Drinking Golden Milk - Read More
I Tried It: Acupuncture For Self-Care & Wellness - Read More
This Is How You Should Layer Your Skincare Products - Read More