---
Tiffany Haddish, comedian and actress, was recently asked to host the 63rd annual Grammy Award pre-show and declined the offer when the recording academy told her it was unpaid. In addition to paying her own way, they also mentioned they would not be covering hair, make-up, or any wardrobe for the course of the event. As Haddish mentioned:
"All of that would have to come out of my pocket. I don't know if this might mean I might not get nominated ever again, but I think it's disrespectful."
I don't know about y'all, but I'm sick and tired of hearing the continuous disrespect towards Black women. People are just tripping over their words claiming it to be a mistake or a misunderstanding.
According to a
SAG-AFTRA
spokesperson, the host of the Grammys is required to be paid at least $5,000 due to union minimum wage negotiations. While Haddish would just be the host of the pre-show of the awards ceremony and not the actual show, even $5,000 is no money considering the stripes Haddish has earned over the course of her career so far, not to mention the cost of wardrobe, hair, and make-up. How is this even possible for the most significant music award ceremony in the world to expect the best quality from their talent and provide the least amount of tools and resources to be equipped for the job?
Tiffany Haddish saying "NO" to the Grammys signified her knowing her worth.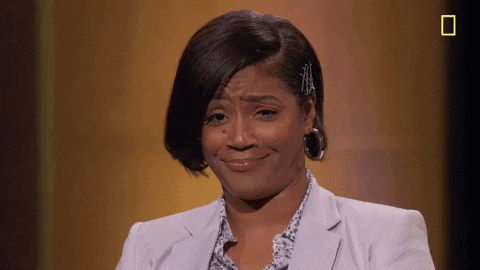 Tiffany Haddish GIF by National Geographic Channel
Giphy
Though Haddish was nominated for her second Grammy this year for best comedy album for Netflix's Black Mitzvah, it's still not worth her accepting zero compensation for hosting their award show. They don't even pay their performers and presenters; the Grammys is all about keeping the profit to themselves versus sharing their wealth.
It's 2020; Black women should not just be earning a seat at the table but also be valued as much as their white counterparts. And until that changes, they need to keep amplifying their truth for the system to evolve and pay Black women what they are worth.
As Haddish noted:
"I was like, 'The exposure is amazing, but I think I have enough. I appreciate you guys asking.' And as much as I appreciate the honor of being nominated, that's not OK."
Apologies are nice, but we want more.
In response to her rejection of the offer, Recording Academy Chief Harvey Mason Jr. posted a video on Instagram apologizing to Haddish and mentioning that he also found the offer disrespectful.
"Unfortunately, and without my knowing, the talent booker working for the Academy told Ms. Haddish that we wouldn't even cover her costs while she hosted this event for us. To me, that was wrong. I'm frustrated by that decision. It was a lapse in judgment, it was in poor taste, and it was disrespectful to the creative community."
He said that Haddish allowed him to have a private conversation with her, apologizing to her directly. "Tiffany, we are sorry, and thank you for allowing me to speak on it," he concluded.
Apologies are nice and all, but we are demanding more. This is far from the first time a Black woman's work have been misvalued or undervalued. Tiffany Haddish has been featured in movies and TV shows as an actress, comedian, writer, and producer. Why does she need to host the Grammys for free when she could be spending time on an event that pays her?
Black women need to be valued the same as their white counterparts. An award ceremony as big as the Grammys should host their own show since they clearly can't afford to pay her. We've been running this race too long, working two to three times harder just to be allowed in the same room as our white counterparts. It's the passive-aggressive invite, and be happy you got an invite because we rarely include your people for me.
It's the expectation that we should just take what we're given because that is the structure America has always placed Black people in.
Well, that ended the day Tiffany said "no", because she knows her worth. You don't bend backwards for another party that doesn't care about you, that's disrespectful, and Black women deserve better.
Are you a member of our insiders squad? Join us in the xoTribe Members Community today!
Featured image by Silvia Elizabeth Pangaro / Shutterstock.com