Ajeé Buggam
Ajeé Buggam is a content writer and fashion designer from New York City and an alumna from the Fashion Institute of Technology. She specializes in writing about race, social injustice, relationships, feminism, entrepreneurship, and mental wellness. Check out her recent work at Notes To Self
You ever go into a dating experience like, 'He's great, but he needs to work on XYZ,' and before you know it, you're over his head every second you can get to remind him to work on that same 'XYZ?' Yes? Well, perfect because this article is for my lovely fixers; it's time to dive deep into learning to discern better potential long-term partners for you!
As a recovering fixer, I'm guilty of trying to fix many men I've dated in the past, thinking if I'd "encourage" him to work on XYZ, he'd be a better partner for me. And to be honest, it wasn't healthy for me to find my worth in making him better versus accepting his character at face value. Instead, I should have been asking myself, can I see myself in alignment with him or is it better to just be friends? These are hard questions, I know, but essential ones you need to ask yourself in the earlier stages if you are looking to date intentionally based on your values and morals.
The author of Getting to Zero: How to Work Through Conflict in Your High-Stakes Relationships, Jayson Gaddis adds, "If I do all the work in our relationship, including paddling for both of us, and you sit on your ass, we will go in circles and never reach our destination." What's more, instead of doing the work for two, focus on the things you need to work on for yourself and stop doing work that isn't yours to do.
If you are finding yourself constantly trying to change your partner, here are a few things to keep in mind.
1

.

Ask yourself, 'Why do I want to change my partner?'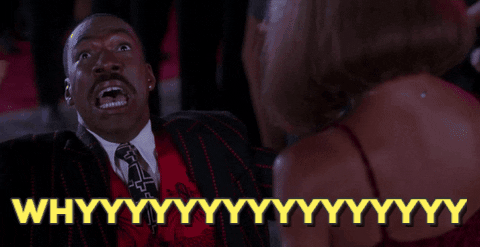 Eddie Murphy Ngapa GIF
Giphy
As a recovering fixer, I have immense empathy for my fellow fixers reading this article because at most fixers' core is the mindset to be of service in their romantic relationships. They often lead with acts of service being their primary love language, not realizing it's causing more harm than helping anything.
As psychologist Kristin Davin, PsyD, states, "We often create an image of what we want our partner to be and focus on those traits that reinforce that image. However, over time, that lens shifts to one of wanting to change their partner."
Davin notes that some of the reasons for this include: "(1) By and large, women have an overly idealistic view of relationships. They want to change their partner to fit this idea. Men, on the other hand, think there is no need to change. (2) People have lofty expectations of both the relationship and their partner. So they start wanting their partner to change to meet those ideals. It rarely, if ever, works."
She continues, "They may want to change their partner because there are things they don't like about them - that they often ignored in the beginning - but now have become problematic for them. As a result, relationship problems will evolve. And always trying to change your partner creates resentment. It is a relationship killer. They would rather focus on the other person meeting their needs, instead of looking inward and focus on how they can show up differently for their partner."
Be aware of those deflectors; that's a red flag when the other person is consistently focused on what you need to work on and not focusing on their growth or minimizing it, acting as if it's minor compared to what you need to work on. Everyone's battle is different, and that isn't a healthy form of comparison as it shows a lack of accountability.
2

.

Are you dating their potential or who they are at face value?
I'm sure most people have dated a person or two based on "their potential." But dating someone's potential to some extent is a bit of a Russian roulette game based on the type of potential you're betting on. Some people aren't even assessing a dating situation based on the other person's actions to make that potential a reality. The other person could be making no real progress, and then they are like, 'They'll get there eventually.' That's a bit unrealistic, but it happens more often than you can imagine.
As Licensed Marriage and Family Therapist Kevin Mimms states, "There is a tendency to point toward potential (real or imagined) as a contrast to other, more damaging behavior. It may be that the potential they see is a projection of their hopes or ideals onto this person. To interpret thoughtless words or actions as demonstrative of childhood dreams is naive but understandable."
It's important to be aware of the fact that the potential you see for a person might not be the potential they see for themselves. This form of projection is something we can sometimes subconsciously do. Instead, learn to lead by listening to understand and discerning a person's motives by their actions.
"There is a thin line between seeing potential in someone and living your dream out through them. They may have potential, even one very similar to your dreams, but it isn't about them when you make their growth about fulfilling your dreams."
3

.

Is building a partner by trying to change them beneficial in the long run?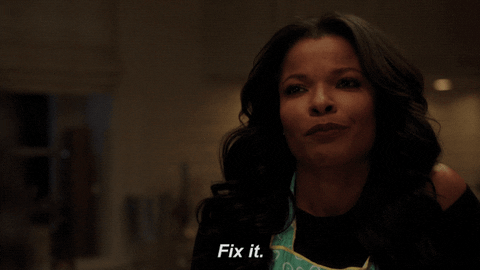 Fix It Fox Tv GIF by Lethal Weapon
Giphy
The next time the idea of building a partner pops up, ask yourself why you want to take up that responsibility. Is there a part of you settling because you think your needs can't be met, so you're just trying to make this work? Are you subconsciously married to the timing you have for yourself for a relationship, marriage, kids, or all the above, making you force something that may not be for you in the long run?
As Licensed Mental Health Counselor Nicole Kleiman-Reck, LMHC, mentions, "I don't think building a partner is beneficial since every person is unique and beautiful in his/her own way (and already fully built)." Let's emphasize the "already fully built" part, which means there is no need for your tweaking for your personal self-gain that may not serve the person in the long run and could brew areas of resentment.
"Building a relationship with two partners is helpful, and this entails agreeing to disagree, choosing to tolerate, learning to compromise, and aiming to come to what feels like a 'win-win' outcome. It all boils down to learning to appreciate and value the different aspects that each person has to offer in the relationship, which is what makes a strong partnership based on interdependency (which is not the same as co-dependency or dependency)."
4

.

Introspection is key to stop trying to change a partner.
Turn inward. Building your self-awareness is essential for unlearning fixing in relationships. You may think it's helpful in the moment, but in a long-term relationship, it will become mentally and emotionally depleting for both parties. As Davin states, "Work on yourself. The fixers are focused outside themselves and want to change and 'fix' another person rather than looking inward. Taking the time to be more introspective allows that person to question their 'fixing behavior' and what motivates them to continually engage in that behavior. It's very off-putting for the person they are trying to change."
"When we are focused on changing others, we aren't focused on what we need in a person and relationship and being honest about that but rather using our energy to change others. When we are focused on the other person, we turn our energy outwards."
5

.

Understand the importance of dating people based on face value.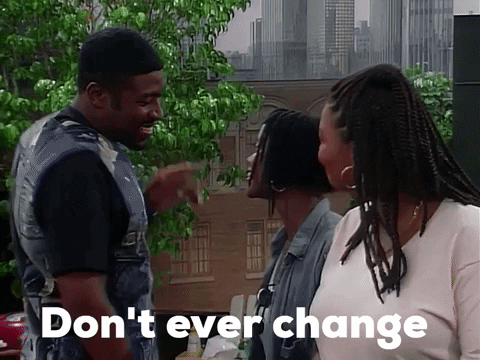 Dont Ever Change Season 2 GIF by Living Single
Giphy
Let me explain, acceptance = peace.
As Kleiman-Reck suggests, "I think it is of the utmost importance to take people at face value and accept them based on where they are now. The thing is, you can ask someone to change, and you can inspire someone to change, but you cannot make them change. The better question is, what are YOU going to change to feel happier in your relationship (or in any aspect of life, for that matter)?" This is a tough question to ask oneself, but an essential one to train your mind back to working on the only person you can change, YOU!
"Life is too short to distract yourself from changing others. Changing your belief system on what makes a fulfilling relationship will help with acceptance and joy that is usually there for the taking."
A healthy bond's foundation starts and ends with acceptance. To my fixers, I know it's not an easy fix, but it is a worthy one. Imagine a world of you just being responsible for how you show up in the relationship and not ignoring the red flags that he or she doesn't have what you need but they have "potential." Develop a new mindset of, "I'm not forcing anything, and I'm only aligning with people who are in a similar place as me."
Let's make things inbox official! Sign up for the xoNecole newsletter for daily love, wellness, career, and exclusive content delivered straight to your inbox.
Featured image by Goodboy Picture Company/Getty Images
Sen·su·al·i·ty: the enjoyment, expression, or pursuit of physical, especially sexual, pleasure.
Can y'all smell the roses from the sensual season we're living in? The fact that the "soft life" is a whole movement is a new awakening to a generation that has access to healing and sensuality like no other! I'm in awe and appreciation that individuals across the globe are allowing themselves to step into what has often been perceived as feminine energy and making it their own self-soothing daily practice.
As I was researching this subject matter, I noticed the word "sensuality" is often misunderstood as being something amplified sexually via romantic bonds and not as much individually, which does more of a disservice to us than helps us. The more attuned you are to yourself in solitude, the better you are to have that sensual pleasure amplified with another person in any capacity.
Sensuality is something we should challenge ourselves to do every day, being mindful of the sounds around us, examining our thought processes and feelings, and discovering sensuality in a physical manner alone in different ways.
Here are expert tips on how to be more sensual in your every day life:
1. Practice mindfulness by really tuning into your five major senses.
According to licensed mental health counselor and co-director of Modern Sex Therapy Institutes, Richard M. Siegel, Ph.D., "'sensual' simply means 'of the senses'-- sight, smell, sound, taste, and touch." And because we live in such a fast-paced world, constantly multitasking, barely focusing on one thing at a time, it's very easy to lose a sense of all the things we're seeing, smelling, touching, tasting, and hearing because we're always on the go. Exploring our sensuality daily means constantly challenging yourself to be curious about anything and everything you come across.
Mental health/drug and alcohol therapist Joella Smith states, "I always suggest my clients take at least five minutes when you wake up to use your senses (listening to the birds outside, stretching/rubbing body aches, watching the sunrise, etc.). The goal, just like mindfulness, is to find pleasure in being in the moment by using all your senses. Being kind to oneself, loving our bodies, and practicing self-love daily will make us all more sensual people."
Being in tune with our sensual selves has everything to do with challenging ourselves to be present and fully engaged with everything we do consistently. As they say, "Self-love is the best love." Meditation teacher Kirat Randhawa echoed a similar sentiment, "An element of developing sensuality with self is to practice receiving yourself just as you are - in all of your emotional states - with loving awareness. This receptivity is integral to restoring a sense of wholeness and releasing the fear of what we might encounter if we turn inward. Pleasure is a beautiful way to soften into our hearts and bodies while feeling resourced and supported to navigate anything that may arise."
2. Engage in sensuality through meditation.
There is nothing like a little one-on-one time with yourself, where you can go to a safe place and release it all through stillness. "Meditation is a practice of becoming deeply familiar with yourself and your moment-to-moment experience with tenderness," states Randhawa. "What is more sensual than befriending the self with such openness? When we practice this awareness in meditation in relation to how we receive the breath and the different sensations and thoughts and practice softening into those experiences irrespective of our expectations, we cultivate an opening of the mind. This is key to identifying the different aspects of ourselves and rest there with more ease. It allows for a balanced indulgence."
"Meditation is a practice of becoming deeply familiar with yourself and your moment-to-moment experience with tenderness. What is more sensual than befriending the self with such openness?"
Also, for anyone that has a rough time with mediation because they feel like they can't pause their mind, I highly suggest using the Calm or Liberate app that provides guided meditation to help zero in on tuning out your thoughts and following the background noise (examples is like the sound of waves or rain drops) all while actively listening to the instructor's voice. If you find stillness difficult, even with guided meditation, trying out movement meditation could be more helpful.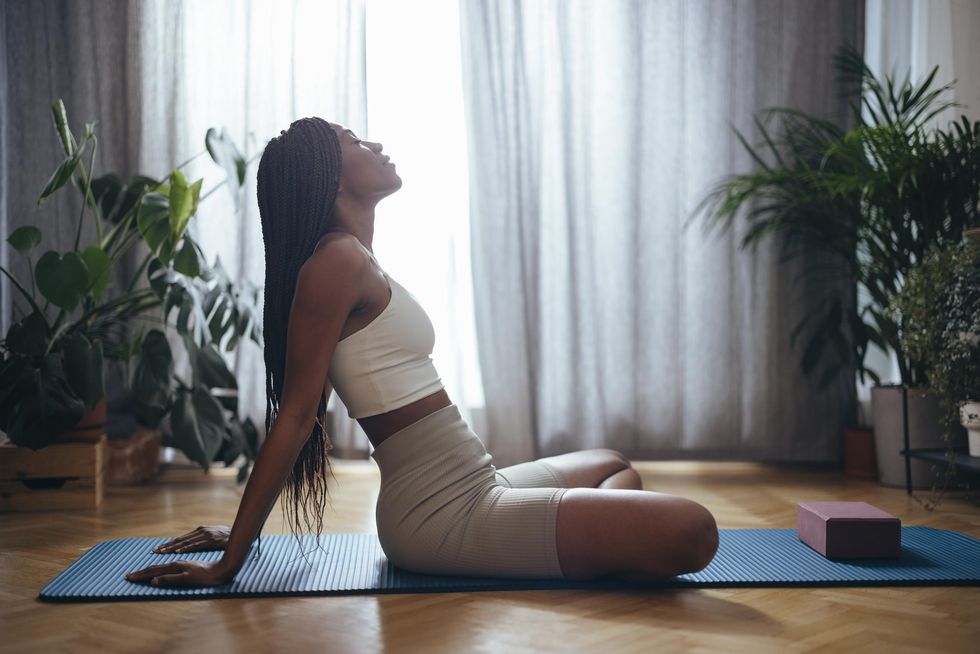 miniseries/Getty Images
3. Be more sensual through breathing techniques.
Breathwork is a skill set we should all learn because it's an amazing self-soothing tactic that helps regulate our physical and emotional well-being. There are several different types of breathwork techniques; Randhawa recommended "the five-count box breathing technique to simply restore clarity in the mind and presence with the body -- you inhale for five, pause for five, exhale for five, and pause for five...and continue this for a few minutes. It allows one to experience a more spacious feel of the moment and awaken to the beauty that is here right now."
4. Deepen your journey to your feelings and senses through writing.
It's our words that paint every scenario we envision or go through, and it's our words that help us dive into understanding our feelings more. Exploring your feelings on paper or even in your notes section on your phone can aid in profoundly exploring sensuality. Writing and creative expression coach Nkem Chukwumerije states, "In order to get to a place where we are writing from a place of freedom, and true connection to our inner worlds and outer surroundings, we must have a connection with our sensual selves. This means, for instance, when writing a scene depicting the breeze in the air, as readers, we want to know what kind of breeze that is and how it feels to feel that breeze. So, as a writer, we must relax our minds, wander outside into the breezy early afternoon, and sit in the center of a near-empty park, allowing the breeze to stroke our skin. We must feel each molecule of air as it dances with our face, arms, body and begins to articulate just how this feeling touches us."
Reading has been my favorite hobby since I was a little girl, and I've always noticed the best stories are depicted through minuscule detail to make you feel like you were there. Coming home to your sensuality is paying attention to the details surrounding you in slow motion. "After we feel, we can conjure up words to articulate that feeling and translate it onto the page where readers will not only read about the breeze but feel the same breeze we felt because we took the opportunity to be present with our embodied senses and write from that magical place."
She adds, "I often use the phrase 'experiment, explore, and allow' when it comes to writing because when we desire to express ourselves, I believe it must start from a place of pure possibility, freedom, and flow, and what better way to access what is and what can be than through our senses?"
5. Indulge in your sensual self through dancing. 
There are so many ways to come home to self, and dancing is a cure in its lane. When I'm in a funk, I turn on some of my favorite tracks and dance in my mirror and speak to my insecurities and make jokes about them, as Issa did in Insecure. It sounds lame, but it's so soothing to have fun in emotional turmoil; we're the most adaptive mammals on this planet, but change isn't always easy to walk through, so it's best to find a way that works for you to come home to yourself.
"Coupling somatic practices – such as yoga, qi gong, dance, EFT/tapping – with remembering the narratives about our bodies or intentional emotional feeling can be extremely powerful in healing both emotional blockages, and ailments/dis-ease in the body," states Chukwumerije. "When we practice becoming present in our bodies and aligning our emotional experience to our embodied experience, we can access more and more of our sensuality. Life is then never the same."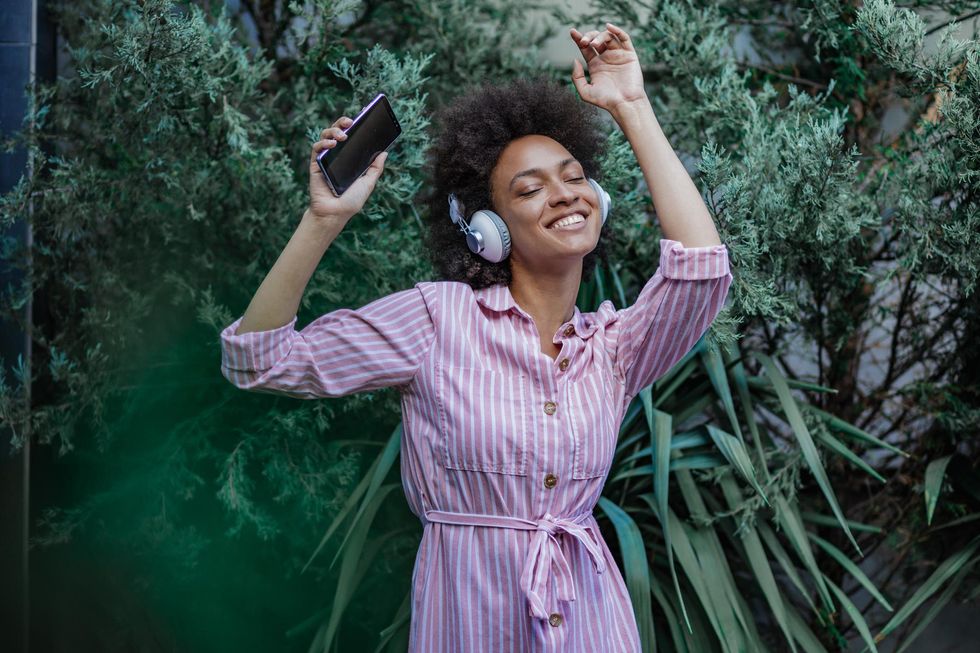 blackCAT/Getty Images
6. Explore your sensuality further through sexual self-pleasure.
I know before reading this article, most people associated the word "sensual" with "sexuality," but I hope that after indulging in all this new information, you have a better understanding of exploring your sensuality in a multifaceted way. Smith echoes a similar sentiment, "I believe too much of the discussion about sensuality revolves around sex rather than the pleasure we actually feel from what we experience from sex. Sex, however, almost always involves some level of sensuality. But one can experience and become sensual in numerous other activities that may give us that same level of pleasure. For instance, 'having an orgasm in our mouth' (when something tastes good) may do the same for our endorphins and overall sensuality as having an actual orgasm (sex)."
And though I didn't want to put sexual sensuality at the top of this article, I did want to highlight that sexual exploration with self is one of the highest forms of fulfillment you can experience sensually. Randhawa states, "I believe that sensuality originates from within, stemming from our relationship with ourselves. And when we can be present, open, and nurturing towards the self, we can extend that to others. Sensuality is a state of pure openness and receptivity, and offering this to ourselves can help us share it with others, and experiencing it with others can help us strengthen this connection even more with ourselves in turn."
"Sensuality originates from within, stemming from our relationship with ourselves. And when we can be present, open, and nurturing towards the self, we can extend that to others."
And I could share my own testimony reflecting on her words; for years, I used to be very irritated with sexually pleasing myself because of emotional turmoil I didn't know how to work through at the time and shame around current fantasies I'd have. But I've challenged myself to talk it through in therapy and with close friends, and I never felt so liberated and excited to explore myself sexually, with toys and all. And it's made sexual intimacy with another person heightened because I finally have so much autonomy of myself sexually.
Women are such fascinating and unique beings when it comes to sexual exploration, and I highly encourage watching the docuseries,The Principles of Pleasure, which is all about exploring female sexuality, and watching Sex, Love, and Goop which gave amazing tips on exploring sensuality through partnership.
7. Let go of your negative thoughts and discover your truth as a sensual being.
It took such a long time for me to accept that I'm a highly sensitive individual and that nothing is wrong with that. I was often gaslit as a child, which is one of the major reasons I often overthink my thoughts and feelings because I feel like they aren't valid. It wasn't until getting myself into therapy that I was actively ready and willing to deal with this super-soft part of myself. And taking that approach has been a game-changer because I'm better equipped to work through my emotional turmoil and support others with their issues instead of repeating the same cycle because I didn't know myself at such depths.
Smith mentions, "It's all about how we feel in our bodies, so feeling at the maximum level helps. This is often tough, though, as some of us battle intrusive thoughts and avoidance patterns that prevent us from truly 'feeling.' Letting go of the negative thoughts, appreciating every day, getting out of our head, and emotionally being in tune with what's going on will help others explore personal sensuality."
All in all, exploring sensuality on a daily basis should be something we actively try to fit into our schedules in some form or another because no one can soothe us like we can soothe ourselves. No one can feel all that we are going through like we can, so take a deeper dive with self-exploration; your mind, body, and spirit deserve it.
Let's make things inbox official! Sign up for the xoNecole newsletter for daily love, wellness, career, and exclusive content delivered straight to your inbox.
Featured image by Delmaine Donson/Getty Images
Thus far, 2022 feels so refreshing compared to the last two years we've all experienced. And it's safe to say that people are feeling safer traveling internationally again — which fills my heart to see people basking in joy exploring mother Earth! I had the time of my life treating myself to a solo trip to one of the most beautiful countries I've ever been to, the one and only Pura Vida lifestyle, Costa Rica!
Costa Rica is such a beautiful place to explore for any age group; it's filled with various things to do all over the country. It was the first country I've ever been to in Central America, and it's already my favorite one because of all the unique things they have to explore, the food that I couldn't get enough of, and the Costa Rican natives being so welcoming and sweet.
I had the pleasure of staying in the capital, San José, but anyone who's ever been to Costa Rica would say the best parts of the country to explore are outside of the city. But as the city girl that I am, I wanted to challenge myself to explore both sceneries, and I did just that, exploring different rural towns during the day and wandering San José for the nightlife scene.
Here's a list of the best places to visit in Costa Rica.
La Paz Waterfall Garden Nature Park & Wildlife Refuge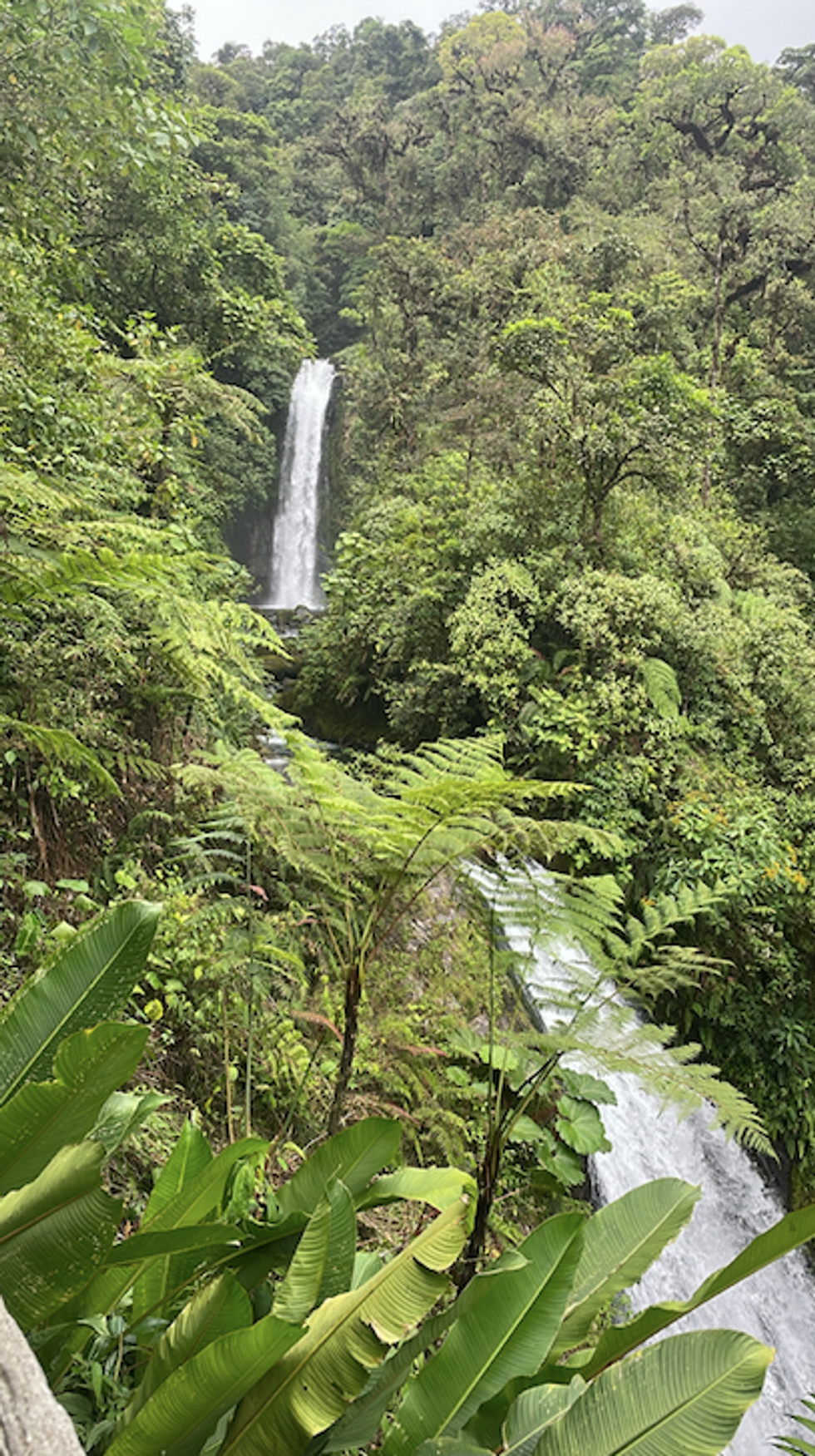 Ajeé Buggam
La Paz Waterfall Garden Nature Park is located in Alajuela, Costa Rica. Arguably one of the most famous waterfalls in Costa Rica, La Paz is a must-see! It has five different waterfalls layers that look like it's stacked on top of each other at different altitudes. The names of all of the waterfalls are Templo, Encantada, Magia Blanca, and Escondida, and the most acclaimed of them all La Paz.
La Paz waterfall is the most unique waterfall out of the five because you can see it as you drive on the road; it flows exquisitely in the La Paz River.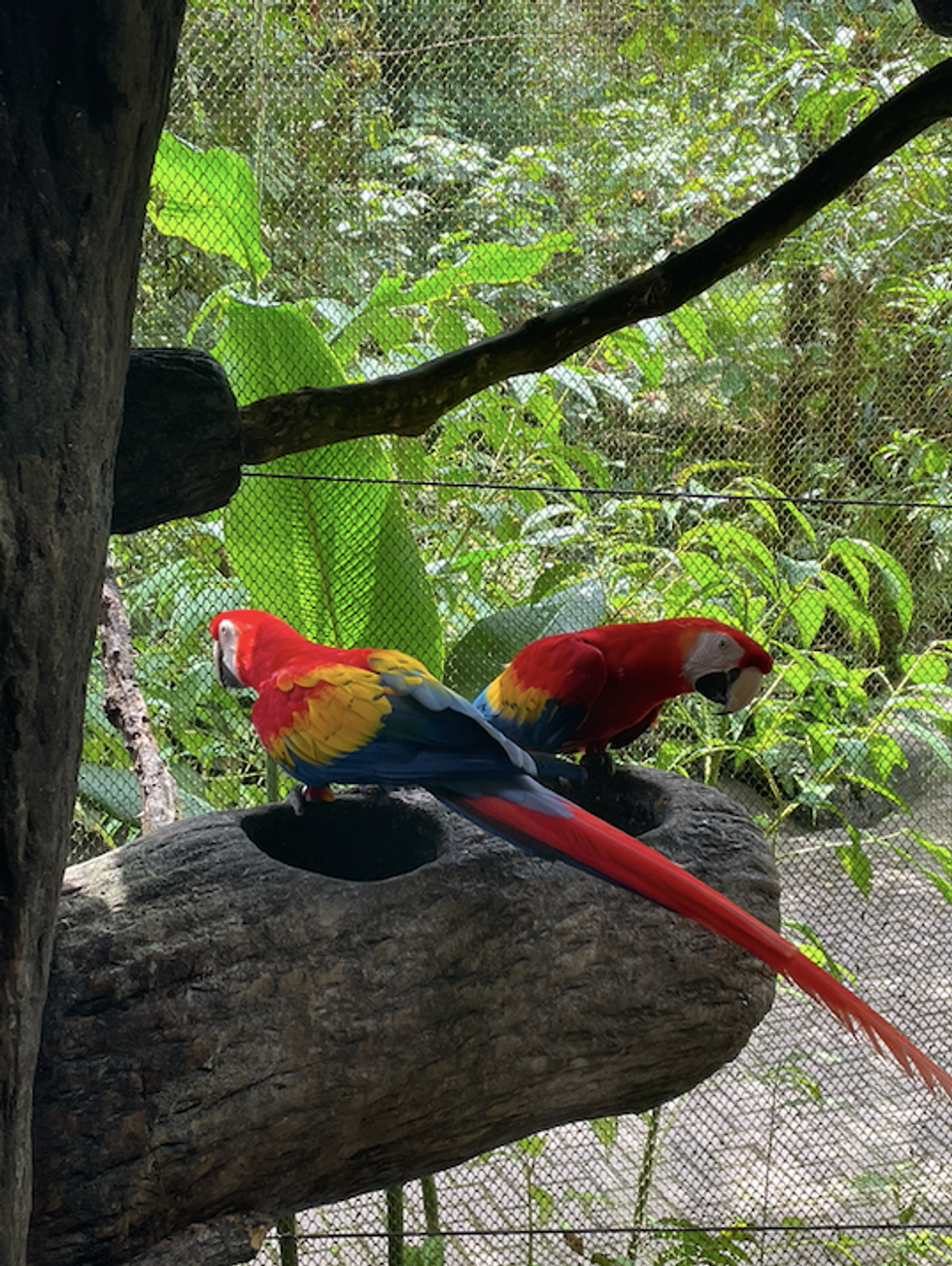 Ajeé Buggam
La Paz Waterfall Gardens Nature Park is actually split up into four parts that you can explore separately, the peace lodge (which is their five-star hotel, overlooking the waterfalls area), hiking trails, a nature park, and wildlife refugee. I would advise wearing active/comfortable attire and sneakers on your visit if you choose to explore multiple areas of the 70-acre park because it requires a lot of walking. The rescued wildlife refuge preserve is home to over 100 species that are native to Costa Rica and was quite a sight to see.
If you're a big animal lover like myself, you will really enjoy this! I got to see two-toed sloths for the first time in person, pumas, jaguars, ocelots, black-handed spider monkeys, toucans, and they had a whole butterfly observatory where the butterflies got to fly freely, and there was even an area where you could see them coming out of their cocoons.

Poás Volcano National Park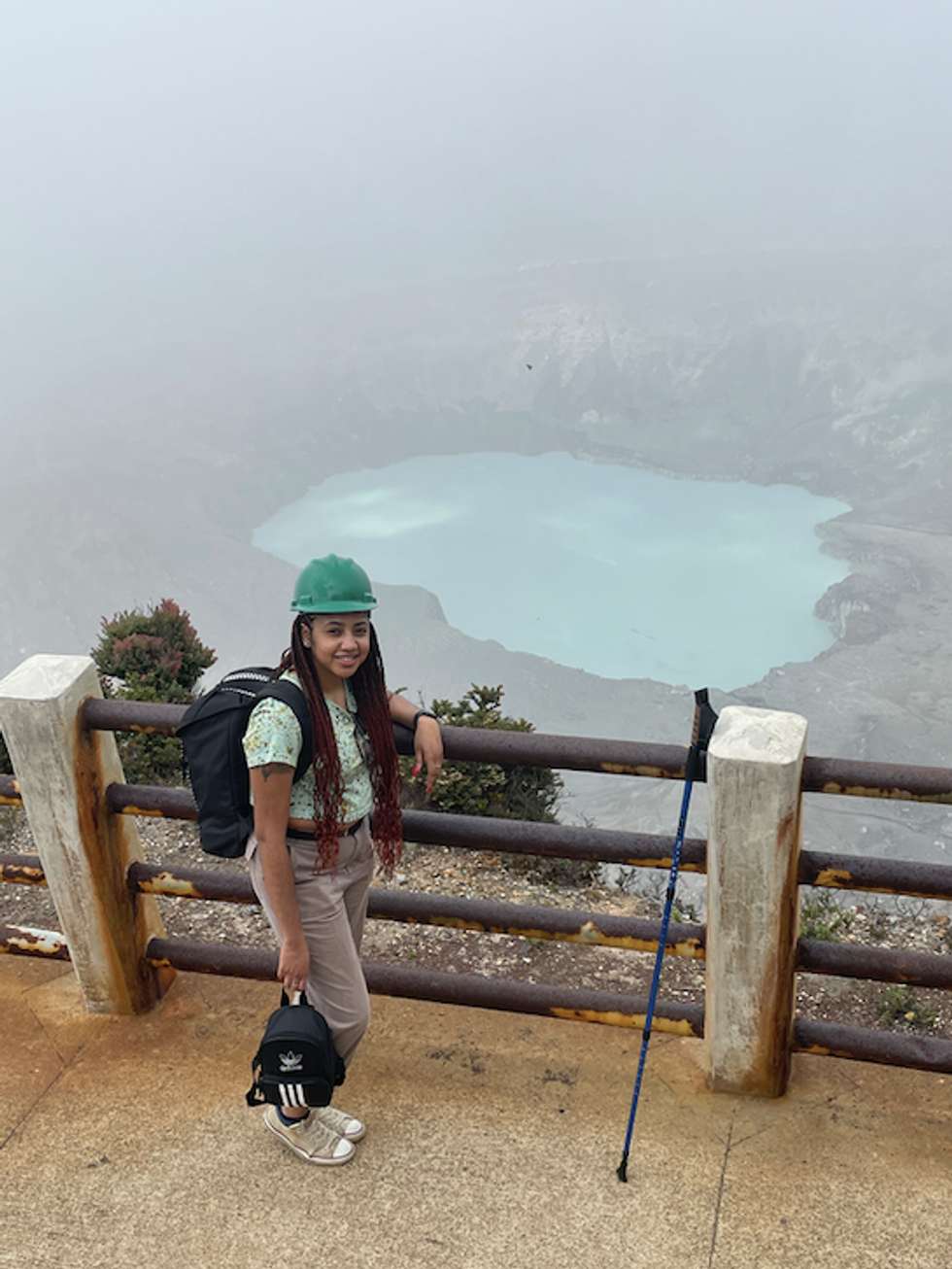 Ajeé Buggam
Costa Rica is the home of nearly 70 volcanoes, 61 of them being extinct or dormant, and six of them are active volcanos like Poás Volcano (which is not erupting when visitors visit), located in the Central Highlands of Costa Rica. Poás Volcano is about 8,887 ft tall. It was such an interesting experience feeling the weather shift; it went from low 80 degrees to several degrees cooler and cloudier the closer we got to the volcano site. The time I went to the Poás Volcano wasn't the best time to see the volcano, it was very cloudy, and it only popped up for about 10 minutes during the 20-minute gated tour that was only 300 feet from the volcano itself.
It's best to see the volcano around 7 a.m. or 8 a.m., but fortunately, I wasn't able to see it until around 1. When you're in the gated area to see the volcano, you'll see that there is a light system indicating safe times to be around the volcano so people can leave the scene when it's near the eruption stage. It was such a breathtaking sight; I highly recommend it!
Hacienda La Chimba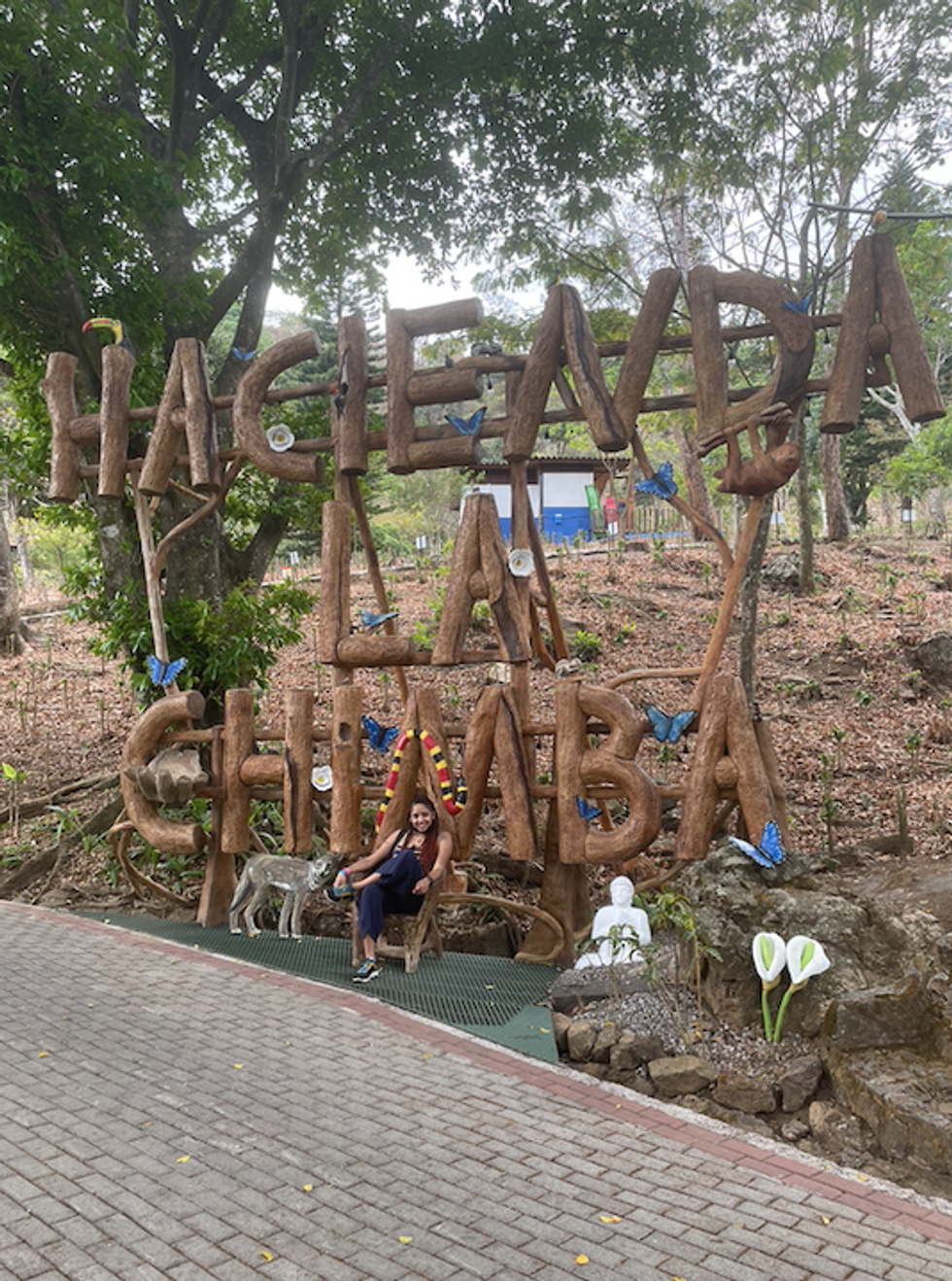 Ajeé Buggam
Hacienda La Chimba is definitely a must-see to add to your list if you enjoy adventurous outdoor activities! It's located 20 minutes outside of San Jose, in a town called Santa Ana. I'd highly suggest going there in the morning and spending the whole day there because they have multiple activities that can be quite time-consuming. Out of all the activities I've done there, I loved ziplining most. It was my first time ziplining, and it couldn't be a more perfect experience. They had about 5-6 ziplining areas ranging from different altitudes.
Then there is the high rope course that takes about an hour to complete, I'm a thrill-seeker, so this was a fulfilling experience for me to work through a physical obstacle course.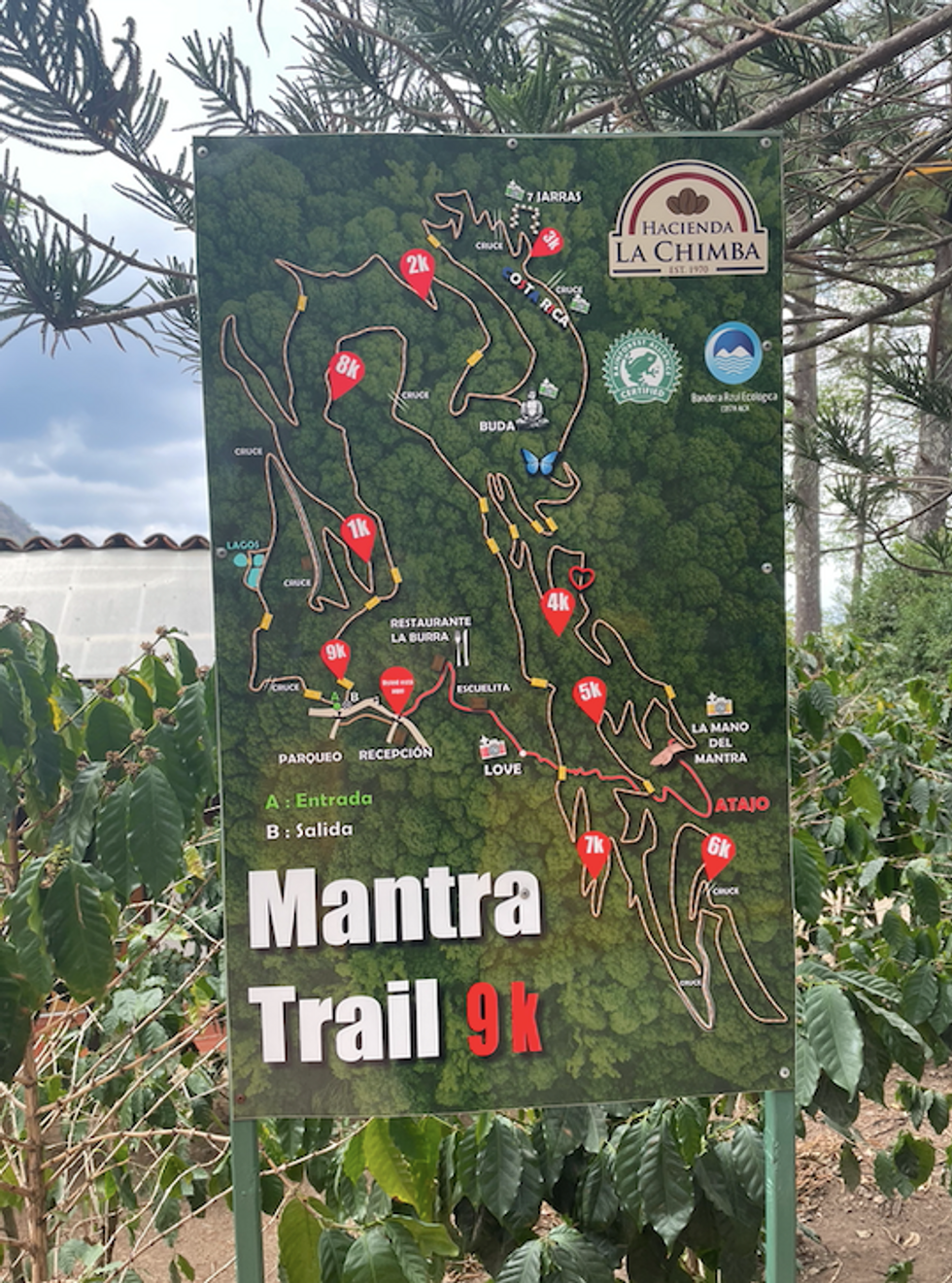 Ajeé Buggam
The park also features a coffee tour and a 5-9K hiking trial you can do that has different prompts to take pictures along the way. My biggest tip here is to stay hydrated and wear active gear. As an added plus, there was a restaurant there that served bomb-ass food and drinks that I was in heaven while indulging in it.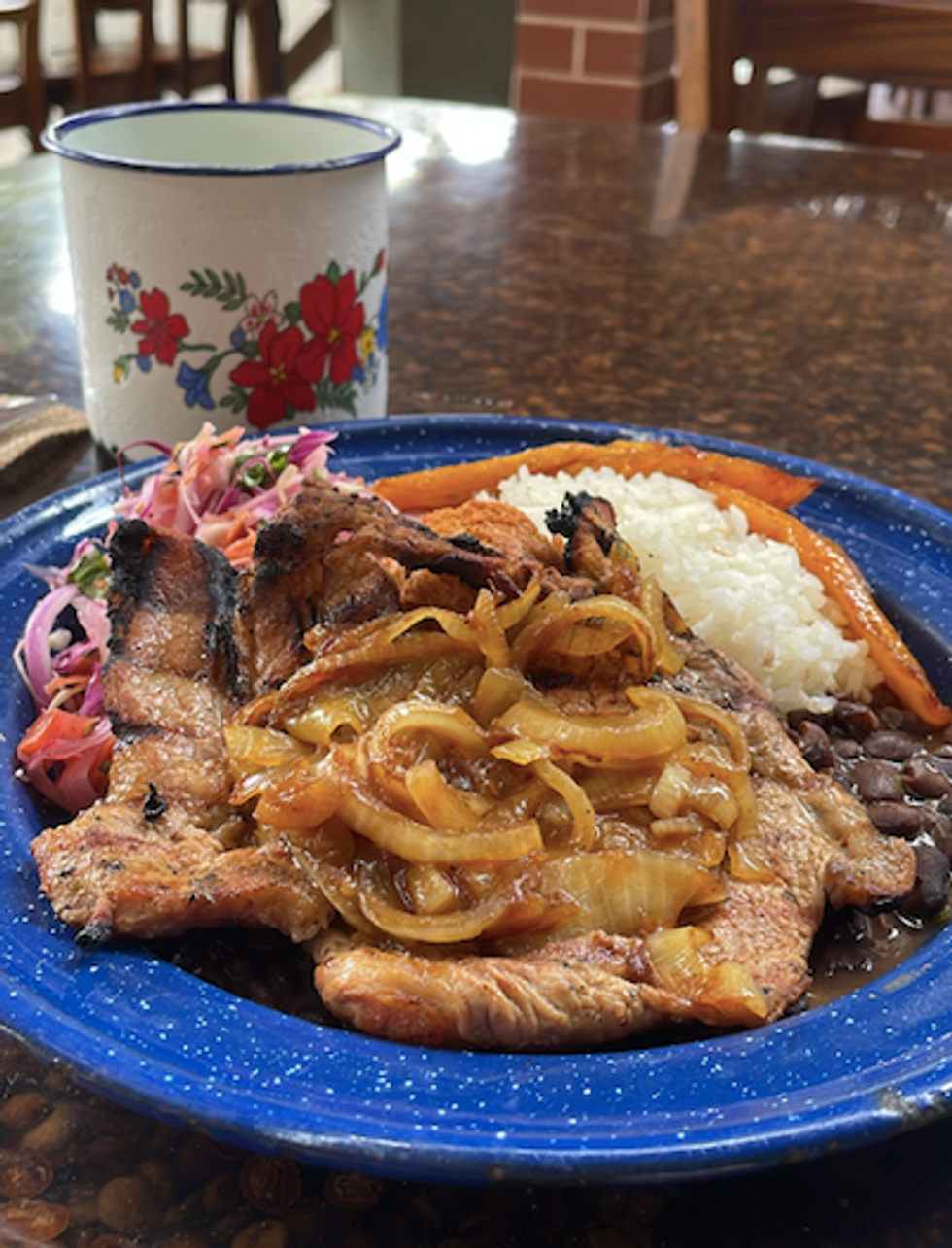 Ajeé Buggam
Doka Estate Costa Rica Coffee Tour & Plantation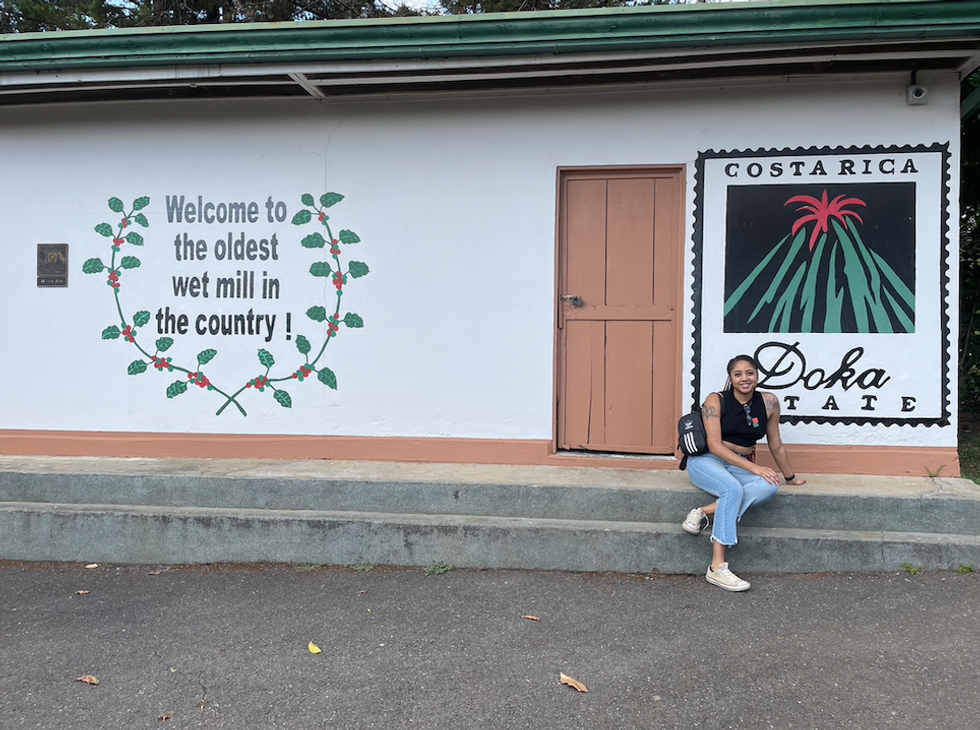 Ajeé Buggam
Costa Rica is notorious for its coffee production, and let me tell you, I had about 3 cups of coffee some days from different areas because the coffee was so rich and smooth. There are coffee farms all over the country, but Doka Estate Costa Rica Coffee Plantation is one of the most famous and oldest ones because it's a coffee plantation by a third-generation Costa Rican family.
The coffee tour the plantation offers is so thorough, taking you through all the meticulous steps of how coffee is made. From how to harvest it to sorting out different qualities of coffee beans and molding it, there are many steps in cultivating the coffee from the 45 coffee beans it takes to make a cup of coffee.
San José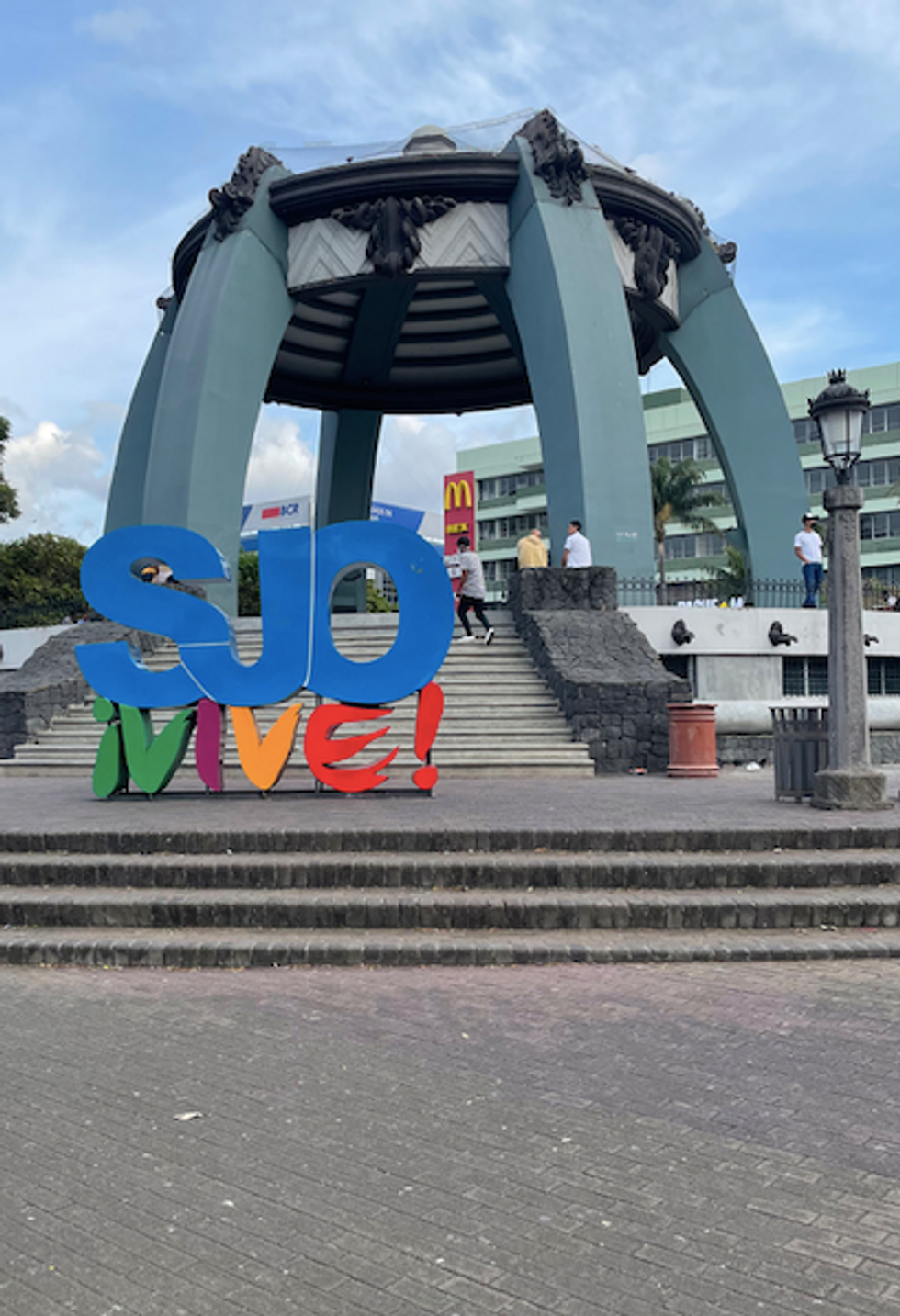 Ajeé Buggam
There's a bunch to explore in San Jose, from history and museums to culture. By far, restaurants and bars were my favorite. I had the best sangria, and tres leches dessert at Restaurante Silvestre; it's one of the oldest yet most contemporary restaurants in the city.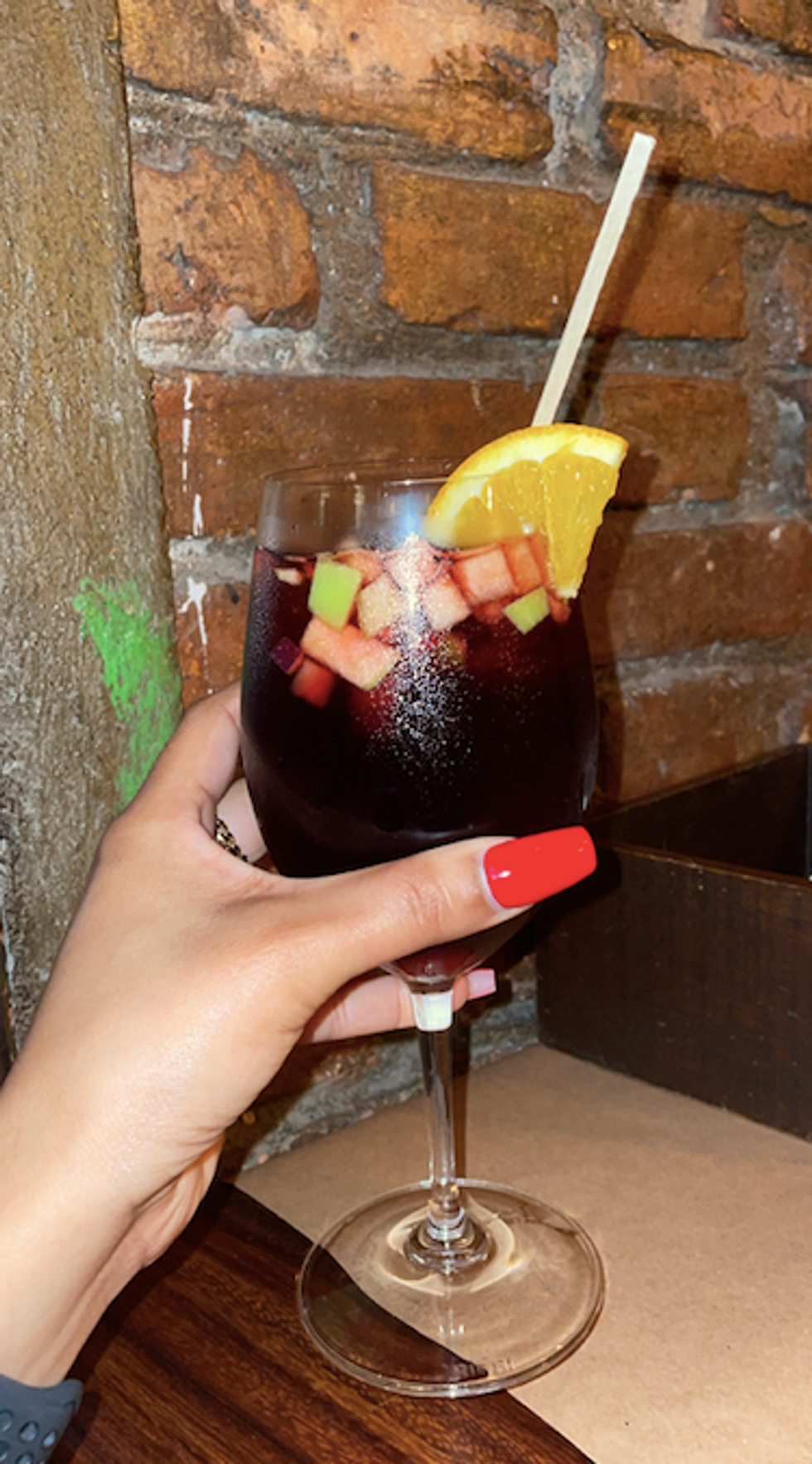 Ajeé Buggam
One of the best areas I'd recommend to bar hop or explore restaurants is in Barrio Escalante; it is such a cute and hip section of the city, and so many things are so close for easy access to try out different places back to back. El Social is a modern yet edgy bar nearby where you can enjoy great music, watch a sports game, and have drinks in a mixed crowd.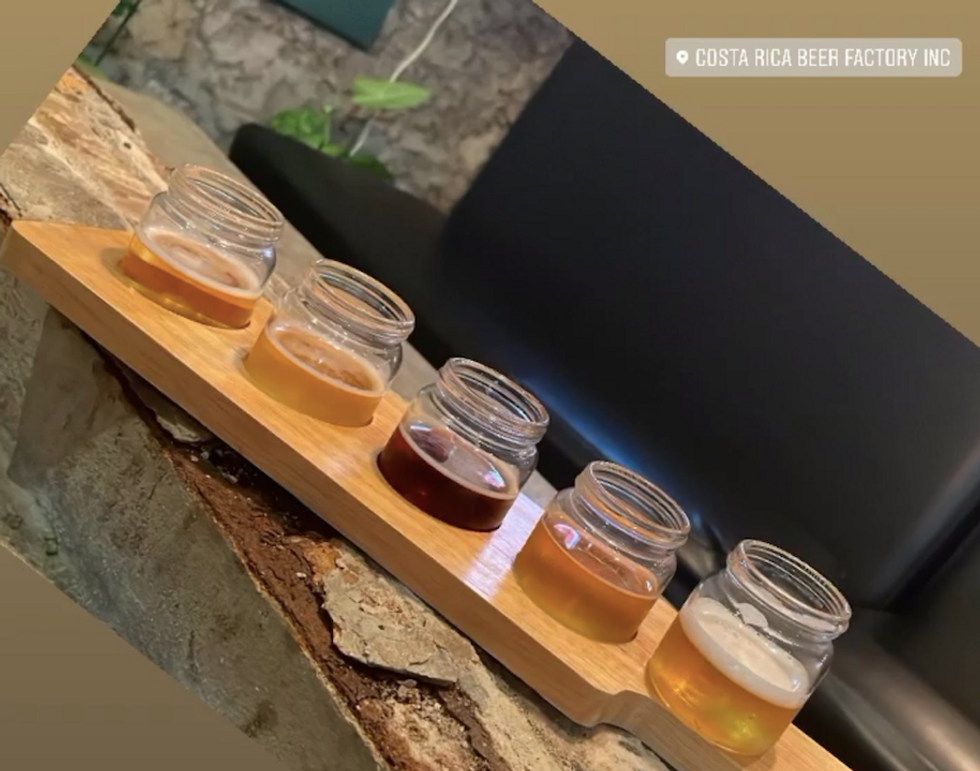 Ajeé Buggam
Neon is a nice mix of a bar and lounge indoor/outdoor scene with great tunes playing in the back and a dance room if you feel called to move your body! If you're a beer drinker like myself, head to Costa Rica Beer Factory Inc; it's such a cute beer brewery that offers a nice variation of beers to try.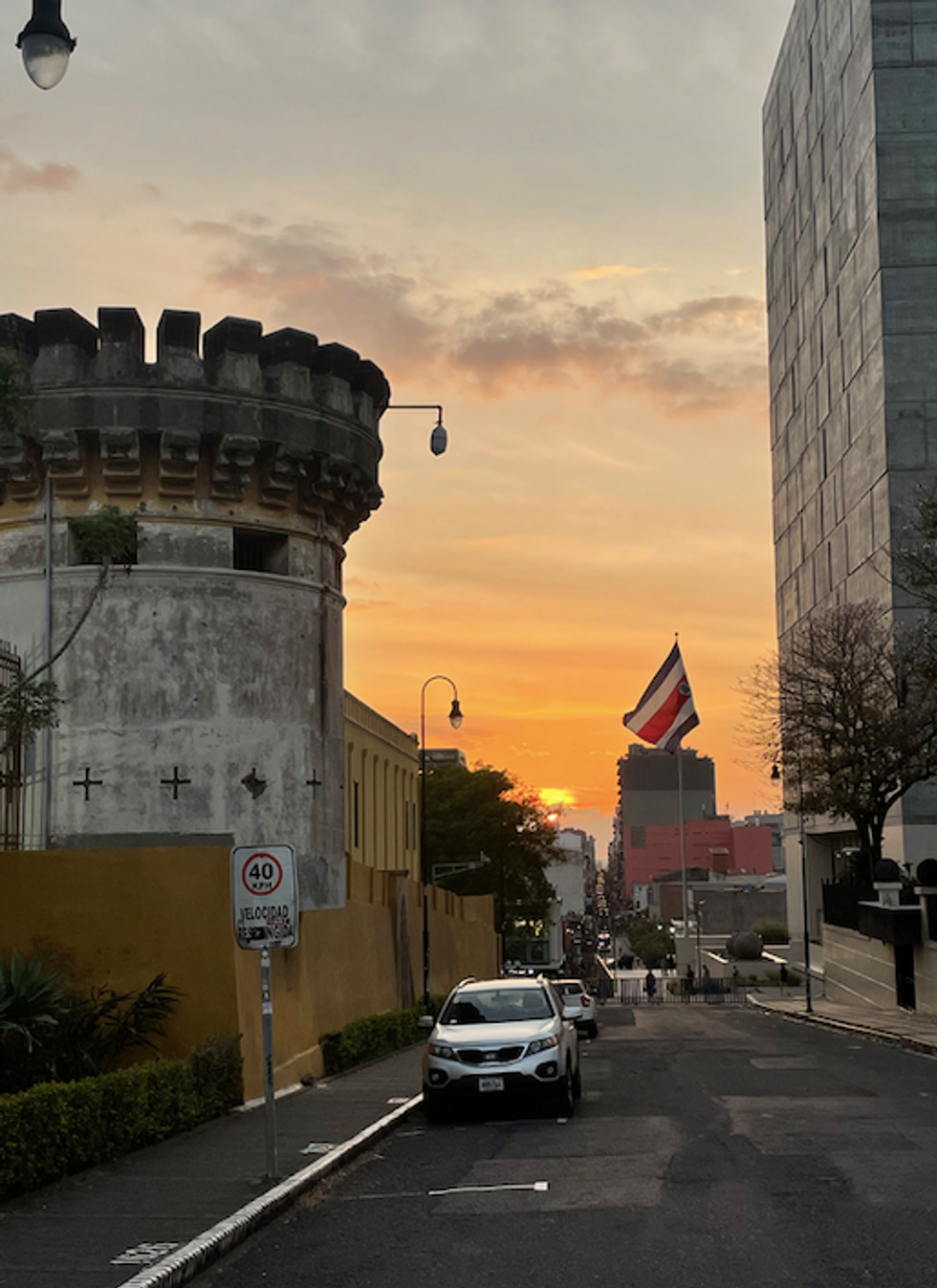 Ajeé Buggam
Overall, Costa Rica is where all the action is at. My last few tips would be to plan strategically because Costa Rica can be expensive very quickly, but it's well worth the experience. Also, if you get a chance, stay in different parts of the country to venture out more to see their beautiful beaches like Playa Flamingo and Manuel Antonio Beach and check out more adventurous sites like Skybridge in Monteverde Cloud Forest and tons more.
More than anything, stay present and enjoy your time witnessing one of the most beautiful countries the world has to offer. Pura Vida!
Featured image by Getty Images
I'm sure a high percentage of people who chose to click this article either are fixers, former fixers, or maybe they want to understand why fixers feel the need to make it their responsibility to change everyone. Well, for one, barely anyone who fits the bill knows why they do what they do until it exhausts them—like myself. I have been a fixer for as long as I can remember. I've always loved fighting for the underdog. Something about being needed for the betterment of people's lives has always felt very fulfilling to me. That is until I'd invested so much in many close relationships that it backfired on me. And like many fixers, I would question how I could have offered so much, yet people treated me anyhow in the end?
First of all, I don't know who gave me this responsibility. It's really not my battle to fight because transforming people's mindsets is not any person's job. It is work that only Jesus can do. "Let go and let God" is a real mindset that fixers need to be open to.
I've realized that if people didn't see the need or have the desire to work through their own mishaps, there was nothing I could do to change the outcome of things. It didn't matter how much I cared and wanted them to step into their so-called greater potential. Progress wouldn't happen until they were ready and willing to do the work.
Featured image by Getty Images
We've all been at the casual gathering enjoying a friend's cookies she's baked and caught ourselves saying, "Wow, these are amazing; you should start a business. I'd definitely support it!" Not knowing that we are passively pressuring that person to think about monetizing their hobby that could have been their stress reliever which would become the opposite once it's cultivated into a lucrative business. There are many reasons why monetizing certain hobbies is a great idea, but feeling the need to monetize every hobby quickly becomes draining.
As a freelance content writer, I could literally choose to write about anything under the sun if I find the right publication home for it. But then, how do I get to ever just be present and not dissect every form of content I find thought-provoking worthy of a pitch? It takes a lot of discernment to properly analyze the execution of something that is done leisurely and flipping it to make money. The saying, "do what you love and you will never work a day in your life" is a lie. I'm a fashion designer and writer, and I love what I do, but I've had to work very hard to be prominent in my fields. It doesn't mean that everywhere I go, I have to design an outfit or write about everything I find interesting.
Sometimes the most significant fulfillment is just exploring other options in those fields, wearing what someone else designed, and reading what other writers write to learn something new. Over the last few years, I've learned that there is so much peace when you allow yourself just to bask in joy with the things you like to explore leisurely — no deadlines, no marketing aspects to fulfill, just your creative lens to explore in whatever fashion you'd like.
Here are a few reasons why every hobby doesn't need to be monetized:
1

.

There's less time for yourself.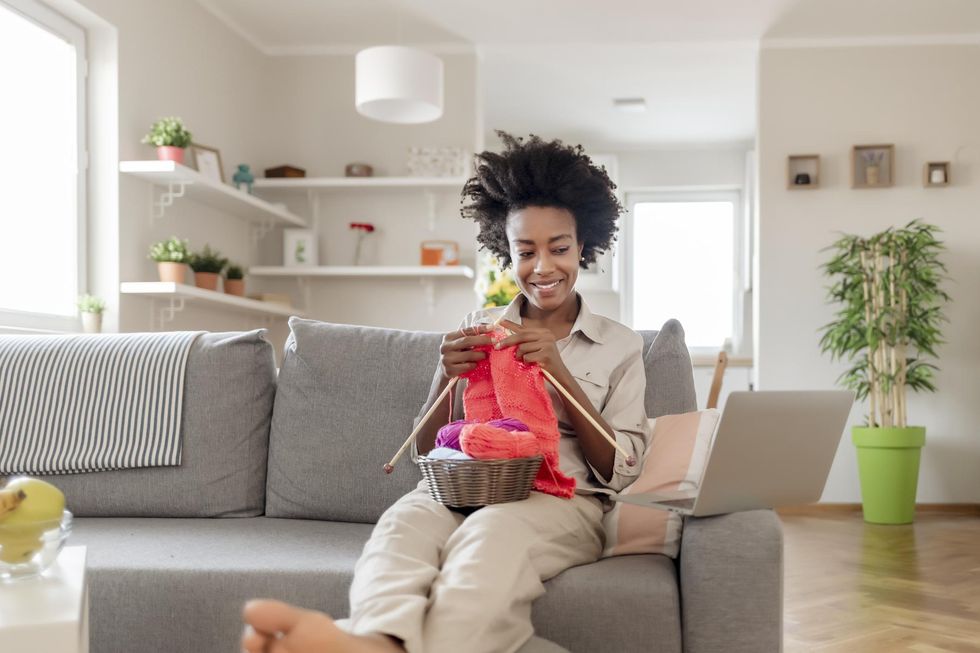 Getty Images
Once you turn your hobby into a cash-flowing business, the first thing to expect is your free time for yourself becomes reduced. Especially if your hobby was what you did after your day job. Prepare to adopt the mindset of just going from one job to the next because essentially, that's the mindset you need to have to produce at an efficient rate. Some people may say, 'So what? At least I'm making more money or building something that's my own.'
But in the long run, are you really building in a sustaining sense, or are you just working yourself up to burn out? And if you're burnt out, you have nothing to build on; this is why prioritizing rest should be a necessity, not optional. The more you jam-pack your schedule with work, the less sharp you are at executing any job. Choose to value quality over quantity.
2

.

Managing the logistics of your hobby turned business isn't fun.
I recall the first time I went head first with monetizing my hobby of making jewelry and handbags into a cute Etsy business in college — my feelings for the craft started off elated and evolved into exhaustion real quickly. It's one thing to take the responsibility of being the designer of the jewelry and handbag assortment, and it's another experience juggling being my own photographer, PR person, marketing, sales, production person, and social media content creator. I was 19 when I started that business with a child-like mindset leading purely off of passion, which is nice, but it doesn't check off the necessary boxes for a growing business that needs a lot more planning and logistics involved.
The idea of monetizing a hobby can sound like a ton of fun until you have to be all the other functioning parts of the business before you can pay anyone to be those assets you need. So before any hobby is considered to be converted to be a money-making opp, think about the 360-process on execution from beginning to end before you sign yourself up for all of that blindly and end up loathing the hobby you loved.
3

.

There's less creative freedom.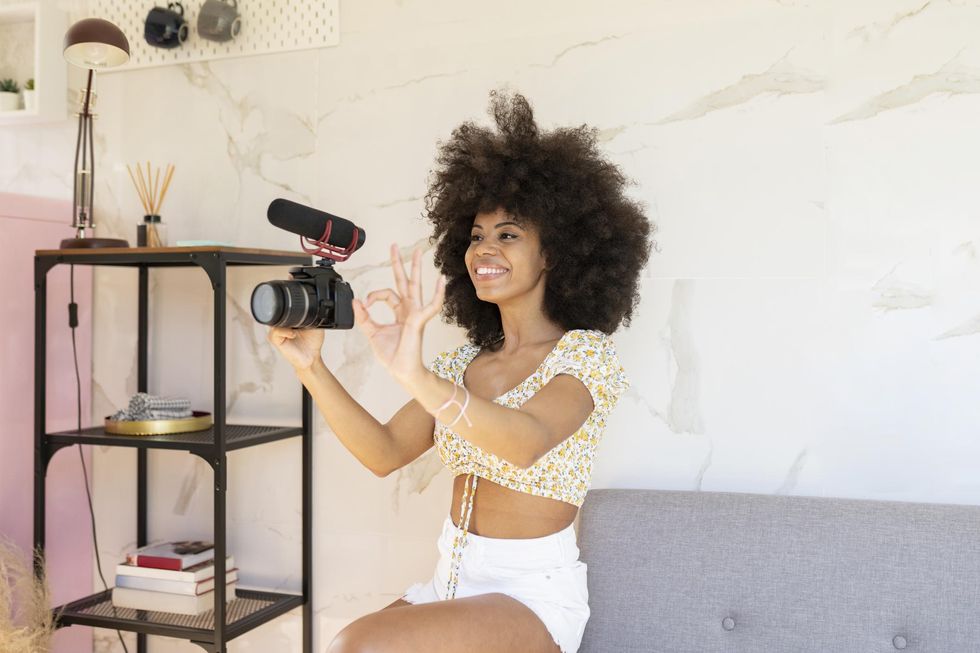 Getty Images
Overall, the way most people like to do their hobbies leisurely, in their own way, and in their timeframe changes once the hobby is converted into something that makes money. The business world's favorite saying is, "Time is money." Now we don't have time for you to do those fancy parts in your client's hair because it takes too long and you have more heads to do, or the fancy frosting detail on your cupcakes takes 20 minutes to perfect, but your marketing person says you need to slice that time in half to make more cupcakes.
When hobbies are flipped to businesses, it always comes down to what will make us more money; very few companies can sustain themselves without bringing in the net worth they need to bring in every year. And that's fine, but it's something you have to get accustomed to when you flip your creative approach. When your hobby was just for you, it was checking off all the boxes to please you aesthetics-wise, how long it took you to make it, etc. If you are now running a business, you have to lead with what satisfies your customers and base your offerings on the analytics of what sells most. The reality of this is that products might not always be what you like to produce most but because it's the bread and butter of the company, you have to do it.
So, choosing to monetize some hobbies is cool, but choosing to monetize every hobby is unhealthy. What does it leave for you to enjoy leisurely? Putting a price tag on everything you're good at can sound good on paper, but behind the scenes, it can potentially lead to burnout. Value the quality of your peace of mind more than the quantity of your income.
Featured image by Getty Images
There's no better way to hit the reset button than taking a digital detox. With the year we've all had, unplugging should be more normalized and encouraged living in this ongoing pandemic. We constantly have our phones or laptops in our palms or within arm's reach, which enhances symptoms of anxiety, depression, and self-esteem issues. This is why more and more people are jumping on the bandwagon of digital detoxing or "unplugging" to combat the burnout caused by our devices.
As we can see, COVID is still impacting our daily lives, leaving everything up in the air and forcing us to be more present. The end of the year brings forth a rush of emotions navigating gift buying, the pressure to "finish strong," immersing with family members we may not get along with, or mourning loved ones.
Overall the end of the year can be a rush of joy but also exhaustion and endless comparison, which is why we should force ourselves to slow down and prioritize internal self-care. Living in a digital era, we miss a lot of things in the moment because we are glued to our phones. Let this time of year be the start to a new normal, detaching from your phone — coming back home to ourselves, and cherishing the limited time spent with our loved ones.
Here's a list of suggestions for taking a digital detox:
1

.

Turn off all of your notifications.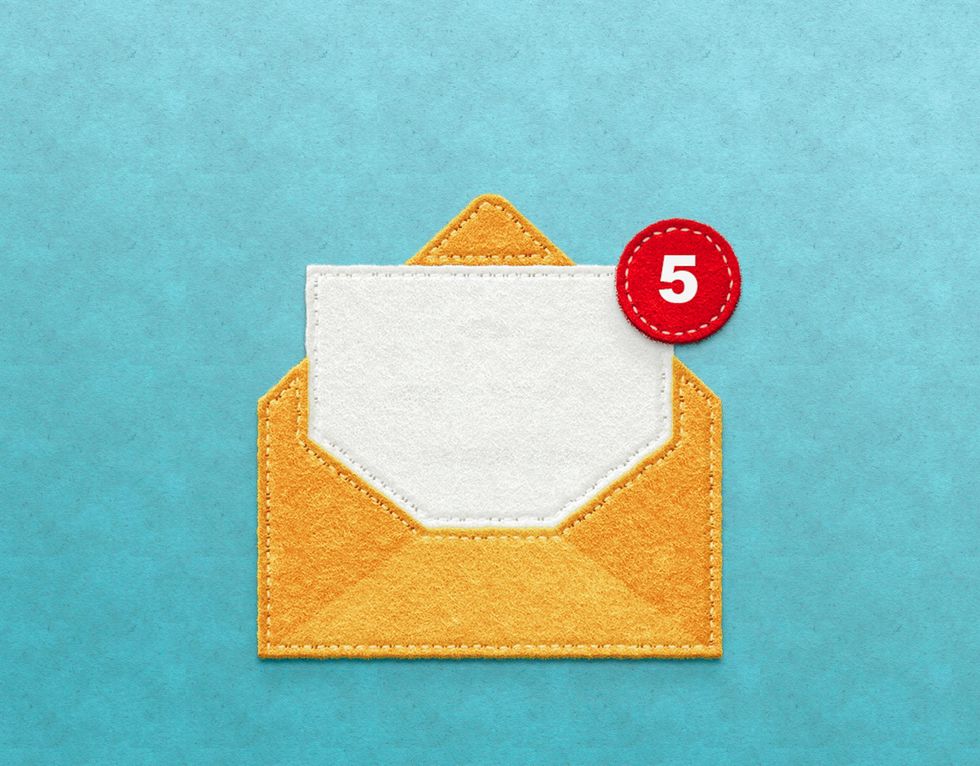 Getty Images
If you're the person that needs to reply to every notification as soon as you see a text, call, social media alert, or email, this will help you significantly. Turning off all of your notifications is a great start to decreasing the time spent on your phone because it's one less bing or vibrating alert to connect you to the world.
If you want to take it up a notch, I'd suggest utilizing the Do Not Disturb function on your phone, so there is really no need to have your phone in your hands.
2

.

Immerse yourself in other activities.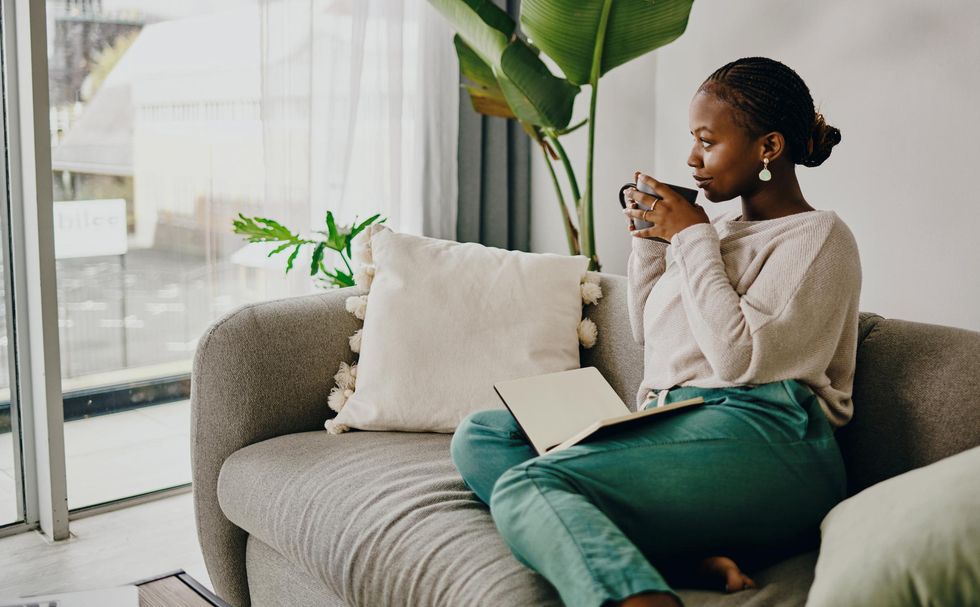 Getty Images
If you are addicted to your phone like most people these days, try to be super intentional with your limited to no phone usage for the remainder of the holiday season. Plan things to keep you busy, maybe catching up with friends in person, painting, playing an instrument, reading, working out, meditating, journaling, or maybe dancing in your room for the hell of it! Keep yourself entertained or well-rested with your phone out of reach or in another room to hold yourself accountable on your digital detox journey.
3

.

Try phone stacking if you're with a group of people.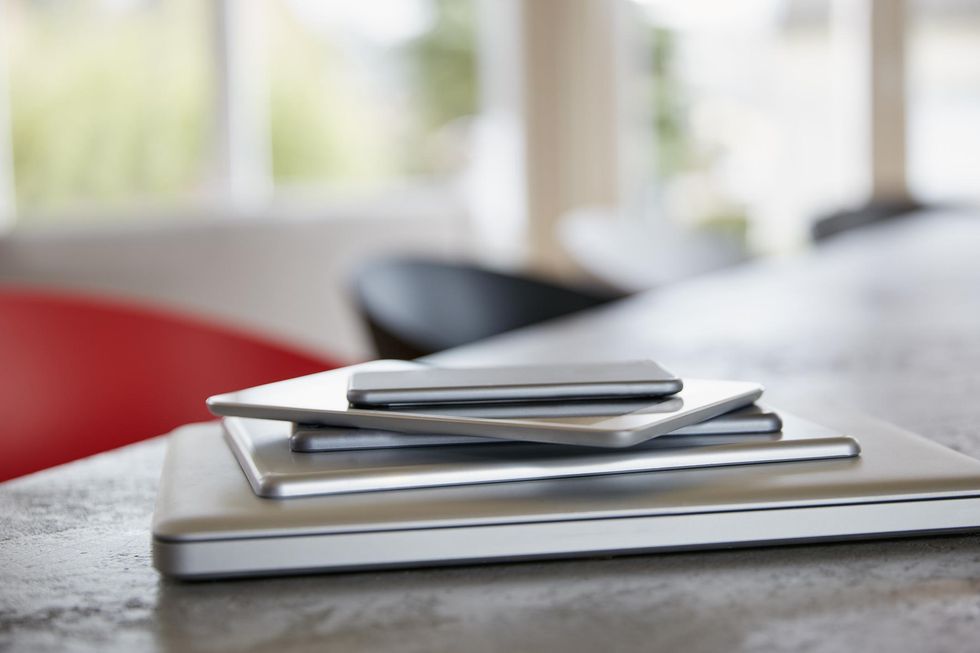 Getty Images
Phone stacking in groups is one of the best ways to hold everyone accountable during the digital detox because if everyone isn't on their phones next to you, there is zero temptation to hop back on your phone. It allows everyone to be completely immersed in the moments shared together. Instead of everyone being in the same room taking a million selfies, it forces everyone to have more in-depth conversations catching up, reflecting on the year they'd had, and sharing endless laughs.
4

.

Leave your charger at home or out of the way.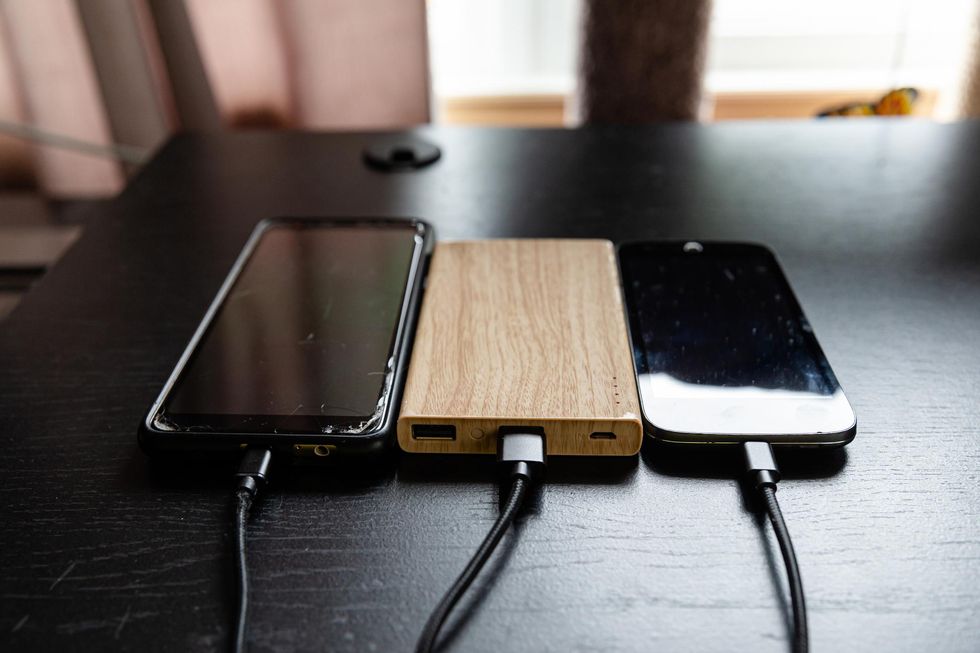 Getty Images
If you're heading to your family or friend festivities for the holidays, why not leave your charger at home? Knowing you left your charger at home allows you to be more intentional with your phone usage; you can't be on social media apps or news sites all day browsing the web because your phone has limited battery life. Keep your phone on airplane mode to preserve the energy for GPS purposes and limit calls or texts to your loved ones for your arrival and departure.
5

.

Dive into some self-reflection activities.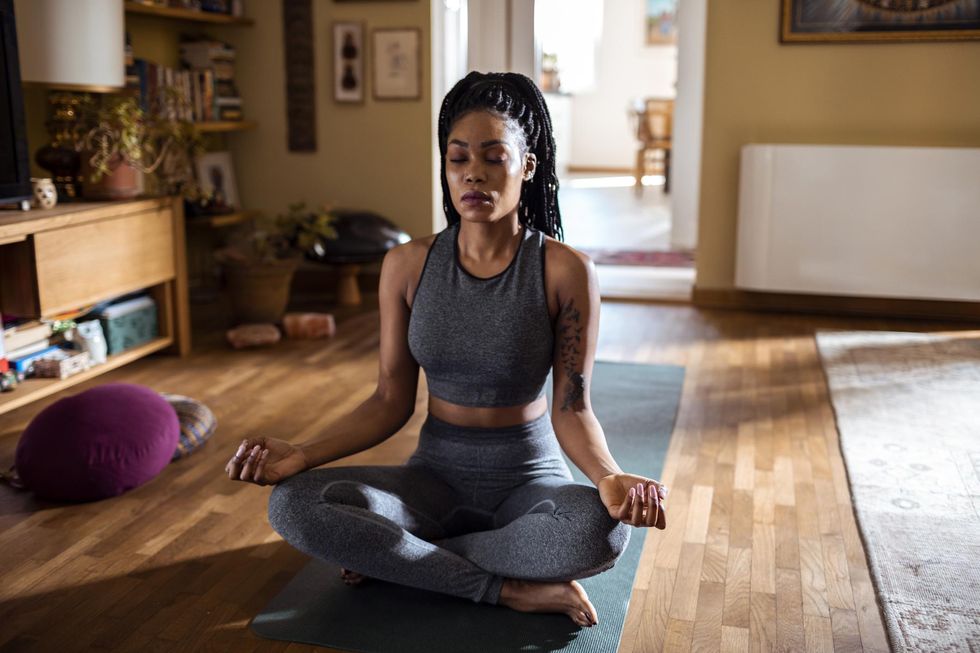 Getty Images
Whether you're spending the holidays alone or with loved ones, there is more than one way to dive into some self-reflection activities. If your friends are into doing breathwork, guided meditation, yoga, or have a guided journaling session. You can make up some self-reflection questions to answer alone or in a group about the things you learned this year, reflect on moments that brought you joy, lessons from adversity, and what new goals do you want to be intentional about for the following year.
Y'all, if the COVID era isn't teaching us one thing, it's teaching us to value being present more because nothing lasts forever. And though the last two years have felt like a blur, so much has happened, which is all the reason why you should prioritize time to recharge.
I hope you enjoy digital detoxing coming home to yourself, and taking in the cherished moments with your loved ones as well as with yourself.
Featured image by Getty Images