Coldplay may have come to play Super Bowl 50, but Bruno Mars and Beyoncé came to shut the house down.
---
This year's halftime show was so exciting -- complete with a 50 yard standoff, a dance battle, and a horn and strings section with young kids playing instruments. In a few words, it was dope. It wasn't the best halftime performance ever in the history of halftime shows, but it landed on the top 10 unofficial rankings of awesome sauce Super Bowl performances.
Check out nine moments from this year's halftime show that got us hype from start to finish.
BRUNO MARS GAVE US SERIOUS #SQUADGOALS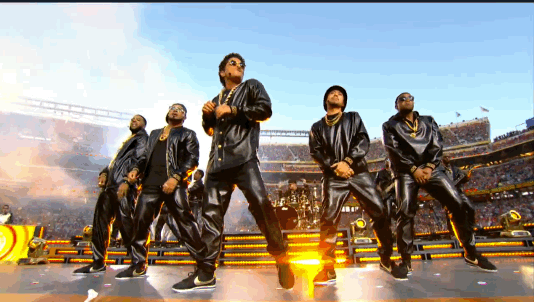 We knew Bruno came ready to serve when he and his crew came on stage rocking all black everything and gold chains. With Mark Ronson on the 1's and 2's, Bruno Mars pulled out his cleanest version of the Nae Nae to kill his Grammy Award winning hit, Uptown Funk.
He was so live that when he stopped singing to introduce Beyoncee, we already knew she was going to make a statement we wouldn't forget.
BEYONCé'S MICHAEL JACKSON/BLACK POWER FLOW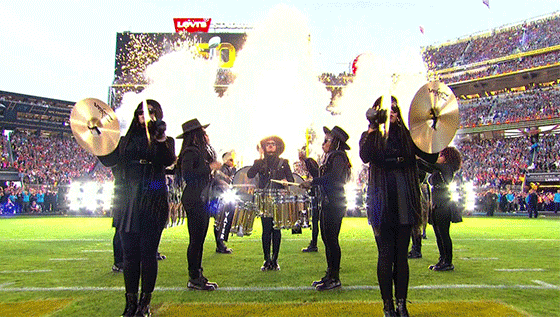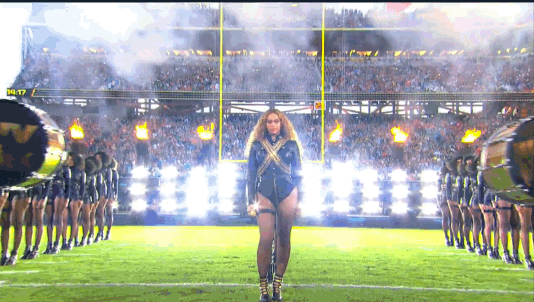 Beyoncé said a thousand words without even opening her mouth for the first few seconds of her performance. This time it was she and her dancer's outfits and their stances that stood out. With her dancers wearing black berets and leather, while the queen herself rocked a custom D Squared black leather jacket, with gold criss cross detailing across her chest, Beyoncé used her star power to reiterate that #BlackLivesMatter.
Not only did she rock a cold, modern-looking Black Panther-esque outfit, she used the nation's most televised event to spread a social message. What was even more slick about her outfit was that it paid homage to the Black Panthers 50 years after the organization launched in 1966.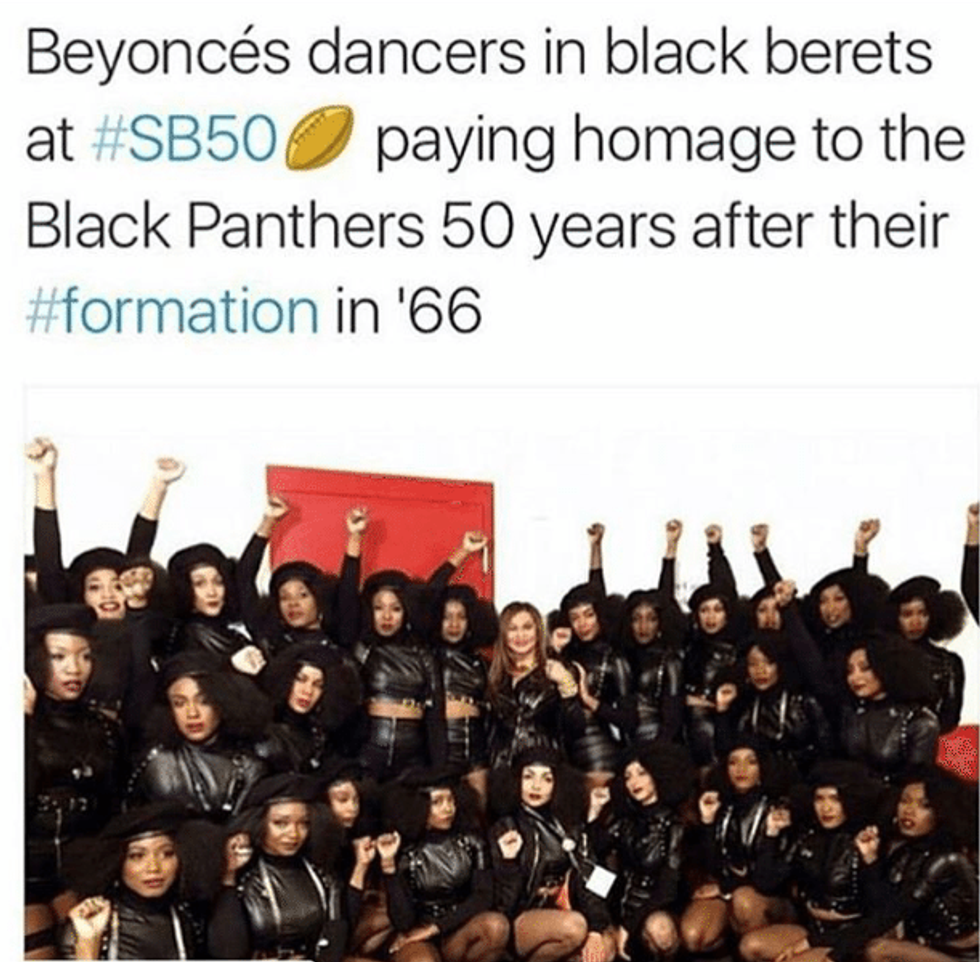 The only other person who was able to flawlessly pull off the look, coupled with a social message, was Michael Jackson.
Speaking of which, Beyoncé's standout outfit was a tribute to the late King of Pop, who wore something similar during his 1993 Super Bowl performance.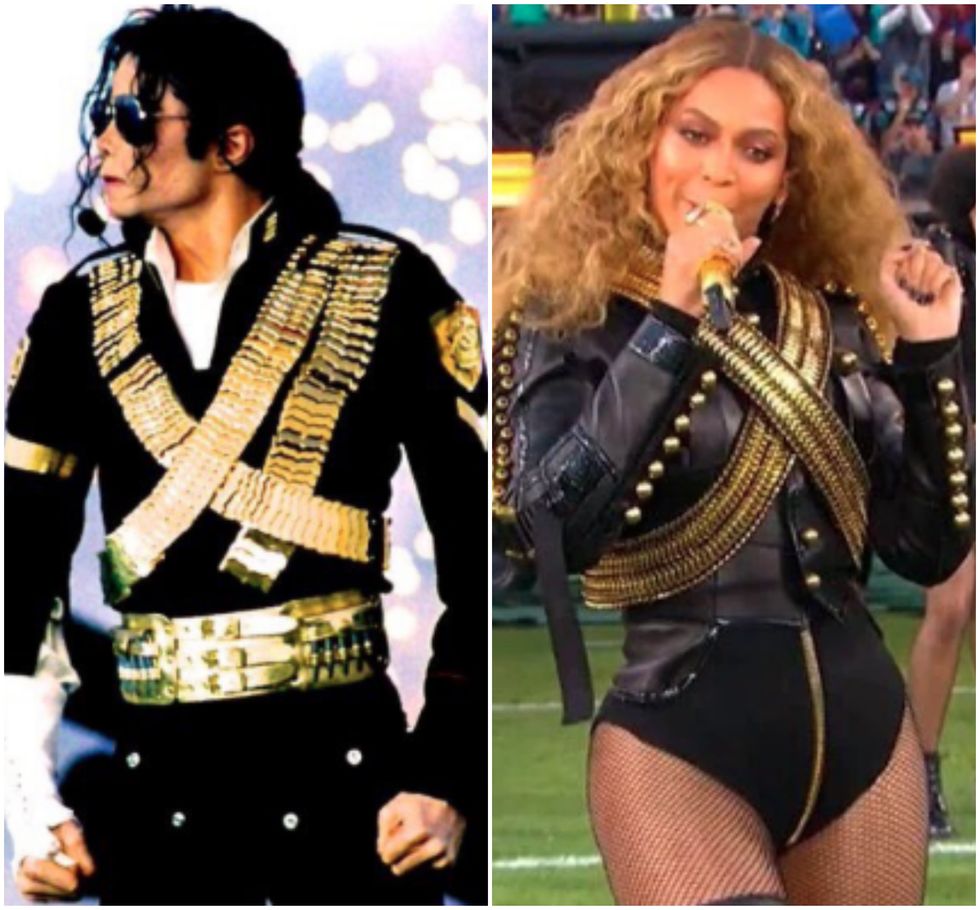 BY THE WAY, BEYONCé KILLED HER PERFORMANCE (AS ALWAYS)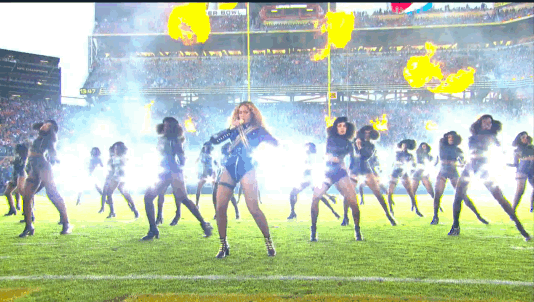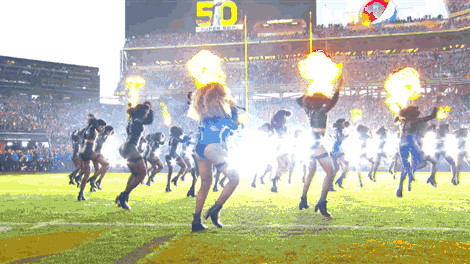 "I did not come to play with you hoes"
That's what she said in her day-old hit, "Formation," but she solidified those words with her performance, and you already know she went hard.
By this time time Beyoncé got two minutes into her set, Super Bowl halftime watchers at home were wondering if it was the Coldplay, Beyoncé, and Bruno Mars show, or just the Bruno Mars and Beyoncé show. Or may it was just the Beyoncé show. Regardless, she slaughtered her set, and had us all screaming out loud, "Yasssssss!"
But that wasn't the end of the excitement.
BRUNO MARS TURNED HIS SWAG UP TO 120, AND BEYONCé MATCHED HIS FLY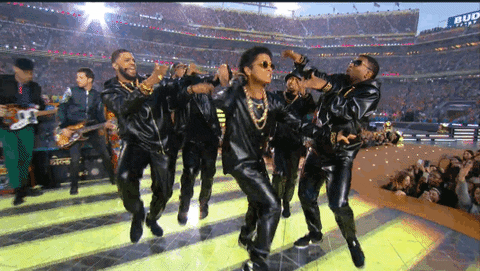 Bruno Mars was very ready for the next part of the show, which was a dance battle. Of course, he couldn't just walk up and challenge Bey all willy nilly. He had to make sure he didn't overheat the stage as he approached her for battle. Thank goodness his squad was there to cool him off.
Dance battle between Bruno Mars and Beyonce at half time of the Superbowl. https://t.co/oKA8CFpwen

— 7 News Perth (@7 News Perth)1454899141.0
Talk about lighting up the stage! By the time Beyoncé and Bruno finished their dance off, everyone was just laid out. Seriously, no one knew what to do with all of that slayage.
THE TRIP SEEN AROUND THE WORLD I don't think Bruno Mars got Beyoncé's message yesterday - the queen isn't one to be messed with. They had a brief "You don't want none of this" standoff before finishing the rest of the performance. Then we got all of our lives!
THE FINALE ENDED WITH A LOT OF INSPIRATION 
HT showtime finale Beyonce Coldplay & Bruno Mars 🏈 #SB50 #SuperBowlW9 https://t.co/fUmgyZGlgk

— Jonathan Tessier (@Jonathan Tessier)1454895852.0
The concert ended with Chris Martin, Bruno, and Bey joining up to harmonize to Uptown Funk before Coldplay returned to the stage for "Fix You." As they sang, clips of past Super Bowl performers like Whitney Houston, James Brown, Michael Jackson, and the Rolling Stones were displayed. The songs played during the video tribute, like "Purple Rain," and "Independent Woman," gave depth to the short tribute video, before the group wrapped the performance with a message of love.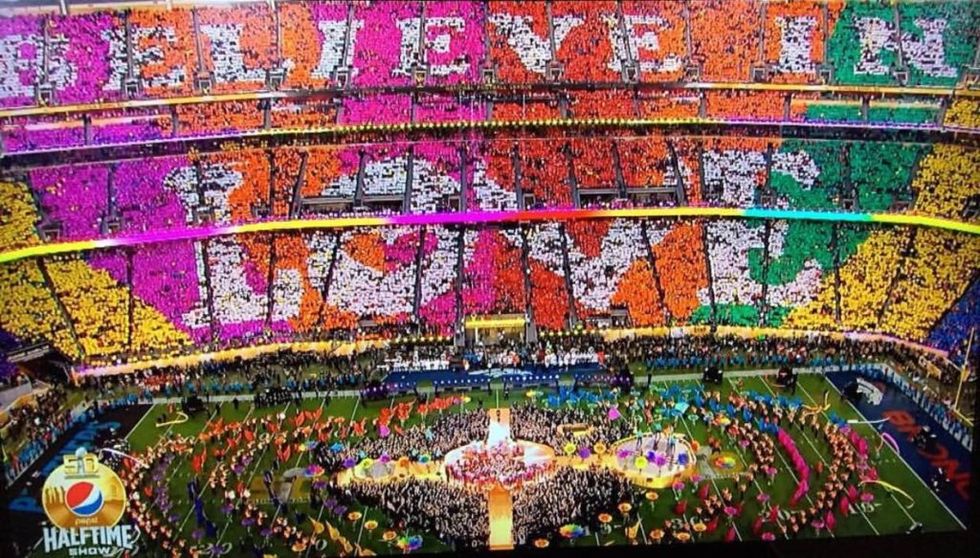 This display in the stands was also similar to the one Michael Jackson used in his Superbowl Halftime show performance.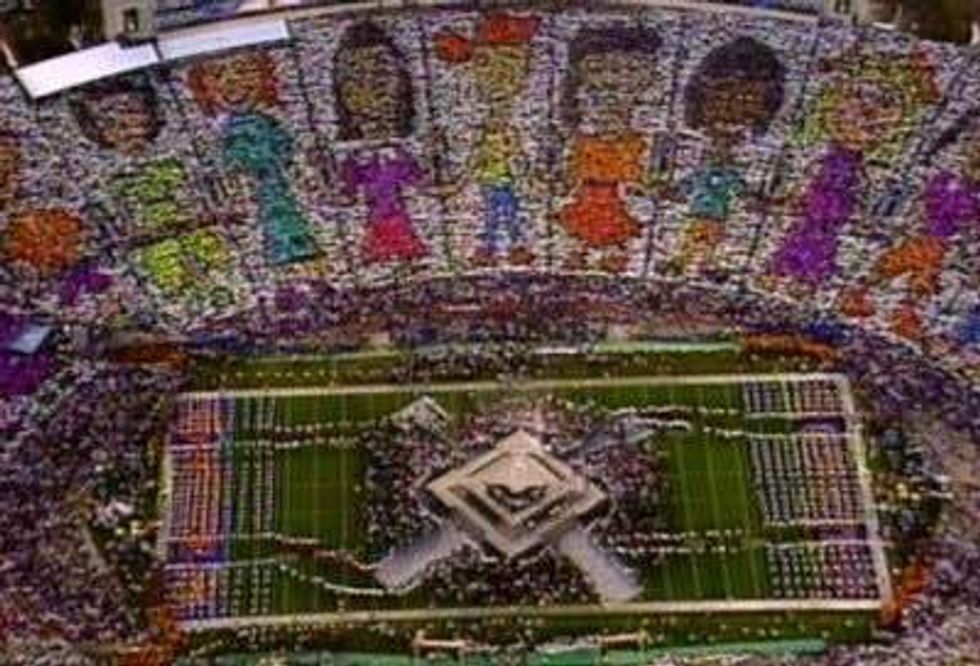 Needless to say, it left everyone feeling all the feels.
That was the best halftime show ever. Believe in love. @Coldplay @beyonce @brunomars #SB50

— Ellen DeGeneres (@Ellen DeGeneres)1454896479.0
Just watched the #SB50 halftime show and I now believe in love. You guys did it! Feels ok.

— Oops All Berries! (@Oops All Berries!)1454904523.0
AND THEN BEYONCé ANNOUNCES HER NEXT TOUR 
The halftime show was lit, but the moment that had black girls grabbing their chest feeling all the feels was the above photo of Miss Tina holding up a Black Power fist with Beyoncee's dancers. This photo alone holds so much #BlackGirlMagic and power, that it may scare a few people. To which I say, good. There's nothing in the world more fierce than a strong black woman empowering more strong black women. #Boom.
Watch the best moments from the halftime show below:
What did you think of this year's performance? Sound off in the comments.