When we think of R&B, we think of soul. Soul, by definition, is emotional or intellectual energy or intensity, especially as revealed in a work of art or an artistic performance. Black people are soul. Everything about us. Our hair. Our energy. Our skin. And, without a doubt, the creativity that courses through every inch of who we are. So, when it comes to our music, spiritual experiences are often what we call them. Makes sense, for there are no other people who remain unbroken the way we do. And every so often, an artist comes along who seems to be the physical manifestation of all that we are.
---
One such artist is R&B singer Lucky Daye.
Daye embodies the very essence of who we are. With his warm silky vocals, intricate lyricism and ability to wring beauty from a love drought, Lucky Daye has become one of the most sought after and revered vocalists in the industry. With R&B being such a cherished part of our culture's influence on the musical landscape, new artists, at times, have a hard time breaking away from comparisons to legends of the past.
However for Daye, this is a welcomed challenge.
"I find that my music is a reflection of the classic R&B that I grew upwith and have come to love," he said. "Paying homage to Black artists who have come before me comes naturally. Those artists are an an example to me but it's something that flows naturally when I create music."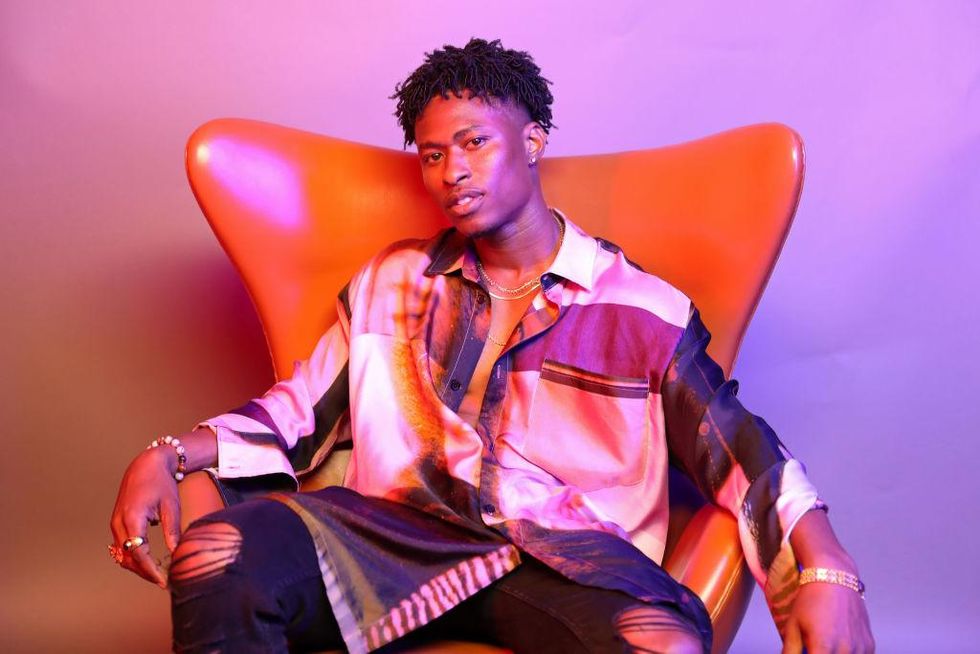 Bennett Raglin/Getty Images for BET
"Paying homage to Black artists who have come before me comes naturally. Those artists are an an example to me but it's something that flows naturally when I create music."
After years spent penning hits for other artists, in 2018 Daye stepped from behind the boards and burst onto the scene with his hit "Roll Some Mo". Equal parts sultry and masterful, Daye's debut project Painted left us wanting more.
And he delivered.
Offering his talents to the motion picture soundtrack for The Photograph, his hit "Fade Away" became a must-have on made-for-love playlists all over as our country went into lockdown last year. 2021 kicked off with new music from Lucky as well with the release of his EP, Table for Two, a seven-song project that saw him collaborating with artists like Ari Lennox and Queen Naija. Duets, which for so long have been foundational to R&B music, have all but died out except for the rare occurrences that two artists just decide they want to work together.
So, we had to know who was on Lucky's list to collaborate with next. "Beyonce," he confessed, "...Jazmine Sullivan and Grace Jones." Swoon.
Perhaps what we love more about Lucky Daye than his immense talent, is his obvious love for our culture. The Grammy-award winning singer teamed up with Crown Royal to shine a light on Black artists in all disciplines and proclaim, boldly, that our soul is what moves the world forward for Juneteenth.
Daye performed alongside legends Earth, Wind and Fire and India.Arie in a virtual festival that paid homage to our roots and our future. "I'd encourage other artists like myself to continue to use their talents for good and give back to the culture that is keeping the world alive," he said about his decision to join the initiative and to work alongside the luxury cognac brand on similar efforts.
It's clear that whether Lucky is keeping R&B music alive or using his influence to promote the art of Black artists across mediums, he is always showing up as his truest self.
In his music and where he dedicates his time (did I mention he's a part-time chess master?!), there is a thorough line: do it from the soul or do not do it at all.
For more of Lucky, follow him on Instagram @iamluckydaye.
Featured image by Bennett Raglin/Getty Images for BET