Janet Jackson has managed to consistently bring the world to their knees time and time again. From becoming a worldwide success before she turned 18, to slaying motherhood as a 52-year-old single parent, she proves that as women of color, we really can have it all.
---
Janet has been consistent in sending a message to me and other black women that affirms how capable we are of making the world stop and fall at our feet when we realize our own power. Throughout the span of her 36-year career, the singer/philanthropist has actively used her platform to fight issues like racism, police brutality, and domestic violence and created the soundtrack for women searching for sexual freedom and liberation.
In a recent interview with Billboard, she gave some background on the journey behind her legendary career and opened up about how she stayed grounded throughout the process. The singer mentioned that she hasn't always been an advocate for the voiceless because first, she had to find her own.

In the interview, the 52-year old icon said that it wasn't until her third studio album that she became confident enough to assert herself in her writing. Janet told Billboard that defining her perception of control was key to finding the confidence to take a front seat in her career.
"Control was undoubtedly the break-through. But I think the concept is sometimes misunderstood. I'm a believer. I know that God has absolute control. I've never wavered in that belief."
Janet said that working with a group of people that she didn't have to control and didn't try to control made for a magical creative process and molded her mindset for the rest of her career.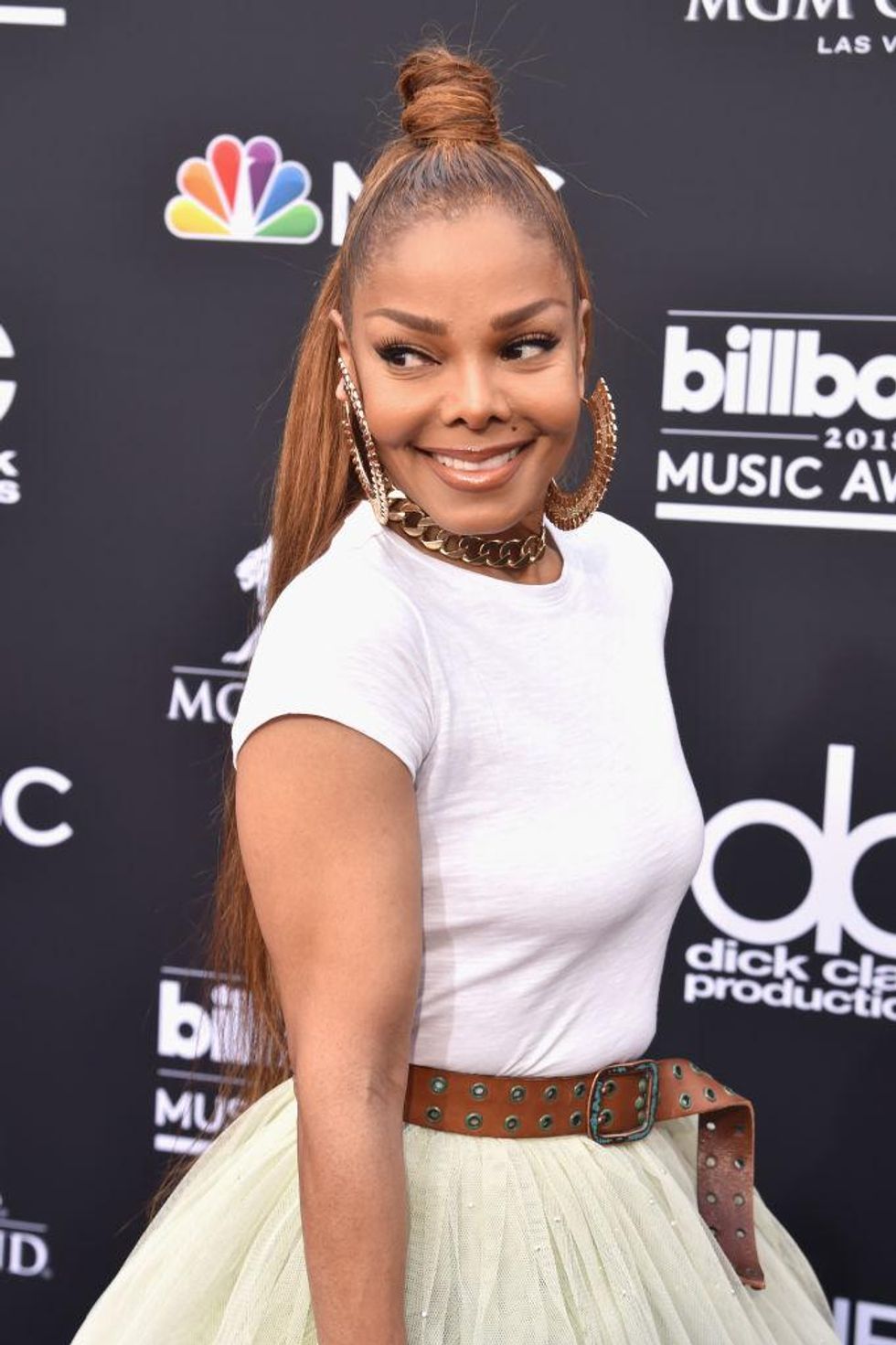 Jeff Kravitz/FilmMagic
"They encouraged me to write. I also had the control to select choreographers and video directors who could channel -- and help me shape -- my own dance moves, turning them into visual poetry. I didn't control those wonderfully creative people, and they didn't control me. It was more about molding fruitful partnerships. And based on those partnerships and the success of Control, I could move on and assert myself even more boldly."

Her emboldened perspective allowed her to create music for generations of revolutionary women who are also searching for their voices in a world where they feel like they don't fit. Despite her larger than life persona and remarkable legacy, Janet reminded us that she's also a human, who battles depression and low self-esteem just like the rest of us..

"Like millions of other women, I've struggled with low self-esteem my whole life. I'm doing better in that regard. My inclination toward harsh self-criticism and even self-negation has dramatically eased up. I believe in all the different methods of help -- smart psychology, vigorous exercise and sincere spirituality."
She mentioned that even during the production of Control, her faith in God has never waivered and has gotten her through some of the toughest times in her life.

"God is the greatest healer of all and the most potent force in the universe. In my world, though, God is so often expressed through music, and it's music that beats back the negative forces. It's music that drowns out those voices that say I'm not enough. It's music, and its divine source, that gifts me with the knowledge that harmony is still possible."
Janet said that the hustle is in her DNA and faith keeps her grounded, but her baby boy is the reason for it all. She says that being a single mother at 52 is a blessing, and motivates her find inspiration and happiness in each day.
"And while we're talking about positivity, let me also say that my son, even in his short 17 months on the planet, has showed me that love, no matter how deeply you believe you have experienced that emotion, can always go deeper. Love is limitless. And for someone like me, raised in show business where self-concern is always a priority, how fortunate I am now to be concerned, first and foremost, with the welfare of someone else. Day after day and night after night, holding my baby in my arms, I am at peace. I am blessed. I feel bliss. In those moments, all is right with the world."
To read the full interview, click here.

Featured image via Jeff Kravitz/FilmMagic