Many of us have come to love Jackie Aina over the years because of her fun personality, extra-ness, and skills when it comes to hair and makeup.

---
With 1.1 million followers on Instagram and 2.7 million subscribers on YouTube, in her sleep, she gives women the tools to glam up and be their own personal Beyoncé. This beauty guru gave ELLE Magazine a glimpse into her daily morning routine via video, where we get yet another glimpse into her tips and tricks, similar to videos she has been posting since 2009. Jackie explains:
"When I got to college, I started discovering color and pigment, that was when YouTube was popular, and I started doing my tutorials at a time where I kinda needed that inspiration and honestly, I never looked back since then."
Jackie is no stranger to serving the real tea on beauty products and uses her voice to advocate for more products to be produced for the likes of women of color, resulting in the expansion of shades in the popular Too Faced Cosmetics line. And though incredibly talented, at her core Jackie is just like each of us, wanting to slay but pressed for time and patience in the morning. This peek into her routine gives us guidance on how to squeeze in a smidgen of self-care and a lot of slaying in a little bit of time.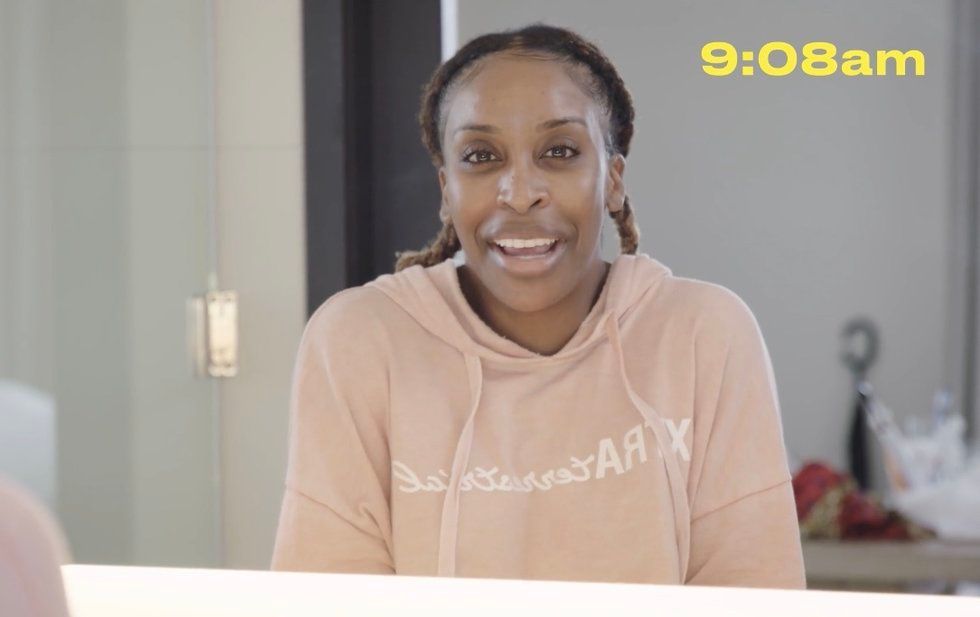 ELLE/YouTube
Jackie does not skimp on her skincare before makeup application. She makes sure to cleanse with Olay Daily Clean 4 - in - 1 Water Activated Cleansing Cloths, applies serum, and even squeezes in a quick mask before she goes in for an iconic beat.

"If you are a multi-tasker like me, what you can do is put on your sheet mask and then make your morning tea, your morning coffee, check your emails, that way you can really maximize your time in the morning."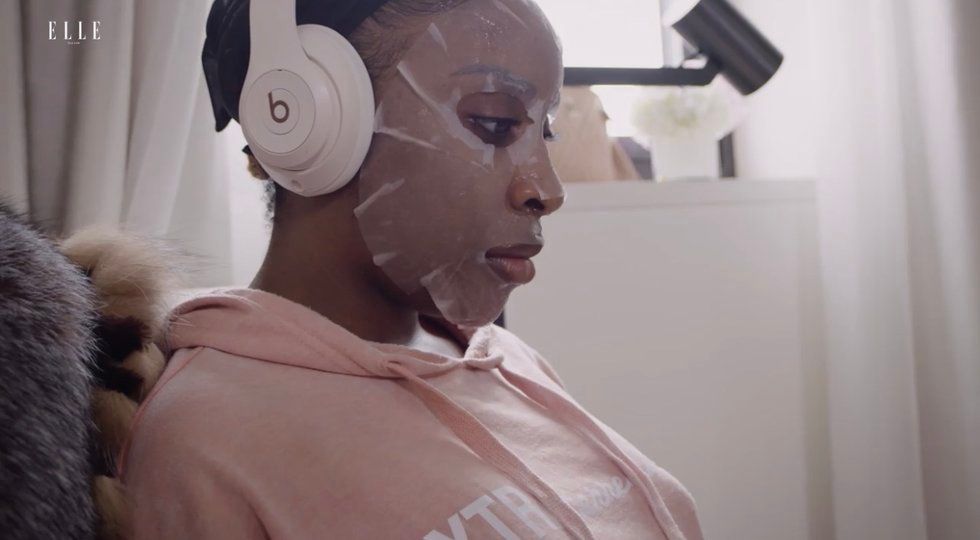 ELLE/YouTube
Jackie understands that the condition of one's skin underneath all of the high-quality makeup that we love to invest in is what is most valuable. Besides never allowing herself to break the number one beauty rule in the book, she also knows a thing or two about relying on a good hyaluronic acid like Olay Deep Hydrating Eye Gel with Hyaluronic Acid to indulge her skincare needs:

"No matter how much I travel or how far I go, it is super important to never sleep in your makeup. I like to wash my face! I like to tone - I'm using a spray toner. Whoever makes travel sized stuff...like you really do have my heart. Ain't nobody has time to be carrying around some Costco bulk level stuff. I love hyaluronic acid. It really helps with the balance and moisture to your skin."
ELLE/YouTube
When it comes to a perfectly beat face, Jackie advises us to make sure to layer our products with each other to result in a longer lasting application, so that means never skipping your primer and investing in a clutch setting spray. In her video, she goes with a simple yet pigmented eye and her signature inner corner highlight from her favorite eye shadow palette, PAT MCGRATH LABS' Mothership V Eyeshadow Palette in Bronze Seduction. However, she admits her false lashes are what seals the deal:

"It takes a lot of practice in perfecting the lash application but once you get it down, you can conquer the world...I always feel like a brand new woman after I put on my lashes. "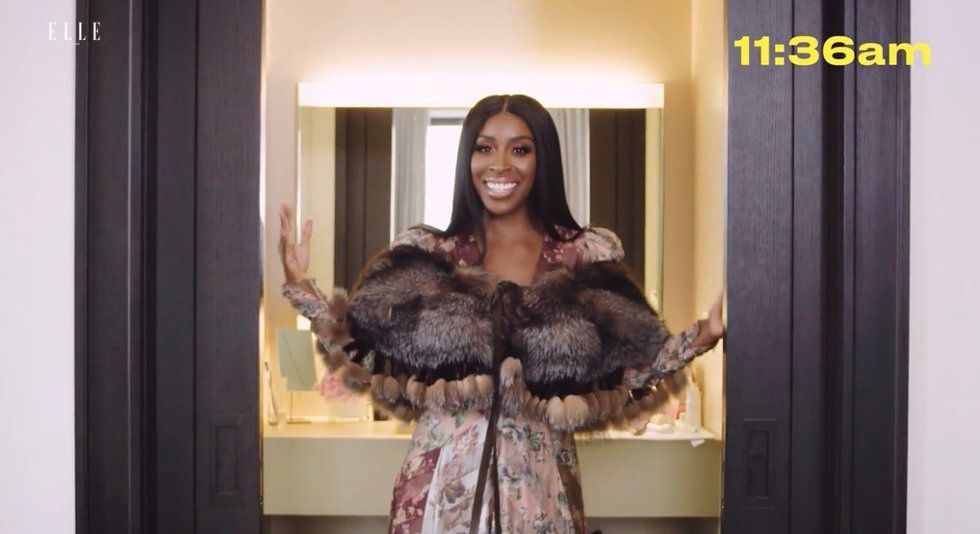 ELLE/YouTube
Hopefully tomorrow morning you can prioritize to rise at least 30 minutes earlier with these tips and tricks and walk into your job like you own the place. Don't hurt nobody! Thanks Jackie!

Click here to watch the full video.
Related Articles:
Zoe Kravitz Reveals Her Most Coveted Beauty Routine Secrets - Read More
Lupita Nyong'o Finally Dropped Her Skincare Routine - Read More
This Beauty Routine Keeps Kelly Rowland At The Top Of Her Game - Read More
Everyone's Raving About The 10-Step Korean Skin Care Routine - Read More
Featured image by ELLE/YouTube.