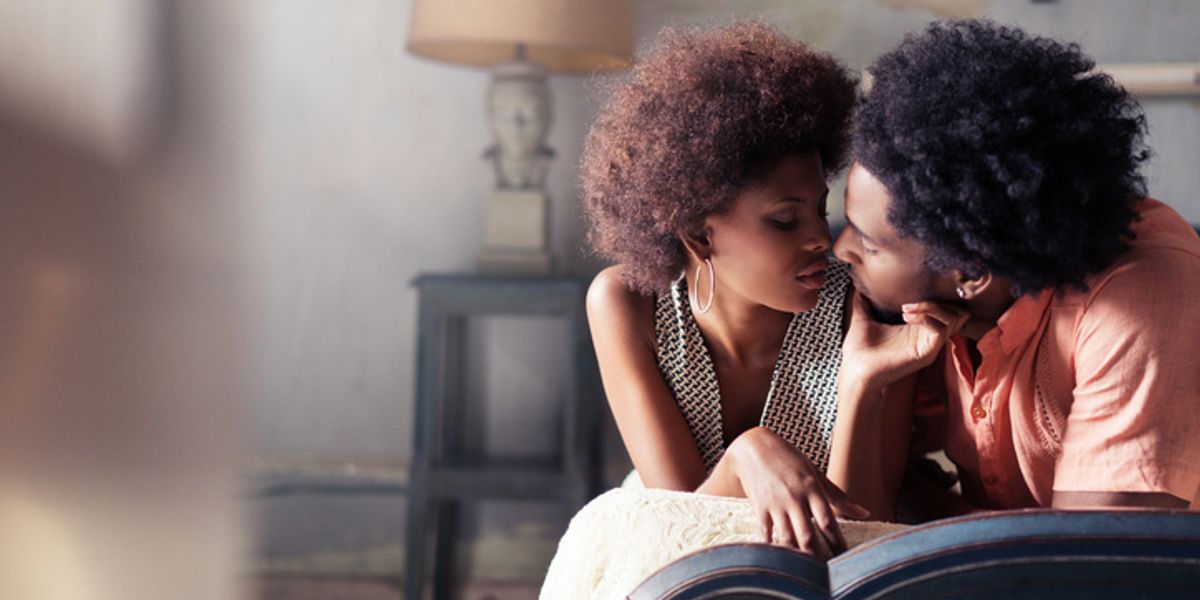 Sex & Love - Home Page
Why Every Woman Needs to Invest in a Dating Roster
My name is Sheriden and I am a recovering serial monogamist.
---
The dictionary defines serial monogamy as "the practice of engaging in a succession of monogamous sexual relationships." Personally, I defined serial monogamy as not being able to recall the last time I spent more than a year being single, becoming fatigued by dating multiple people, finding myself instantly committed, partaking in my fair share of "right now" relationships, and staying in them long past their expiration dates. But there was one problem.
Dating multiple people exhausted me.
As a serial monogamist, it was hard for me to wrap my head around dating more than one guy at a time. I was used to meeting guys and working really hard to dead the relationships that were just filler so that my focus was truly on one man and only one man at a time. But after some trial and error, I realized that that was a rhythm I no longer wanted to dance to in my romantic pursuits. In my mid-twenties, I wanted to do things differently than I had in my late teens and early twenties.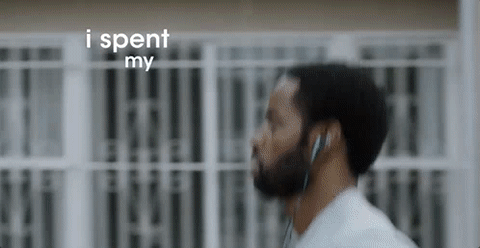 Since then, I've learned that in my former life, I was approaching dating all wrong. I was giving my exclusivity away too quickly (to men that only kinda sorta deserved it – let's be real), and that should be earned. So, how did a recovering serial monogamist say goodbye to her old ways in favor of new more favorable habits? Well, she said hello to creating and maintaining a roster.
A dating roster to be exact.
And while your dating roster doesn't need to reflect as many bodies as a sports team, it does need to come equipped with a few players that reflect a lineup of potential baes vying for the role of leading man in your life. They need to work, they need to audition, and they need to be consistent with those efforts – otherwise, they can take the bench – or get traded for a better player.

If you need some direction for the kind of guys that make up an ideal team to help your romantic life flourish, here are four guys that deserve a spot on your roster.
The Guy Who Wants to Pick Your Brain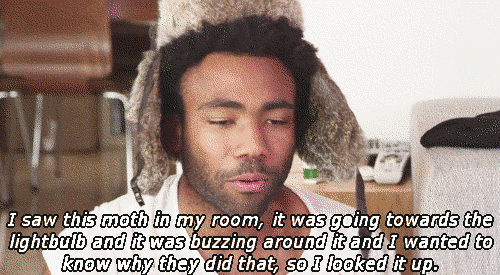 He is the guy that challenges your way of thinking and isn't afraid to exchange ideas or motivate you to pursue a passion you didn't think possible. He has his shit together and prioritizes the mental connection above all else and whenever you're with him, he makes sure to make love to mind over matter.
I love the guy that can pick my brain and arouse my mental. You're able to take my time and enjoy the conversations that last for hours about his plans to dominate the world with his different business ventures and ultimately live a life that inspires him as much as the dollar signs. Likewise, the debates your different perspectives spur on politics, black culture, and male and female dynamics over glasses of red wine prove to be the only stimulation you need.
Get you a bae that is socially and culturally aware of the world around him and put each other on in the process.
The Guy Who Can Meet You on a Creative Tip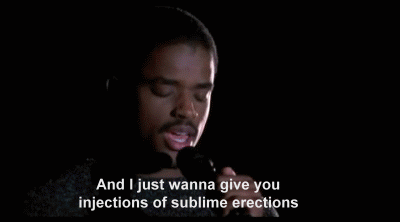 He is the guy that knows where to indulge in the best local live shows and the guy that doesn't mind accompanying you as your plus-one to art exhibit openings because he had his eye on the Eventbrite ticket too. He likes mid-afternoon trips to the museum on Sundays, listening to Solange on vinyl, and has an appreciation for all things artistic – especially taking pictures of graffiti and murals around the city. He's all about opening your eyes to the beauty of things.
I love a guy that can match me in my for-pleasure reading and that he has an affinity for poetry, admiring the way they are strung together and the cadence they create. As a creative, he will appreciate what your creative side brings to the design of things and encourage you to pursue your art and hone your talents, without having the slightest idea how erotic an act it is that he cares to understand you so intimately.
Get you a bae that does something for your spirit by meeting you on your wavelength in such a way.
The Guy Who Is Mr. Nice Guy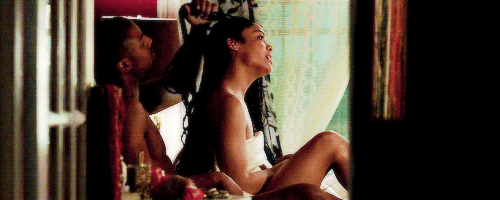 He is the guy who follows up and shows up emotionally and with his presence. He makes sure to hit you with that "good morning" text every morning, and if not, is quick to send you a "good afternoon" text to make up for it. He asks you how you are and is consistent about being the man that is the bright spot of your day, and does so again, and again, and again.
If you squint too hard, the nice guy could place himself squarely and firmly in the friend zone without either of you even looking, but he should be cherished. Everything about how you want to be treated comes second nature to him so there's no need to talk about it or ask for more. I love this guy because he never fails at feeling like home. The security you feel is unmatched. He shows up, he gives you chaste kisses every time you meet and before you part ways, he takes you out to that spot you mentioned weeks prior, and brings you flowers just because.
Get you a bae that reaffirms the reality that you are never too much for the right one.
The Guy Who is Strictly Physical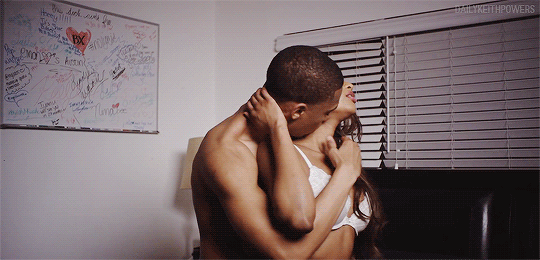 He is the guy that dips his head in the valley between your thighs and works his magic with his tongue until your gentle river has become a waterfall before looking back up at you and saying, "I'm still hungry baby, can I have some more?"
As with all of my suggestions, this guy is optional – but depending on where you are in your sexual journey – you may or may not decide to keep him on the line. However, a strictly physical guy comes in handy with compartmentalizing. If he's the guy that you're rubbing against while taking the time to get to know the guys you're serious about, chances are, you don't see any real potential here – friendship or otherwise – so it becomes a safe space to be sexually expressive while you navigate your other relationships and take your time figuring out what you want without being confused by sex too soon with guys you see more of a future with.
Get you a bae that helps you unlock your wanton side and leaves you always panting for more.
And The Woman that Deserves to Have it All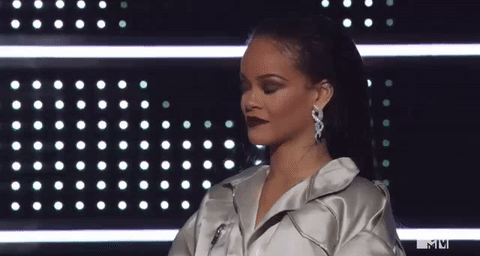 This is for you.
The important thing to remember when dating is that people eliminate themselves.
If one guy acts up, flag on the play, and he can ride the bench for a minute or the whole season. You don't have to feel like you need to make a list and check it twice to make sure that the guy you're with is checking off boxes. That's the power of having options and a dating roster provides that.
The purpose of dating is to maintain relationships with people you feel compatible with long-term. That can only be achieved through trial and error. No one you encounter should be viewed instantly as "the one," but hopefully with time, you will have a better understanding of what your one looks like. You are the creator of the romantic life you want to lead so take charge of the souls that you allow to occupy your space and make cuts accordingly.
Always remember that your exclusivity should be earned. That is how you win at dating and this is how you create a high quality love life.

Who has earned a spot on your dating roster? Let me know in the comments down below.
Sheriden Chanel
Sheriden Chanel is the Managing Editor at xoNecole.com, covering all things love, life, beauty, and wellness. She has an affinity for travel, self-care, and anything BTS touches. Keep up with her on social
@sheridenchanel
.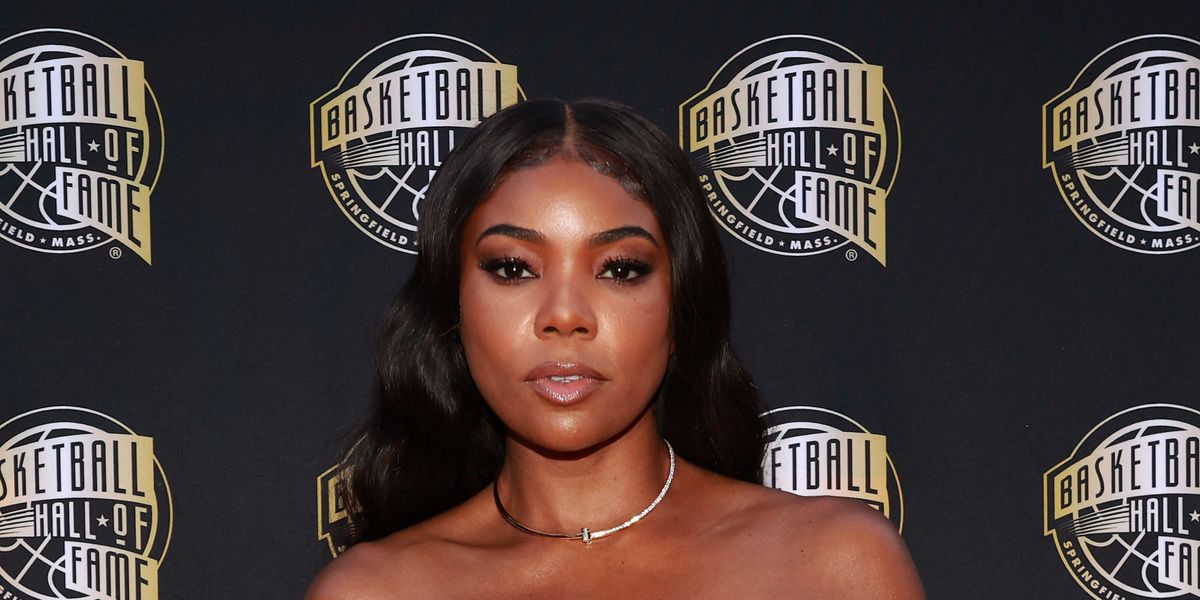 Whenever Gabrielle Union graces the movie screen, she immediately commands attention. From her unforgettable scenes in films like Bring It On and Two Can Play That Game to her most recent film, in which she stars and produces Netflix's The Perfect Find , there's no denying that she is that girl.
Off-screen, she uses that power for good by sharing her trials and tribulations with other women in hopes of helping those who may be going through the same things or preventing them from experiencing them altogether. Recently, the Flawless by Gabrielle Union founder partnered with Clearblue to speak at the launch of their Menopause Stage Indicator, where she also shared her experience with being perimenopausal.
In a xoNecole exclusive, the iconic actress opens up about embracing this season of her life, new projects, and overall being a "bad motherfucker." Gabrielle reveals that she was 37 years old when she was diagnosed with perimenopause and is still going through it at 51 years old. Mayo Clinic says perimenopause "refers to the time during which your body makes the natural transition to menopause , marking the end of the reproductive years."
"I haven't crossed over the next phase just yet, but I think part of it is when you hear any form of menopause, you automatically think of your mother or grandmother. It feels like an old-person thing, but for me, I was 37 and like not understanding what that really meant for me. And I don't think we focus so much on the word menopause without understanding that perimenopause is just the time before menopause," she tells us.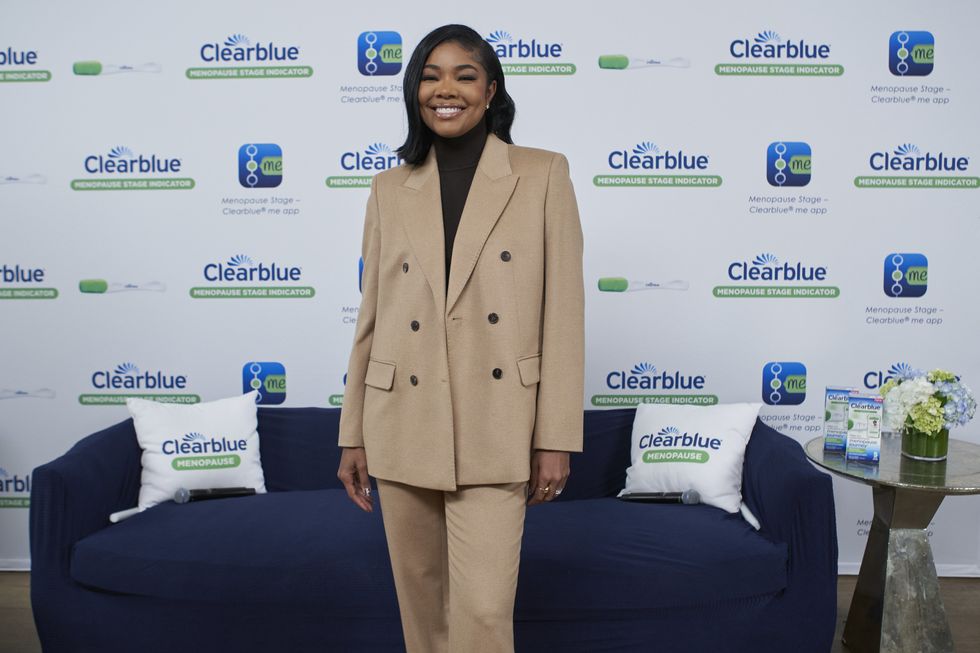 Gabrielle Union
Photo by Brian Thomas
"But you can experience a lot of the same things during that period that people talk about, that they experienced during menopause. So you could get a hot flash, you could get the weight gain, the hair loss, depression , anxiety , like all of it, mental health challenges , all of that can come, you know, at any stage of the menopausal journey and like for me, I've been in perimenopause like 13, 14 years. When you know, most doctors are like, 'Oh, but it's usually about ten years, and I'm like, 'Uhh, I'm still going (laughs).'"
Conversations about perimenopause, fibroids, and all the things that are associated with women's bodies have often been considered taboo and thus not discussed publicly. However, times are changing, and thanks to the Gabrielle's and the Tia Mowry 's, more women are having an authentic discourse about women's health. These open discussions lead to the creation of more safe spaces and support for one another.
"I want to be in community with folks. I don't ever want to feel like I'm on an island about anything. So, if I can help create community where we are lacking, I want to be a part of that," she says. "So, it's like there's no harm in talking about it. You know what I mean? Like, I was a bad motherfucker before perimenopause. I'm a bad motherfucker now, and I'll be a bad motherfucker after menopause. Know what I'm saying? None of that has to change. How I'm a bad motherfucker, I welcome that part of the change. I'm just getting better and stronger and more intelligent, more wise, more patient, more compassionate, more empathetic. All of that is very, very welcomed, and none of it should be scary."
The Being Mary Jane star hasn't been shy about her stance on therapy . If you don't know, here's a hint: she's all for it, and she encourages others to try it as well. She likens therapy to dating by suggesting that you keep looking for the right therapist to match your needs. Two other essential keys to her growth are radical transparency and radical acceptance (though she admits she is still working on the latter).
"I was a bad motherfucker before perimenopause. I'm a bad motherfucker now, and I'll be a bad motherfucker after menopause. Know what I'm saying? None of that has to change. How I'm a bad motherfucker, I welcome that part of the change."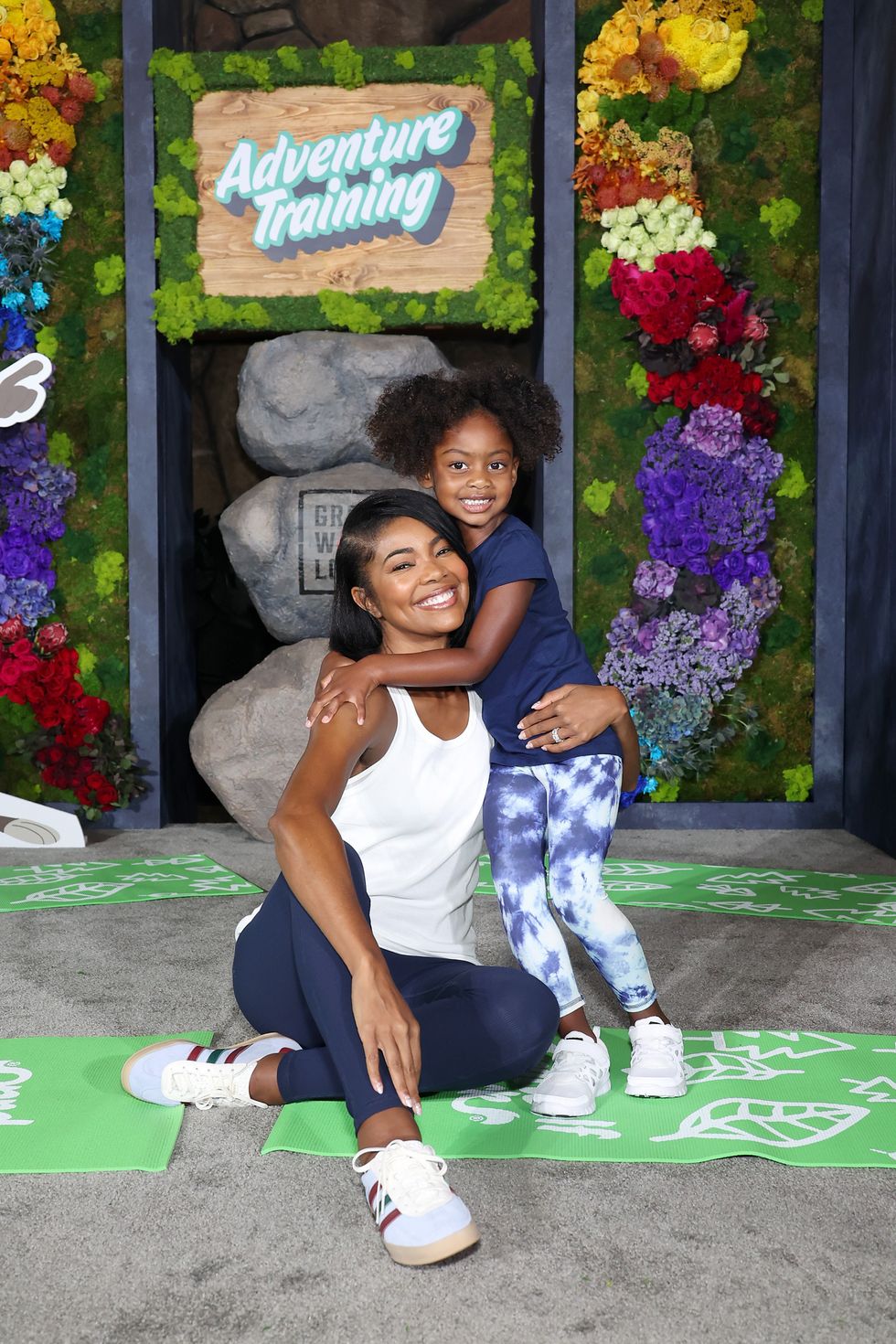 Gabrielle Union and Kaavia Union-Wade
Photo by Monica Schipper/Getty Images
"I hope that a.) you recognize that you're not alone. Seek out help and know that it's okay to be honest about what the hell is happening in your life. That's the only way that you know you can get help, and that's also the only other way that people know that you are in need if there's something going on," she says, "because we have all these big, very wild, high expectations of people, but if they don't know what they're actually dealing with, they're always going to be failing, and you will always be disappointed. So how about just tell the truth, be transparent, and let people know where you are. So they can be of service, they can be compassionate."
Gabrielle's transparency is what makes her so relatable, and has so many people root for her. Whether through her TV and film projects, her memoirs, or her social media, the actress has a knack for making you feel like she's your homegirl. Scrolling through her Instagram, you see the special moments with her family, exciting new business ventures , and jaw-dropping fashion moments. Throughout her life and career, we've seen her evolve in a multitude of ways. From producing films to starting a haircare line to marriage and motherhood , her journey is a story of courage and triumph. And right now, in this season, she's asking, "What's next?"
"This is a season of discovery and change. In a billion ways," says the NAACP Image Award winner. "The notion of like, 'Oh, so and so changed. They got brand new.' I want you to be brand new. I want me to be brand new. I want us to be always constantly growing, evolving. Having more clarity, moving with different purpose, like, and all of that is for me very, very welcomed."

"I want you to be brand new. I want me to be brand new. I want us to be always constantly growing, evolving. Having more clarity, moving with different purpose, like, and all of that is for me very, very welcomed."
She continues, "So I'm just trying to figure out what's next. You know what I mean? I'm jumping into what's next. I'm excited going into what's next and new. I'm just sort of embracing all of what life has to offer."
Look out for Gabrielle in the upcoming indie film Riff Raff , which is a crime comedy starring her and Jennifer Coolidge, and she will also produce The Idea of You , which stars Anne Hathaway.
Feature image by Mike Lawrie/Getty Images

Kimora Lee Simmons has been ripping the runway and defining streetwear culture for decades, and with her daughter, Aoki Lee Simmons , blazing a trail of her own, the supermodel is imparting a few gems to guide her along the way.
During this year's Teen Vogue Summit 2023 , Kimora joined her daughter Aoki in a conversation about navigating the modeling industry and fostering her children's dreams.
Kimora shares how she's been able to joyfully watch as her daughter achieves her greatest goals over the years, including becoming Teen Vogue 's September 2023 cover star . In doing so, the runway star reflects on the natural instinct of mothers to desire success for their children but expresses her commitment to letting her daughters make mistakes while providing support.
"It's a mom's natural instinct to want to impose your expectations on your kids. But I'm learning to let my kids make their mistakes and serve as their support," Kimora shared. "As a mom, there's no one-size-fits-all approach. I just try my best and make sure that the wisdom I pass down comes from a good source."
The Baby Phat founder went on to express concerns about her daughter Aoki's modeling career, fearing she may encounter the "cutthroat" nature of the industry that can cause those within it to feel like they're not "enough."
With this in mind, she often reminds Aoki, "to understand that in life you will face rejection because this industry can be so cutthroat. For some, you won't be cool enough, tall enough, or petite enough. I've definitely had my ugly duckling days."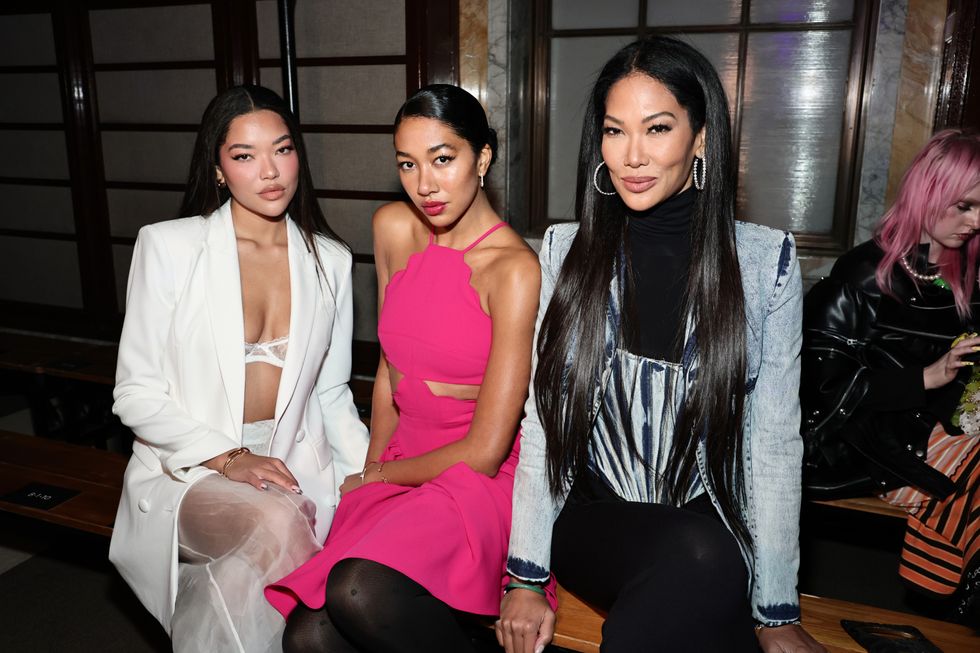 (L-R) Ming Lee Simmons, Aoki Lee Simmons and Kimora Lee Simmons attend the Prabal Gurung show during New York Fashion Week: The Show.
Jamie McCarthy/Getty Images for NYFW: The Shows
Although the fashion mogul has managed to balance being in the public eye since she began her modeling career at the age of 13, along with motherhood and running an era-shaping clothing brand, it's apparent that Kimora understands the importance of staying grounded. "Truly, who even cares?! Easier said than done. I never want her to have to deal with that part of the industry but all I can do is prepare her," she says.

When you've been in the fashion game long enough to set the trends and see them come full circle , it's natural to desire a level of evolution within the space — from the clothes to the culture. And while Kimora has seen how far the industry has come, she hopes for greater inclusion and support within the industry; especially for women of color.
"Fashion is an ever-changing industry with the same pitfalls. For women of color specifically, it's changed so much but we still have so far to go," she says. "These brands claim to always have been so inclusive but that doesn't always pan out to be true. I wish people would practice what they preach."
Let's make things inbox official! Sign up for the xoNecole newsletter for daily love, wellness, career, and exclusive content delivered straight to your inbox.
Featured image by Vivien Killilea/Getty Images for Teen Vogue