Turn down the sexy for what? 
---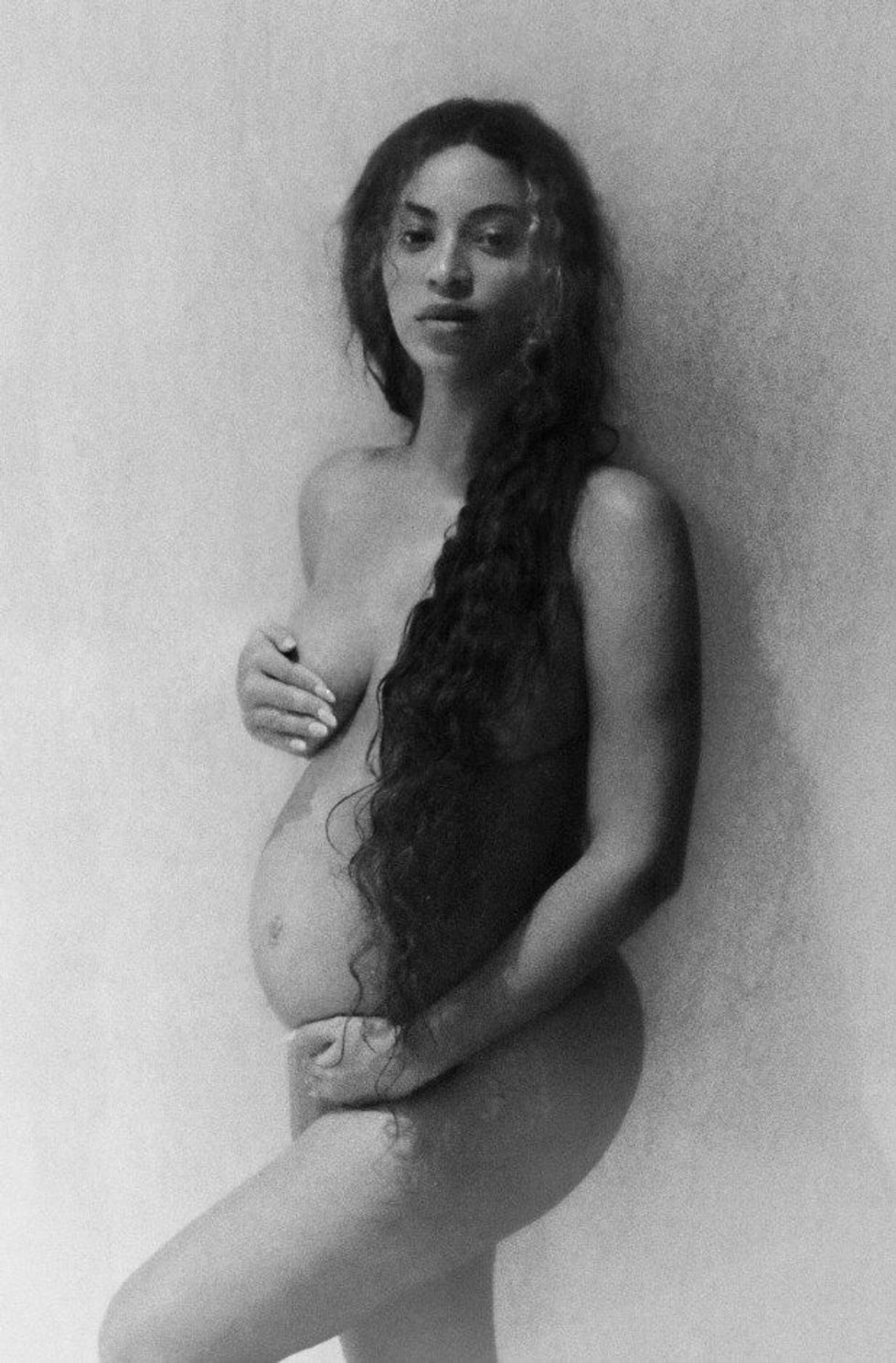 A woman's body goes through many changes during pregnancy, but does that mean she should cover up more, and reserve her sexy until after she's given birth?
Although Beyoncé remained covered and most about showing her bump throughout her first pregnancy with Blue Ivy, the expecting mom has been showing us more of her sexier side while carrying twins. And of course the Internet trolls and critics have been questioning whether or not it's too much.
Back in her 2014 documentary, Beyoncé opened up about how motherhood and the power behind it has added more to her fierce confidence:
"Just because you become a mother, doesn't mean you lose who you are... I know that finding my sensuality getting back into my body, being proud of growing up -- it was important to me that I expressed that in this music because I know that there are so many women that feel the same thing after they give birth. You can have your child, and you can still have fun, and still be sexy and still have dreams for yourself!"
[Tweet "Just because you become a mother, doesn't mean you lose who you are - Beyonce"]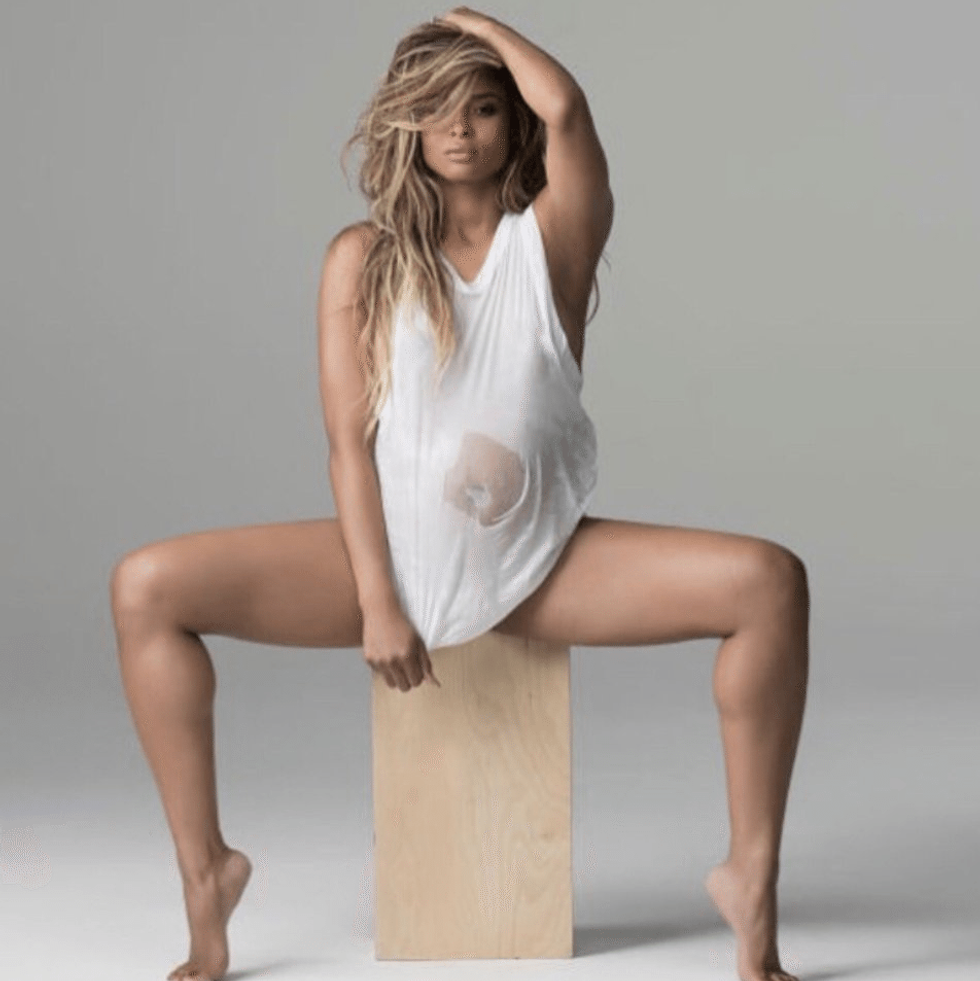 Even singer Ciara recorded the whole track B.M.F (Bad Mother-F**Ker) boasting about being the baddest after "pushing out a 9 lb, 10 oz. baby!". She too started a huge internet debate with her most recent maternity shoot that involved baby Future and her husband Russell Wilson.
This is all nothing new though, celebrities have been showing off their sexy pregnant side for years! Now that social media is involved, shoots and photos have opened up the debate on what actions are deemed inappropriate for a pregnant woman-- pending the question should women push "pause" on their sexiness while being pregnant? Or is there no such thing and all women are created equal in their sexual being?
Last year, Blac Chyna had not one but TWO nude pregnancy shoots hit the internet which were the cause of a lot of chatter. She wasn't the only one, reality tv star and fashion designer Angela Simmons, who had a little boy, also posed in a sexy pregnancy shoot.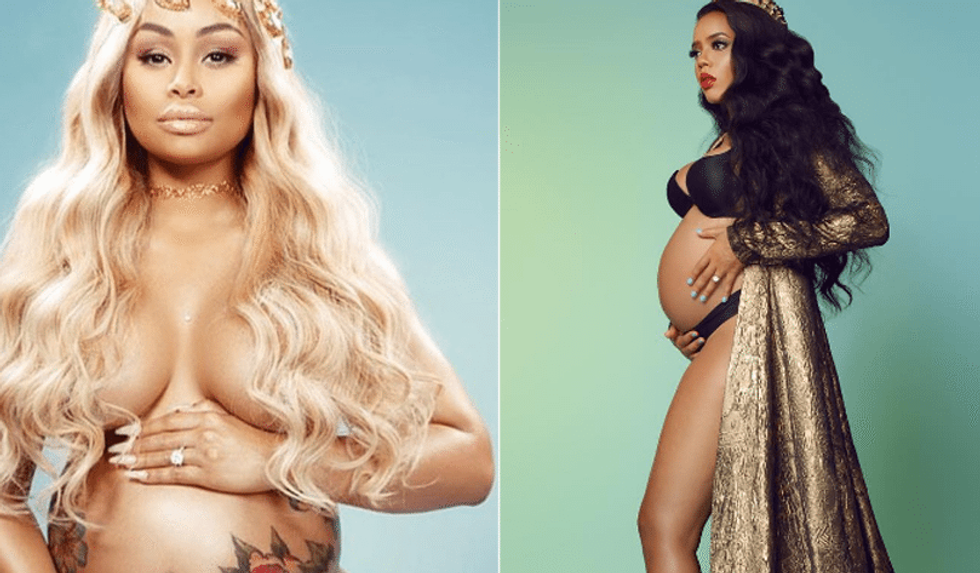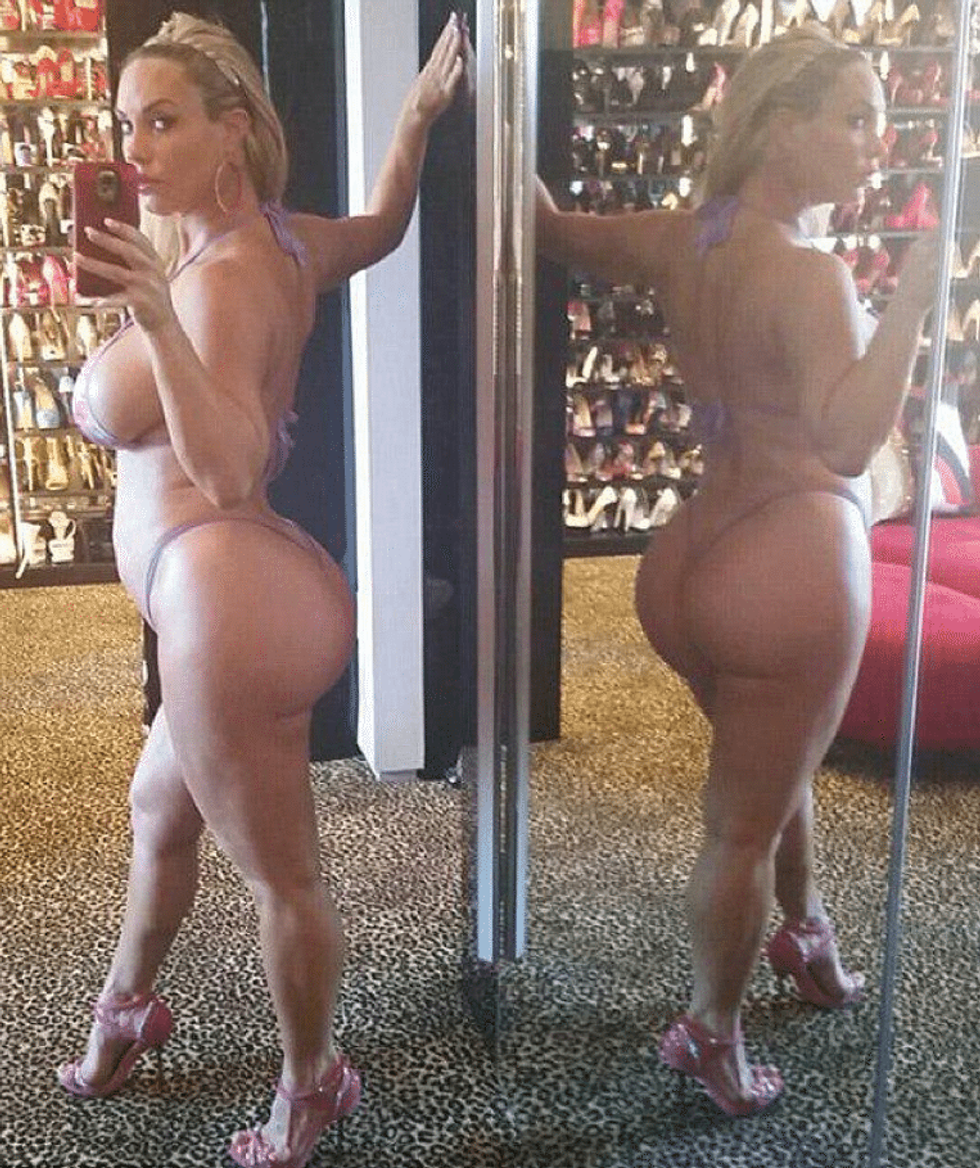 When Coco Austin, wife of rapper and actor Ice-T was pregnant, she flicked it up and showed off her tiny baby bump... and her lady lumps while six-and-a-half months pregnant with their first child. Never one to cower from a thong bikini or full-blown nudity, she showed off her toned belly, while also making sure to get a few flicks of the money shot -- her backside in a g-string.
As far as the skin meter goes, certain celebrities give more than expected. But as stated, many of them aren't too far off from the implied nudity shots that expectant mothers have taken in the past. Chyna's soon to be sisters-in-law Kim and Kourtney Kardashian have bared their bods and bumps for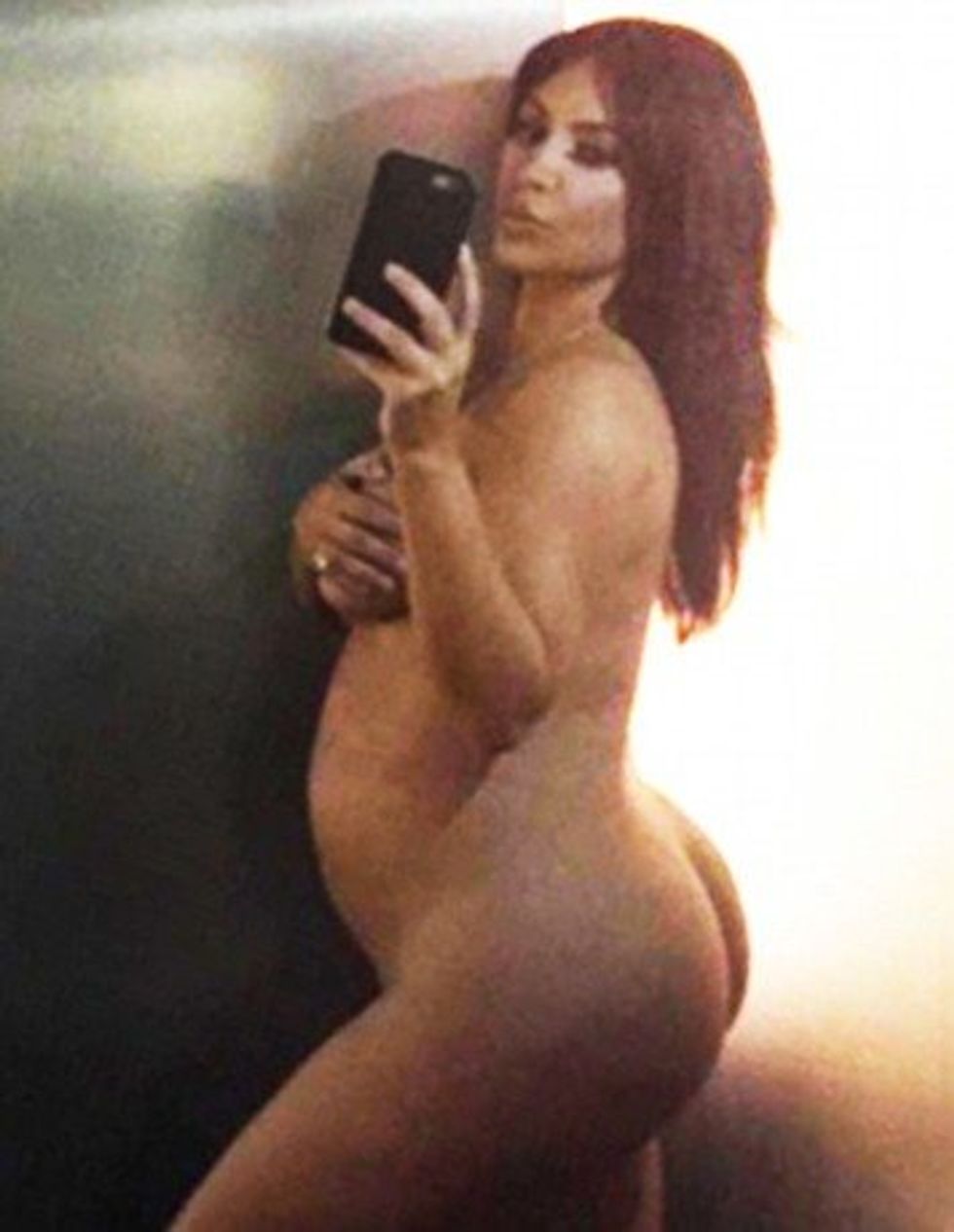 everything from magazine covers to social media.
Actresses Nia Long and Tia Mowry-Hardrict have graced the covers and pages of Ebony and People magazine, while nude with wombs, and there was no denying the beauty and glow that came from these gorgeous mothers to be. Not to mention, all of the aforementioned were with child in their later 30's (and even 40s with Nia) which, based on the stigmas and statistics against older women's abilities to conceive, is quite commendable and a feat all its own. So kudos to all the mothers out there, especially those defeating the odds!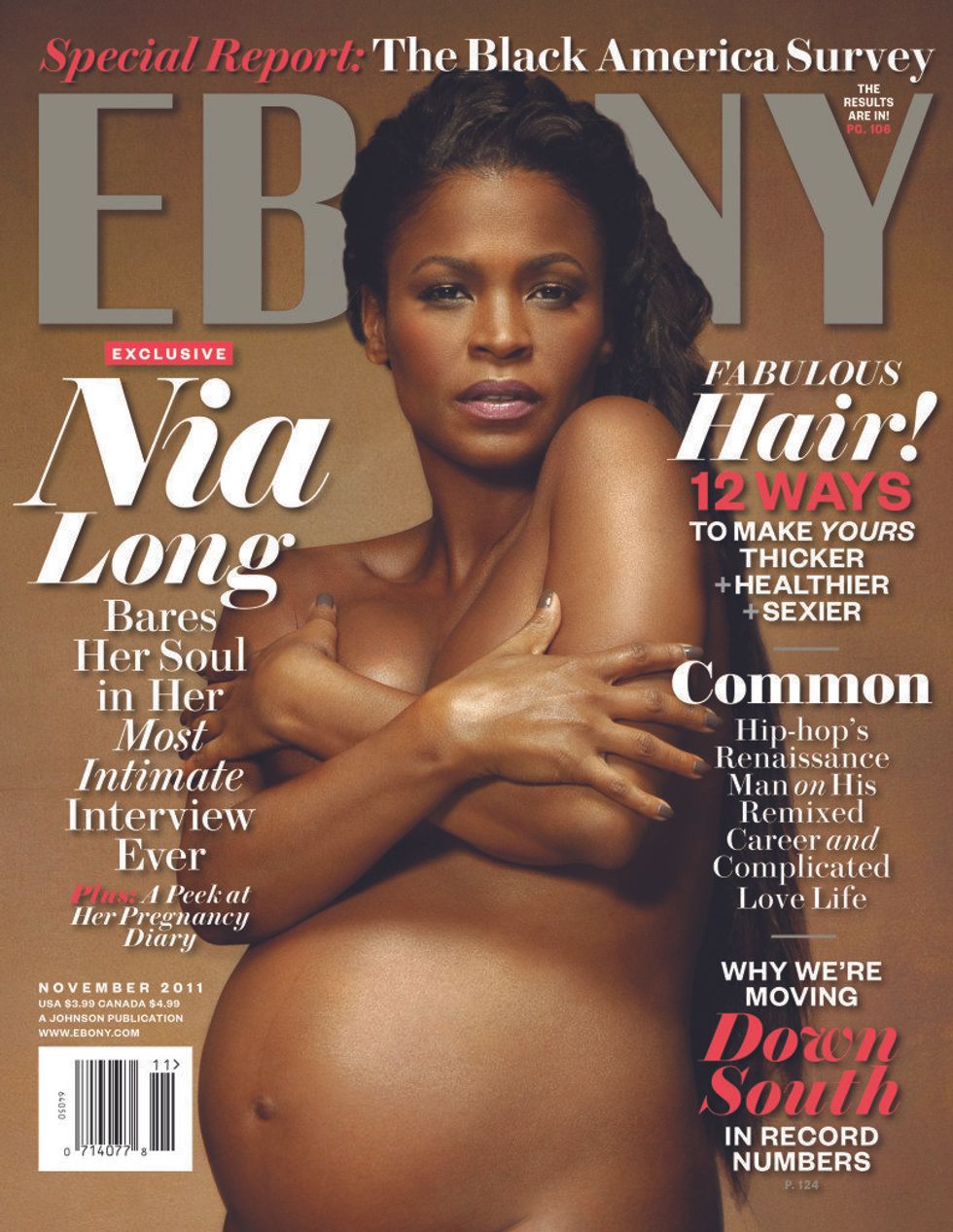 In a nutshell, feeling sexy, confident and beautiful should not cease due to pregnancy, and some expecting moms feel their sexiest during this time.   Tamera Mowry-Housely once told people magazine:
"I always feel sexier when I'm pregnant, maybe it's a mixture of hormones, but I feel so blessed to be given the opportunity to give birth."
Phenomenal women we are.