Common has become a fixture in the hip-hop scene thanks to his longevity in the game. And while he is known for hits like "Go!" and "Come Close", he is also known to have dated some of the most beautiful and talented Black women in the world. The "Glory" rapper has dated Erykah Badu, Serena Williams and now he is romantically linked to Tiffany Haddish.
---
With his new album A Beautiful Revolution, Pt. 2, the Chi-town star is reflecting on his past dating experiences and using it as inspiration for his music. Talking to Essence, the 49-year-old said:
"Some of the Black women that I've dated, been in relationships with, are crazy talented people, so that's inspiring in itself. You see the work that they put in, and then how they can still go out and be good family people. That's been very influential on my personal life, but it also comes through in my art."
Not only is the album a love letter to Black women, but Common also has women representation with features like R&B singer PJ and poets Jessica Care Moore and Morgan Parker.
When it comes to the special lady in Common's life now, the rapper doesn't shy away from his relationship. After meeting on the film The Kitchen in 2019, Tiffany and Common became friends, but the rapper revealed that the pandemic made him stop and reflect on his life and the people he wants in it and Tiffany was one of those people.
"That was very unique, man, because when the world is going through something, it makes you reflect on, 'If things was ending now, who do I want to be around?'"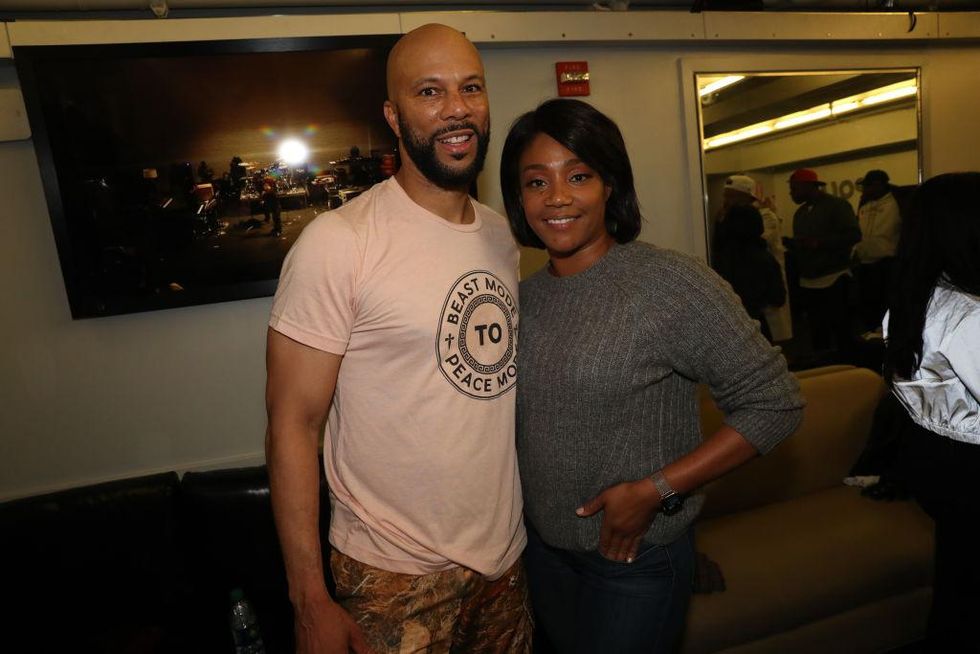 Johnny Nunez/WireImage
"Naturally, Tiffany and I just spent a lot of time together, just really enjoying life and being grateful for life and not putting too much pressure on our relationship, just really being present with each other and supportive and having fun. We spent a lot of time together, and then we also understood, 'I need some time to myself; you need some time to yourself.' But in all truth, it was one of the times that I really was still for a relationship, to be able to be present in the relationship and not just be on the move as much."
Before the two became an item, the comedian admitted that she was hesitant about dating the rapper due to his dating past.
"He was, like, tryna holler, and I was like…'Um…no, I'm not really interested. I'm good. My eyes are set on other things. I'm interested in somebody else. I'm sorry. But you seem like a nice person,'" Tiffany said during a February 2021 appearance on The Late Show with Stephen Colbert.
"'I know too many people that dated you, let's be honest,'" she said. "I didn't say that, though. You know. You know."
However, they have since gotten past that bump in the road and have been together for over a year now.
A Beautiful Revolution, Pt. 2 is a follow-up to A Beautiful Revolution, Pt. 1 that was released last year.
Featured image by Emma McIntyre/Getty Images for Netflix