The name of the game this year is to know your worth and demand it.
---
Tracee Ellis Ross is taking powerful moves to be a voice for women when it comes to knowing their value and not settling for less, and it's a movement that needs to be spread like wildfire.
In a recent Hollywood Reporter issue, Tracee revealed that she is considering limiting her presence on the black-ish show due to the wage disparity between her and Anthony Anderson, who gets paid significantly more.
To be fair, the network claims the reason behind the difference is because of Anthony's role as one of the show's executive producers. However, it should be noted that Tracee is likely asking that her acting compensation more closely reflect the acting compensation of her co-star. According to reports, Anthony earns $100,000 an episode as an actor, and Tracee earns $80,000.
Been watching this Tracee Ellis Ross debate unfold and...my lord some of you should say less. You don't know what a… https://t.co/5mjYYV8Mxn

— Ra'sclat Al Ghul (@Ra'sclat Al Ghul)1516375207.0
Tracee and Anthony have both been on the show since its inception in 2014 and Tracee's performance on the show was awarded a Golden Globe, making her the first Black actress in 35 years to win for a comedy series on television.
Her stock has increased as an actress, so her pay should reflect that. The Golden Globe-winning mom of black-ish is considering making guest appearances on other shows to make up the gap, instead of utilizing the time to be on the show that is not paying her her worth.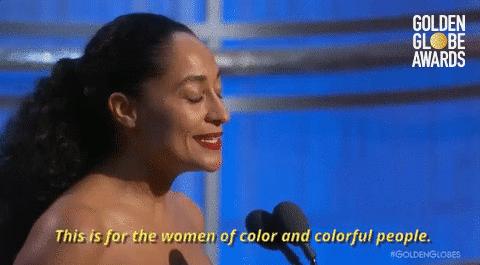 Season five is still up in the air, but Tracee has made it clear that her decision to walk gracefully into spaces who understand her value - and pay for it - will be high on the pedestal if she feels her negotiations are not brought to Anderson's level.
Time and time again we are shown that there is a glass ceiling for women, whilst male counterparts are using the ceiling as the dance floor, two-stepping into their financial power. It doesn't matter the industry; it's been a tale of inequality in places from hospitality to Hollywood.
Women are working as the heart of their industries and still finding themselves out of the heart of the conversation when it comes to compensation.
Tracee Ellis Ross making less than Anthony Anderson gotta be the worst thing I've ever heard https://t.co/cbWYeWANOY

— bringing my baby to a theater near you (@bringing my baby to a theater near you)1516328849.0
The courage to find your voice and demand the pay you deserve for the value you bring is a process that anyone can feel the heaviness of fear. But, it must be done.
Like Tracee, other women in Hollywood are taking a stand and creating the dialogue of equal pay. Shonda Rhimes, one of the iconic writers, producers, and trailblazers in the entertainment industry is using her power to help other women come forward and ask for their worth, with tax. Shonda is given credit by Grey's Anatomy's star and lead actress Ellen Pompeo for helping her find her voice and give peace to the chaos that all women seem too think: "Am I asking for too much?"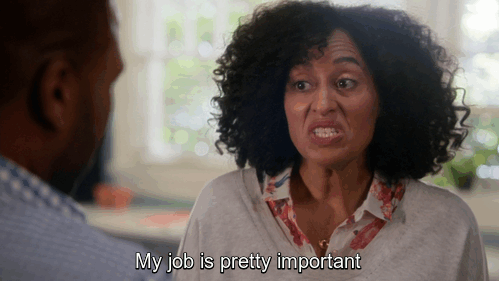 At $20 million a year, Ellen Pompeo (Grey's Anatomy) is now the highest paid actress in Hollywood - all because she stuck to her guns, listened to the god-sent advice from her friend (and the woman that gave her big break in Hollywood) Shonda, and stood in her power.
"In Shonda finding her power and becoming more comfortable with her power, she has empowered me. And that took her a while to get to, too. It was part of her evolution. It's also why our relationship is so special. I was always loyal to her, and she responds well to loyalty. So, she got to a place where she was so empowered that she was generous with her power. Now, what did that look like? It looked like her letting me be the highest-paid woman on television, letting me be a producer on this show, letting me be a co-executive producer on the spinoff and signing off on the deal that the studio gave me, which is unprecedented."
Ellen's new salary is a beautiful victory for women, but one that also highlights the fact that female actors, as well as actors of color, have a ways to go in remedying the disaparaties experienced in the industry. The cast of Big Bang Theory, and even Modern Family's Sofia Vergara easily rake in a million dollars per episode - while Empire's Taraji P. Henson (a show that had a ratings high at one point), receives $175,000 an episode. Kerry Washington and Viola Davis receive $250,000 per episode of Scandal and How To Get Away With Murder respectively.
To put the wage disparity between minority actors even more into perspective, ABC paid Tim Allen $250,000 per episode during the airing of Last Man Standing, despite the fact that the show drew in half the viewership black-ish did. While Tracee requiring more money is an impressive stand for women in general, it's also an incredible stand for black women specifically that are often times at the receiving end of even greater wage disparaties due to their skin color alone.
Good for Tracee Ellis Ross. If ABC won't pay her equal to Anthony Anderson, she should appear less on black-ish. https://t.co/EZncJ3nV7K

— Evette Dionne 🤔 (@Evette Dionne 🤔)1516310458.0
I always say that self-awareness is a commodity; it's a form of currency in the transactional world of business. Knowing exactly who I am allows me to know my worth, understand my value proposition, and act from from a place of wholeness, and not deficit.
Tracee Ellis, as well as Shonda Rhimes and Ellen Pompeo, are moving from their centers of self-awareness.
Knowing your worth and demanding it has been taboo because women are not taught to come forward and use their voice to assert their power.
The times are changing because women are shifting plates with their ability to speak authentically about the circumstances at hand. Time's Up and the way for change to precipitate is to empower ourselves, and then empower other women. We have to be mirrors for each other's worth.
Light reflects light and it will help to illuminate the injustices that we are so boldly and gracefully dismantling, together.