The ratings are in: Grown-ish is a hit. Not only is it the biggest comedy series launch for Freeform since 2012, but it's also Wednesday night's number one scripted series among women ages 18-49.
The overnight success of Grown-ish among several demographics has proven that there is a definite interest in depicting the realities of college life.
But to what do we attribute this instant success?
---
It could be the strength of lead Yara Shahidi, who's fashion sense and social consciousness captivates both on and off screen. Or perhaps it's the topical plot points per episode that stir dialogue once the end credits roll. However, for me, the most striking characteristic of the sitcom is that it portrays a group of university students diverse by race, political leanings, and sexual orientation.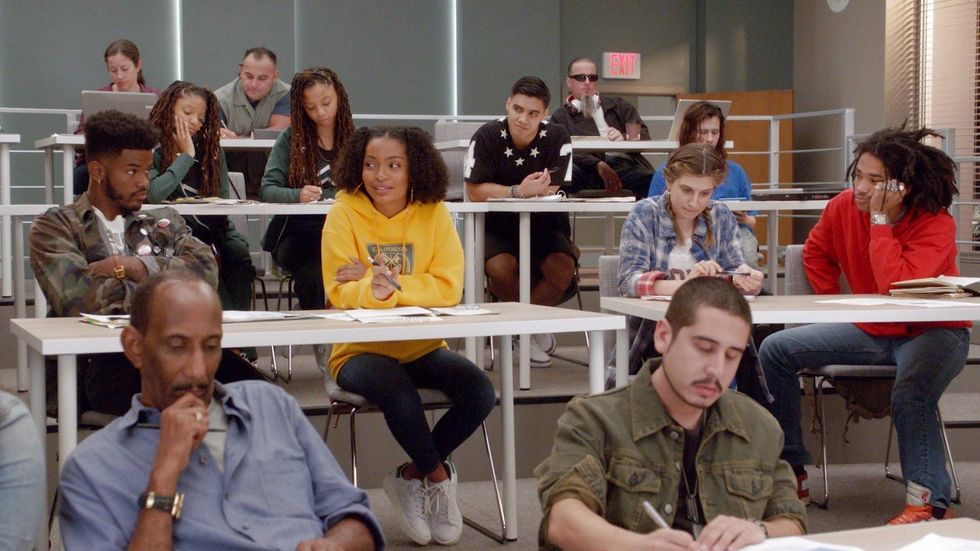 Grownish/Freeform
Overall, there has been a serious lack of TV and film about college that is not raunchy, trite, and filled with sex-craved white boys (I'm looking at you American Pie). It's refreshing to see not only people of color but also characters that go beyond cliched archetypes. Zoey, the popular fashionista, is in fact a sweetheart and even a little socially awkward. Jazz and Sky, the college jocks from the hood, are overachievers in the classroom.
College is full of multi-faceted individuals so it's only fitting that the characters of Grown-ish reflect that complexity.
It's a wonder there aren't more series about college life. Shows depicting the growing pains of adolescence? Everywhere. Shows on the joys and struggles of our 20's? Plenty. But for whatever reason, those 4-5 years in between seem to be ignored. Forty percent of Americans seek an associates degree or above. So it's interesting that our TV screens don't reflect that.
But Grown-ish isn't totally isolated. Shows such as Netflix's Dear White People and BET's The Quad have also made strides, in varying degrees of success, in depicting the highs and lows of black collegiates. But nothing holds a candle to the mother of black TV shows for young adults: A Different World.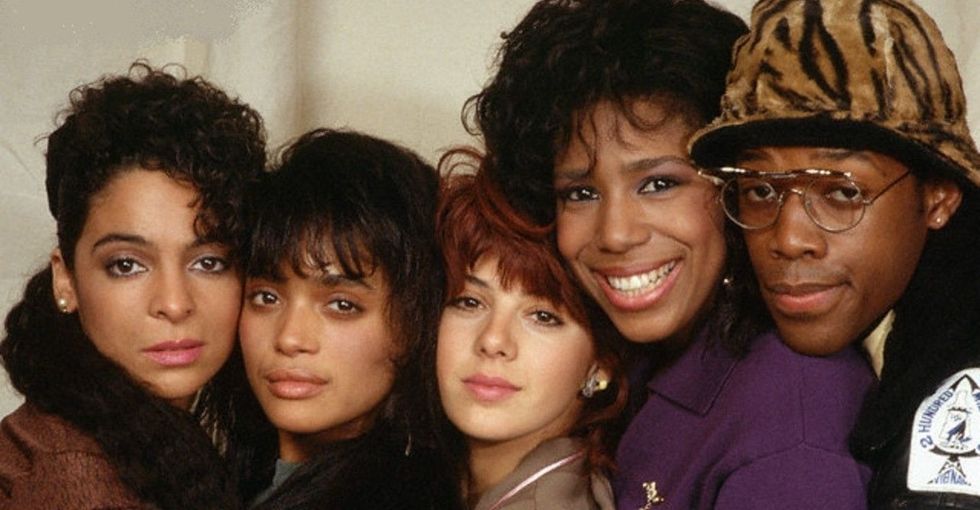 A Different World/NBC
A Different World, which premiered over THIRTY years ago (Feel old yet?), remains a beloved staple in black television. The first of its kind, the sitcom was not only revolutionary for having an all-black cast of university students but also for its ground-breaking and often controversial topics. Who could forget the episode that bravely tackled the HIV/AIDS epidemic? Or the one where Dwyane grapples with his faith, a subject particularly taboo within the black community.
ADW has even been credited for the dramatic rise in college attendance amongst black people in the 1990s. Black enrollment has skyrocketed in the past 20 years and black women are currently the most educated group in the U.S by race and gender. While there are certainly other factors that affect this leap towards higher education, it is also a prime example of how life can reflect art and why we could only benefit from more of it.
Many have compared Grown-ish to A Different World and for good reason. Both started as spin-offs from popular shows, both depict college life with a majority black cast, and both have leading ladies that give us serious hair envy. But for all its similarities, ADW is set on a fictional HBCU whereas Grown-ish takes place at a predominantly white institution.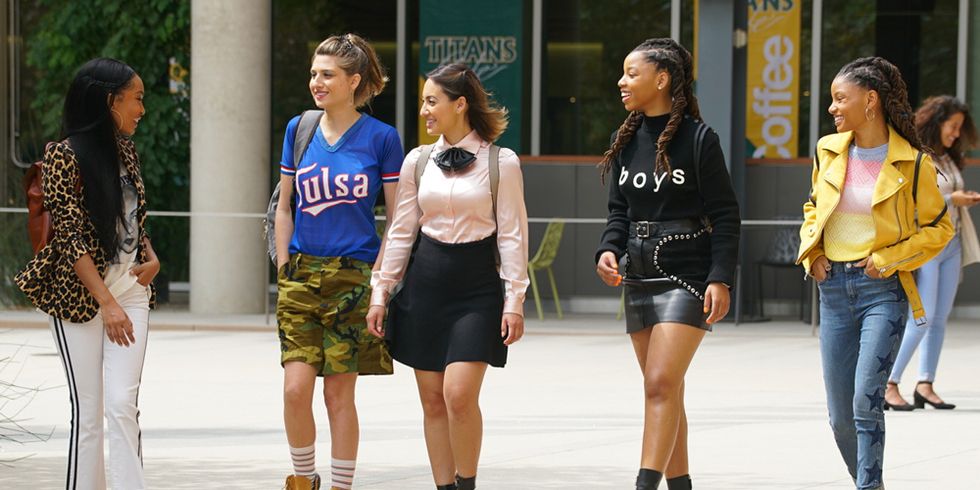 Freeform
That difference alone offers Grown-ish an opportunity to portray a myriad of storylines and perspectives with a multi-ethnic dynamic.
In addition, today's young adults simply live in a different world (#wordplay). We live in a time where the next date is just a finger swipe away and where last night's adventure can be seen by at least 500 of our "friends." We live in a time where the public discourse is dominated by sex and gender fluidity, the gray area of drug usage, and polarizing politics thanks to an orange President. Through smart, honest writing and talented actors, Grown-ish captures all of that and more.
But if only there were more. People of color often don't have the luxury of coming of age on screen. College is such a transformative period in a young adult's life. We're not only seeking a degree but we're understanding our place in the world.
It's refreshing to see Zoey and her diverse crew navigate life away from home with such nuanced honesty.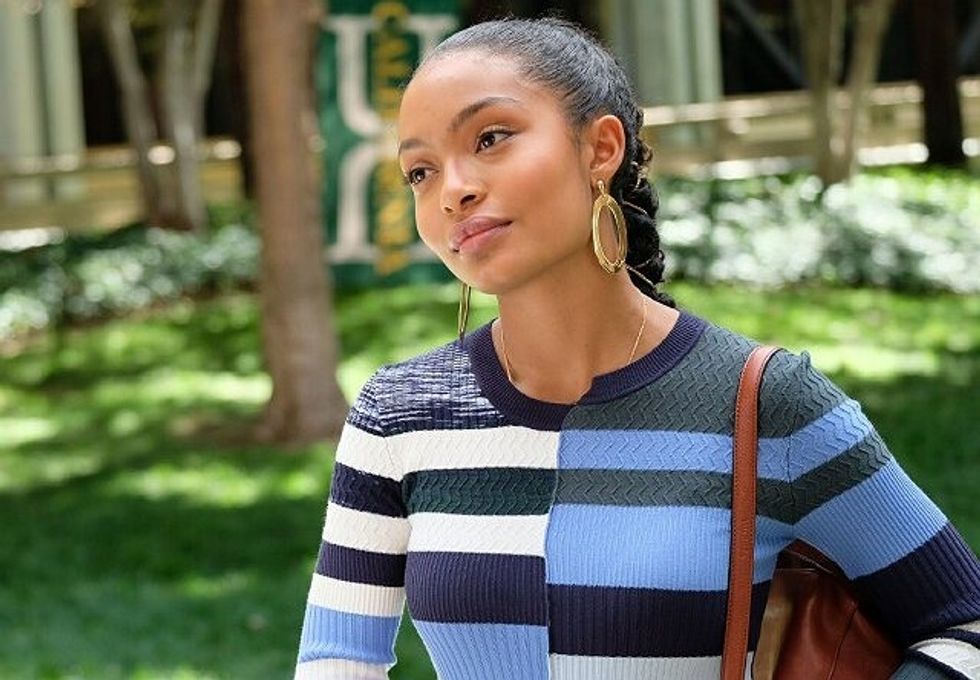 Freeform
The numbers for Grown-ish prove there's a craving for this kind of content. I personally wish I had these positive images of black women in their collegiate journey as I was going through my own. Hopefully, we don't have to wait another 30 years for the next one. Shows about people of color seeking higher education is important for representation, for variety, and for the culture.
Be sure to catch the season one finale of Grown-ish when it airs tonight on Freeform.
Featured image via Freeform