Anndi Jinelle
Anndi Jinelle is a part-time creative and full-time corporate cog in the machine living in Brooklyn, NY. This 20-something spends most of her days going from coffee to wine, moving closer to her truth, and watching way more TV than is humanly possible. Catch her on Twitter @seranndipity.
I don't know about you but lately my timeline has been flooded with images of Parisian promenades, Southeast Asian rice fields, and clear blue Caribbean seas.
This generation is definitely on a travel wave and everybody wants to take a ride, including me.
Here's the issue: my pockets are tight. When you hear the words "international travel," your first thought is probably dollar signs on dollar signs. Traveling abroad can evoke a certain level of luxury in which your wallet is not familiar.
While I've traveled frequently in the past, the last couple of years have been slow. My biggest priority has been just paying my ridiculous NYC rent on time. But Thailand was heavy on my mind and I was NOT going to let my pitiful bank account stop me.
Where there is a will, there is a financially feasible way.
With any trip, the biggest expenses are transportation, lodging, and leisure, and there are ways to maneuver through these potential pitfalls to have the international trip of your dreams. Keep reading for a comprehensive guide of how to budget for any international trip.
Transportation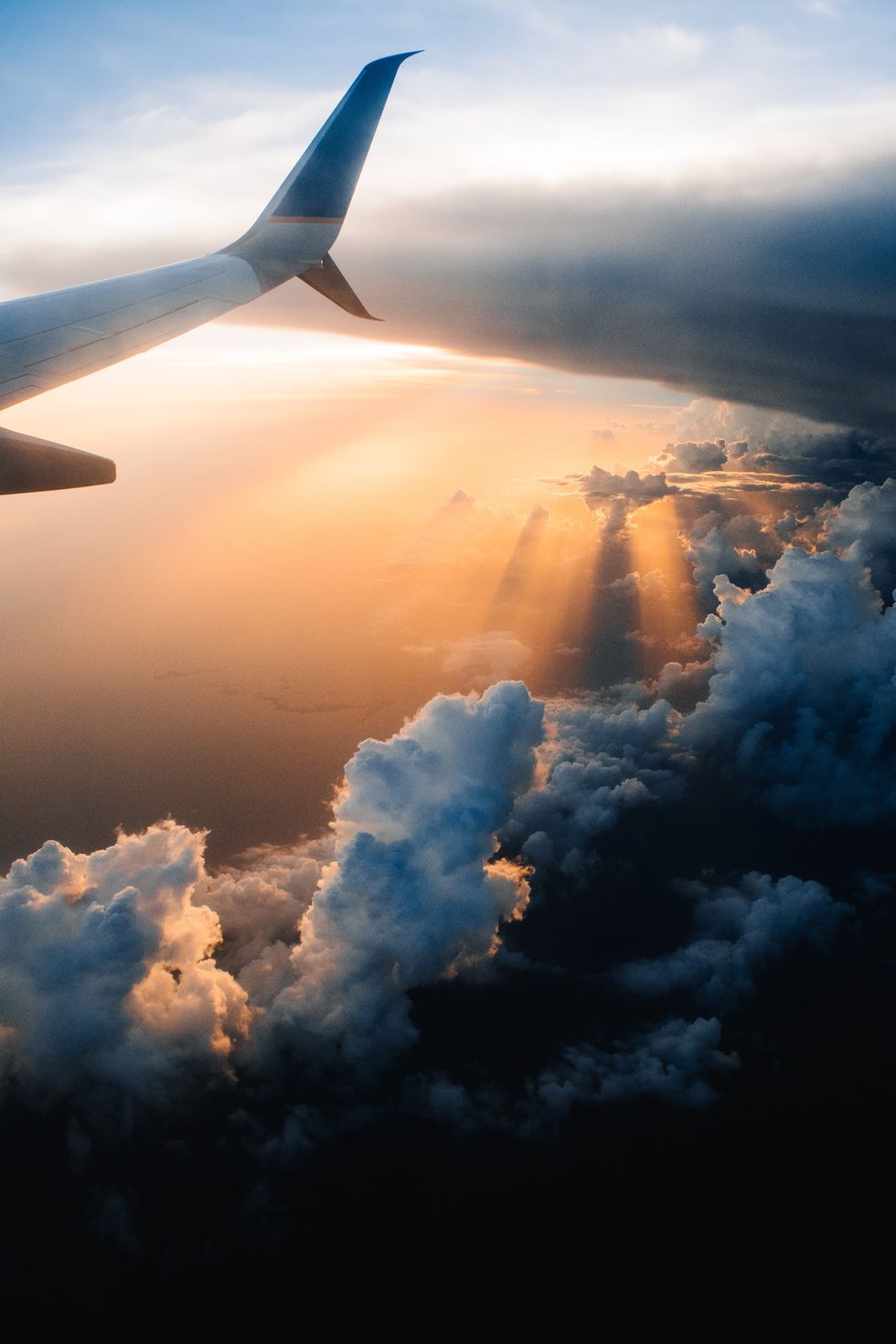 airplane on sky during golden hour Photo by Tom Barrett on Unsplash
Getting There and Back

There's a website called Rome2Rio that gives you the full play by play on the cost of going from point A to B by plane, trains, and other automobiles. It's a great starting point. Once you've narrowed down your cheapest options, you can buy your tickets right from the site.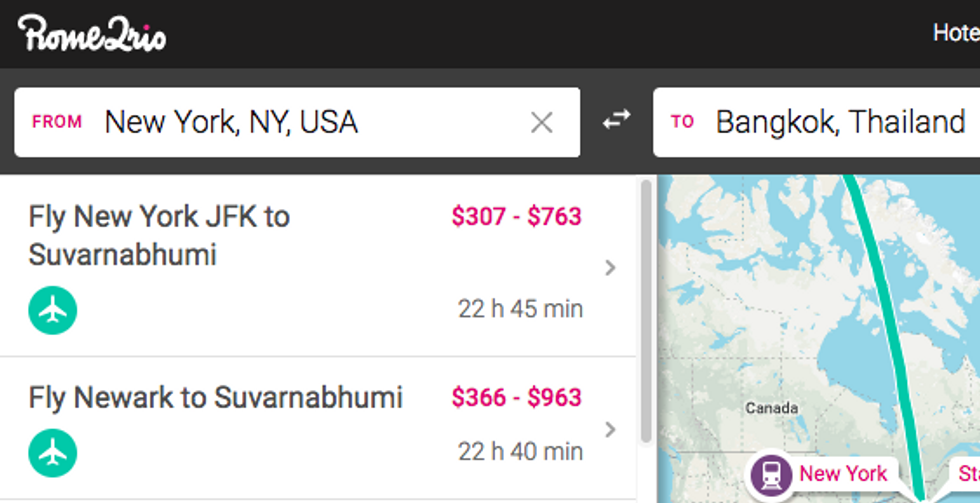 If you're not ready to buy just yet, download Hopper on your phone. It sends you periodic notifications on the best time to buy your ticket for the cheapest fare.

Flexible on time and place? You can look up cheap airfare on Skyscanner without indicating specifics. This site is perfect for those who just need to travel and don't care when or where. I relied heavily on Skyscanner to book my round trip ticket to Bangkok for only $600.

Local Transportation
Okay, so you're in your travel destination. How do you get around without paying crazy expensive taxi fares? No matter what city I travel to, I make use of two very important modes of transportation: public transit, and my own two feet.
Let's talk about public transit. It's become increasingly popular to use those Hop On, Hop Off tourist vehicles and while I see the appeal, they are just totally unnecessary. Why spend $50 to sightsee when you can catch a local bus or subway for $2? It may seem scary but you will see more of the authentic, less touristy parts of town and you will become incredibly familiar with the city.
But the absolute BEST way to travel for cheap is to walk. Crazy idea, right? Most cities outside of the US, and especially in Europe, are very pedestrian friendly. You can spend a day strolling leisurely from one historical monument to the next. You never know what you might stumble upon. A gorgeous field of lavender, a quaint restaurant that sells regional cuisine, or a hip bar for when happy hour strikes. So if you're physically able and the weather permits, I highly recommend making it your main mode of transportation.
BONUS: I haven't done this, but bike renting is another great option.
Short-Distance Travel
Since I was traveling to several cities in a short amount of time, part of the stress was figuring out the shortest yet most cost efficient way to get there. At this stage in my life, I value price over convenience. While an hour plane ride sounds lovely, $200 does not.
My advice: take a sleeper train. I ended up finding a $20 ticket to Chiang Mai from Bangkok. Yes, it's a grueling 14 hours BUT I chose an overnight train. I left at 8pm and woke up the next morning to see the sunrise over the beautiful Thai countryside. Not a bad way to wake up.
I did however (luckily) find a $30 dollar flight from Chiang Mai to Krabi Beach through Air Asia. So cheap airfare is possible as well.
Lodging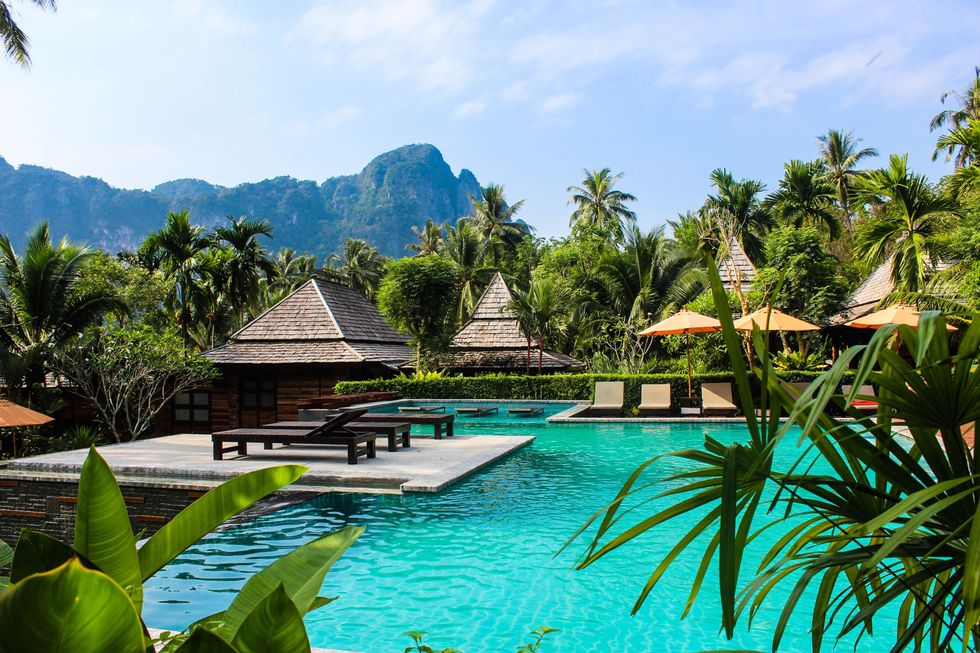 photo of brown bench near swimming pool Photo by Sara Dubler on Unsplash
Hotels can be pricey and lack personality. For the most part, I love using AirBnB. Its popularity stems from not only the budget-friendly options but also it's "home away from home" level of comfort. But don't discount hotels, you could find some cost-efficient gems!

Since I traveled to Thailand solo, I really wanted to be around people so I opted for hostels throughout my trip. Honestly, I don't LOVE hostels. Sharing a room with 4+ strangers feels like summer camp. But it's crazy affordable. And for this particular trip, my hostels helped me find new buddies to explore the city with. And they instantly connect you with people from all over the world with really amazing stories. I also found really nice hostels with private bathrooms, high speed internet and WiFi, free breakfast, and a handful of other great accommodations.
Leisure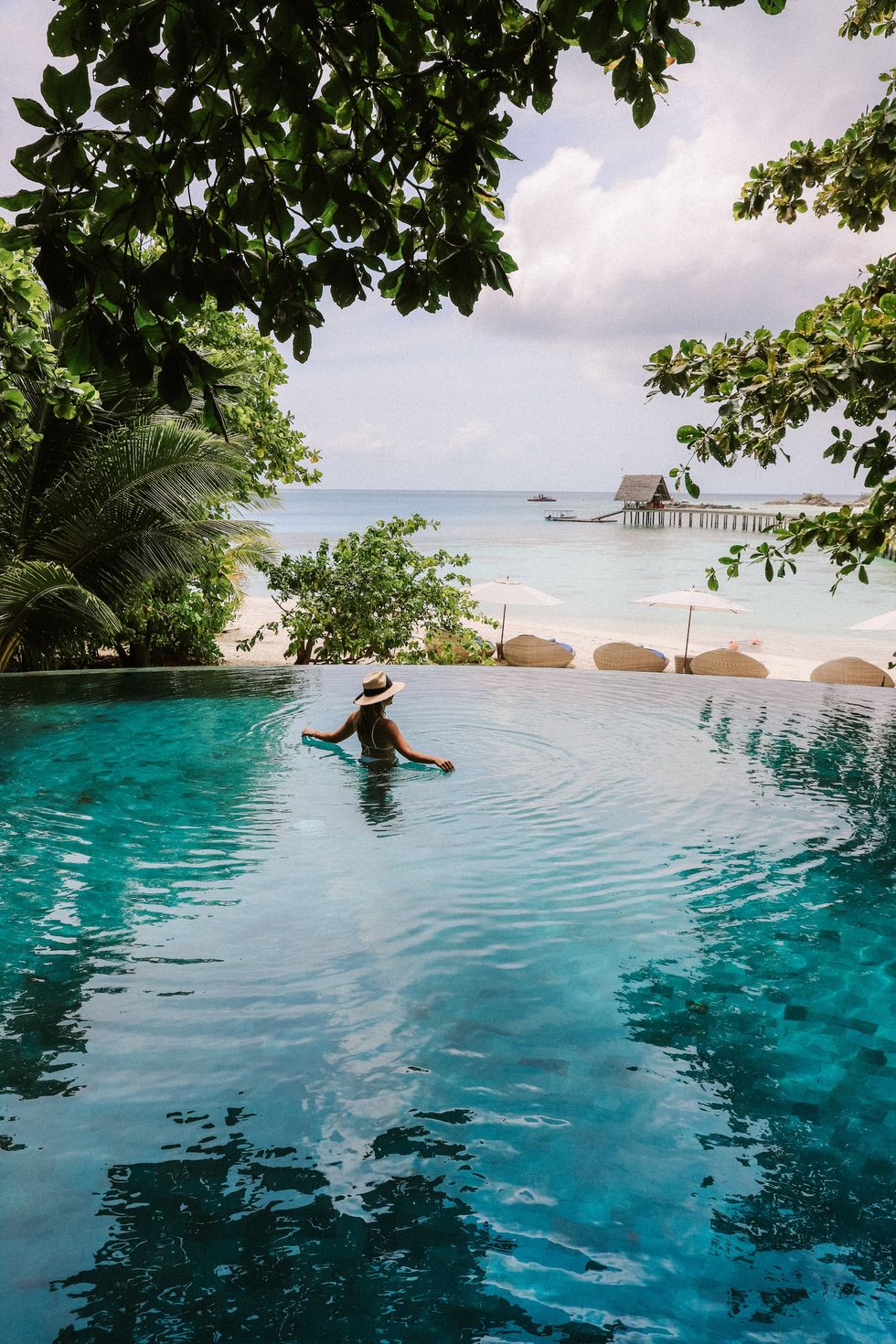 woman on body of water during daytime Photo by Chelsea Gates on Unsplash
This could arguably become the most expensive part of your trip but it's also the one where you have the most financial control. For vacation, I always take out cash and refrain from using my credit cards. This allows me to stay in my budget, as well as physically keep track of my spending.

Food and Drinks
If you follow my advice from housing, breakfast is already taken care of. But for lunch and dinner, you have to be careful not to overspend. Don't ball out for every meal. Be on the lookout for lunch or dinner specials and grab something light and inexpensive every now and then.
For drinks, utilize happy hours to the best of your ability but you also don't always have to buy from the bar. While I was in Krabi Beach, my new hostel friends and I grabbed a bottle of wine from a local store and just laid on the beach with our toes in the sand, watching the sunset over the sea. Way more memorable that way.
Activities
They say the best things in life are free. Depending on the city, this may be easier said than done. But before you travel, always look up a list of inexpensive or practically free activities. For large cities, Timeout is a great reference. For smaller cities, ask locals for advice. Locals know best after all.
Like I said, I went to Thailand by myself. So I wanted a more activity driven trip where I could meet other people as opposed to just lounging around alone. For this reason, TripAdvisor became my best friend. Based on the reviews of others, you can see whether an activity, excursion, or sight is worth your time and money. Thanks to TripAdvisor, I found the perfect company to book a day trip with rescued elephants and a high-speed boat tour around Phi Phi Islands.
In conclusion, traveling on a budget is more feasible than you realize. All it takes is serious financial control and proper planning. If the idea of planning your own travel totally overwhelms you and you don't mind dropping some coins, I highly recommend looking into group travel programs.
However, if you want an experience tailored to your personal interests and finances, it's best to DIY. Because of my extreme budgeting, I was able to live my best life and do this...
And do this.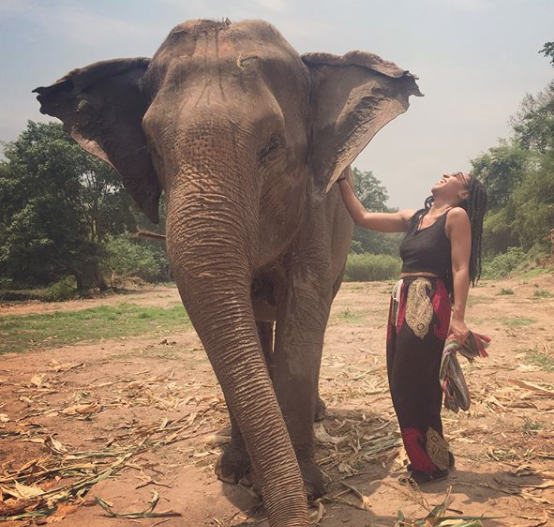 And this, too.

Happy Traveling!
Featured image by Manuel Moreno on Unsplash
Dear Queen:
You did it! The moment you envisioned, the one that felt like a distant dream a few years ago, has finally arrived. You are officially a graduate of a higher learning institution. Graduation time comes with several cliches. You will inevitably hear a speech about following your dreams. You will reminisce on all your experiences, good and bad, that led you to this moment. And a relative will gift you with Oh, The Places You'll Go. It all sounds nice and it's very comforting but after the pomp and circumstance, the anxiety sets in. What am I supposed to do now?
I remember my own graduation day perfectly. While I was excited to finally finish, I was also seriously uncertain about my future. Some of my peers had jobs lined up in big cities or even higher degrees to attain the following semester. But me? Nothing but a piece of paper.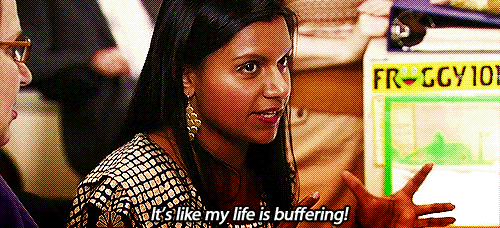 I was more than uncertain, I was scared.
And I was jealous of everyone else who seemed to have it figured out. I kept thinking to myself, Shouldn't I have my sh*t together by now? Am I failing already?

Several years later, I realize that these feelings are totally normal. Even the ones who have it seemingly "figured out" will have doubts about their future. Now that I'm able to look back at that time, I truly appreciate my shaky transition into the real world.
As you venture into the land of adulting, there are several things you must remember:

You have all the tools necessary for success.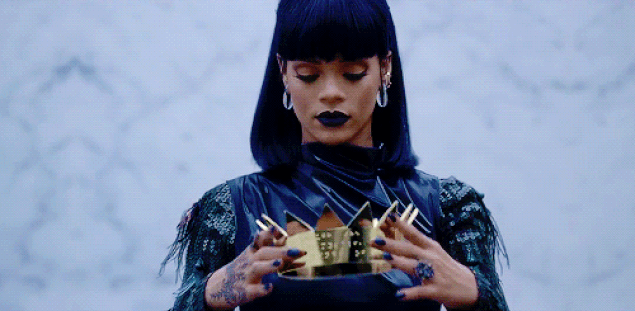 All that you need to survive and thrive in the real world is already within you. The past few years have prepared you to handle unexpected turns and obstacles. You already know how to be resilient, how to stand up for yourself, how to be a go-getter. Don't discount the many strengths your college experience has equipped you with.

Your first job out of school will not be your best.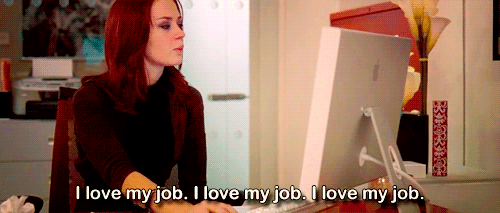 The job of your dreams will more than likely not be your first - and that's okay. But it will be exactly the job you need at the time. Your first will be part of your story. Even if you hate it, it's an important chapter in your life because it will help ignite your true passions. Your first job teaches you what you really want out of life.

Let go of the idea of instant success.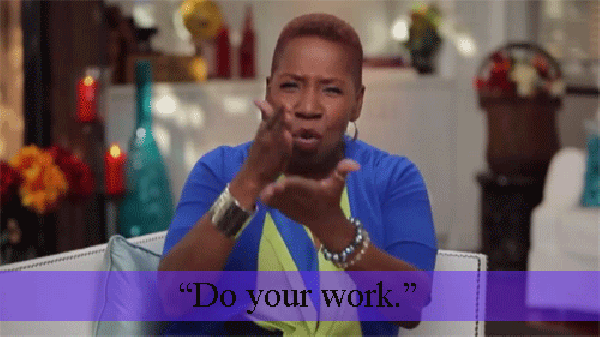 Personally, the most frustrating thing after graduation was realizing my degree in itself was not enough. For months, I applied to countless jobs without so much as a response. Hadn't I put in all the hard work? Hadn't I proven my readiness for a career?

After airing my frustrations out to my mom, she told me something I will never forget:
"You're so used to instant gratification and you have to realize life is not that way."
In school, if you study hard enough, you get an A. But in the adult world, there are million things that factor into your success. So stop resting on your laurels and remind yourself that success won't happen overnight. But it will happen in due time.
You won't have all the answers.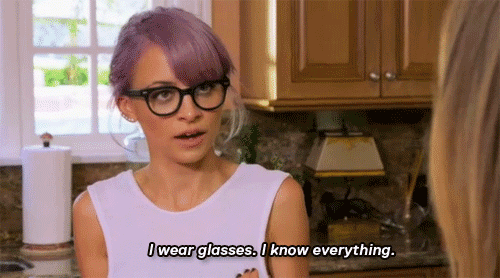 It's okay to not know where you're going or how you will get there. You will spend your whole life trying to understand yourself and your passions. You will realize that your education is hardly over but just beginning. Self-discovery is a ongoing process and you will continue to learn about the world and yourself on a daily basis.

Stop the comparisons.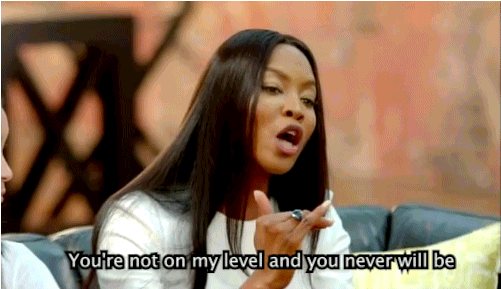 Comparison is violence against the self. Another person's success has nothing to do with you and constantly measuring yourself up to others will only distract you from your purpose.
Put down Instagram. Stop checking Facebook. The grass is probably not as green as they're making it out to be anyway. Your journey is your own so savor every step it takes to get to your personal destination.
Don't limit yourself.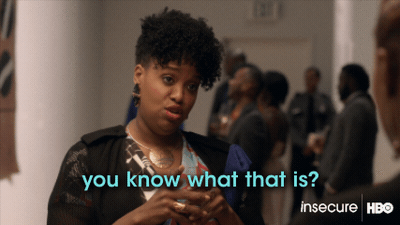 Have you ever had a dream so big that it scared you? Good. Now dream even bigger. It's easy to stay practical and do what you think is expected of you. But you're at a time in your life where risks are meant to be taken. Move to that big city. Travel to a foreign country. Take the job that will challenge you. Don't play safe, choose adventure.

Be present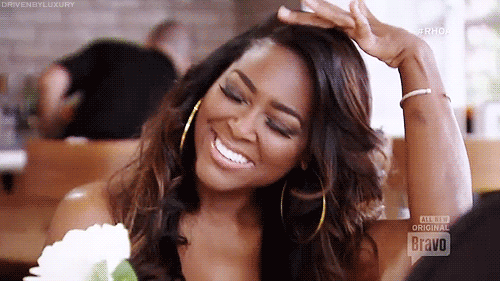 It's hard not to preoccupy yourself with what the future may hold. But there is no time more precious than the present. You just did something only 30% of the population does. So bask in the moment! Congratulate yourself. Celebrate.

Of course, your degree is more than just a piece of paper. In all its lightness, it carries heavy memories. It carries the sleepless nights, the countless hours in the library, the tears shed over grades and boys and the distance between you and your family. It even holds the happier times such as the lifelong friends you made, the professors that challenged your way of thinking, and the crazy nights you will never forget.
Your degree is a physical representation of your growth, your power, and your journey.
If I had reminded myself of these things earlier and more frequently, I would have had a smoother transition into the real world. I hope that as you hold your degree, you are confident that you are extraordinary and that great things lie ahead of you. It's okay not to know what's next, but just know that the next step will elevate you closer to your goals.
Featured image by Getty Images
Making friends as an adult is hard.
It just is.
Growing up, our friends were made mostly out of convenience. Whether they lived down the block, or we saw them all day at school, you could meet your best friend in minutes. But now that we're older, busier, and seek more authentic connections, friendship-building can be challenging - especially if you relocate to a new city.
As someone who has moved to two major cities twice in just four years, I know this feeling all too well. After college, all my good friends scattered across the U.S., so I really had to start from square one. It's true that your vibe attracts your tribe, but sometimes you have to do a little more leg work to find your crew. Here are some suggestions on finding your new tribe.
Local Events
Friendships are formed for a lot of reasons, but the strongest basis for a friendship is shared interests. Therefore, seek out events where you might meet like-minded individuals. If you're into art, look up local art shows or sign up for a pottery class. If you're into sports, join a competitive club. You're bound to meet someone cool.
There are a few websites that will make finding local events a lot easier. I relied heavily on these sites my first few months in NYC and even now, I check occasionally to catch a cool gathering:
I Don't Do Clubs - Events with young, black professionals in mind
Time Out - Super reliable travel guide full of entertainment and culture
EventBrite - Mostly party-oriented, but you can find some great gems here
There's an App for That
It wouldn't be 2018 if I didn't incorporate the digital world. These days, finding a friend is literally at that tip of your fingertips. Take a trip to the App Store and download the following:
Meet-up - Even if you have a million friends, this is a great app. When I lived abroad, I joined a group called "N*ggas in Paris" and met some dope black expats and french people. The best thing about the app is the variety. From outdoor excursions to talks on tech, you will certainly connect with like-minded people.
Bumble BFF - For some of you, this might sound weird, and yes, conceptually it is. But if you can swipe right on a man, you can do the same for a friend. Trying to make friends feels like dating anyway. Might as well use the same apps for it. *Kanye Shrug*
Skout - The leading global app for meeting new people, this app prides itself on forming connections by serendipitous occasions. Made for solo travelers in mind, it connects you with people in your general vicinity for a quick meet up. Your new friend could be sitting in the same coffee shop as you!
Church Groups
If you're religious and have already found a church home, this is a great place to meet people. But just attending church for a couple hours on Sunday will not do it. Join a ministry, the choir, or attend a day of service. As they say, friends that pray together, stay together!
Don't Discount Your Co-workers
I know we all try to separate work from social life but hear me out. Having the same career path is a strong enough commonality for a potential friendship. Not only will you have someone to vent to about your upcoming project, your boss or that weird colleague you can't stand together, but you can also help each other professionally. Ask them to grab food with you on your lunch break or even after-work cocktails. You never know if a friendship will blossom!
Phone a Friend
Running out of ideas? Get a recommendation! Ask your friends if they know of anyone in your current city. Think of it as a friendship by referral. When I first moved to New York, my college friend suggested I link up with her best friend from high school and now we're like peas and carrots.
Unfortunately, nothing comes easy as an adult, including making friends. No one is going to come knocking at your door asking you to come out and play (if they do, call the police). It's a conscious effort.
Therefore, keep these things in mind:
Be Patient

Friendships, like relationships, take time. You're not going to meet your new bestie overnight. So just understand it may take a few months before the loneliness totally dissipates.
Don't Settle
Also akin to relationship advice, just because someone gives you a little attention and invests some time in you, doesn't mean you have to be friends! Make sure you actually enjoy that person's company and they're not just filling a void. I once went on a road trip with a girl I barely liked just because my options were limited. I won't divulge details on the trip but...it was a big mistake.
The expectations you have for a boyfriend should be just as high for a new friend. So aim high.
Be Your Own Friend
As I said in #1, it may take a while for you to find the right tribe. Therefore, embrace the solitude. You're in a new city, so explore it! You don't need a buddy to go to the museum or to check out that restaurant down the street. Get to know your new home from your own perspective.
I promise you, your tribe will come in due time.
Featured image by Shutterstock
Small talk is a necessary evil. Our relationships with co-workers are often one dimensional and lack the depth to have any meaningful conversation. If you're like me, you probably find small talk to be boring, awkward, and, quite frankly, soul-sucking but it doesn't have to be that way.
If you spend at least 8 hours with someone Monday through Friday, why not surpass surface level chit chat? No doubt this will only strengthen your work relationships and perhaps enhance productivity - especially if your job is team-oriented.
Here are eight ways to make work chats less routine and more riveting.
Find Other Ways to Say "How are you?"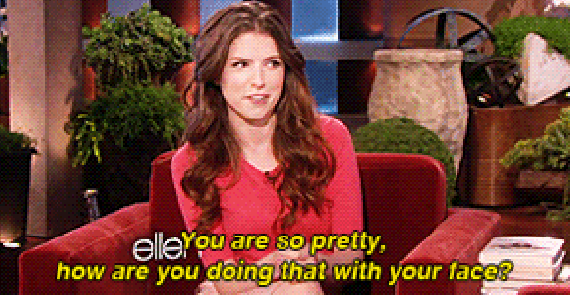 As the natural follow-up to "Hello," this question is so ingrained into our subconscious that we don't even think about it. The problem with "How are you?" is that it's generic and thus begets a generic, non-committal answer. Try asking questions that encourage further conversation.
How was your weekend? What do you have going on today? How's work treating you lately?
These are all good starts but definitely get creative!
Actually Say How You're Doing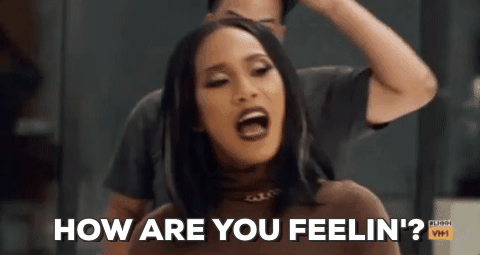 In my very un-scientific research, the three most overused answers to "How are you?" are "good" and "tired".
Instead of saying "good" and keeping it moving, how about actually saying how you're feeling? I know, what a concept. Good is so neutral it almost lacks definition. Without being a Debbie Downer, just say what's really happening in your world.
"I'm so tired" is another popular response. Chile, who isn't?? Instead of just stating your lack of sleep, tell them what kept you up last night. Did you go to a great concert? Stayed up until the end of the Grammys? "Tired" is tired. Think of something more lively.
Avoid Talking About the Weather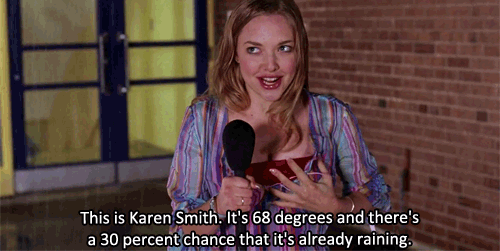 I know we're all searching for commonalities, but there's gotta be something more interesting than the fact that we stand under the same sky. The only person I want weather updates from is Al Roker.
For whatever reason, the weather is a hot topic. The main problem with this is that, more often than not, it just invites negativity.
"This rain is so nasty!" "Can you believe how cold/hot it is outside?!"
If someone does bring up the weather, try to provide a sunnier response. Add something positive to where you can anticipate a follow-up answer. For example:
"Yeah, this rain is pretty gross but it's perfect Netflix weather! Can't wait to keep binging Black Mirror. Have you seen it?"
Flattery Follows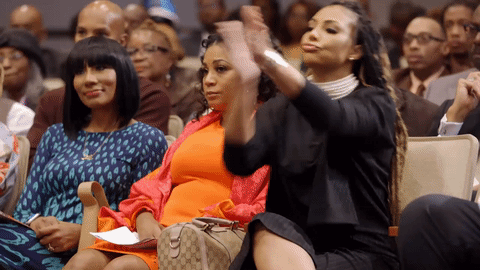 Everyone loves to be flattered, especially women. Out of habit, we tend to compliment each other's hair or clothes just as a conversation filler. This is fine, but let's dive deeper than outside appearances.
You're at work, so compliment your coworker on their work. Let them know they killed their last project. Tell them how much you enjoyed their latest presentation. While all women appreciate being viewed as beautiful, we need to work on letting other women know they're also smart and hardworking.
If her outfit is poppin', cool. But let her know her work skills are poppin', too.
Ask for Advice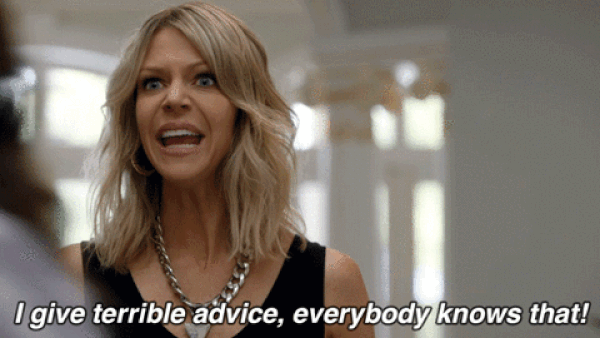 Perhaps you're stuck on an assignment or maybe you want feedback on something you're not confident about yet. Why not ask your colleague for their advice? Whether it's helpful or not, your co-worker will appreciate that you value their input. Plus it gives you a chance to share what you've been working on, too!
What if this person is in a different department/position and you're not entirely sure what they do on a daily basis? This is a great time to ask! Without grilling them, informally inquire about their role, career trajectory, or what a typical day looks like for them. The fact that you care enough to know more about their contribution to the company says a lot and will instantly help build rapport.
No Diet Talk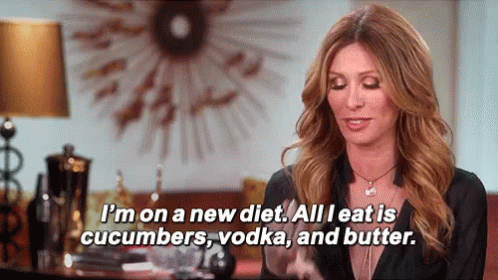 Ladies, there are more compelling conversations than our never-ending quest to stay fit. Men don't talk ad nauseam about their eating habits, so why do we? I happen to sit near the kitchen in my office and the number of apologetic comments I've heard on calorie counting and avoiding the cookie jar is starting to drive me crazy.
If you must make food a topic, talk about that new restaurant you've been meaning to try. Ask for recommendations for your next date night with bae. Mention that amazing recipe you saw on Pinterest. But please don't bring up your Whole 30 diet for the umpteempth time. Please.
Pop Up With Pop Culture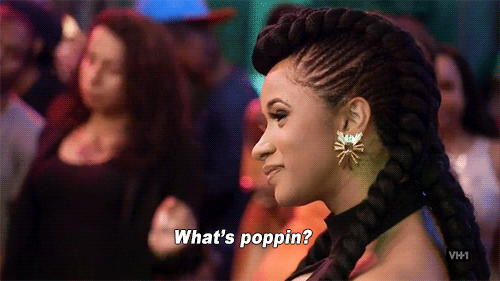 Pop culture is a little superficial but it's something that we all more or less have fun discussing. It's also a safer alternative than politics and current events, a potentially dicey conversation depending on viewpoints. Even if you debate Kendrick vs. Kanye, it's harmless, fun, and less likely to ruffle any feathers.
Your pop culture interests also lets your personality shine. Just by learning your taste in music, movies, and literature, people will have a better idea of who you are as a person.
Make It Personal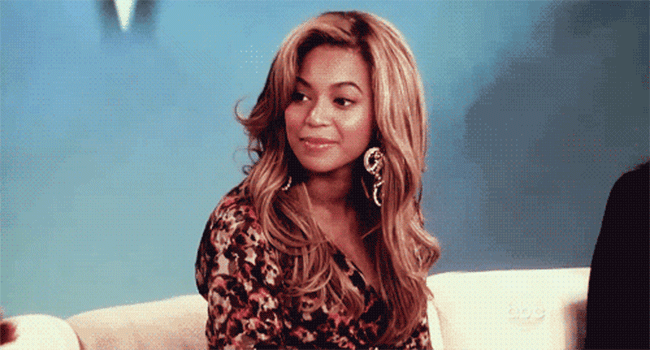 Well, not TOO personal. There are boundaries after all. But the only way to graduate to a more authentic relationship is to share something a little personal about yourself. If it comes within the natural flow of conversation, divulge your past traveling adventures, mention your hidden talent, or tell that really bad date story everyone loves. But the more you share, the more likely they will share back.
If you follow these 8 steps consistently, it will no longer feel like small talk with an acquaintance but just catching up with a good work friend.
Featured image by Getty Images
Mariah Carey never walked down the aisle with ex-fiancé James Packer, yet somehow still secured a healthy 50-million dollar bag. Due to the split, Ms. Carey felt owed an "inconvenience fee," legal jargon for "you wasted my time."
Mariah Carey didn't just want an inconvenience fee to be petty, although I'm sure that was part of it. She, like many of us after a tough breakup, felt owed something. Anything.
When the relationship ends, we want ALL the things back. From that old, red scarf we left on their couch 6 months ago, to our peace of mind. We want it back. We want - nay, deserve! - an explanation. Or at the very least, some semblance of closure. But what we really want, and what typically doesn't register until much later, is security. Feeling secure in who we are without the special someone beside us is important. We need to know that we will be alright on our own.
While us mere mortals lack the means to gain financially from a breakup, it does bring up an interesting idea of reclaiming what is rightfully ours once the tears have dried.
How do we reclaim our sense of self after giving so much of it to someone else?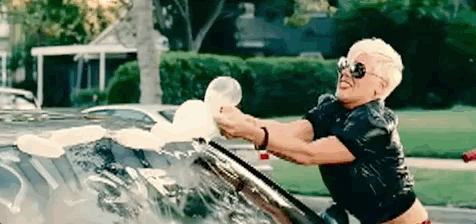 Building a relationship is time-consuming. We make a choice to open our hearts, to peel the layers of our most intimate selves, and to share our energy with another human being. We become so engrossed in our relationship that me becomes we. Therefore, it's only natural that once a relationship ends, particularly one that ends badly, that we mourn the loss of ourselves just as much as the loss of our significant other.
After the initial sadness dissipates, anger generally follows. That's where the gut punch happens. That's when we realize the last couple of months or years were overwhelmingly shaped by our connection and closeness to another person. And now it's over. And then we ask ourselves, "Was all of that a total waste? Should I have responded to more DMs?"
Gaining back that sense of self requires unpacking what we have "lost."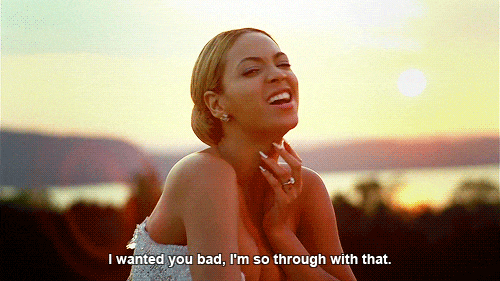 We're forced to rediscover ourselves as well as the other relationships or interests that we may have unintentionally put on the back burner. Because let's be honest, being boo'd up can give you tunnel vision. Road trips with besties get replaced with baecations and all of a sudden we're watching more Sunday Night Football and less TGIT. (Okay, no one would give up their weekly dose of Shonda shows for a man, but you get my drift).
So now that we're in our own company, let's examine what made us feel full before and jump to get back there. Here are some steps to regaining that confidence:
Spend Quality Time with Yourself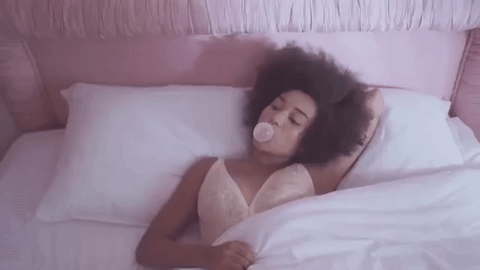 According to a Huffington Post article in 2014, 1 in 3 adults in the U.S. dread being alone. This statistic, while startling, is understandable. Having a partner is a wonderful and natural part of the human experience. But the single life is truly underrated.
Once we're single, our days belong to us! We should push ourselves to do activities on our own. And no, binge-watching Stranger Things does not count. It may seem awkward to dine at a nice restaurant or to go see a good movie solo, but doing so helps us understand our innermost self. We get to forgo our dependence on someone else's presence and instead embrace the person inside.
There is power in solitude.
The key is to love your own company so much that the addition of a significant other is a bonus, not a necessity.
Rekindle Your Friendships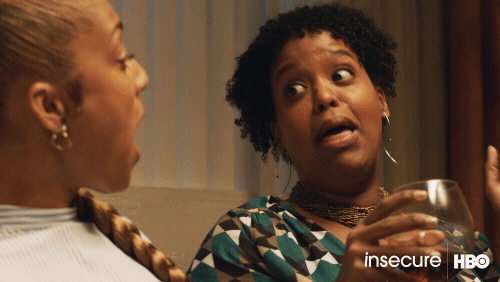 As we're getting more acquainted with ourselves, make the effort to re-acquaint with your tribe. No one wants to be the girl who totally drops her friends the minute she gets a man. But whether we mean to do it or not, our girls inevitably become secondary characters to our love stories. So it's time to promote them back to the main stage.
A good group of girlfriends is crucial. They will cry with us, dance with us, sing badly to the radio with us. We can eat pizza, ice cream, and cookies together - at once - without judgement. They will listen to us voice our fears, our insecurities, our hopes, and our dreams, only to be hugged and uplifted in the end.
The love of a great friend is immeasurable.
So, we should return that immeasurable love back.
Don't Fake Happy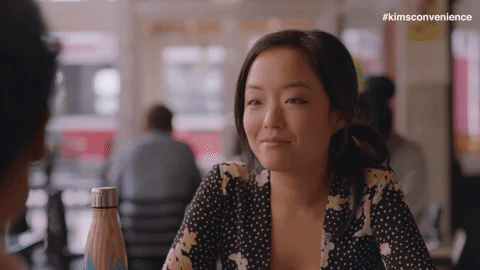 Now that the relationship is over, we have a responsibility to start making healthy, selfish decisions.
Unfortunately, what we do far too often is create the illusion that we're thriving post-breakup. A good friend of mine, weeks after a particularly bad breakup, decided to throw a house party in hopes her ex would show up. He didn't. Instead, she saw him snapping his life away and popping bottles at the club with girls he most likely just met. We won't reclaim our time with ostentatious displays of happiness.
True happiness is not performance art.
Remember YOU Decide Your Self-Worth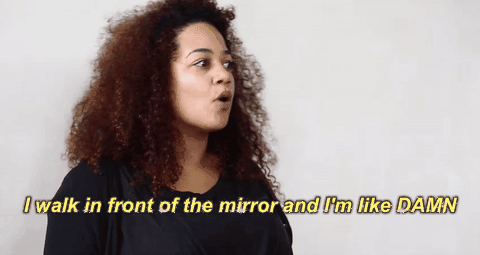 I know, I know. "You can't love someone else without loving yourself" is an adage as old as it is cliche. But this maxim holds true for a reason.
A breakup can really injure an ego. Depending on the circumstance, we may blame ourselves for the unraveling of our relationship and question what we have to offer. Our self-esteem often gets compromised by the sudden lack of romantic love. But our self-worth shouldn't be shaped through the lens of someone else.
The only person to decide our value is us.
We are the only ones in charge of our joy, our peace, and our self-confidence. We must remind ourselves daily that no love holds more weight than the love we have for ourselves.
Although it may seem otherwise, after a breakup, we have to accept the idea that our time was not wasted at all. What we had with that person was real. The laughs, the memories, and the love shared shouldn't be disregarded. Rather, they should propel us to the next level of self-discovery. While our ex owes us nothing, we owe it to ourselves to be the priority.
Ultimately, we must rediscover our sense of self and, in the words of Auntie Maxine Waters, reclaim our time.
Featured image by Giphy